April 13, 2023 | Monmouth University
Sponsorships & Tickets Now Available
The Future of the Ocean Symposium
Catalyzing Innovation and Action for Oceans and Climate
4 p.m. at the Great Hall Auditorium | Free and open to public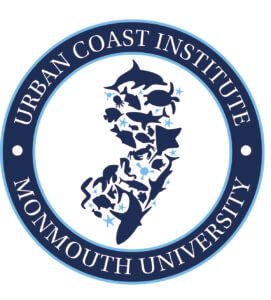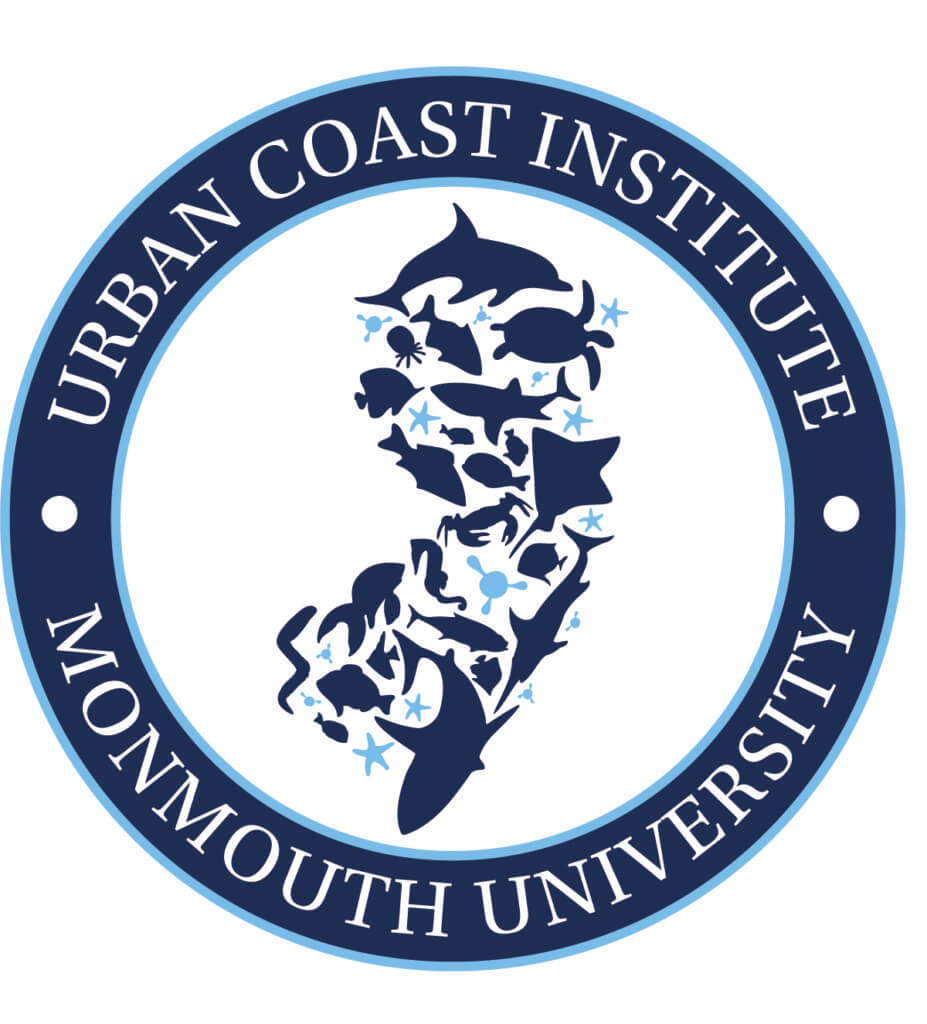 PANELISTS
MODERATOR: Jack Ford, Emmy and Peabody Award-winning journalist and PBS host
Richard Spinrad, Ph.D., National Oceanic and Atmospheric Administration (NOAA) administrator
Margaret Leinen, Ph.D., Scripps Institution of Oceanography director
Charlotte Hudson, Lenfest Ocean Program director
Richard Murray, Ph.D., Woods Hole Oceanographic Institution deputy director and vice president for science and engineering
Tashiana Osborne, Ph.D., climate change advisor, U.S. Agency for International Development via an American Association for the Advancement of Science (AAAS) Science & Technology Policy Fellowship
Scroll below for biographies.
The Champion of the Ocean Awards Reception
6 p.m. at the Great Hall Versailles & Pompeii Rooms | Tickets required
HONOREES
NATIONAL CHAMPIONS OF THE OCEAN
Richard Spinrad, Ph.D., National Oceanic and Atmospheric Administration (NOAA) administrator
Margaret Leinen, Ph.D., Scripps Institution of Oceanography director
STATE COASTAL & OCEAN LEADERSHIP
Bob Smith, New Jersey state senator
Tim Dillingham, American Littoral Society executive director
Scroll below for biographies.
Sponsorships begin at $500 and include tickets. Sponsorships should be completed by April 3 to ensure inclusion in printed materials.
Tickets are $125 for general admission or $75 for government/nonprofit. Cocktails and light fare will be served. Proceeds will support the Monmouth University Urban Coast Institute.
To pay by check, or for other questions about the event, email Aliya Satku at asatku@monmouth.edu.
This event is made possible thanks to the generosity of the Leslie Hitchner Family.
Panelist & Speaker Bios
Tim Dillingham
American Littoral Society Executive Director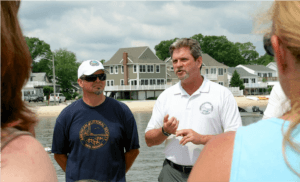 Tim Dillingham has led the American Littoral Society as its executive director since 2003. His work has led to expanded advocacy regarding the restoration of Barnegat Bay and other coastal areas, new partnerships to promote community based restoration projects, expansion of marine education programs in underserved communities throughout New Jersey, the launch of a "Spill Spotters" program to engage local communities in coastal stewardship and spill response, and renewed focus on the conservation and restoration of Jamaica Bay in New York City.
Dillingham has a BS in biology and a graduate degree in coastal and marine resource management from the University of Rhode Island. ​He serves on the boards of the Institute for Marine and Coastal Studies, Rutgers University, Restore America's Estuaries (chair), the New Jersey Climate Change Adaptation Alliance and the New Jersey League of Conservation Voters.
Jack Ford
Emmy and Peabody Award-Winning Journalist and PBS Host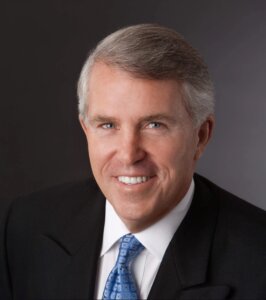 Emmy and Peabody Award-winning journalist, respected educator, documentary producer, prominent trial attorney and author, Jack Ford has had a unique and remarkably successful career. Raised by a single parent, his journey has taken him from a small town in New Jersey to Yale University, where he was a scholarship student and three-year starter on the varsity football team, to the Fordham University School of Law, where he helped finance his legal education with winnings from three appearances on the television quiz show "Jeopardy," to courtrooms and classrooms throughout the country, and ultimately to the upper echelons of television journalism. Currently a host of "Metro Focus" on PBS (WNET-New York) and most recently a CBS News Correspondent for "60 Minutes Sports," he was also the co-founder and chief anchor of the digital network American Ed TV. Ford began his television news career in 1984 as a legal analyst with WCBS-TV in New York. In 1991, he was an original anchor at the launch of Court TV. He also appeared in Fred Friendly's award-winning PBS Media and Society broadcasts, serving as moderator for "That Delicate Balance II: The Bill of Rights." In 1994, Ford joined NBC News as chief legal correspondent, reporting on major legal stories for "NBC Nightly News," "The Today Show," and "Dateline." In addition, he was the co-anchor for the "Weekend Today Show" and a substitute anchor for "Weekend Nightly News" and "Meet the Press." Ford joined ABC News in 1999 as an anchor/correspondent for "20/20," "Good Morning America," and "World News Tonight." In 2002, he anchored the ESPN show, "The Sports Reporters II." During 2003-04, he hosted a nationally syndicated morning show for CBS TV/King World before returning to Court TV in 2005 as the host of "Courtside." From 2009-2014, he served as a CBS News Legal Analyst. He has also provided college football game analysis for ESPN, the Yes Network, and the American Sports Network and has served as a consultant to the NCAA.
Prior to embarking on his journalism career, Ford was a prosecutor in New Jersey before entering private practice. He became a prominent trial attorney, successfully handling such high-profile cases as the Northeast's first death penalty trial, one of the nation's first corporate homicide trials, and the Wall Street insider trading scandal of the late 1980s. During his legal career, he served as an adjunct professor at the Fordham University School of Law. He has been a visiting lecturer at Yale University since 2007, and has also taught at New York University, Monmouth University, and the University of Virginia. In 2017, he served as a lead scholar for the Gilder Lehrman Institute of American History and also speaks frequently at colleges and universities, nationally and internationally. He is the author of three novels: "The Osiris Alliance" (2009); "The Walls of Jericho" (2013); and "Chariot on the Mountain" (2018). Ford's television journalism work has been recognized with several honors, including three Emmy Awards, a George Foster Peabody Award, three National Cable Television Awards, an MCCJ National Headliner Award, and the March of Dimes FDR Award. Ford has been awarded six honorary degrees, recognizing his professional accomplishments and his extensive public service work. He has served as spokesperson, host and/or board member for several charitable causes and organizations, including the Cancer Support Community, the Susan Komen Breast Cancer Foundation (North Jersey chapter), the Alzheimer's Association, the N.J. Special Olympics, the Jimmy V Foundation, the National Football Foundation and College Hall of Fame (vice-chair), the Ivy League Football Association, the NCAA Honors Committee, the NCAA Division 1 Committee on Infractions, Meridian Health System, Monmouth University, and Yale University.
Charlotte Hudson
Lenfest Ocean Program Director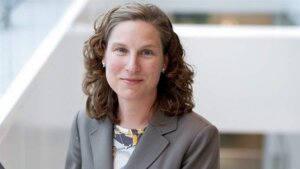 Charlotte Hudson directs the Lenfest Ocean Program, a grant-making program that identifies, supports, and communicates marine science that concerns threats to the world's oceans. She is responsible for identifying thematic areas of research and overseeing the design and implementation of research projects that meet the criteria of the Lenfest Ocean Program. She also oversees the communication and dissemination of research results in ways that inform policy decisions and promote the sustainable management of the oceans.
Before joining the Lenfest Ocean Program, Hudson served as the senior marine scientist at Oceana, where she was responsible for coordinating protected-species policies and integrating scientific research and policy. She holds a bachelor's degree in biology from Davidson College and a master's degree in environmental management from Duke University's Nicholas School of the Environment.
Margaret Leinen, Ph.D.
Director of Scripps Institution of Oceanography, Vice Chancellor for Marine Sciences and Dean of the School of Marine Sciences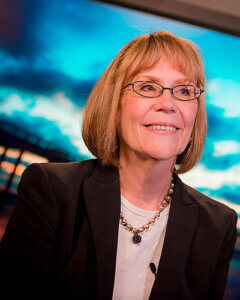 Margaret Leinen was appointed the 11th Director of Scripps Institution of Oceanography at UC San Diego in 2013. She also serves as UC San Diego's vice chancellor for marine sciences and dean of the School of Marine Sciences. Leinen is an award-winning oceanographer and distinguished national and international leader in ocean science, global climate and environmental issues. Her research in paleo-oceanography and paleo-climatology focuses on ocean sediments and their relationship to global biogeochemical cycles and the history of Earth's ocean and climate. Leinen leads UC San Diego's ocean, earth, atmospheric and climate science research and education programs at Scripps Oceanography. She served for seven years at the National Science Foundation (NSF) as assistant director for geosciences and coordinator of environmental research and education. During that time she also led government-wide planning for climate research through the US Global Change Research Program, and co-led government planning for ocean research.
Prior to joining Scripps, she served as vice provost for marine and environmental initiatives and executive director of Harbor Branch Oceanographic Institute, a unit of Florida Atlantic University. At the University of Rhode Island, she was vice provost for marine and environmental programs and dean of the Graduate School of Oceanography. She is the founder and served as president of the Climate Response Fund, a non-profit organization that works to foster discussion of climate engineering research and to decrease the risk that these techniques might be called on or deployed before they are adequately understood and regulated. She also spent two years as the chief science officer of Climos, Inc., a startup focused on green technology for climate mitigation. Leinen currently serves as co-chair of the Decade Advisory Board for the UN Decade of Ocean Science for Sustainable Development and is a member of the distinguished Leadership Council of the Joint Ocean Commission Initiative. She is the vice chair of the research board of the $500 million Gulf of Mexico Research Initiative. From 2016-18 she served as a U.S. Science Envoy focusing on ocean science in Latin America, East Asia, and the Pacific. She has served as president of the American Geophysical Union, Chair of the Atmospheric and Hydrospheric Science Section of the American Academy for the Advancement of Science, and president of The Oceanography Society. She serves on the boards of the National Council for Science and the Environment and Science Counts. Leinen is a Fellow of the American Association for the Advancement of Science, the Geological Society of America, the American Geophysical Union and The Oceanography Society. In 2020, she was elected to the American Academy of Arts and Sciences. Leinen received her doctorate in oceanography from the University of Rhode Island (1980), her master's degree in geological oceanography from Oregon State University (1975), and her bachelor's degree in geology from the University of Illinois (1969).
Richard Murray, Ph.D.
Woods Hole Oceanographic Institution Deputy Director and Vice President for Science and Engineering
Rick Murray is the deputy director and vice president for science and engineering at the Woods Hole Oceanographic Institution. He was a professor of earth and environment at Boston University (BU) from 1992-2019. He served as director of the Division of Ocean Sciences at the National Science Foundation (NSF) from 2015-18. In addition to his NSF duties, he served as a co-chair for the Subcommittee on Ocean Science and Technology as part of the Office of Science and Technology Policy in the Executive Office of the President during both the Obama and Trump administrations. While at BU, Murray was the director of the BU Marine Program from 2006-09, and chair of the Department of Earth Sciences from 2000-05. He received his undergraduate degree at Hamilton College (1985), and also graduated from the Sea Education Association's (SEA's) program in Woods Hole (Class W-71). After receiving his Ph.D. from the University of California at Berkeley (1991), he was a post-doctoral scholar at the Graduate School of Oceanography, University of Rhode Island.
Murray's research interests are in marine geochemistry, with an emphasis on sedimentary chemical records of climate change, volcanism, and tropical oceanographic processes, and in the chemistry of the subseafloor biosphere. A seagoing oceanographer, he has participated on many research cruises in various capacities around the globe. He has authored or co-authored nearly 100 peer-reviewed research papers, is a fellow of the Geological Society of America, a former Trustee of SEA, and helped initiate and manage the Link Foundation's Ph.D. Fellowship Program in "Ocean Engineering and Instrumentation." Murray is a former councilor of The Oceanography Society and is currently on the Board of Directors of the American Geophysical Union.
Tashiana Osborne, Ph.D.
Climate Change Advisor with the U.S. Agency for International Development through an AAAS S&TP Fellowship
Dr. Tashiana Osborne serves as climate advisor fellow within the U.S. Agency for International Development (USAID) through an American Association for the Advancement of Science (AAAS) Science & Technology Policy Fellowship. She works within the Bureau for Africa's Office of Sustainable Development, where she provides technical support and training on climate, public health, water, sustainability issues. Osborne has served as co-lead of the Global Ocean Corps and Conveyor, an endorsed program of the United Nations Decade of Ocean Science for Sustainable Development. Within Ocean Corps, she has facilitated educational and capacity-building programs including the Coastal Ocean Environment Summer School in Nigeria and Ghana. Additionally, she is a founding member of The Oceanography Society JEDI Committee and a member of the American Meteorological Society (AMS) Water Resources Committee. Previously, she completed her postdoctoral fellowship within the Hydroclimate Research Group of Johns Hopkins University.
Osborne earned her Ph.D. and M.S. at Scripps Institution of Oceanography at the University of California San Diego within the Center for Western Weather and Water Extremes and Norris and Miller Groups. She earned a B.S. at St. Cloud State University in Minnesota, graduating with a double major in meteorology and hydrology and a minor in mass communication. She has completed several specialty-area training experiences, including opportunities with the National Oceanic and Atmospheric Administration (NOAA) North Central River Forecast Center, CNN Domestic and International Weather, and a Bahamas paleoclimate NSF REU. She was also part of the DEEPWAVE field campaign centered on atmospheric gravity waves and cloud stereo photogrammetry in New Zealand, and trained in science journalism at NASA Goddard Space Flight Center. In addition, Osborne completed a NASA Goddard research experience focused on the spatial patterns and large-scale drivers of western U.S. atmospheric rivers and precipitation. She also completed the AMS Summer Policy Colloquium and served as an American Geophysical Union Voices for Science Advocate and a Scripps and Moravian College Delegate during United Nations Framework Convention on Climate Change Conferences of the Parties.
Sen. Bob Smith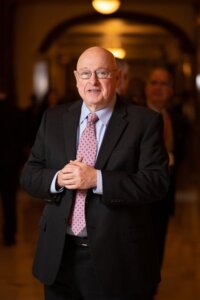 New Jersey State Senator Representing the 17th Legislative District
Bob Smith was elected to the New Jersey State Senate in 2001 and re-elected five times. He served in the Assembly from 1986 to 2002. He sponsored legislation reforming the Garden State Open Space Acquisition Program to focus on water resource protection, preservation of the Highlands, providing a continuing source of revenue for New Jersey state parks, and setting in place measures to improve water quality in the Barnegat Bay, including comprehensive fertilizer controls. He also sponsored two constitutional amendments, approved by voters, to provide stable funding for open space, farmland and historic preservation and to dedicate natural resource damage litigation awards to restore the environment.
Smith has served on Piscataway's Environmental Commission and Planning Board. He was a councilman from 1977 to 1980, and mayor from 1981 to 1986. Born in Scranton, Pa., he earned a degree in history from the University of Scranton in 1969, an M.S. in chemistry there in 1970, and an M.S. in environmental science from Rutgers University in 1973. He graduated from Seton Hall Law School in 1981 and was admitted to the bar that year. He is owner of the Piscataway law firm of Bob Smith and Associates.
Richard W. Spinrad, Ph.D.
NOAA Administrator and Under Secretary of Commerce for Oceans and Atmosphere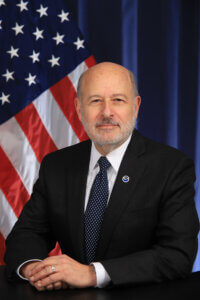 Richard (Rick) W. Spinrad, Ph.D., was sworn in on June 22, 2021, as the under secretary of commerce for oceans and atmosphere and the 11th National Oceanic and Atmospheric Administration (NOAA) administrator. Spinrad is responsible for the strategic direction and oversight of the agency and its over 12,000 employees, including developing NOAA's portfolio of products and services to address the climate crisis, enhancing environmental sustainability and fostering economic development, and creating a more just, equitable, diverse, and inclusive NOAA workforce. Most recently, Spinrad served as a professor of oceanography and senior adviser to the vice president of research at Oregon State University (OSU). He was also vice president for research at OSU from 2010-14. Spinrad served as NOAA's chief scientist under President Barack Obama from 2014 until 2016. He also led NOAA's Office of Oceanic and Atmospheric Research and National Ocean Service from 2003-10. While at NOAA, Spinrad co-led the White House committee that developed the nation's first set of ocean research priorities and oversaw the revamping of NOAA's research enterprise, including the development of the agency's Scientific Integrity policy. Prior to initially joining NOAA, he held leadership positions at the U.S. Office of Naval Research and Oceanographer of the Navy, where he was awarded the Distinguished Civilian Service Award — the highest award given by the U.S. Navy to a civilian.
He has held faculty appointments at OSU, the U.S. Naval Academy, and George Mason University; served as executive director at the Consortium for Oceanographic Research and Education; was president of Sea Tech, Inc.; and worked as a research scientist at OSU and the Bigelow Laboratory for Ocean Sciences. He also developed the National Ocean Sciences Bowl for high school students. In the international arena, Spinrad served as the U.S. permanent representative to the United Nations' Intergovernmental Oceanographic Commission from 2005-09. He is the recipient of Presidential Rank Awards from presidents George W. Bush and Obama. Spinrad is past president of The Oceanography Society (TOS) and the Marine Technology Society. He is a fellow of the American Meteorological Society, Marine Technology Society, TOS, and the Institute of Marine Engineering, Science and Technology (IMarEST), and an IMarEST Chartered Marine Scientist. Spinrad received his B.A. in earth and planetary sciences from The Johns Hopkins University, and his M.S. and Ph.D. in oceanography from OSU.