Future of the Ocean Symposium & Ocean Champions Awards Luncheon Oct. 29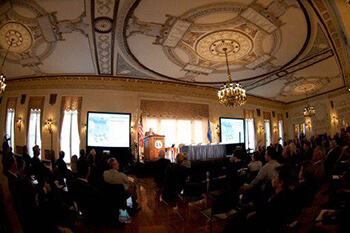 The 11th Annual Future of the Ocean Symposium and Champions of the Ocean
Awards Luncheon will be held on Oct. 29 from 10 a.m.-2 p.m. at the historic Great Hall on the Monmouth University campus in West Long Branch. The theme of this year's symposium is "A Revolution at Sea: Ocean Exploration, Technology & Discovery."
This year's honorees for National Champions of the Ocean will be Dr. Sylvia Earle, National Geographic Society Explorer-in-Residence, and Terry Garcia, National Geographic Society Chief Science and Exploration Officer.
Visit the event page for full details, including the list of this year's honorees and contact information for sponsorship opportunities.
'Arctic Journeys in the Era of Climate Change' at the Great Hall Sept. 29
Sailor and photographer David Thoreson will host a discussion of his firsthand observations of how climate change is impacting the Arctic region on Sept. 29 from 7-8:30 p.m. The free event, titled "Arctic Journeys in the Era of Climate Change: A Presentation by David Thoreson," is being presented by the Monmouth University Urban Coast Institute in partnership with the Alaska Wilderness League, Jacques Cousteau National Estuarine Research Reserve, Sustainable Jersey, NY/NJ Baykeeper, New Jersey Sea Grant Consortium and The Nature Conservancy.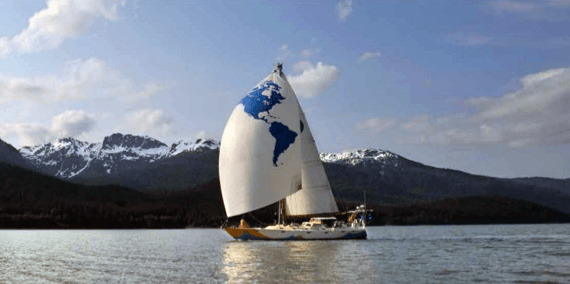 An accomplished sailor whose maritime credits include a successful voyage below the Antarctic Circle, Thoreson first attempted to cross the Northwest Passage in 1994 on the 57-foot sailboat Cloud Nine. After icy conditions threatened to crush the boat's hull, the crew was forced to retreat. Thirteen years later, Thoreson returned and successfully navigated the Northwest Passage on the same vessel. He believes a changed Arctic climate reduced the pack ice dramatically, easing the voyage.
The event will be held in the auditorium of the Great Hall at Shadow Lawn, and is open to the public. Light refreshments will be provided before the event. To reserve a seat or for more information, visit bitly.com/ArcticOceanTalk-Monmouth.
Students Complete Summer Research Projects with UCI Support
For Christopher Paone, a Long Beach Island resident whose home was flooded with 3 feet of water during Superstorm Sandy, it was a project that "hit close to home."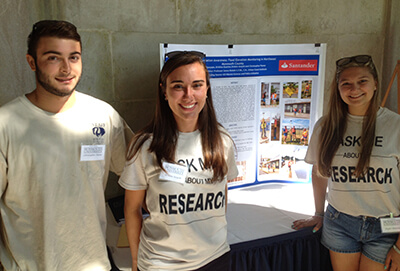 Over the summer, Paone and fellow student researchers Taylor Donovan, Kristina Guarino and Kristen Jezycki scanned some of the Raritan Bayshore's hardest hit communities to delineate the storm's high water marks. The team used GPS and laser level technologies to record known elevation points and additional sites where visible flood evidence remained on structures in the area. Some of the lines they observed were nearly 13 feet above sea level.
"This project has shown the power of Mother Nature," he said.
Paone and his team were among the 96 student exhibitors at the Monmouth University School of Science Summer Research Program Symposium on Aug. 13. Five student research projects on display received funding support through the Urban Coast Institute:
* Creating Inundation Awareness: Flood Elevation Monitoring in Northeast Monmouth County was completed by Paone, Donovan, Guarino and Jezycki under the guidance of UCI marine scientist and MU Professor Jim Nickles. The work was supported with funding from the UCI Marine Science and Policy Initiative. (Read the Creating Inundation Awareness abstract and watch the Creating Inundation Awareness related video.)
*Characteristics of Eastern Oyster (Crassostrea Virginica) Populations in the Upper East River, N.Y., assessed the population of the organisms on the waterway's Bronx side, where overfishing and pollution once caused their numbers to dwindle. Dr. Tiffany Medley of Monmouth University Department of Biology served as faculty mentor for student researchers Megan O'Donnell, Amanpreet S. Singh, Chelsea Soriano and Rebecca Klee. The project was supported with UCI Heidi Lynn Sculthorpe and Marine Science and Policy Initiative grants. (Read the Characteristics of Eastern Oyster abstract and watch the Characteristics of Eastern Oyster video.)
* Investigation of the Interaction of Halogenated Polyaromatic Hydrocarbons with BSA and the Analysis of PAHs Levels in Whale Pond Brook studied the presence and interaction of pollutants in the nearby water body. Dr. Shirley Crenshaw of the Department of Chemistry and Physics served as faculty mentor to student researchers Caroline Krata, Zoeb Mohammedshah and Stephanie Towle. The work was supported by Johnson & Johnson and a UCI Heidi Lynn Sculthorpe grant. (Read the Investigation of the Interaction abstract)
* Is the Invasive Asian Shore Crab (Hemigrapsus Sanguineus) Expanding into Upper Barnegat Bay? investigated whether the organisms are now present in the area of Bay Head and Mantoloking. School of Science Interim Dean John A. Tiedemann served as faculty mentor to student researchers Emily Cristiano, Kylie Johnson, Kristen Ranges and Jeffrey Webb. The project received funding support from the UCI Marine Science and Policy Initiative and Santander Universities (Read the Invasive Asian Shore Crab abstract and watch the Invasive Asian Shore Crab video.)
* Understanding the Physiology and Behavior of Angled and Air-Exposed Striped Bass Using a Rapid Assessment Approach produced information that could help develop recommendations for recreational fishermen to safely release the fish back into the wild. Tiedemann served as faculty mentor to student researchers Cristiano, Johnson, Ranges and Webb. The project received funding support from the UCI Marine Science and Policy Initiative, a Heidi Lynn Sculthorpe Research Grant, Santander Universities and the Berkeley Striper Club (Read the Understanding the Physiology … abstract and watch the Understanding the Physiology … video)
An album of photos from the event is available on the UCI Facebook page.
Read more information on the School of Science Summer Research Program, including background on the application process. To learn how you can contribute to student research projects such as these, visit the Give a Gift Now page.
Program Profile: The Marine Science & Policy Initiative
The UCI's Marine Science & Policy Initiative is creating new opportunities for Monmouth University to conduct research and policy analysis, enhance student experiences in and out of the classroom, and support community stewardship of coastal and ocean ecosystems.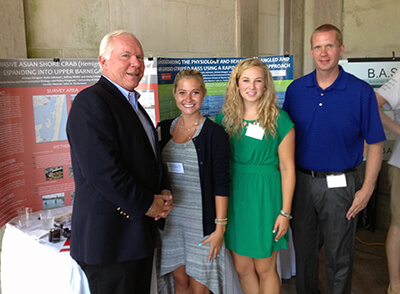 generous support of Santander Universities and many other donors, that amount was exceeded. Today, these funds are making a variety of innovative research activities and programs possible, including four Monmouth University School of Science Summer Research Program projects covered above in this newsletter.
Through the Initiative, Monmouth and Rockefeller universities will co-organize four annual conferences on scientific and policy topics of regional and national interest, alternating between the MU campus and RU's in New York City. The partnership will extend to cutting-edge research projects, and Professor Jesse Ausubel, Director of RU's Program for the Human Environment, will visit Monmouth's campus on a regular basis to lecture and meet with students and faculty.
A series of Initiative-funded infrastructure improvements will position Monmouth University and the UCI to flourish in the future. Among the most visible upgrades will be a new UCI office center in the renovated School of Science building that will serve as a hub for cross-university collaboration and public engagement. A full-time UCI Program and Project Director will assist in the implementation of the Initiative, expand outreach to faculty and secure additional funding for these efforts.
The UCI and University will continue to raise funding to support programs in the areas of marine policy, ocean planning, community resilience and climate adaptation, water quality research and the restoration of coastal habitats. For more on the program, visit the Initiative page on the UCI website or view our fact sheet.
Project Helps Restore Barnegat Bay's Oyster Population
To the tune of a horn player's soft lullaby, 21,000 baby oysters left the nursery on July 29 for their new home in the Barnegat Bay. A half-dozen boats full of volunteers, including Monmouth University students and Urban Coast Institute staff, emptied sacks full of the organisms down to an artificial reef as part of a program spearheaded by the American Littoral Society.
In April, UCI marine scientist Jim Nickels scouted the reef using a remote operating underwater vehicle (ROV) and side-scanning techniques in an effort to find an area where the oysters stood the best chance of success. Piloting a university-owned boat loaded with oysters and volunteers, Nickels explained that the ideal site was narrowed down to a half-acre area, located off Berkeley Township's Good Luck Point.
And "good luck" the oysters could use. Al Modjeski, Habitat Restoration Program Director for the American Littoral Society, estimates that of the 1.5 million larvae carefully cultivated as part of the project, only 1.4 percent survived. The individual oysters' odds of survival on the reef still remain somewhat low, although far better than during the nursery period, according to Christine Thompson, a Littoral Society restoration scientist and adjunct biology professor at Monmouth University. But those that make it will help improve the bay's water quality and restore its ecosystem well into the future.
"Oysters live about 15 years. They'll reproduce and hopefully keep sustaining," she said.
The larvae were released into a large tank full of shells in June. The successful spats clung to them, many growing to about the size of coins. They will have plenty of neighbors at their new address.
"All of these organisms have colonized the reef over the last few months," Thompson said. "We found some wild oysters that have set on the reef as well, so our oysters will be joining them."
See the UCI's Facebook page for an album of photos from this event.
UCI Leads Redesign of Mid-Atlantic Ocean Data Portal
The Mid-Atlantic Regional Council on the Ocean (MARCO) and partners recently rolled out a redesigned and improved Ocean Data Portal (portal.midatlanticocean.org), an online toolkit and resource center that helps stakeholders find and visualize ocean use data through mapping. The upgrades were led by the Urban Coast Institute on behalf of a team of design and communications professionals and funded in part by the National Oceanic and Atmospheric Administration (NOAA).
First launched in 2010 to assist with regional ocean planning for the New York-New Jersey-Delaware-Maryland-Virginia area, the Portal's new features include: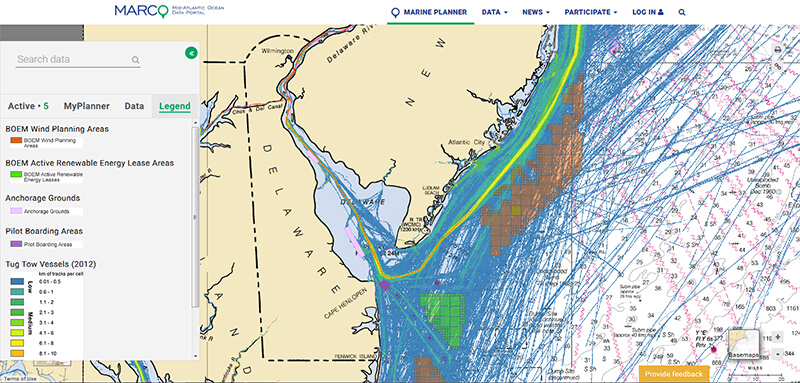 Highlighted ocean use stories that draw correlations between real life experiences on the ocean and the best available data, visualized dynamically as each story unfolds.
An all new Map Groups function that allows Portal users to work with peers to co-develop and design ocean-use maps.
Enhanced organization and access to tools for exploring, designing, sharing, and comparing potential solutions to ocean planning challenges.
Expansion of the How Tuesday monthly webinar series featuring special guests and topics. How Tuesday helps users of all experience levels stay on top of Portal enhancements, new data, and best practices.
"At the heart of the enhanced portal is the integration of the data, maps, and real world stories of the Mid-Atlantic," said Tony MacDonald, Director of the Portal Project and the UCI. "Whether working or playing – everyone here has a connection to the ocean and the many services it provides. People need to see themselves in the data, to see themselves in these maps. With the redesign, we've created more pathways for sharing their ocean stories and perspectives."
Members of the public are encouraged to participate in free "How Tuesday" tutorial webinars led by the Portal Team (see calendar for upcoming dates). Those interested in arranging tutorials for their work groups or about a special area of interest can email portal@midatlanticocean.org.
Read the news release announcing the Portal site redesign.
UCI to Engage in Regional Ocean Planning Discussions
Urban Coast Institute staff will join government agencies, technical experts, members of the public and other stakeholders this month in collaborative discussions that will help lead to the development of the first ocean action plan for the Mid-Atlantic region.
Two meetings taking place in Norfolk, Va., will represent important steps in that process. A Sept. 22 Mid-Atlantic Regional Council on the Ocean (MARCO) workshop and a Sept. 23-24 Mid-Atlantic Regional Planning Body (MidA RPB) meeting will provide attendees with opportunities to share their input on draft data products that will inform the plan as well as proposed actions and processes that will help achieve its goals.
In 2010, President Obama issued an Executive Order announcing the National Ocean Policy, which called for the development of regional ocean management plans nationwide by 2016. The MidA RPB — which represents a five-state region comprised of New York, New Jersey, Delaware, Maryland and Virginia — is one of eight bodies throughout the nation coordinating the creation of such plans. The UCI has been actively engaged in the planning process, including by managing the Mid-Atlantic Ocean Data Portal, as covered above
in this newsletter.
Members of the public and stakeholders are encouraged to attend the events. Questions or comments can also be emailed to the MidA RPB at MidAtlanticRPB@boem.gov.
Coastal Resilience Specialist to Share Lessons from N.J.
UCI and New Jersey Sea Grant Community Resilience and Climate Adaptation Specialist Dr. Michael Schwebel will showcase his work preparing New Jersey coastal communities for the impacts of future extreme weather and flooding events during a tri-state Sea Grant Project Forum in Lewes, Del., on Sept. 18.
The Forum will serve as an opportunity for Dr. Schwebel and Sea Grant peers from Delaware, Maryland and New Jersey to share insights on how they approached important challenges facing coastal areas in their states. Discussions on resilience will center on three core Sea Grant action areas – Resilient Communities and Economies, Healthy Coastal Ecosystems, and Sustainable Fisheries and Aquaculture.
Among other projects, Dr. Schwebel has been actively engaged in assisting municipalities throughout New Jersey to implement the state's Resilient Coastal Communities Initiative (RCCI). The RCCI is a toolkit that provides resources and guidance for communities to assess their vulnerability to climate change, learn how sea level rise may impact their waterfront areas, seek access to technical expertise, apply for grant funding and more.
RCCI support is available to 239 state communities facing coastal flood hazards. For more information about RCCI and other UCI/NJSG community resilience initiatives, contact Dr. Schwebel at mschwebe@monmouth.edu.
UCI Welcomes Two New Staff Members
The Urban Coast Institute recently welcomed two new members to its staff. Susan Kennedy joins as the UCI's Program and Project Director and Karl Vilacoba will serve as its Communications Director.
Susan comes to UCI with more than 20 years of experience in the environmental realm working on land use, water quality and coastal issues from a variety of perspectives, including as an attorney practicing environmental and administrative law; as a project manager/biologist for the U.S. EPA Region 2 Superfund Division; and as a water quality analyst for the Monmouth County Department of Health's Environmental Laboratory. Prior to joining the UCI, Susan ran her own consulting business, serving the New Jersey and Mid-Atlantic based environmental, legal and academic community with an emphasis on coastal zone management issues.

Prior to joining the UCI, Karl worked in the public affairs division of the North Jersey Transportation Planning Authority, where he oversaw a variety of public relations efforts and served as managing editor of InTransition, a national transportation magazine published in partnership with the New Jersey Institute of Technology. Karl previously spent eight years as a news reporter and editor at Greater Media Newspapers and USA Today's Manhattan Bureau. A lifelong Shore resident, Karl has also served for several years as a member of the Lake Como Unified Planning & Zoning Board and the borough's Environmental Commission.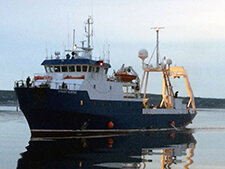 Photos: UCI Marine Scientist Conducts Sea Bottom Research in Canada
Urban Coast Institute marine scientist Jim Nickels is aboard a research vessel in the Cabot Strait between Cape Brenton Island, Nova Scotia, and the southern tip of Newfoundland collecting sediment cores from the sea bottom. See the UCI's photo album in Facebook for photos and details on the voyage.