UCI Report Examines How Mid-Atlantic Boaters Spend Time and Money
Delaware boat owners spend the night on their vessels most frequently. New Jerseyans are on the water the most days per month, but no one does it more than Marylanders in July. Not to be outdone, Virginians are willing to travel the farthest for a day at sea.
Collectively, boat owners from all four states inject more than $300 into the economy each time they take to the water, according to a Mid-Atlantic Recreational Boater Survey report released by the Monmouth University Urban Coast Institute (UCI). The report examines spending and activities by Mid-Atlantic saltwater recreational boaters. The report is based on data collected by the UCI and the Mid-Atlantic Regional Council on the Ocean (MARCO) during a six-month survey project and analyzed by students from Monmouth University.
"Those of us who live along the Mid-Atlantic coast intuitively understand how ingrained boating is with our way of life," UCI Director Tony MacDonald said. "With this project, the UCI and a team of Monmouth University students were seeking to discover in concrete terms what these activities mean to our states and coastal communities. When you scan the numbers, you begin to realize that a leisurely day at sea has serious importance to our economies."
Respondents were asked to complete monthly surveys about their most recent boat trips as well as an end-of-season survey of general expenses of owning a boat. Among the results:
Boat owners and their parties spent an average of $318 per on-water trip. The largest expenses were maintenance/equipment/repairs ($86), fuel/oil ($78) and food/drinks ($50).
Boat owners and their parties spent an average of $727 during visits to their vessels that didn't involve on-water trips. The largest expenses were maintenance/equipment/repairs ($474), transient/guest dockage ($78) and food/drinks ($61).
The total annual non-trip expenses of owning a boat ― such as financing, insurance fees, storage and documentation fees – were placed at $7,722.
The economic impact of recreational boating crosses state lines. Respondents reported at least some portion of their expenses occurred outside of the state where their boat was launched on 14 percent of on-water trips.
New Jersey owners took their boats on the water most frequently throughout the season (5.05 days per month), while Marylanders were on the water an average of 5.71 days in July – the most by any state for a single month. The average monthly total for all four states was 4.68 days.
Delaware owners took the most overnight trips (2.4 days per month). The average for all four states was 1.46 days.
Virginians traveled the farthest to the site where their boats were launched – 65.62 miles per round trip. The average for the four states was 57.25 miles.
The survey also inquired about the impact of Superstorm Sandy on vessels. Seven percent of respondents reported their boats were damaged during the storm. Of those, 52 percent received a small amount of damage, 36 percent saw moderate damage and 12 percent saw a large amount of damage.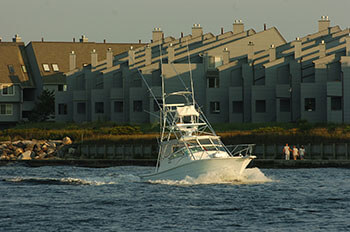 The report's release marks the completion of a two-phase project. Survey participants completed questionnaires about spending and trip activities, and they also used an online program to digitally map their trip routes and activities. In the project's first phase, the mapped data was incorporated on the Mid-Atlantic Ocean Data Portal (portal.midatlanticocean.org), an interactive mapping and information site managed by the UCI, MARCO, The Nature Conservancy, Rutgers University and other partners. That data can be accessed on the Portal's Marine Planner mapping application by clicking on the Recreation link and selecting from any of the maps listed under the "Recreational Boating Survey" heading. In the second phase, a team of statistics students led by Professor Richard Bastian of the Monmouth University School of Science conducted an analysis of the questionnaire data.
Respondents were considered eligible to participate if they were the registered owner of a boat 10 feet or longer that was designated for recreational use and used on ocean waters. A total of 475,596 boats from the four states were found to be eligible for the survey. A pool of 715 respondents completed one or more of the surveys over the six months.
The questionnaire emulated one completed in 2012 by states from New York through Maine so the data could be directly compared between regions. The initial survey work was completed with grant funding from the National Oceanic and Atmospheric Administration.
UCI to Fund 14 Student-Faculty Summer Research Projects
With topics ranging from the ocean's impacts on mental health to humans' impacts on the health of the oceans, the UCI has approved funding for the most diverse collection of student-faculty summer research projects yet.
In total, the UCI will support 14 projects in the coming months through its Marine Science & Policy Initiative and the Heidi Lynn Sculthorpe Summer Research Grant Program. Approximately 30 students representing a wide range of academic disciplines will participate in the projects.
Both the Marine Science & Policy Initiative and Heidi Lynn Sculthorpe Summer Research Program emphasize hands-on research projects that deliver real world experience to students and make a difference in the communities where the activities take place. The programs provide opportunities for students to design their own research ideas and carry them out under the guidance of Monmouth University faculty mentors. Read below for descriptions of this summer's projects.
Marine Science & Policy Initiative Projects
Environmental DNA (eDNA) in Wreck Pond: Continuing an effort that began in the spring, the team will research the presence of marine vertebrates in the Wreck Pond watershed using eDNA, an emerging approach that allows scientists to detect endangered or hard to find marine organisms without having to observe or capture them.
Student Researchers: Tatiana Castro, Chelsea Soriano and Cayla Sullivan
Faculty Mentor: Dr. Christine Thompson, Adjunct Professor, Department of Biology
Environmental DNA (eDNA) in Lake Takanassee: In this second eDNA research project, students will detect the presence and abundance of vertebrate, microbial and viral eDNA in Long Branch's Lake Takanassee.
Student Researchers: Nicole Sivetz, Sarah Falotico and Hemangi Patel
Faculty Mentor: Dr. Martin J. Hicks, Assistant Professor, Department of Biology
The National Flood Insurance Program Community Rating System (CRS): The study will investigate the reasons and rationale for Ocean County communities' membership in Community Rating System/National Flood Insurance programs to better understand which facets serve as an impetus and which hinder and incentivize participation. The benefits and drawbacks revealed in interviews with Ocean County officials will be useful to other communities that may be considering joining the CRS program.
Student Researchers: Albert Shalom and David Morales
Faculty Mentors: Dr. Michael Schwebel, UCI Community Resilience and Climate Adaptation Specialist
Oyster Restoration in Barnegat Bay: Students will work alongside the American Littoral Society, ReClam the Bay, and other partners while examining the abundance and diversity of oysters around an artificial reef that was installed off Good Luck Point with UCI/Monmouth University assistance.
Student Researchers: Gabriella A. Gerber, Sydney N. Lucas and Cameron S. McMath
Faculty Mentor: Dr. Christine Thompson, Adjunct Professor, Department of Biology
Coastal Aerial Photography Photography & Video: With the support of a mini-grant, Professor Mark Ludak and a student will conduct aerial photography of coastal New Jersey aboard a helicopter.
Project Leader: Mark Ludak, Specialist Professor, Department of Art and Design
Heidi Lynn Sculthorpe Summer Research Grants
Assessment and Inventory of New Jersey Coastal Fisheries: This project will explore the biology of coastal New Jersey/New York waters, with focuses on tagging recreational finfish/elasmobranch species as well as examining predator-prey dynamics.
Student Researchers: Marissa DeTorre, Matthew Francis, Shannon Lavelle, Alexander Salamone, and Jeffrey Webb
Faculty Mentor: Dr. Keith Dunton, Assistant Professor, Department of Biology
Coastal Identity in Counseling: The student researcher will interview mental health counselors in Monmouth and Ocean counties to explore if and how they utilize the coast as a tool in their practices.
Student Researcher: Christine Hennigan
Faculty Mentor : Dr. Laura Schmuldt
Coastal New Jersey Small Business Website: Through this project, which began in the spring of 2016, graduate student Morissa Schwartz will continue to develop CoastalNJSmallBusiness.com, a website that highlights eco-friendly businesses in Jersey Shore area coastal downtowns.
Student Researcher: Morissa Schwartz
Faculty Mentor: Dr. Deanna Shoemaker, Director, Corporate and Public Communication (CPC) Graduate Program
Collection and Analysis of Physico-Chemical Parameters of Water for Assessment of Intertidal Coastal Ecosystems: A series of lab experiments will be conducted to gain insights on how global warming is affecting the salinity of coastal waters and ecosystems.
Student Researcher: Crystal Diaz
Faculty Mentor: Dr. Dmytro Kosenkov, Assistant Professor, Department of Chemistry and Physics
Digital Data Mining and Pattern Analysis: Early Hurricane Detection System: The research team will investigate, analyze and develop an application for mobile devices that detects early signs and patterns of effects for coastal hurricanes.
Student Researchers: Abid Khan, Sravan Kumar Puvvula and Rajesh Veeraballi
Faculty Mentor: Dr. Charles Willow, Associate Professor, Department of Management and Decision Sciences
Food Recovery Network (FRN) at Monmouth: This project will evaluate how the reallocation of unused food from Monmouth University dining halls to local food pantries and soup kitchens aids community sustainability.
Student Researchers: Susan Pagano
Faculty Mentor: Dr. Nancy J. Mezey, Associate Dean, Department of Political Science and Sociology
Impacts of Anthropogenic Factors on Ecosystem Processes of Coastal Ecosystems: Through fieldwork and experiments, the team will explore how climate change and human-caused factors such as sea level rise, salinity changes and nitrogen deposition affect coastal ecosystem function, with a focus on the plant species that dominate salt marshes and mangrove ecosystems.
Student Researchers: Kristina Guarino, Kristen Jezycki, Kylie Johnson, and Rebecca Klee
Faculty Mentor: Dr. Pedram P. Daneshgar, Assistant Professor, Department of Biology
Mapping of Plastics in the Coastal Marine Environment: A student team will conduct field and lab work to collect and quantify marine plastics in local waters including the Barnegat Bay; Manasquan, Shark, Navesink and Shrewsbury Rivers; and Raritan and Sandy Hook Bays.
Student Researchers: Marc Mole and Alexander Salamone
Faculty Mentor: James A. Nickels, UCI Marine Scientist
Tracing Nitrogen Deposition Affects on Salt Marshes Using Nitrogen Isotopes: Tests conducted at five areas along the Barnegat Bay will help shed light on the impacts on human-sourced nitrogen deposition on salt marshes.
Student Researcher: Cayla Sullivan
Faculty Mentor: Pedram Daneshgar
For More Information
For questions about future opportunities through the Marine Science & Policy Initiative, contact Susan Kennedy, UCI Program and Project Director, at skennedy@monmouth.edu or 732-923-4592. Questions about the Sculthorpe Summer Research Program may be directed to Danica Simmons, UCI Administrative Assistant, at 732-263-5662 or dsimmons@monmouth.edu.
These opportunities have been made possible through the generous support of Santander Bank and many other corporate and private donors. If you would like to make a tax-deductible gift to the Urban Coast Institute, please use our Give a Gift Now contribution form.
Photos & Videos: UCI 10th Anniversary Celebration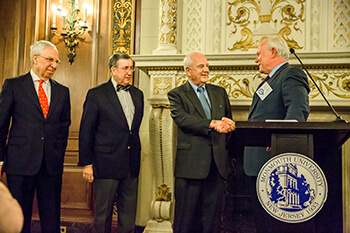 A celebration was held at Monmouth University's the historic Great Hall on May 19 to mark the 10th anniversary of the UCI's launch. The event honored three longtime supporters who've played key roles in the Institute's growth: UCI Advisory Committee members Tavit Najarian and Alfred Ferguson, and UCI Policy Fellow and Monmouth University President Emeritus Paul G. Gaffney II.
'Forensics for Aquatic Life': eDNA Research at Monmouth U.
Slowly wading through the tidal waters of Wreck Pond, Tatiana Castro and Cayla Sullivan are on the lookout for fish – but not with their eyes. Instead, the Monmouth University students will find out what's swimming around them with a technique that would seem to have more in common with police work than biology.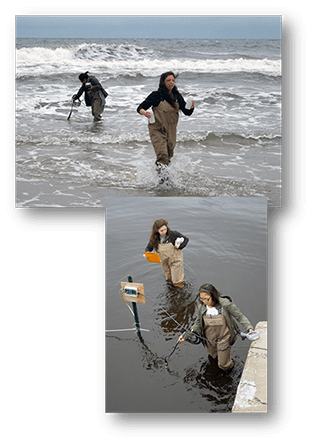 With grant support from the UCI's
Marine Science and Policy Initiative, Castro, Sullivan along with fellow student Chelsea Soriano are piloting the University's research with environmental DNA, or "eDNA," an emerging approach that allows scientists to detect endangered or hard to find marine organisms without having to observe or capture them. Researchers collect water samples from strategic locations and lab test them for trace amounts of genetic material that marine organisms shed into the water.
"I think of it like forensics for aquatic life," said Dr. Christine Thompson, an adjunct Professor at Monmouth University and scientist with the American Littoral Society (ALS). Since March, Thompson has guided the students as they've collected samples in Wreck Pond, located along the borders of Spring Lake, Spring Lake Heights, Sea Girt and Wall.
The group is primarily focused on looking for evidence of river herring, a fish that splits its life cycles between fresh and saltwater. Herring once thrived in Wreck Pond, swimming freely through its ocean inlet and spawning in its waters. Around World War II, engineers closed the inlet and installed a dam and narrow outfall pipe between the pond and the ocean. However, the diminished access made fish migration more difficult and also contributed to pollution problems.
After the structure was damaged by Hurricane Sandy, work began on a longer, wider pipe system that would theoretically make it easier for marine life to come in and out and spawn in the pond. The group's research will help determine how well it's working.
The effort will complement fish monitoring work being performed at Wreck Pond by the ALS. The organization recently installed sampling nets and electronic monitors at strategic locations to track the movements of herring throughout the watershed. On this May morning, the group took water samples in the vicinity of a net that had snared a few small fish. "It acts as a good control because you know for sure you're testing around fish here," Thompson said.
Back at the lab, the group will collaborate with additional students led by Dr. Thompson and Dr. Martin Hicks on the project's molecular analysis aspects. Hicks and students Nicole Sivetz, Sarah Falotico and Hemangi Patel will also work this summer on a separate Marine Science and Policy Initiative project focused on vertebrate and microbial diversity in Long Branch's Takanassee Lake.
Both projects are benefiting from the guidance of one of the country's leading experts on eDNA research, Dr. Mark Stoeckle of the Rockefeller University Program for the Human Environment. The data gathered by Monmouth University will be incorporated into a larger eDNA study of coastal waters in New York and New Jersey guided by Stoeckle.
The eDNA collaboration is one of many joint MU-RU projects being organized as part of the Marine Science and Policy Initiative. Funding for the Initiative has been provided by Santander Bank and many other generous private and corporate donors.
For additional photos of the eDNA research work, see the UCI's album on Facebook.
Watch: UCI Student Panel Roundtable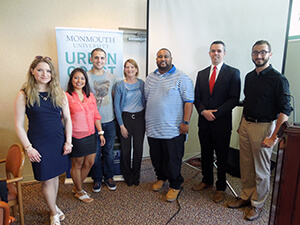 Six current and former students who have engaged in UCI-sponsored research and projects recently participated in a special Student Panel Roundtable. The event, held in conjunction with Monmouth University's first annual Student Scholarship Week, gave panelists the opportunity to describe how their innovative work with the UCI is furthering their professional and educational goals. Watch video segments from the event.
And Here Are Your Winners … The UCI 2016 Ocean Stories Photo Contest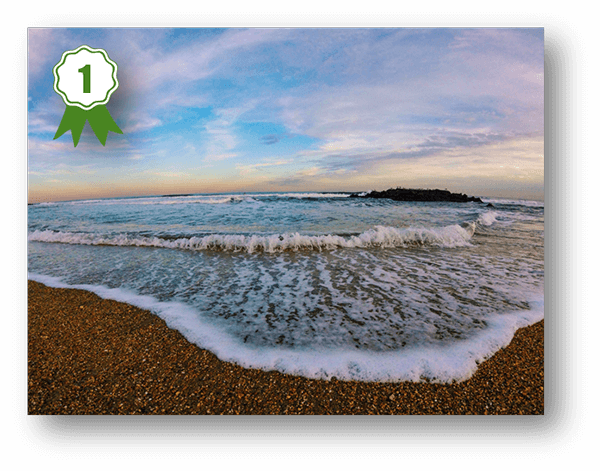 There were summer boardwalk scenes. There were serene sunsets. There were familiar images of marine animals along our sandy beaches, and glimpses of exotic wildlife beneath the waves.
This spring we called on Monmouth University's students and alumni to send their best coastal and beach photography to the Urban Coast Institute and the results did not disappoint. Thank you to all who took part in our 2016 Ocean Stories Photo Contest!
The voting was super close, but the results are in. Finishing first with "Belmar Surf" was Allison Towle of the class of 2015; in second place was "The Green Room" by Zach Bogetti, 2019; and in third place was "Alien Visitors" by Justin Procopio, 2015.
These and the other photos which finished in the top 12 will be featured in a 2017 Urban Coast Institute calendar which will go on sale later this year. All proceeds will support student research activities through the UCI's Marine Science & Policy Initiative.
Rounding out our top 12 are: "Traveling to Atlantic" by Margaret Zelinka, 2017; "Under the Pier" by Liam Frank, 2017; "Highlands Sunset" by Jaclyn Shugard, 2016; "Palm Setting" by Liam Frank, 2017; "Morning Night" by Valerie Bermudez, 2016; "Beach at Dusk" by Adam Schwartz, 2016; "Sea Grazer" by Justin Procopio, 2015; "Sunset on the Bay" by Taylor Donovan, 2019; and "Barnegat Bay" by Roksana Rahman, 2017.
UCI Joins Mid-Atlantic Coastal Resilience Project Team
The UCI will serve as key partner in a federal grant-funded project that explores how changing ocean conditions triggered by climate change will impact communities, the economy and environment throughout the Mid-Atlantic region.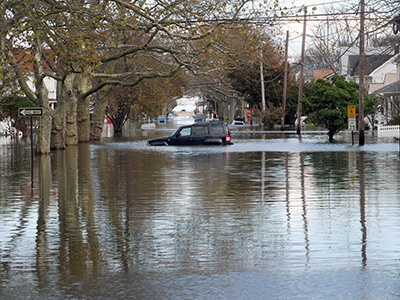 The National Ocean and Atmospheric Administration's (NOAA) Office for Coastal Management awarded a $513,507 Regional Coastal Resilience Grant to a team led by the Mid-Atlantic Regional Council on the Ocean (MARCO), a partnership formed by the states of Delaware, Maryland, New Jersey, New York, and Virginia to collaborate on ocean issues. The grant was one of 12 awarded nationally to help coastal communities prepare for and respond to a variety of coastal threats, including extreme weather events, climate hazards and changing ocean conditions.
The UCI will provide support in its capacity as the principal investigator for the Mid-Atlantic Ocean Data Portal (portal.midatlanticocean.org), an interactive ocean mapping and information site focused on the five-state region. The Portal will be used as a resource for sharing written materials, map data and other information produced through the project with the public.
"A recent Monmouth University-UCI poll showed that the public is becoming more aware of the general threat posed by climate change, even as our specific vulnerabilities remain matters of investigation and debate," said UCI Director Tony MacDonald, who helped organize an Oceans Day during December's historic COP21 Paris climate conference. "The UCI is dedicated to bringing the best available science to the fore through important projects such as these, which help the public and our leaders understand the steps that will be necessary to safeguard our way of life in the future."
The project will explore how changing ocean conditions will affect the resilience of coastal communities, land development and ocean use; link these changes to coastal and ocean economies; and conduct outreach and communication regarding the ocean's role in community, state and regional resilience strategies, and risks posed by a changing climate. In addition to MARCO, the UCI will be partnering with Rutgers University and the University of Delaware (both representing the Mid-Atlantic Regional Association Coastal Ocean Observing System, or MARACOOS). The project is scheduled to launch in June and be completed by May of 2018.
Play the Climate Hazards Game in Eatontown June 5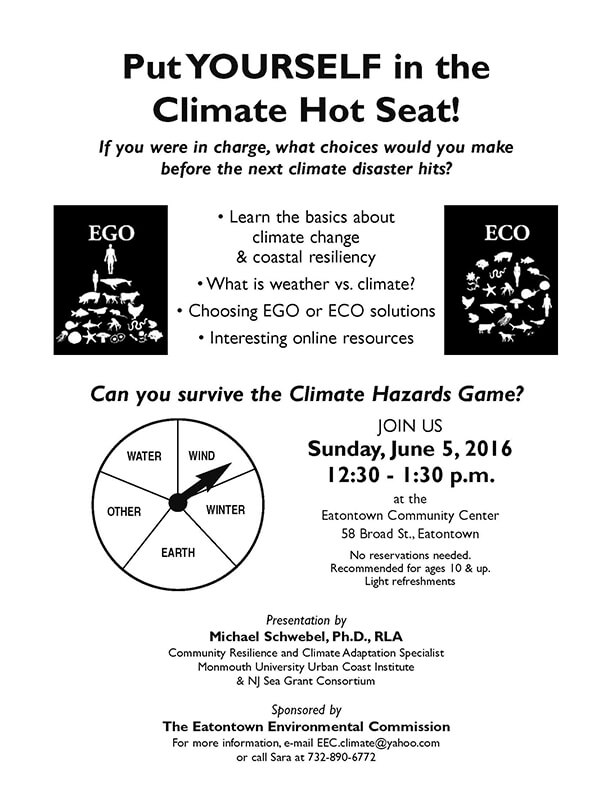 Take a spin at the Climate Hazards Game with the UCI's Dr. Michael Schwebel on June 5 to learn firsthand about the decision processes that emergency planners and public officials now face.
Schwebel, Community Resilience and Climate Adaptation Specialist for the UCI and the New Jersey Sea Grant Consortium, developed the game as a way to educate audiences of all ages about pressing threats coastal communities face and steps that can be taken to deal with them. Players spin wheels that show the likelihood of various coastal hazards taking place and are challenged to allocate a limited amount of funding to deal with each of them.
The free event will be held at the Eatontown Community Center from 12:30-1:30 p.m. and is being sponsored by the borough's Environmental Commission. All members of the public are welcome to attend. See the flyer above for more information.
Save the Date: Ocean Action Plan Open House at Monmouth U.
Monmouth University's Pozycki Hall will be the site of New Jersey's public open house on a historic first-ever Ocean Action Plan for the Mid-Atlantic. The event will be hosted by the Mid-Atlantic Council on the Ocean (MARCO) on July 14 from 6-8 p.m. Visit the MARCO calendar or check the UCI website soon for additional details.
Gaffney Receives Prestigious Ellis Island Medal of Honor
Congratulations to UCI Ocean Policy Fellow and Monmouth University President Emeritus Paul G. Gaffney II, Vice Admiral U.S. Navy (Ret.), who received the prestigious Ellis Island Medal of Honor from the National Ethnic Coalition of Organizations on May 7. Gaffney joins six U.S. presidents, Generals Norman Schwarzkopf and Colin Powell, Justice Sandra Day O'Connor, Muhammad Ali, Frank Sinatra, Rosa Parks and many other internationally respected figures to have received the Medal.
The Ellis Island Medals of Honor are presented annually to American citizens, both native born and naturalized, who have distinguished themselves within their own ethnic groups while exemplifying the values of the American way of life.