Watch: MU Students Share Summer Research Work
Twenty-four students who completed 16 UCI-funded projects presented their findings at the Monmouth University School of Science Summer Research Program Symposium on Aug. 11. The event provided the researchers with an opportunity to stage exhibits at the university's scenic Erlanger Gardens and discuss their work with members of the public, faculty and their peers.
Hear what some of this year's participants had to say about their work below.
Kylie Johnson & Rebecca Klee
Project: Community Succession after Cranberry Bog Abandonment within the New Jersey Pinelands
Faculty Mentor: Dr. Pedram Daneshgar
Sydney Lucas
Project: Small-Scale Oyster Restoration in Barnegat Bay
Faculty Mentors: Dr. Christine Thompson and Dr. Tiffany Medley
Morissa Schwartz
Project: Coastal NJ Small Business Website
Faculty Mentor: Dr. Deanna Shoemaker
David Morales & Albert Shalom
Project: An Examination of Ocean County Municipalities' Participation in the National Flood Insurance Program's Community Rating System
Faculty Mentor: Dr. Michael Schwebel
Jeff Webb
Project: Determining the Presence of the Endangered Atlantic Sturgeon in Sandy Hook Bay
Faculty Mentor: Dr. Keith Dunton
Marc Mole
Project: Sandy High Water Mark Initiative
Faculty Mentor: UCI Marine Scientist James Nickels
Marissa DeTorre
Project: Diet of Atlantic Sturgeon in a Coastal Marine Aggregation
Faculty Mentor: Dr. Keith Dunton
Abstracts for these projects are available in the School of Science Summer Research Program Symposium guidebook and a second booklet featuring additional UCI projects.
The UCI provided support for the projects through its Marine Science & Policy Initiative and Heidi Lynn Sculthorpe Summer Research Program, which emphasize hands-on research projects that deliver real world experience to students and make a difference in the communities where the activities take place. The programs provide opportunities for students to design their own research ideas and carry them out under the guidance of Monmouth University faculty mentors.
These opportunities were made possible through the generous support of Santander Bank and many other corporate and private donors. If you would like to make a tax-deductible gift to the Urban Coast Institute, please use our Give a Gift Now contribution form.
---
Studies of Climate & Coastal Forests, Shore Walkability, NWS Earle Sturgeon Among Fall Grant Projects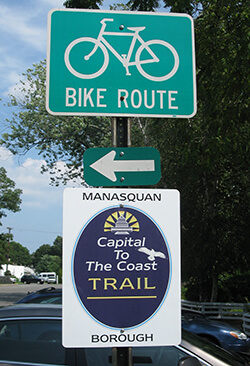 The UCI is pleased to announce the award of five Faculty Enrichment Grants that will make innovative research efforts and cutting-edge equipment purchases possible in the fall semester.
The projects will be funded through the UCI's Marine Science & Policy Initiative, which provides opportunities for Monmouth University students and faculty to conduct research and policy analysis, enhance experiences in and out of the classroom, and support community stewardship of coastal and ocean ecosystems. The following proposals were selected based on their strengths in advancing the goals of the UCI and Monmouth University's Strategic Plan.
Curriculum Development – Statistical Design and Analysis of Biological Experiments: The Departments of Mathematics and Biology will introduce a new course this fall that will focus on the impacts of climate change on coastal forests. The class will use equipment purchased through the UCI to extract tree cores in Sandy Hook and Island Breach State Park and analyze their ring patterns, which can serve as indicators of rising atmospheric CO2, annual climate and major storm events.
Faculty Members: Dr. Richard Bastian, Department of Mathematics, and Dr. Pedram Daneshgar, Department of Biology
Evaluating Habitat Use of Atlantic Sturgeon Around Naval Weapon Station Earle: Building on his summer research of this endangered species in Sandy Hook Bay, Dr. Keith Dunton has received permission to attach acoustic receiver equipment to U.S. Navy buoys in order to detect sturgeon activity in the federally restricted area.
Faculty Member: Dr. Keith Dunton, Department of Biology, in coordination with student researcher Jeffery Webb
Integrating Emerging Technological Tools of Fisheries Science into the Classroom: UCI funding will be used to purchase acoustic telemetry equipment, a means for accurately monitoring the movements and activities of marine species. The equipment will be used in two biology classes in the fall.
Faculty Members: Dr. Keith Dunton, Department of Biology, and UCI Marine Scientist Jim Nickels
Tracing Nitrogen Deposition Affects on Salt Marshes Using Nitrogen Isotopes: This project will continue work begun in the summer to test areas along the Long Island and New Jersey coasts to determine the impacts of human-sourced nitrogen deposition on salt marshes.
Faculty Member: Dr. Pedram Daneshgar, Department of Biology, in coordination with student researcher Cayla Sullivan
Walkability and Bikeability of the Jersey Shore: The research team will survey Monmouth County's transportation network to assess its bicycle and pedestrian friendliness, and analyze existing local government policies that may influence infrastructure investment decisions in the future.
Faculty Members: Dr. James Konopack, Department of Health and Physical Education, and Dr. Stephen Chapman, Department of Political Science and Sociology
For more information about grant opportunities available through the Marine Science and Policy Initiative, visit the
MyMU Portal (Monmouth University sign-in credentials required).
Moore Foundation Grants $1.2 Million to Monmouth U. to Support Progress on Mid-Atlantic Ocean Data Portal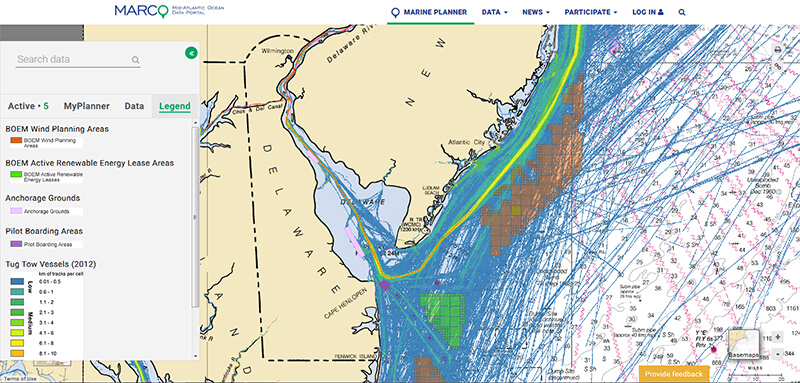 The UCI has received a $1.2 million Gordon and Betty Moore Foundation grant to continue the development of the Mid-Atlantic Ocean Data Portal (portal.midatlanticocean.org), a free, state-of-the-art mapping and information site focused on ocean areas from New York through Virginia. The funding will support the work of a project team consisting of researchers from Rutgers University's Edward J. Bloustein School of Planning and Public Policy and the Center for Remote Sensing and Spatial Analysis (CRSSA), The Nature Conservancy and the UCI. Read our press release for full details.
 Research Will Help Public Visualize Flood Levels During Sandy
UCI staff and Monmouth University students joined Monmouth County, local and federal officials at a press conference June 27 to announce the launch of the High Water Mark Initiative, a program that will raise public awareness of the flood levels reached during Superstorm Sandy.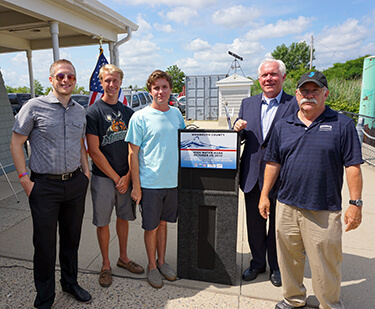 The Initiative will place nearly 100 signs on public buildings, utility poles and other structures at points where flood waters were confirmed to reach during the height of the storm. To date, 14 municipalities have signed on to the Initiative — Aberdeen, Atlantic Highlands, Avon-by-the-Sea, Belmar, Hazlet, Keansburg, Manasquan, Middletown, Monmouth Beach, Neptune, Ocean, Oceanport, Rumson and Sea Bright. The federally maintained properties of Naval Weapons Station Earle and National Park Service Sandy Hook are also participating.
Throughout the summer, a Monmouth University student-faculty research team will work to survey in elevations using RTK GPS technology at selected points in each of the communities where markers will be placed. The group will rely both on local knowledge from officials and residents who know their communities best and visual confirmations such as water stains to verify the flood levels
The research team includes UCI Marine Scientist Jim Nickels and students Marc Mole and Bryan Drew. Nickels also conducted flood elevation mapping in Monmouth County Bayshore communities last summer with students Taylor Donovan, Kristina Guarino, Kristen Jezycki and Christopher Paone. Dr. Michael Schwebel, Coastal Resilience and Climate Adaptation Specialist for the UCI and the New Jersey Sea Grant Consortium, is working with other students to provide additional support to the towns involved.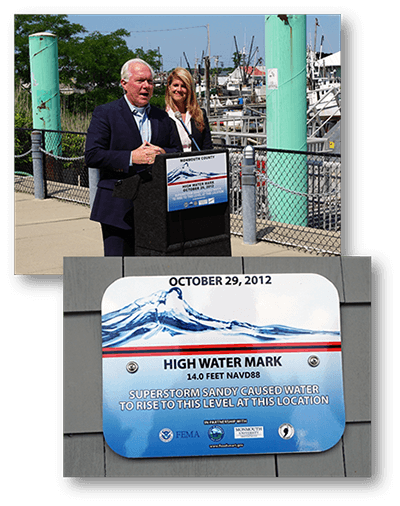 "The Monmouth University Urban Coast Institute and our students are excited to be part of this important program that brings the best available science and public education to coastal communities and will help them make decisions for the future," said UCI Director Tony MacDonald.
The press conference was held at the Belford Ferry Terminal, a facility that is elevated well above the Raritan Bay and Compton's Creek below, but still suffered damage during Sandy. A sign placed on the terminal exterior notes that flood levels there reached 14 feet above sea level.
Plans call for the placement of signs at highly visible locations within participating communities informing readers about the Initiative and its partners, including Monmouth University. Smaller markers showing the flood levels will be placed at select locations throughout the impacted areas.
The student-faculty collaboration is being funded with the assistance of the UCI's Heidi Lynn Sculthorpe Summer Research Grant program. The program emphasizes hands-on research projects that deliver real world experience to students and make a difference in the communities where the activities take place.
Students Work to Help Oysters Rebound in Barnegat Bay
Monmouth University students and UCI staff made a splash in the Barnegat Bay on July 15, dropping thousands of tank-grown baby oysters into the waters around an artificial reef off Good Luck Point.
Their work was part of the second annual Parade of Boats, led by the American Littoral Society (ALS) with several other partner organizations. Beachgoers at Ocean Gate's Wildwood Avenue pier, where the event kicked off, joined in the fun, loading the boats with sacks of shells and helping deposit them at the reef.
The oysters were raised in a saltwater tank on the pier. Last year, ALS researchers started with approximately 1.5 million oyster larvae, an estimated 22,000 of which survived and were released at the reef. With additional funding this year, the group added 2.8 million larvae to the tank and approximately 163,000 made it to the bay — a 6 percent survival rate versus 1.4 percent the year before. Christine Thompson, a Monmouth University adjunct biology professor and ALS scientist, credited the difference in part to a modified process that placed smaller batches of larvae in the tank at a time.
Oysters can provide valuable benefits to the bay, serving as natural filtration systems, creating habitats for many marine organisms and stabilizing the grounds around them. Three Monmouth University students participating in the event, Gabriella Gerber, Sydney Lucas and Cam McMath, have been working with Thompson and the ALS this summer to research the abundance and diversity of oysters around the reef. The students' work is being supported with grant funding through the UCI's Marine Science & Policy Initiative. Monmouth University senior Marc Mole also assisted with the oyster drop-off.
View an album of photos from the event on the UCI's Facebook page.
Share Your Input on Draft Ocean Action Plan through Sept. 6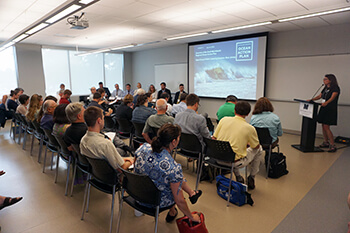 A public open house for a historic first-of-its-kind Draft Ocean Action Plan for the Mid-Atlantic region was held at Monmouth University on July 12. The event provided a forum for Shore residents, representatives of government agencies, environmental groups and other organizations to engage in discussions on how to ensure the region's ocean environment remains clean and safe for future generations.
The Draft Plan, released July 5, was prepared under the direction of the Mid-Atlantic Regional Planning Body (MidA RPB), a partnership composed of six states (Delaware, Maryland, New Jersey, New York, Pennsylvania and Virginia), tribal entities, several federal agencies and the Mid-Atlantic Fishery Management Council. The document recommends strategies and actions for improved coordination among those bodies with the goal of safeguarding the region's coastal ecosystems, cultures and economies.
The UCI encourages members of the public to review the Draft Plan and provide feedback to the MidA RPB by Sept. 6. At the close of the public comment period, the document will be revised and submitted to the federal government for final approval in the fall. Links to the Draft Plan documents and instructions for submitting comments can be found online.
In 2010, President Obama established a National Ocean Policy which called for greater collaboration among states and regional authorities on marine issues and supported the formation of regional planning bodies to develop ocean plans for their respective territories by the end of 2016. The MidA RPB is one of eight such groups nationally to have been formed for this purpose.
The Monmouth University open house was one of five hosted throughout the region by the Mid-Atlantic Regional Council on the Ocean (MARCO), an organization formed by the governors of the five coastal states represented by the MidA RPB. The UCI has partnered closely with MARCO on several projects, most notably the development of the Mid-Atlantic Ocean Data Portal (portal.midatlanticocean.org), an interactive ocean mapping and information site that served as one of the core data sources for the Draft Plan.
Each open house featured presentations by MidA RPB members, Q&A/public discussion periods and poster sessions where attendees could browse displays dedicated to key topics in the Draft Plan and discuss them with experts. UCI Communications Director Karl Vilacoba manned Portal kiosks at the New Jersey, Delaware, Maryland and Virginia open house poster sessions, providing demonstrations and answering questions from the public.
The UCI is committed to building public awareness of the Mid-Atlantic Regional Ocean Action Plan. If your organization or governmental body is interested in working with the UCI to organize a meeting or discussion about the Draft Plan, email uci@monmouth.edu.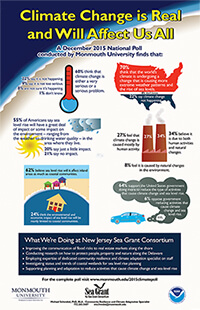 Infographic Shows U.S. Views on Climate Change, Sea Level Rise
The New Jersey Sea Grant Consortium (NJSGC) and the UCI recently collaborated on an educational infographic poster that illustrates Americans' attitudes toward climate change and sea level rise, and explains how the Consortium is working to combat the problems. The data cited in the poster came from a winter poll conducted by the UCI and Monmouth University Polling Institute.
The poster was created under the direction of Dr. Michael Schwebel, a joint community resilience and climate adaptation specialist for the UCI and NJSGC.
Download a full-size PDF of the infographic. To request a printed copy, contact Dr. Schwebel at mschwebe@monmouth.edu.
Support Coastal Arts at Monmouth University
A pair of gallery exhibitions at Monmouth University this fall will explore the beauty and complexity of the coastal environment along the Jersey Shore. Both events are free and open to the public. Listing information below provided by the
University Events Calendar.
Lucy Kalian: Swells and Soundings
Pollak Gallery
September 2 – October 14, 2016 | 9:00 a.m. – 7 p.m.
Opening Reception: September 30, 6:30 to 8:30 p.m.
Lucy Kalian's work is "unapologetically representational." In the exhibit Swells and Soundings she explores the tidal forces at work where land and water meet.
The UCI is a sponsor of this event.
Watersides: Mark Ludak & Ira Wagner
Rotary Ice House Gallery
September 6 – November 20, 2016 | 10 a.m. – 5 p.m.
Opening Reception: September 16, 6 – 8 p.m.
In this exhibition, photographers and Monmouth University Art & Design faculty members Mark Ludak and Ira Wagner present photographs and video reflecting life today on the coast of New Jersey. More than a beach resort, the work shows that this complex area of New Jersey is being dramatically affected by economic change and global warming, impacting how people live in this fragile and at times threatening environment.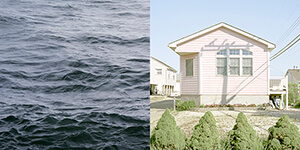 Ludak concentrates on the abstraction of the coastline affected by rising sea levels from different vantage points and the faces of fisherman with an emotional and economic connection to the ocean as a source of sustenance. Wagner considers what people do to save their homes, photographing homes being raised on jenga-like supports before coming to rest on new foundations in response to Hurricane Sandy.
Ludak has worked as a documentary and fine art photographer for over 20 years, and has been on the faculty at Monmouth since 2006. His work has been published and exhibited internationally. He is a 2016 recipient of the Puffin Foundation Grant for Photography. He received an MFA in Photography from Hunter College, CUNY.
Wagner photographs the urban and industrial landscape; previous projects include photographing the New Jersey Meadowlands, New York City apartment lobbies and the landscape of the Bronx. He received an MFA in Photography from the University of Hartford in 2013, after previously working in banking for more than 25 years.
For more information visit:
Mark Ludak: www.markludak.com/
Ira Wagner: iwagner100.com/
Ludak received funding through the UCI's Marine Science & Policy Initiative this summer to conduct aerial photography with student participation from a helicopter. Photos from that shoot will be on display at the exhibition.
Watch: UCI Marine Scientist Jim Nickels on 'Aqua Kids'
UCI Marine Scientist Jim Nickels appeared on a recent episode of the nationally syndicated educational TV show "Aqua Kids." Professor Nickels lead the Kids in a demonstration of the use of side scan sonar in Sandy Hook Bay. The segment begins around the 30 second mark.
'Ocean Stories' Highlights UCI-Monmouth U. Student Research on Boating
A new "Ocean Stories" feature on the Mid-Atlantic Ocean Data Portal explores data on recreational boater spending that was produced by the UCI and Monmouth University School of Science students in partnership with the Mid-Atlantic Regional Council on the Ocean. In the spring, the UCI released a report that examined the spending and activities of saltwater recreational boaters in New Jersey, Delaware, Maryland and Virginia. You can read the Ocean Stories piece here.