Coastal Policy, Ocean Planning and the Mid-Atlantic Ocean Data Portal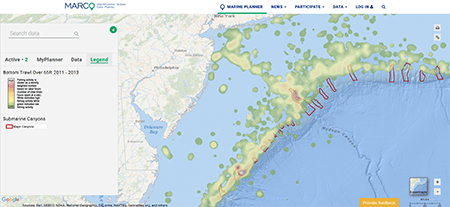 The Urban Coast Institute is a leader in the fields of ocean planning and coastal law and policy. We are committed to supporting the implementation of coastal and ocean management actions and policies based on the best available science at the local, state and regional levels. The UCI educates thousands of members of the public each year about emerging coastal policy and science issues through special events such as the annual Future of the Ocean Symposium and Champions of the Ocean Symposium.
The UCI is part of a team of research institutions developing the Mid-Atlantic Ocean Data Portal, a free and publicly accessible mapping and information site focused on ocean areas from New York through Virginia. The site was initiated under the guidance of the Mid-Atlantic Regional Council on the Ocean (MARCO) with grant funding provided by the Gordon and Betty Moore Foundation and the National Oceanic and Atmospheric Administration. The Portal currently houses a library of 5,000 interactive maps depicting cargo vessel traffic, commercial fishing hot spots, marine life habitats, military training zones and much more. If you are interested in scheduling an in-person or online training session for using the Portal or would like any other information about the site, contact Karl Vilacoba at kvilacob@monmouth.edu.
Additional Resources