Peter J. Jacques, Ph.D., has joined Monmouth University as its Rechnitz Family/Urban Coast Institute endowed chair in marine and environmental law and policy. Jacques will serve as a tenured professor in the Political Science and Sociology Department and an affiliated faculty member with the Urban Coast Institute (UCI), teaching undergraduate courses and conducting research on the politics of sustainability and global environmental change, including coastal, marine and climate policy and politics, and Indigenous thought.
Jacques (pronounced hack-iss) has over two decades of experience teaching political science connected to environmental issues, most recently at the University of Central Florida (UCF). He is a senior fellow with Earth Systems Governance and a past president of the Association of Environmental Studies and Sciences.
Jacques is the author of seven books. His latest, The Environmental Policy Paradox, co-authored with the late Northern Arizona University Professor Zachary A. Smith, explores the social, economic, legal and political matters pertaining to environmental policy. His book Sustainability: The Basics (second edition), which offers an introduction to the core principles, ethical considerations and metrics of sustainability, is being translated into Turkish and Spanish.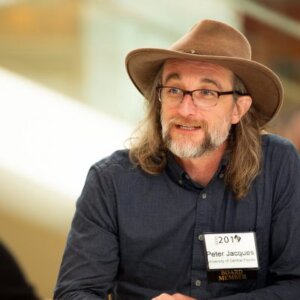 He is currently writing a book that makes a case for incorporating Indigenous approaches toward sustainability into world political theory. Professor Jacques noted that Western societies can take lessons from Indigenous cultures that have endured in the same lands for thousands of years without destroying their environments. When Henry Hudson explored this region's waters 400 years ago, he noted, the crew marveled at the reefs sustaining foot-long oysters – a sign that they were very old, even though they were intensely harvested by the Lenape Indians
"They were leaning on the oysters hard but never destroyed them," Jacques said. "We can learn from those kinds of practices and insights. I'd like to bring their traditional knowledge into international relations and politics, which have fundamentally ignored Indigenous peoples."
Jacques is nearing completion of a 15-year research project on the core political reasoning of climate change denial. The work has entailed an in-depth analysis of English language books by deniers to determine what messages have been consistent and which arguments have changed over time.
He traces his interest in the topic to 2001, when as a doctoral student he read a prominent book making an "environmentalist" case against climate science. The more he read, he recalled, the clearer it became that the arguments were "shadows," empty criticisms that lacked supporting science of their own. Jacques said the climate denial movement "doesn't need facts when it can thrive off point-counterpoint debates of a political nature to delay action."
"I tell my students that social science is at its best when it's shining a light in the back room from The Godfather," he said. "Malignant power thrives off darkness and secrecy. The more that it is discovered, the more it wilts."
The endowed chair was established with support from a gift from Joan and Robert Rechnitz. Robert Rechnitz, Ph.D., was a professor of English at the University and Joan Rechnitz is a Monmouth graduate.