Meredith Comi, an expert in designing, implementing and directing aquaculture, oyster restoration and living shoreline projects, has joined the Monmouth University Urban Coast Institute (UCI) as its coastal resilience and restoration practitioner. Through an agreement with NY/NJ Baykeeper, Comi will continue to guide and build upon a portfolio of projects she previously led as director of the organization's Coastal Restoration Program, which will transition to Monmouth's management. She will also work with UCI Associate Director Thomas Herrington to support UCI coastal community resilience work.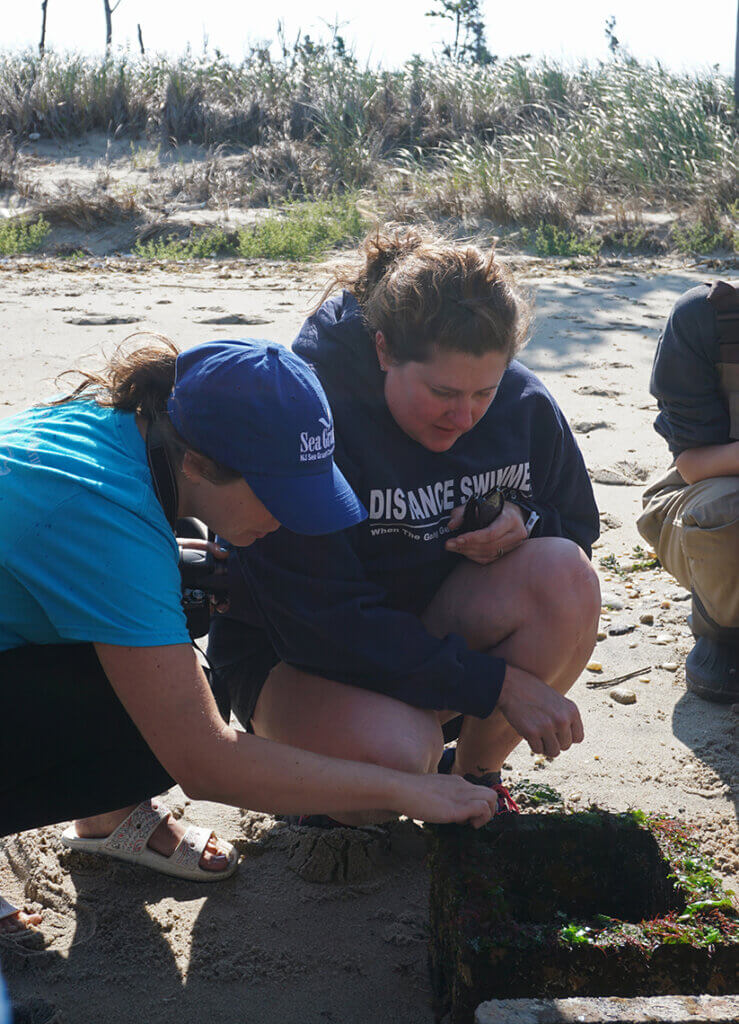 Comi's work will be funded through a combination of external grants and fall under the umbrella of the UCI's Coastal Community Resilience Initiative (CCRI). The CCRI is focused on providing community resilience and planning support for disadvantaged communities, promoting the development of natural features and green infrastructure to improve the resilience of communities and ecosystems, and working with other Monmouth partners and outside experts to advance elements of the New Jersey Coastal Resilience Plan.
Comi has over 25 years of experience with oyster restoration science and policy issues in New Jersey and has overseen the placement of millions of oysters in the Raritan and Sandy Hook bays, the Navesink River and the greater New York-New Jersey Harbor Estuary. After starting her career in 1997 as a technician at the Rutgers University Haskin Shellfish Research Laboratory, Comi became a staff ecologist at the National Oceanic and Atmospheric Administration's Sandy Hook Laboratory, where she began her work on the design of reefs that could withstand the conditions of the Raritan Bay. Starting in 2006, she expanded and evolved NY/NJ Baykeeper's early oyster restoration initiatives, successfully turning what was once an oyster gardening-focused program into a bi-state coastal restoration program.
In 2016, Comi and NY/NJ Baykeeper began a research partnership with Naval Weapons Station (NWS) Earle that allowed for reefs to be installed and monitored in waters that were off limits to the public. The undisturbed 10-acre area has served as an ideal laboratory, yielding lessons on scientific questions such as the best artificial reef shapes for young oysters to cling to, the impacts their filter-feeding have on water quality, and how effective reefs are for stunting wave energy. Comi noted that several students from Monmouth's Marine and Environmental Biology and Policy Program joined BY/NJ Baykeeper upon graduation and were instrumental in this work.
"I've been proud to see how the hands-on experience that they received as field techs on these projects has led to interest and careers in marine science and how their passion for the subject has endured," Comi said. "We are still in touch and some still work on the projects when they can and are still involved in the planning and monitoring of projects. That's something I'm very excited to experience with Monmouth's students."
Comi oversees the monitoring of 600 oyster castles – cinder block-size pieces that join together like Legos to form underwater pyramids – that have proven to be viable habitats. Through federal grant funding, Comi and Monmouth will work with the Office of Naval Research and other partners to bolster NWS Earle's resilience to climate change through a range of natural defenses including the oyster reef.
"Meredith brings a track record of creating and maintaining living shorelines for coastal resilience purposes in our region," Herrington said. "She has a deep knowledge of every step needed to put an oyster reef in the water, from permitting to design, implementation and monitoring. She is very interested in the research questions surrounding oysters' survival in urban environments and their potential resilience benefits, and we see these as excellent opportunities for collaboration with students and faculty."
Comi also served as a biology, marine science and ecology teacher at Watchung Hills Regional High School in Warren, New Jersey, from 2003-06. She holds a degree in biology from Rowan University, is the co-chair of the New Jersey Coastal Resilience Collaborative's Ecological Restoration and Science work group, and serves as a member of the Matawan Environmental Commission.