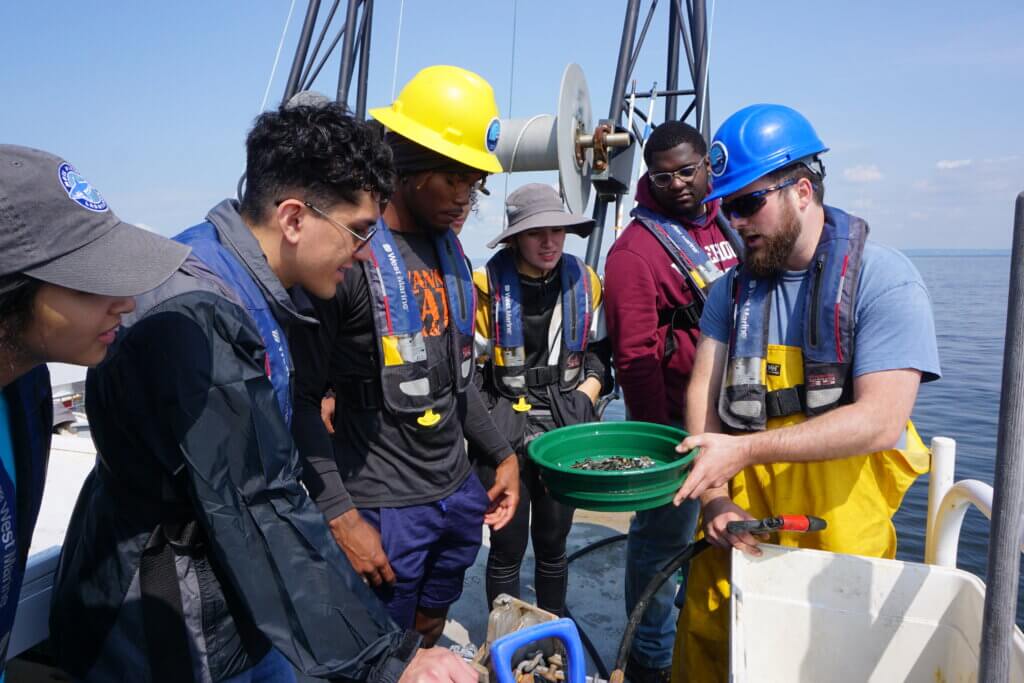 The Urban Coast Institute (UCI) welcomed 18 students participating in the National Oceanic and Atmospheric Administration's (NOAA) Inclusive Fisheries InternSHip (IN FISH) program aboard the R/V Heidi Lynn Sculthorpe on June 9 for a research cruise on Sandy Hook Bay.
IN FISH is a partnership program between NOAA Fisheries and research partners in academia and non-governmental research institutions which aims to build a more diverse and inclusive workforce. The 10-week experience includes a two-week course on ecosystem dynamics complex systems and eight weeks of project experience working with a mentor in science or management at a NOAA or partner institution marine research lab or marine resources program office. Students receive two credits through the University of Maryland Eastern Shore that are transferable to their institutions, as well as a stipend, tuition and course supplies.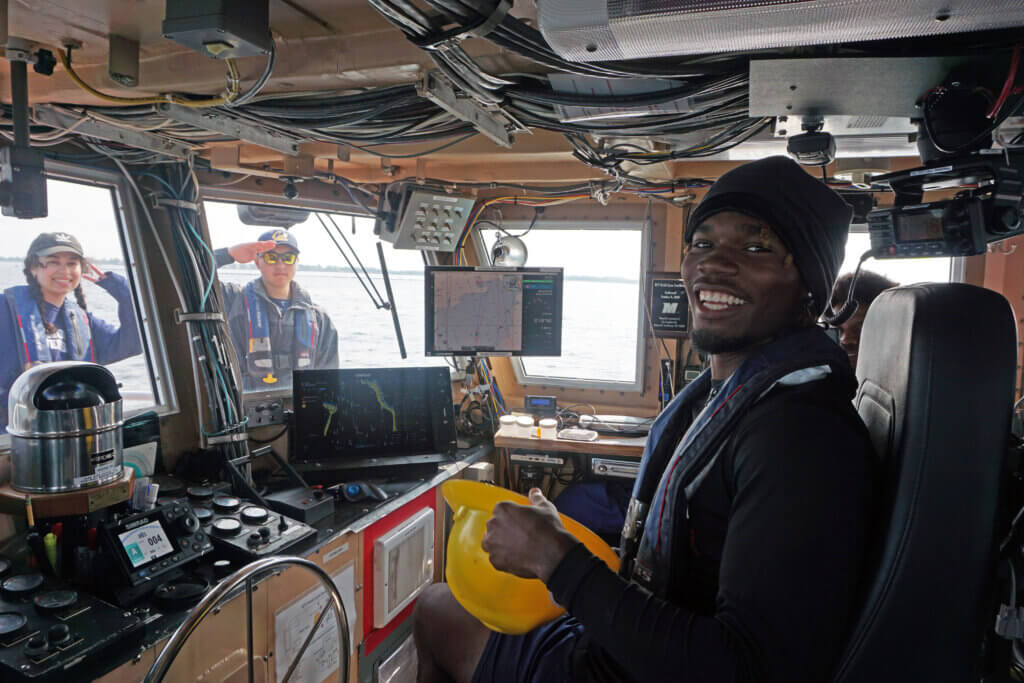 For the second consecutive year, the two-week course was based at Monmouth University. Students stayed at Monmouth's Garden Apartments and participated in daily educational activities on and off campus, visiting facilities around the region such as the Lund's Fisheries processing plant in Cape May, the NOAA James J. Howard Marine Sciences Laboratory, the New Jersey Sea Grant Consortium, and the Rutgers University Center for Ocean Observing Leadership. Monmouth was also a partner in the debut year of IN FISH in 2021, which was conducted virtually.
The cruise offered the students an opportunity to get hands-on training conducting plankton tows, using sediment grab samplers, collecting CTD (conductivity, temperature and depth) meter data, and testing other equipment under the guidance of UCI Marine Scientist Jim Nickels and Field Operations Assistant Mitch Mickley.
"I was impressed by what excellent students they were and what bright futures they have," Nickels said. "I've enjoyed working with the IN FISH program these last two years and see it as an academic-NOAA partnership that is beneficial for all involved."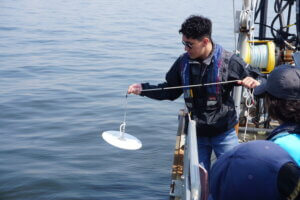 Students hailed from 16 universities located in 10 U.S. states and territories, some as far away as Puerto Rico, California and Oklahoma. Among them was Monmouth University's Marie Mauro, a rising senior majoring in marine and environmental biology and policy who will complete her research internship in Maine.
The UCI's participation in IN FISH is the latest step in its commitment to advance diversity, equity, inclusion and justice on and off campus and through its ocean science and policy programs.