By Randall Abate, Rechnitz Family/Urban Coast Institute Endowed Chair in Marine and Environmental Law and Policy

The world's oceans are in crisis, decimated by a broad spectrum of threats including overfishing, biodiversity loss, plastics debris, vessel-based pollution, invasive species, and ocean acidification. The U.N. Ocean Conference gathers experts from around the world to collaborate to address these threats at all levels of governance.
The inaugural conference convened at U.N. Headquarters in New York City in 2017. After a pandemic-related postponement, more than 6,000 participants assembled in Lisbon for the second edition of this event from June 27 to July 1, 2022. The glistening blue waters of Lisbon's breathtaking and expansive Atlantic coastline provided a valuable reminder of what was at stake during the conference discussions.
Shortly after our return from the COP26 climate summit in Glasgow in November 2021, Urban Coast Institute (UCI) Director Tony MacDonald and I resolved to keep the international engagement going and we set our sights on attending the U.N. Ocean Conference in Lisbon. Like the process of preparing to attend COP26, the application process to be approved as an observer organization at the U.N. Ocean Conference was similarly complicated and time consuming. We were finally approved to participate in March and immediately started the planning process to travel to and represent the UCI as participants in this important event.
The conference had a positive and solutions-oriented vibe that was spearheaded by science-based, grassroots initiatives; private sector innovations; and blue financing strategies. Some of these measures involve large- and small-scale blue economy initiatives that protect ecosystems and coastal communities, nature-based solutions like seaweed farming, and strategies for managing and repurposing marine plastics and preparing for a rollout of biodegradable plastic substitutes. The conference also included robust discussion of relevant global environmental treaties on ocean governance such as the United Nations Convention on the Law of the Sea (UNCLOS), the Biodiversity Beyond National Jurisdiction (BBNJ) treaty currently under negotiation, and the ocean-climate nexus measures in the Paris Agreement framework.
Reflections on UN Ocean Conference vs. COP 26
Speaking of global climate governance, I wanted to share a few observations on the similarities and differences between the U.N. Ocean Conference and COP26.
The U.N. Ocean Conference featured a much smaller-scale, upbeat, and supportive environment. This vibe was a refreshing contrast to COP26, with its three-ring circus atmosphere of diplomats and heads of state interviewing with the press at every corner, while the private sector and marginalized community constituents (e.g., youth, Indigenous, and small island developing states and least developed nations) engaged in a cheerleading competition for their causes. After the smoke cleared from the chaos, the COP26 outcomes fell far short of meaningful progress, especially given the emergency circumstances of the climate crisis. The U.N. Ocean Conference featured constructive collaboration on practical solutions without the COP26 drama (except for a few men dressed in shark costumes who were getting hassled by police when I arrived on Tuesday). Protests at COP26 were historic in size (approximately 100,000 participants) and impact, whereas U.N. Ocean had a much smaller and more subdued contribution from protesters. A brief video of the shark costume-clad activists and other protesters at the U.N. Ocean Conference is available in a brief video here.
Genuine stewardship passion abounded at the U.N. Ocean Conference. Everyone seemed to have devoted their careers to marine stewardship. Conversely, COP26 had a lot of politicians and private sector constituents dressed in fancy suits who didn't devote their careers to environmental stewardship, but were transitioning to the climate governance space because that's where the action is now.
Co-sponsored by Portugal and Kenya, the 2022 U.N. Ocean Conference devoted significant attention to the ocean governance challenges of small island developing states (SIDS) and least-developed nations. Pacific Island nations represent a remarkable 30% of the world's exclusive economic zone (EEZ) territory. Some of these island states have banned commercial fishing and manage massive marine protected areas to ensure that they do their part to protect the marine environment. SIDS and least-developed nations also have a prominent voice at the climate COPs, but their impact was diminished at COP26 due to COVID restrictions and complications with online participation.
Youth and Indigenous participation was more prominent at COP26. I published an article in June 2022 that addresses youth and Indigenous climate justice litigation in the U.S. and Canada, where these two communities have been particularly active in the courts of late in seeking to address the disproportionate burdens they bear in the climate crisis. The U.N. Ocean Conference needs a more significant presence from youth and Indigenous communities.
The theme that unites the two events is the ocean-climate nexus. Climate governance without consideration of ocean governance is meaningless, and vice versa. In recent years, the proverbial left hand (global climate governance) has been much more aware of what the right hand (global ocean governance) is doing, and vice versa. Ocean and climate governance must be fully integrated to ensure mutual gains. Ambassador Peter Thomson, the U.N. Secretary-General's Special Envoy for the Ocean, delivered some powerful points at the U.N. Ocean Conference on the importance of the ocean-climate nexus. He noted that while we can fix the other threats to oceans (e.g., overfishing, pollution, habitat loss), our addiction to oil will kill the oceans with the looming threat of a world with 3 degrees of warming. He also noted the "perfect storm" of major meetings in 2022 that need to make significant strides on the ocean-climate nexus, culminating with COP27 in Egypt in November.
Monday Evening Sunset Cruise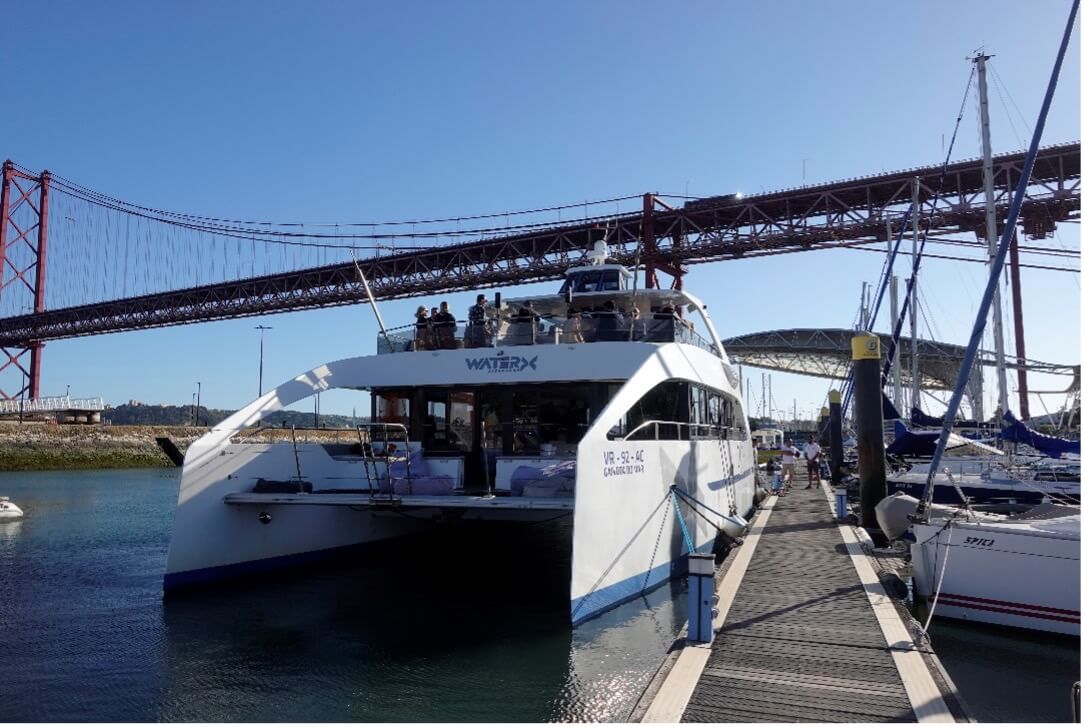 After a long and tiring journey to Lisbon with countless travel delays, the U.N. Ocean Conference began on a fun and memorable note. Peace Boat U.S. hosted a sunset cruise that was an ideal kickoff side event for this conference. The event featured short and inspiring presentations from a range of distinguished speakers including Ilana Said, the ambassador to the U.N. from Palau; Fabien Cousteau, grandson of Jacques Cousteau; and Sylvia Earle. (More information here.)
This intimate cruise was a great networking event. Complemented by sunset-enhanced seascapes and ample food and libations, the event was part informative conference engagement and part stimulating and relaxing hangout. Remarkably, this opportunity would not have been possible without some pre-conference networking a few months prior to departing for Lisbon. In my capacity as director of the Institute for Global Understanding at Monmouth, we co-hosted a human rights-focused virtual testimony event that featured Hiroshima survivors. A Monmouth student who was interning with Peace Boat U.S. reached out to me about possible co-sponsorship of this event and introduced me to Emilie McGlone, director of Peace Boat U.S. In working with Emilie and Peace Boat on this co-sponsored event on April 5, I learned about Peace Boat's active engagement on global ocean governance. Two months later, I reached out to Emilie to see if she planned to attend the U.N. Ocean Conference. Not only was she planning to attend, but she invited me to two fabulous conference side events that Peace Boat was hosting during the week-long conference. It surely pays to build and maintain your network!
Tony and I met several people on the cruise who are engaged in interesting marine science, citizen action and education, and blue finance initiatives. We reconnected with some familiar faces and made many valuable new connections. It was refreshing to see a mix of representatives of bottom-up, grassroots efforts side by side with representatives of well-funded, larger-scale private initiatives.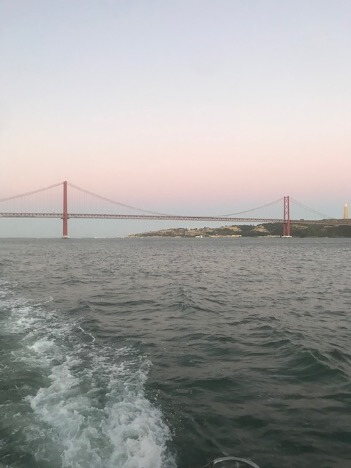 For the past 15 years, the UCI has been at the cutting edge of ocean governance policy and science, with a focus on the Mid-Atlantic region. Previous UCI events featured some of the celebrities (or their relatives) from this cruise, including Earle, honored as a Champion of the Ocean at the UCI's 2015 Future of the Ocean Symposium); and Jean-Michel Cousteau (Fabien's father), honored as a 2011 UCI Champion of the Ocean.
Highlights from the Panel Sessions
Panels, panels, panels. There were more than enough panels running all day, every day at the conference to inform and inspire the attendees on cutting-edge issues in ocean governance. Popular topics included ocean governance challenges for small island developing nations, marine plastics, strategies to achieve SDG 14 ("Life Below Water"), and innovative blue economy initiatives. The panel sessions provided a wide range of perspectives on these issues.
A nice counterbalance to the steady diet of panel sessions was the opportunity to network before, between, and after these panel sessions. Tony and I arranged productive and informative meetings with Environmental Law Institute (ELI) Ocean Program Director Xiao Recio-Blanco; ELI visiting scholar Patience Whitten, who co-directs the ELI Blue Growth Law and Governance Initiative; and Danielle Shaw, Chief Councillor of the Wuikinuxv Nation in British Columbia. These discussions provided helpful reinforcement of key themes from the conference and offered valuable opportunities for future collaboration on many ocean governance issues.
What follows is an effort to distill some key takeaways from the many panel sessions over four days.
Marine Plastics
Plastics pollution is ubiquitous in the marine environment. Not surprisingly, it was also ubiquitous as a focus of many of the panels at the conference. On a related note, in October 2019, the UCI hosted an excellent panel of experts to address the law and policy, science, and citizen activism underpinnings of marine plastics governance, available here.
Here are some fast facts to acquaint you with the scope and severity of the marine plastics problem:
Currently, there is 1 ton of plastic for every 3 tons of fish in the marine environment. By 2050, experts predict that our oceans will contain more plastic than fish.
Approximately 80% of marine litter (primarily plastics) is land-based debris.
Only 9% of plastic is recycled.
Marine plastic is now detectable and monitored via satellite.
To diminish the contribution of plastics contained in most clothing, a new company now features clothing made out of fishing nets.
Multi-million investments to address plastics pollution are already underway around the world in many sectors of the economy including plastics production, solid waste management, tourism, and agriculture.
A daunting $1.2 trillion investment is needed to address marine plastics pollution effectively.
Not Just for Sushi: Seaweed as a Wonder Drug for Restoration of the Marine Environment and Coastal Communities
Seaweed aquaculture is one of many "nature-based solutions" to protect the marine environment. Seaweed can buffer ocean acidification in coastal ecosystems by sequestering dissolved carbon to limit rate of ocean acidification. Seaweed also is a valuable tool to regenerate marine biodiversity and habitats. Australia is embracing the seaweed farming revolution to enhance protection of the Great Barrier Reef and coastal ecosystems with strategically placed seaweed aquaculture operations, which serve as large-scale biofilters.
Seaweed also provides many co-benefits. First, it promotes food security by providing essential vitamins (including B-12), minerals, and essential fatty acids. Second, it promotes biodiversity and restoration of the marine environment by enabling a transition away from depletion of ocean fisheries. Last but not least, seaweed farming can help promote social justice goals, too, through economic empowerment of marginalized communities and promoting gender equity (i.e., a new movement to engage women in these initiatives is affectionately dubbed the "she-weed" revolution).
Living on the cutting edge of marine governance once again, the UCI hosted a lecture in October 2020, "Is Seaweed a Fish?" in which Ethan Prall, Esq. argued that existing federal fisheries regulation should be modified to facilitate the growth of the seaweed industry.
Closing Side Event: "Sounds of the Ocean"
For the last side event of the U.N. Ocean Conference, Peace Boat U.S. hosted another excellent event that provided an artistic and reflective conclusion to the week's proceedings. Given the political gridlock on many climate and ocean governance issues, the arts are more important than ever to communicate the significance of these issues to the public to help goad politicians to respond to these challenges.
"Sounds of the Ocean" was a hauntingly realistic and immersive experience and a feast for the eyes and ears. It conveyed the marine environment to the audience as if you were an inhabitant of the ocean's depths. The music was soothing and delivered through a creative combination of unique instruments and vocals. Through compelling images displayed on the ceiling of a planetarium, the audience was able to bear witness to the majestic lurching of massive humpback whales and the locomotion of jellyfish, like large mushrooms swimming breaststroke. Toward the end of the performance, plastic bags, cups, and straws were vividly displayed to convey the tragedy of the intrusion of this debris and the impacts it causes to the magic and mystery of the marine environment's harmony. View a "Sounds of the Ocean" teaser video here.
Some Final Thoughts
The U.N. Ocean Conference was an informative and rewarding experience. The coverage of topics was vast and the information gathered and connections made were quite valuable as Tony and I continue to work on ocean governance issues in the years ahead. The conference was particularly useful to help inform a new article that I'm undertaking on ocean litigation, which will draw parallels to climate litigation and plastics regulation.
As was true with COP26 and with many major international conferences, most of the presentations were not particularly engaging or dynamic. Presenters were simply reading information in short speeches of updates from different countries' and organizations' perspectives. Moreover, the laudable effort to be inclusive diluted the content of the presentations. There were too many panelists (about 10 on each panel) in too short a period (about 75 minutes) for the presentations to be impactful. You can't really blame the panelists – it's difficult to say something memorable when you only have the floor for about 5 minutes.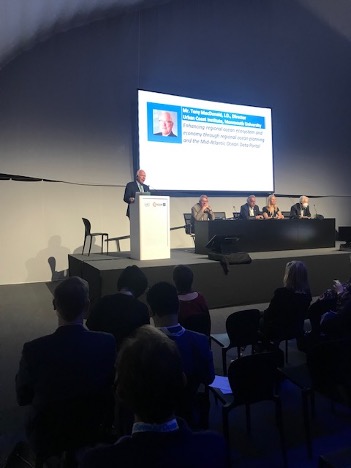 The UCI co-sponsored a comprehensive side event at this conference that addressed innovative solutions to ocean governance challenges. Coordinated by the Global Ocean Forum, with whom the UCI has worked closely for many years, the side event focused on the theme of moving toward a "blue society" and addressed topics such as nature-based solutions, blue carbon management, and grants to inspire ocean management innovation. Tony was on the panel and he delivered a compelling presentation on the challenges of governing offshore wind in the busy Mid-Atlantic marine environment.
I would be remiss if I didn't mention that food security was another key focus of the conference, which is a topic that is near and dear to my heart. The Food and Agricultural Organization of the United Nations (FAO) had a booth at the conference all week and several panels addressed aspects of food security in the marine environment. The collapse of fisheries around the world presents a major threat to food security because seafood is a primary source of protein for many communities and it also has cultural and spiritual significance for many Indigenous communities. Aquaculture is the most common response to these challenges, but it has many limitations and challenges.
I was surprised that the conference didn't include a discussion of lab-grown seafood as one of many potential solutions to this food insecurity crisis. I suspect that this topic will find its way into the next U.N. Ocean Conference, which will be co-hosted by France and Costa Rica in 2025.
Until then, be sure to strive to be good ocean stewards and encourage those around you to do the same. No contribution is too small. To underscore this reality, one conference speaker, Carolina Sevilla, founded the Costa Rica-based initiative called 5-Minute Beach Cleanup. Don't wait for governments to get it right – be a part of the solution in your daily lives.