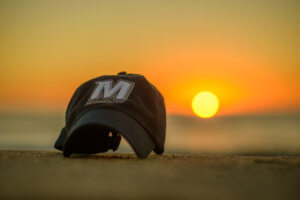 The Urban Coast Institute (UCI) is seeking proposals from Monmouth University students and faculty members of all disciplines for grants to support summer research through its Heidi Lynn Sculthorpe Scholars program. Endowed scholarships for the 2022-23 school year are also available for Monmouth students with a demonstrated financial need and interest in coastal, marine, and environmental studies.
The deadline for student summer research grants and endowed scholarships is March 21. Proposals for Faculty Enrichment Grants will be accepted through May 20 for the summer and Aug. 12 for the fall semester.
Student Summer Research Grants
Each year, the Heidi Lynn Sculthorpe Scholars program awards dozens of students funding to conduct hands-on research projects that provide real-world experience while helping make a positive impact in coastal communities. Past examples have ranged from marine science research aboard University vessels, to studies on the fairness of beach access regulations, to the creation of artwork and communications products that promote healthy oceans.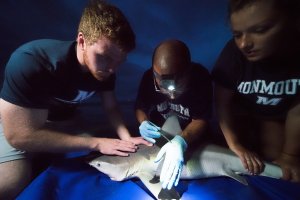 Summer research projects may be proposed by students with the support of a faculty mentor or proposed by a faculty member with the support of students who will work under their supervision. Students will have the opportunity present their work at the Monmouth University School of Science Summer Research Symposium in August.
All proposals relevant to the UCI mission are welcome. Some specific topics of interest include:
Enhancing consideration for social justice, diversity, equity, and inclusion as coastal communities adjust to a changing climate
Resiliency of coastal communities and environments
Impacts of sea level rise on coastal environments and communities
Environmental and social issues related to offshore wind development
Coastal ecosystem adaptation planning
Financing resilience
Coastal community capacity building to address climate change
For more information and instructions for submitting a proposal, visit the Heidi Lynn Sculthorpe Scholars page on the MyMU Portal (Monmouth sign-in credentials required).
Endowed Scholarships
The UCI has established four scholarship funds to support undergraduate students pursuing degrees including, but not limited to, marine and environmental biology and policy (MEBP) and political science, as well as global sustainability minors, with a demonstrated interested in coastal, marine and environmental studies. They are: the Ann and Alfred L. Ferguson '13HN UCI Endowed Scholarship; the MacDonald Family UCI Endowed Scholarship; the Rita Mangan UCI Endowed Scholarship; and the Urban Coast Institute Endowed Scholarship.
These scholarships are intended to encourage Monmouth students to become active, global citizens while fostering an understanding of the coastal and marine environment and communities, legal studies, public policy, and research methods. Recipients must be full-time students with demonstrated financial need. Scholarships will be for a minimum of $1,000 with the opportunity for renewal.
Click here (University sign-in credentials required) for more details on criteria and instructions for applying.
Faculty Enrichment Grants
UCI Faculty Enrichment Grants support full-time faculty of any rank for individual or collaborative projects for the enhancement of existing curriculum, new curriculum development, research and scholarship, and team-teaching opportunities. Although all proposals relevant to the goals and objectives of the UCI will be accepted, the UCI is particularly interested in funding collaborative, multidisciplinary projects that address aspects of the climate crisis and advance diversity, equity, inclusion and justice.
Mini-grants are also available on a rolling basis for conference fees, symposia, guest speaker honoraria, equipment and supplies to supplement or develop course curricula or course-related activities, and other needs to be determined on a case-by-case-basis.
Click here (University sign-in credentials required) for more information and instructions for submitting proposals.
Questions?
Those seeking more information about any of the funding opportunities above may contact UCI Associate Director Tom Herrington at (732) 261-5588 or therring@monmouth.edu. Students or faculty with questions are also welcome to drop in at any time to an open UCI Summer Research Grant Information Session hosted by Herrington on March 4 from 3-4 p.m. The virtual meeting credentials are below.
Zoom link: https://monmouth.zoom.us/j/94407254733?pwd=b3A3aGhBM0ovRGN5ZUF1a2J2d3ZiQT09
Call-in option: (301) 715-8592
Meeting ID: 944 0725 4733
Passcode: 312007