Watch: Summer Research Students Present Projects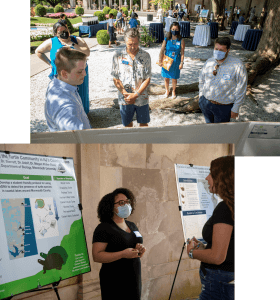 The Monmouth University School of Science Summer Research Program Symposium returned to its traditional home at Erlanger Gardens on Aug. 12 with in-person poster presentations by over 40 students. The annual event is the culmination of 10 weeks of collaborative research in biology, chemistry, mathematics, computer software and engineering topics by students and faculty mentors.
Each year the Urban Coast Institute provides Heidi Lynn Sculthorpe Scholars grants for several summer research projects that support its mission. Scroll below to watch some of the student researchers discuss their work. A book of abstracts from the symposium can be found here.
eDNA As a Tool for Monitoring Turtle Species In Coastal Lakes
Delaney Mestey-Jones
Exploring Salt Tolerances of Lichens in New Jersey Coastal Ecosystems
Emily Vasquez
Evaluation of Coastal Lakes as Turtle Habitat in Monmouth County, New Jersey
Megan Malaty
Female Labor Force Participation Rates vs. Childcare Availability in New Jersey
James Allan
Geospatial Representation of Lower Hudson-Raritan Estuary Water Quality
Nicholas Box