Transcript of Monmouth IGU Climate and Energy Roundtable Published in Environmental Law Reporter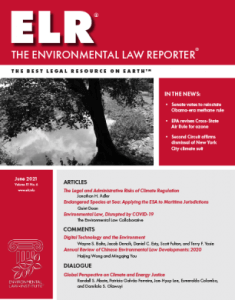 An edited transcript of the Climate and Energy Justice Roundtable from the Monmouth University Institute for Global Understanding's (IGU) spring symposium has been published in the June edition of the Environmental Law Institute's Environmental Law Reporter. The discussion was moderated by Rechnitz Family/UCI Endowed Chair in Marine and Environmental Law and Policy Randall Abate, who also serves as director of the IGU. Panelists included University of Windsor (Canada) Faculty of Law Assistant Professor Patrícia Galvão Ferreira; Seoul National University (South Korea) School of Law Professor Jae-Hyup Lee; University of Bergen (Norway) Center for Climate and Energy Transformation Visiting Professor Esmeralda Colombo; and Hamad Bin Khalifa College of Law (Qatar) Associate Professor of Energy and Environmental Law Damilola S. Olawuyi.
Watch videos of this and other sessions from the three-day symposium.