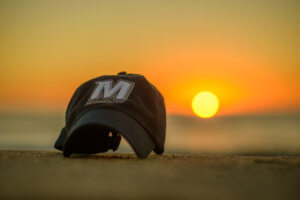 Help keep our shore clean by registering for a Monmouth University Alumni Beach Cleanup on Sunday, June 13, in Long Branch. The event is being hosted by the UCI in celebration of World Ocean Month and Monmouth Alumni Weekend. Show your Hawk pride and wear your Monmouth gear!
The cleanup will take place from 9-10 a.m. at the beaches near the University Bluffs student apartments. Volunteers can sign in at our table in front of University Bluffs, located at Brighton/Ocean Avenue near the boardwalk, beginning at 8:30 a.m.
Cleanup Details
Garbage bags will be available. Volunteers may also choose to bring their own reusable buckets/receptacles.
Disposable gloves will not be supplied. To eliminate single-use plastics, we encourage volunteers to bring their own gardening gloves or other reusable gloves.
Participants should take appropriate social distancing measures and not attend if feeling ill.
Click here for a full schedule activities taking place on Alumni Weekend. For any questions, contact Kristin Waring at kwaring@monmouth.edu.