Prof. Abate Discusses Upcoming Book with Florida Law Students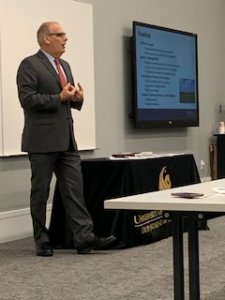 Rechnitz Family/UCI Endowed Chair in Marine and Environmental Law and Policy Randall Abate delivered two talks on his forthcoming book, Climate Change and the Voiceless: Protecting Future Generations, Wildlife, and Natural Resources, on Oct. 8.
The first lecture for approximately 60 law students at the University of Florida College of Law in Gainesville was co-sponsored by the Student Animal Legal Defense Fund and the Environmental and Land Use Law Society. Later that day, Abate traveled to Orlando to deliver another book talk at the new downtown campus of the University of Central Florida (UCF). Approximately 30 law professors, law students, political science and legal studies professors, attorneys, and undergraduate students attended the event. The event was hosted by UCF's Center for Law and Policy.