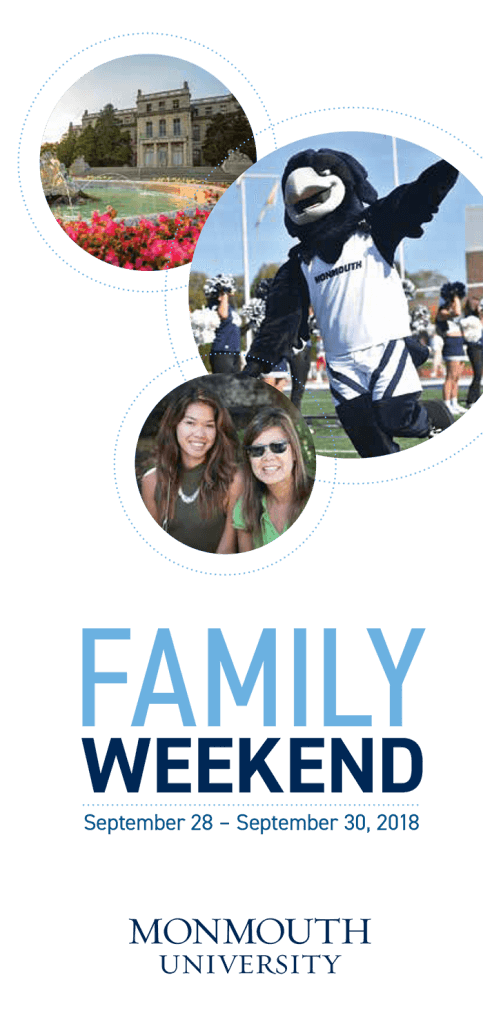 Friday, September 28 – Sunday, September 30, 2018
I am delighted to invite you to participate in our upcoming Family Weekend scheduled for September 28–30, 2018.
The families of our Monmouth University students are important partners with us as we work to support your student's educational journey. Participation in some of the wonderful activities planned during Family Weekend is a great way to show this support and be a part of the campus.
Events kick off with our Study Abroad Fair and information session on Friday. On Saturday, be sure to join us as Monmouth takes on the Wagner College football team. For those attending the football game on Family Weekend, Athletics is excited to offer a buy one get one free ticket promotion – for online purchases only – by using promo code 'FAMILY'.
Saturday evening our Student Activities Board will host Casino Night from 7:30-10:30 p.m. in Wilson Hall and our women's soccer team plays Siena College at 7 p.m. Finally, please join us for brunch on Sunday, Sept. 30, and take a tour of historic Wilson Hall.
Whatever your pleasure, our campus, your student's academic and social home, welcomes you.
I look forward to seeing you at Family Weekend.


Mary Anne Nagy
Vice President for Student Life
and Leadership Engagement
---
If you have any questions please contact the Office of Student Life at 732-263-5218 or contact us at parentinfo@monmouth.edu or 7322635218.