Global Student Conference
Sunday, March 6, 2022
11 a.m. – 1 p.m. EST
An annual student conference that coincides with Social Work Day at the UN where we will activate youth empowerment. This year's Global Student Conference will focus on:
Buen Vivir:


Co-Building A New Eco-Social World
Love and Care of People & the Planet
Organized By:
Malena DiMaggio, MSW Monmouth University Student
Linda Levin, MSW Fordham University Student

Meet the Speakers
Carmel Alshaibi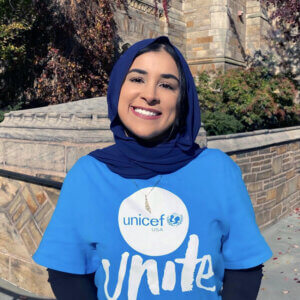 Carmel Alshaibi is a sophomore at Yale University studying global affairs. Originally from the State of Palestine and local to Florida, Carmel has been a volunteer with UNICEF since high school and now serves on the UNICEF USA National Youth Council.
As a Palestinian-American and the daughter of Palestinian refugees, Carmel is familiar with the challenges growing up as part of a diaspora community. She is committed to serving marginalized communities often excluded from political and social conversations. Through her involvement with UNICEF and other organizations, Carmel is focused on protecting migrant and displaced children and fostering a system where uprooted children are afforded a safe and prosperous childhood.
Carmel enjoys playing soccer, listening to podcasts and training as a student pilot. She enjoys working on UNICEF initiatives and hopes to leverage her agency as a child of the free world to continue building her career in the humanitarian arena.
Rosemary Barbera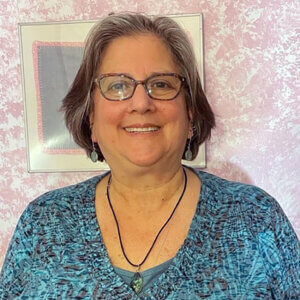 Rosemary A. Barbera is a social worker who has been working in human rights since the 1980's in the U.S. and Latin America, including work with immigrants fleeing war and the violence of poverty from Latin America and Africa. She lived in Bolivia and Chile and was a human rights worker in both countries. She continues her work with survivors of human rights abuses in Chile as well as with the family members of the disappeared there.
In the U.S., she has worked with immigrant rights organizations such as Juntos/Casa de los Soles, the Liberty Center for Survivors of Torture, and La Puerta Abierta. She has also worked with the Poor People's Campaign, Social Welfare Action Alliance, the CSWE Commission on Global Social Work Education, the CSWE Committee on Human Rights, and SWCAREs – Social Work Coalition for Anti-Racist Educators.
Current research examines the role memory plays in post-dictatorship society, community resilience after disaster, economic inequality, and building human rights social movements. She is an Associate Professor of Social Work at La Salle University.
Claire Crimando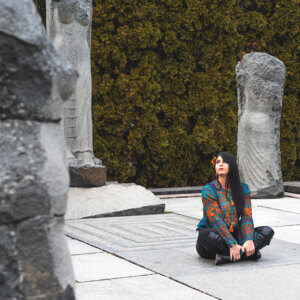 Claire Crimando, currently pursuing her Masters in Social Work (MSW) with a focus in Global & Community Practice at Monmouth University in New Jersey, Claire wears multiple hats which highlight her skills and passions. Claire presently serves as a Nuclear Disarmament, Peace Relations, & Sustainable Development Goals Intern with Peace Boat US and is additionally engaged in a field placement at Reflect US, a national coalition comprised of the eight leading women's representation organizations, working to increase the number of women in elected and appointed office. Claire also serves as Administrative Director for the Suffolk Institute of Psychotherapy & Psychoanalysis, whose mission is to provide camaraderie & opportunity for Continuing Education to LCSWs, counselors, and more in greater Long Island. Claire's career goals include running for local and national office where she will focus on immigration reform, nuclear disarmament, international peace relations, restorative justice, and education.
Claire holds a BSW with a minor in Political Science from Rutgers University-Newark. She also proudly attended Sussex County Community College (SCCC) where she reestablished the Social Work Club and received the SCCC 2015 Leadership Award. Claire holds multiple certifications from advocacy groups such as Equal Justice USA, The NJ Coalition Against Human Trafficking, and other anti-violence organizations. Claire also holds an AAS in Photography from the Fashion Institute of Technology and runs a small photography business on the side.
In recent years, Claire's professional history includes being a Director at Bruno Associates, Inc. one of the most prolific and long-standing grant writing firms in the Garden State, where she helped her clients – ranging from boards of education, housing authorities, first responders and local governments – to secure over $15 million in grant funds. Claire still serves as a volunteer Hotline Supervisor and CSVA at SAVE of Essex where she previously stood as Family Service League's sexual violence program's Crisis Intervention & Prevention Specialist out of the Shani Baraka Women's Resource Center in South Newark. Her role included crisis intervention as well as outreach education in the form of development and implementation of curriculum surrounding consent, SV, healthy relationships, bystander intervention, SA on college campuses, Media Literacy, and others.
Mildred C. Joyner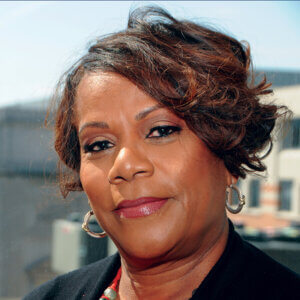 Mildred "Mit" C. Joyner, DPS, MSW, BSW, LCSW, is President of the National Association of Social Workers (NASW) that has 55 chapters throughout the United States and its territories. Joyner also serves as President of the North America Region of the International Federation of Social Workers (IFSW), which includes Canada and the United States, and is a member of IFSW's Executive Committee. She serves on the boards of the NASW Foundation and the NASW Assurance Services, Inc. and is a NASW Pioneer@. Previous board service included DNBFirst, a community bank where she was the first female and only African American to service in that capacity.
Professor Joyner is the inaugural John E. and Barbara S. Jacob distinguished professor at Howard University School of Social Work in Washington, DC, and Professor Emerita of Social Work at West Chester University of Pennsylvania. She received a BSW from Central State University in Wilberforce, Ohio, and MSW in planning, policy, and administration from Howard University. In 2018, she received an honorary doctorate in Public Service from West Chester University.
As a former president of the Council on Social Work Education (CSWE), Professor Joyner also served on the board of the International Association of Schools of Social Work (IASSW) and represented the United States. She is also a former president of the Association of Baccalaureate Social Work Program Directors (BPD) and is the only professional social worker or academician elected to serve as President of three major national social work associations; BPD, CSWE, and NASW.
Professor Joyner co-authored three books and has delivered hundreds of presentations at various universities, agencies, businesses, and professional conferences. In 2011, she retired from West Chester University as a full professor and created MCJ Consultants specializing in organizational change and achieving equity.
Professor Joyner is the recipient of numerous awards. Her name was placed among several luminaries on the Wall of Honor in the School of Education and Social Work at West Chester University in November 2021. Awards received include: the AGE-SW and BPD Gerontology Leadership Award for stellar national leadership in gerontology; the BPD Lifetime Achievement Award; Living Beyond Breast Cancer Founders Award for leadership and stewardship; the first Dr. Inabel Burns Lindsay Award from Howard University School of Social Work; the Central State University Hall of Fame Award as a Distinguished Alumni; the First William Culp lecturer from Abilene Christian University School of Social Work; the CSWE Lifetime Service and Leadership Award, and the prestigious NASW Pennsylvania Chapter Phyllis Black Lifetime Achievement Award for her leadership and commitment to social justice and the quest for obtaining equity for all.
Professor Joyner is married to the Honorable J. Curtis Joyner, a retired Federal Judge of the Eastern District of Pennsylvania. Together they have three daughters and two grandsons who are the reasons that she remains committed to the arduous task of working to achieve racial, social, economic, environmental, and political justice for all.
Emmanuela Shinta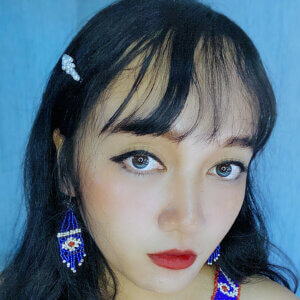 Emmanuela Shinta is a Dayak leader, activist, environmentalist, filmmaker and writer with a reputation for leading and empowering young indigenous people. Her work has been recognized widely in the Asia Pacific region. In 2016, Shinta started Youth Act Campaign, a movement which calls out for young people to actively engage in demanding climate justice and be involved in climate action as the response to forest fire and haze that has happened in Kalimantan since 1997.
With her organization, the Ranu Welum Foundation which she founded in 2016, she has trained more than 150 young indigenous people to be able to use the camera to tell their causes including the rights of indigenous people and environmental issues. She has been speaking on behalf of her communities in regional and international forums about public misconception on the Dayak people and bringing the stories from the ground up to global audiences through short videos and documentaries. She is the founder of International Indigenous Film Festival (Bali, Kuching, Kalimantan). Since 2018, Shinta has started her first world storytelling tour on the theme "Stories That Matter" in the United States, Australia, Europe and several Asian countries with art performance, book reading and video showcase. The Trailblazer tour followed in 2019 in U.S. and North America.