By Jennifer Urmston '17, MEBP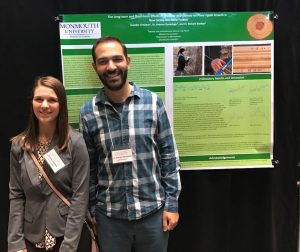 I sat down with Dr. Daneshgar to learn a little more about him and his involvement with Monmouth University. Here's what I learned…
Background: Dr. Daneshgar has been a professor at Monmouth University since 2010. He teaches courses in Botany, Ecology, Tropical Island Ecology, and various other classes. One of my favorite experiences with Dr. Daneshgar was the Tropical Island Ecology course, in which we spent two weeks in the Bahamas working in the field alongside conservation scientists. His education includes a B.A. in Biology from the University of Delaware, an M.S. in Biology from St. Joseph's University, a Ph.D. in Invasion Ecology from the University of Florida, and postdoctoral research experience on Prairie Ecology in Texas. He discovered his passion for teaching as an undergraduate while serving as a lab instructor at Delaware; this prompted him to pursue a Ph.D. and become a professor. He was drawn to Monmouth because it is a teaching school with a strong focus on undergraduate students. He runs the campus greenhouse and the Monmouth vineyard, and he serves as advisor for the Sea Sharps, Monmouth's A cappella club! In his time here at Monmouth, Dr. Daneshgar has been very involved and has brought a lot to the university.
As one of the core professors in the Marine and Environmental Biology and Policy Program, Dr. Daneshgar has a lot of positive things to say about the program! He enjoys working with a diversity of students who all share a similar motivation and are committed to conservation. He feels that his students not only learn from him, but he learns from them as well. He also enjoys learning more about marine environments, since he is mainly a terrestrial ecologist. Although the areas we study here at Monmouth aren't the same as what he studied in school, he is able to apply his research skills to new ecosystems.
Dr. Daneshgar serves as an advisor for several undergraduate research projects in plant ecology. His main interests currently focus on forests near the ocean (mangroves and maritime forests) specifically identifying their ecosystem services and how they will be affected by climate change. Seeing his students succeed, whether it's winning an award or getting into graduate school, is the most rewarding part of his job. He is particularly proud of his last three peer-reviewed articles, which feature undergraduate co-authors.
Dr. Daneshgar recently received tenure, and he has bright ideas for his future at Monmouth. He hopes to explore more creative pedagogical projects such as educational films. He is also working on getting grants to fund more student research. When he's not teaching, Dr. Daneshgar enjoys spending time with his wife and son, reading Harry Potter, poster collecting and cheering on Philly sports teams!