Program for Research and Support for Rett Syndrome
Our Mission
The mission of the Program for Research and Support for Rett Syndrome at Monmouth University is to provide support, education, and treatment services to persons with Rett syndrome and their families. The program also provides a location for professionals, advocates, and students to unite in conducting cutting-edge research and providing communication, speech/language, and swallowing assessment and treatment for persons with RTT. The program was created and is led by experienced faculty and engaged Monmouth University students who are passionate about supporting the Rett syndrome community.
Services at Monmouth University
Assessments and consultations for speech, language and communication, including augmentative communication services
Affordable speech and language therapy
Communication coaching for caregivers and professionals working with person with RTT
Support services for family members
Continuing education for professionals, students, and family members
Develop and conduct faculty- and student-led investigations related to communication, speech, swallowing, and treatment for persons with RTT
Support groups for families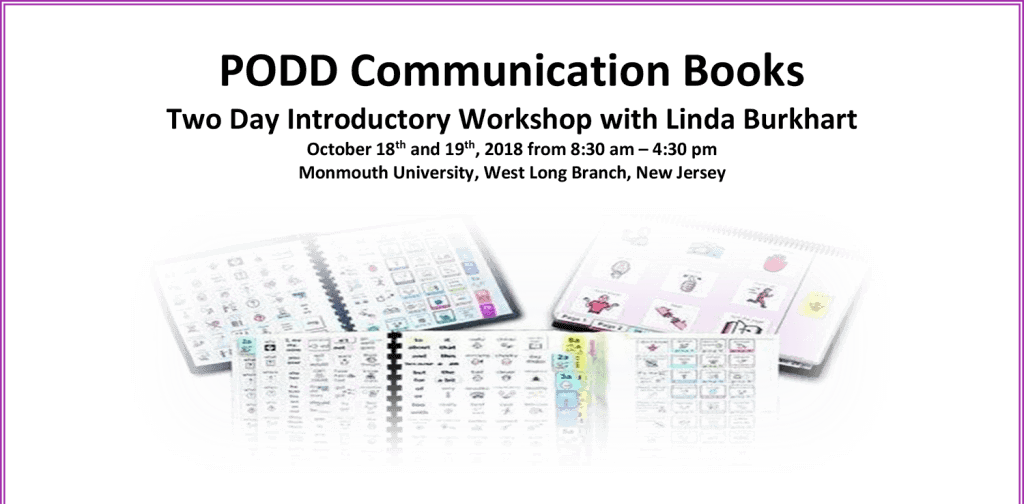 Instructor: Linda Burkhart, a well-known teacher, author and leader in the field of assistive technology, adaptive play, and augmentative communication for children who face significant challenges.
Sponsored By:
The Program for Research and Support for Rett Syndrome at Monmouth University
Monmouth University Speech-Language Pathology
New Jersey Rett Syndrome Association.
PODD Communication Books
Two Day Introductory Workshop with Linda Burkhart
October 18 and 19, 2018
8:30 a.m. – 4:30 p.m.
Monmouth University, West Long Branch, New Jersey
Children with complex communication needs or limited speech often struggle to interact and communicate. This may include children who have physical disabilities, multiple disabilities, sensory processing challenges, limited social interaction skills, and/or a range of cognitive limitations and learning difficulties.
This two day course will demonstrate the use of a Pragmatic Organization Dynamic Display (PODD) approach developed by Gayle Porter (Melbourne, Australia). Generic templates for multi-page "light tech" communication books have been carefully designed to support genuine communication for a variety of functions throughout the day. These templates may be customized for a range of access methods and other individual needs.Come learn strategies for creating multi-modal language learning environments that provide receptive models and expressive opportunities for language development. Learn strategies for teaching and using PODD with children and their communication partners. Videos and case examples will be shared. Participants will have an opportunity for hands-on practice with PODD Communication books.
Participants will be able to:
Discuss the features of a PODD communication system in terms of vocabulary organization, layout, design, range of access strategies and customizing for individual requirements.
Use PODD generic template resources to produce customized communication books.
Discuss the teaching and learning strategies for implementing PODD communication systems with students and team members.
RTT Quick Facts
There are an estimated 200 persons in NJ living with Rett Syndrome
RTT occurs in approximately 1 in every 10,000 live female births
Predominately affects females
RTT is a clinical diagnosis; most cases have a genetic mutation in the MECP2 gene on the X chromosome
RTT results in significant challenges in speech and motor control
Individuals with RTT are typically unaffected at birth. Symptoms usually develop sometime after the first birthday.
Seizures and scoliosis are common, along with other neurological and physical challenges.
The third Tuesday in October is NJ's Rett Syndrome Awareness Day
Purple is the official color to wear in recognition of Rett Syndrome.
Online Resources