Program for Research and Support for Rett Syndrome
Our Mission
The mission of the Program for Research and Support for Rett Syndrome at Monmouth University is to provide support, education, and treatment services to persons with Rett syndrome and their families. The program also provides a location for professionals, advocates, and students to unite in conducting cutting-edge research and providing communication, speech/language, and swallowing assessment and treatment for persons with RTT. The program was created and is led by experienced faculty and engaged Monmouth University students who are passionate about supporting the Rett syndrome community.
Services at Monmouth University
Assessments and consultations for speech, language and communication, including augmentative communication services
Affordable speech and language therapy
Communication coaching for caregivers and professionals working with person with RTT
Support services for family members
Continuing education for professionals, students, and family members
Develop and conduct faculty- and student-led investigations related to communication, speech, swallowing, and treatment for persons with RTT
Support groups for families
2019 Annual Rett Syndrome Conference
Monmouth University's
Program for Research and Support for Rett Syndrome
in West Long Branch, NJ is proud to announce
the 2019 Annual Conference:
Communication and Literacy for Individuals with Complex Communication Needs
Thursday, October 24 and Friday, October 25, 2019
8:30 a.m. to 4 p.m.
Monmouth University
West Long Branch, New Jersey
Speaker
Pati King-DeBaun, MS, CCC-SLP
Pati is a speech-language pathologist who has specialized in communication and early literacy for children with complex disabilities for over 30 years. She is a highly regarded consultant, author, and international speaker. Pati will conduct two workshops.
Disclosures: Relevant Financial Relationships: Pati King-DeBaun is an independent consultant. She is receiving an honorarium and travel support from the Program for Research and Support for Rett Syndrome at Monmouth University.
Relevant Nonfinancial Relationships: Pati King-DeBaun has no relevant non-financial relationships to disclose. Product Disclosure: This presentation will contain information on the following products: Dynamic Communication Books, AAC2Go and Storytime.
Workshops
Thursday, October 24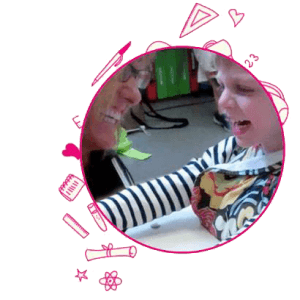 Early Literacy Success: Students Who Have Complex Communication Needs
This workshop is appropriate for students from Toddler-K who are at the early literacy levels and struggle with communication and language. Case examples will demonstrate support strategies for children with autism, multiple disabilities, AAC users and students who have severe language delays. Appropriate for students at home, inclusion or self-contained- situations. Case examples, hands on materials and a sample story to take home and use will be a part of this workshop.
Friday, October 25
The Integrated Model of Communication: Balancing Conversation and Literacy instruction for Students Who Use AAC
This workshop is for anyone interested in improving the quality of instruction available to school age students who use alternative and augmentative communication (AAC) with a range of student ability levels and devices, (light to high-tech). Too often in therapy or educational programs designed for children who use AAC systems the skills (linguistic, literacy and social) are taught in isolation rather than in an integrated manner. This presentation will demonstrate how to find the balance between social relationships, conversation, core word instruction/generative language and participation in the classroom and therapy programs. Some favorite tools and solutions will be shared with participants.
This course is offered for up to 1.4 ASHA CEUs (introductory level, professional area)

For information please contact Trish Bartlett at tbartlet@monmouth.edu or 732-263-5487.
Learn More About Rett Syndrome
RTT Quick Facts
There are an estimated 200 persons in NJ living with Rett Syndrome
RTT occurs in approximately 1 in every 10,000 live female births
Predominately affects females
RTT is a clinical diagnosis; most cases have a genetic mutation in the MECP2 gene on the X chromosome
RTT results in significant challenges in speech and motor control
Individuals with RTT are typically unaffected at birth. Symptoms usually develop sometime after the first birthday.
Seizures and scoliosis are common, along with other neurological and physical challenges.
The third Tuesday in October is NJ's Rett Syndrome Awareness Day
Purple is the official color to wear in recognition of Rett Syndrome.
Online Resources