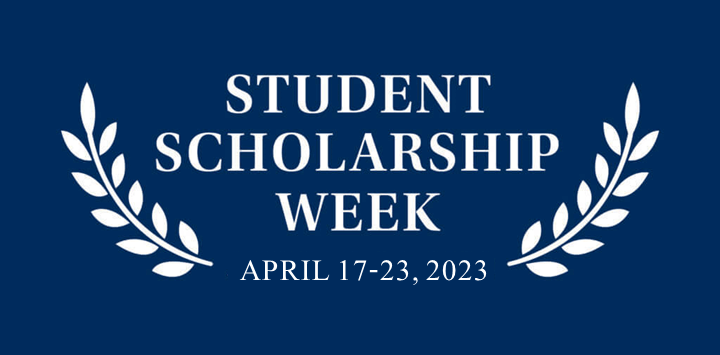 The 8th Annual Scholarship Week: Celebrating the Research, Creative, and Service Accomplishments of MU Students takes place Monday through Sunday April 17-23, 2023.
Student Scholarship Week includes week-long activities that showcase and celebrate students' individual academic work inside and outside of the classroom as well as highlights faculty-student collaboration, across the University.
Students' scholarly contributions in research, writing, service learning, clinical experiences (i.e., study abroad, internships), musical and theater productions, art exhibits, student development and leadership, student clubs etc. are all part of this event. Last year's work is available for viewing online. Last year's Hawk Talks may be viewed here.
Applications for Hawk Talks and student posters may be submitted at this etrieve form. Submissions are due on March 10, 2023. Please send information about School, Department or Program events to provost@monmouth.edu . Please include title of event, date, time and place for inclusion in the Student Scholarship Week program. Please note that Schools, Departments and Programs must make all arrangements, including space reservations, for their individual events.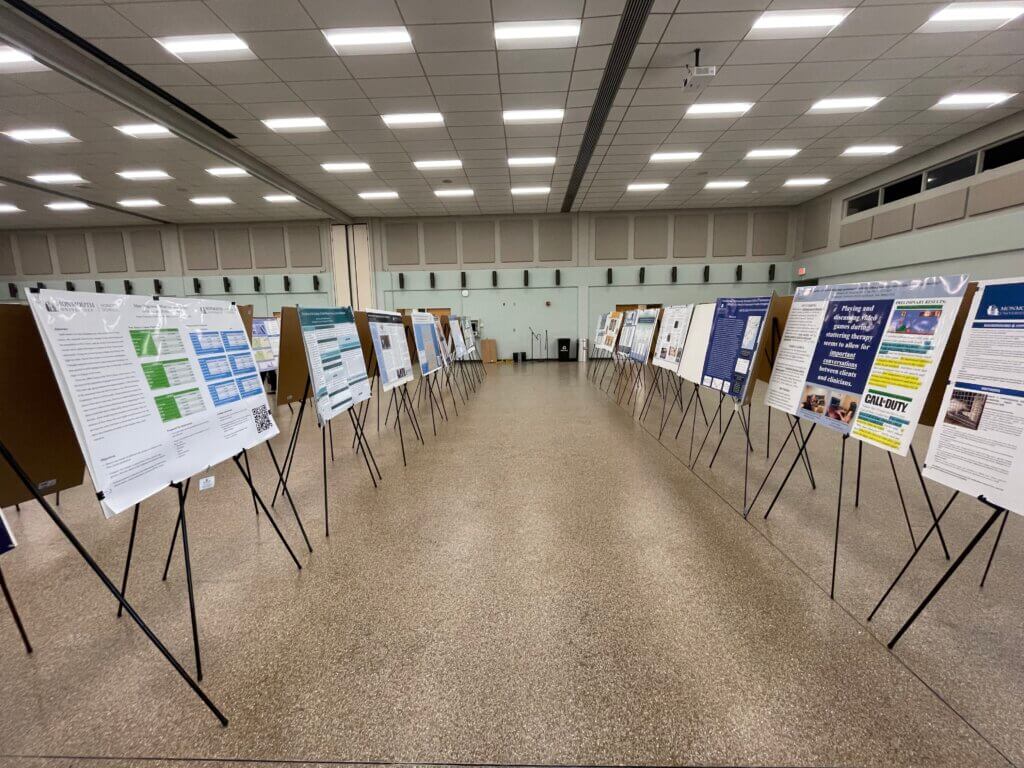 2023 Scholarship Week Committee
Kurt Wagner, University Librarian (Committee Chair)
Mary Anne Nagy, Vice President for Student Life & Leadership Engagement
LoriAnne Perrine, Executive Assistant to the Provost
Nancy Mezey, Dean, Honors School
Leon Hess School of Business

Janeth Merkle, Assistant Dean
Jonathan Daigle, Assistant Professor, Economics, Finance and Real Estate

School of Education

Alex Romagnoli, Interim Associate Dean
Carol McArthur-Amedeo, Program Director, Lecturer, Special Education
Danielle Frith, Specialist Professor, Special Education

Wayne D. McMurray School of Humanities and Social Sciences

Rich Veit, Associate Dean
Geoffrey Fouad, Associate Professor, Geography
Beth Swanson, Lecturer Professor, English

Marjorie K. Unterberg School of Nursing and Health Studies

Nikki Clifford, Associate Dean
Jaime Myers, Associate Professor, Health and Physical Education

School of Science

John Tiedemann, Assistant Dean
Jason Adolf, Endowed Professor of Marine Science, Biology, and Urban Coast Institute

School of Social Work

Leah Lazzaro, Assistant Dean
Paul Urbanski, Associate Professor
Featured Events
Monday, April 17
Hawk Talks – see Hawk Talk abstracts here
10am – 11:30am
Reception
11:30am
University-wide Poster Expo Opening
12pm-2pm
Student Center – Anacon A/B
The Hawk Talks event will highlight the rich diversity of events offered during Student Scholarship Week by including student work from all academic disciplines, including graduate and undergraduate students, in one premier interdisciplinary event. The event format will showcase student work through poster presentations and five-minute TED-talk style presentations. Refreshments will be served.
University-wide Poster Exposition
April 17-23
Posters in Anacon Hall and online
At this interdisciplinary poster session will highlight our students' research across departments, programs and disciplines at Monmouth.
Students will display their posters in Anacon Hall throughout the week.
All Week Events
Department, program and center event details and full program of Student Scholarship Week events.