The XIV Dalai Lama
"Our Happiness, Our Health, Our Future: His Holiness the Dalai Lama's Reflections and Conversations on our Happy, Healthy, and Sustainable Future."
The Dalai Lama joined Monmouth University and guests on Tuesday, September 21, at 11:30 p.m. EDT for a livestream session to engage in conversation with our students and colleagues and offer his message of happiness, health, well-being, and the future of this earth, our only home.
You can view the recording of the livestream via this link: https://www.youtube.com/watch?v=H-KemyQ-bbs
Check out this photo gallery of our students, faculty, and staff on the livestream with the Dalai Lama:
The University will continue to celebrate and honor the Dalai Lama and his teachings throughout the fall semester and beyond. If you are interested in creating an event or having your class or group host a program or event, please submit your idea or proposal (you must use your MU login for the submission). Please also submit an eform even if you are only requiring a course reading, so that we may include your participation in our master calendar of events/programs. No program, assignment, or idea is too small.
This site will provide you information on how you can get involved or attend our programs. Please check back here regularly for updated links and calendar items.
Upcoming Events
Our students, faculty, and staff are celebrating the Dalai Lama throughout the academic year in many ways
Round Table Discussion: Does Money Buy Happiness?
Thursday, September 23
7:30 – 8 p.m.
Zoom
Enactus and Leon Hess Business School
This event is an open dialogue about the meaning of happiness and if happiness can be achieved by buying it. This conversation is meant to bring different perspectives and ideas from students and alumni.
Meeting ID: 893 6168 0946
Passcode: enactus
From East to West – From Aristotle to the Dalai Lama on the Pursuit of Happiness
Monday, September 27
5 – 6 p.m.
Zoom
Rekha Datta, Professor, Political Science and Sociology
This Zoom event is open to the MU community only. To receive a Zoom link to attend this event, please e-mail rdatta@monnouth.edu.
The quest for a happy and fulfilling life has been persistent since the early days of human civilization. From philosophers and scholars, athletes and artists, students and teachers, children and adults, people all over the world want to be happy. What is the key to happiness – is it wealth, fame, career success, good health, or other attributes? In a unique confluence of western and eastern philosophical traditions, Aristotle and the Dalai Lama have both taught that the main purpose of our lives is to be happy. In this roundtable discussion, students from PS 221 – Early Political Thought class will discuss Aristotle's philosophy of happiness and what they learned from the Dalai Lama about his ideas on the pursuit of happiness.
Service as Healing: A Follow-up to the Dalai Lama's Message
Monday, September 27
7:30 – 9 p.m.
Zoom
Matthew Tirrell, Director of Field Placement and Adjunct Professor, Professional Counseling
This is a panel discussion that follows up on the message from His Holiness the 14th Dalai Lama. In his recent livestreamed visit to the Monmouth University community, His Holiness the 14th Dalai Lama spoke of service as the source to happiness and compassion as the key to inner peace. In response to the Dalai Lama's important message, our three panelists will share their perspectives and experiences on how service work has transformed their lives.
Each panelist is positioned to offer a unique take on the role of service to their community from both a personal and professional lens. Please join us for an evening of sharing and growing our cultural awareness, in reflection on the teachings of the Dalai Lama.
Hope, Healing and Our Collective Futures
November 5 and 19
Princeton Senior Resource Center
Colleen Beach, Specialist Professor, Social Work
The Dalai Lama will join Monmouth University and guests on September 21 for a livestream event focused on his message of happiness, healing, and well-being and the future of our earth. Following this livestream event, SW 223 Human Behavior and the Social Environment student volunteers will meet with members of the Princeton Senior Resource Center on October 1 to discuss their perceptions of the event. This group will follow up their meeting by reading Ecology, Ethics, and Interdependence and participating in an intergenerational book club to discuss. Book club meets on Nov. 5 and Nov. 19. If you would like to join the book club meetings, please contact Colleen Beach at cbeach@monmouth.edu.
Are Politics and Spiritual Values Compatible? A Conversation with Cory Booker
Wednesday, October 13
11:40 a.m. – 1 p.m.
Zoom
Join U.S. Senator Cory Booker in a discussion with Monmouth University students on the importance and challenges of putting principles into practice in politics. The conversation will be moderated by Patrick Murray of the Monmouth University Polling Institute.
Turning to Mother Earth: Should Women Lead the Climate Action Movement?
Wednesday, October 13
5 – 6 p.m.
Zoom
Rekha Datta, Professor, Political Science and Sociology
This Zoom event is open to the MU community only. To receive a Zoom link to attend this event, please e-mail rdatta@monnouth.edu.
The climate crisis is upon us. Despite decades of efforts worldwide, with the devastation caused by hurricanes Katrina, Sandy, Ida, the Tsunami, and other calamities caused by climate change, the urgency to take action to mitigate the impact of climate change cannot be delayed any longer. From ancient times, women have had a special connection to the environment. More recently, from activists such as Greta Thunberg to leading ecofeminists, scientists, and policy advocates, women have been at the forefront of many efforts to bring about climate action and environmental justice. The literature demonstrates that women naturally play a collaborative, nurturing and community-centered role in their participation and leadership. Despite significant progress in women's empowerment, we still see struggles worldwide to have women in leadership positions. This roundtable, led by students of the PS 377 – Women and the World class, will explore the roles of women leaders in the environmental movement and debate whether women should be taking on more leadership to bring about real change and traction in climate action movements. Students will participate in the events surrounding the visit of the Dalai Lama, especially the tree planting ceremony. Later in the semester, they will engage in a conversation which will be open to the campus community via Zoom.
Zen Buddhism Personal Practice Talk
Jamie Nappi (Specialist Professor, Social Work)
Professor Nappi will present a lecture to her morning section of SW-665 on mindfulness practice in the tradition of Soto Zen Buddhism. The presentation will include photographs and a discussion of her personal practice of Zen Buddhism over the years. She will also discuss the idea of daily mindfulness practice and how it relates to clinical social work practice. This is a closed session to the class only.
Living Each Moment
Janet Mahoney, Professor, Nursing
The students in RR 433, Death and Dying, course will attend the Dalai Lama event and write a short paper about what they have learned in relation to happiness and life and we will discuss in class the following week. This is a closed session to the class only.
EcoWellness
Megan Delaney, Associate Professor, Professional Counseling
Ecotherapy is the application of the theory of Ecopscyhology, an interdisciplinary and transdisciplinarity field that focuses on the synthesis of ecology and psychology and the promotion of sustainability and focuses on studying the emotional bond between humans and the earth. Ecotherapy is defined as contact with the outdoors and nature as a method or element of therapy and addresses the critical fact that as humans we are interwoven with the natural world. PC-502 will each read a chapter of Ecology, Ethics, and Interdependence: The Dalai Lama in Conversation with Leading Thinkers on Climate Change – we will discuss themes relevant to Ecotherapy and ecowellness and climate change. This is a closed session to the class only.
Holism in Relation to Cross-Cultural Healing
Heidi Bludau, Lecturer, History and Anthropology
In PR429: Health and Healing across Cultures, we will be reading a chapter from " Healing emotions: Conversations with the Dalai Lama on mindfulness, emotions, and health" as part of the unit on Evolution and Health. The class discussion will be on holism in health. This is a closed session to the class only.
Resources
The University is providing 500 complimentary copies to Monmouth University staff, faculty, and students of the Dalai Lama's book The Art of Happiness as well as 100 complimentary copies of his book Ecology, Ethics, and Interdependence.
For more information on these books, Monmouth University staff, faculty, and students can visit our Resource Site on the MU Portal (you will need your MU login information).
---
Events that Took Place on
September 21
We have events scheduled for everyone leading up to the main event! Registrations will be available soon.
Empowerment through International Movement
3 – 4 p.m.
Shadow Lawn
This program is open to Monmouth Students and will be an interactive lecture workshop exploring movement through dance and self-expression and featuring martial arts such as Kung Fu, Filipino martial arts, Indonesian Silat, Thai Boxing and the Afro Brazilian art of Capoeira. Learning about applied sciences through inertia, kinesiology, flexibility and freedom of movement, students will learn how to empower and move their bodies in way for better health, mental clarity, and a holistic approach on wellness through movement.
Tree Planting Ceremony
4 – 5 p.m.
Location: Between Lot 11 and the Soccer field (Behind the Great Hall)
Join members of the Monmouth University community for a special tree planting and dedication ceremony in honor of the Dalai Lama's virtual visit to our campus.
6 p.m. – 7:30 p.m.
MU Community Garden
5 – 6 p.m.
Erlanger Gardens, Great Hall

Sponsored by the Kalmyk Three Jewels Foundation, Buddhist monks from Rashi Gempil Ling and the Tashi Lhunpo Buddhist Temples in Howell, NJ, will be chanting blessing in our Great Hall Fountains. Please come, join the monks, and be part of wishing the Dalai Lama a long life.
The Courage to Love – Cultivating Joy and Peace in a Turbulent World
with roshi Ray Cicetti
Eating Meditation
with Ralph Cuseglio
This lecture in the garden will include a dharma talk and meditation lead by Ray Cicetti, roshi, senior at the Empty Bowl Zen Community in Morristown, NJ. Following the dharma talk will be an eating mindfulness meditation led by Ralph Cuseglio, assistant professor, School of Social Work.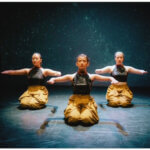 IMGE Dance Presentation
7:30 – 8 p.m.
Erlanger Gardens
IMGE is a performance company rooted in Indian classical, hip hop, and contemporary dance. Founded by Ishita Mili, IMGE brings a new medium of storytelling focused on navigating social, cultural, and environmental constructs using a global movement vocabulary. Their presentation for the evening reckons with the hardships of the past year through light, nature's healing, and the search for peace while using rhythm, multilingual music, and theater.
Dancers: Ishita Mili (Alum), Hanna Gozstyla, Lex Bolisay
Meditation
8 – 8:30 p.m.
Erlanger Gardens
A guided meditation session with Professor Jamie Nappi for our community at Monmouth University focused on the Buddhist concept of the act of taking refuge in the Buddha the Dharma and the Sangha in an interconnected way to alleviate suffering. The session will focus on bringing mindfulness of our breathing together as a community and taking refuge in sharing the same breath in a state of equanimity.
Astronomical Observations with Meditation
8:30 – 10:30 p.m.
Great Lawn – South
This event is experiencing astronomical observations with and without telescopes. There will be several telescopes set up for the audience to observe deep space and objects such as a galaxy, stars and nebula. Observing without telescopes will be presented by participation in the citizen science GLOBE at Night program. By conducting the light pollution in-situ data collection protocols, the audience is focused in on humanity's role in the changing natural environment of Earth and the need to become active stewards of the environment. There will be a meditation area for reflection where the audience can hear Tibetan Monks Chanting Om Sound of the Universe for Meditation.