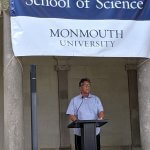 On Monday, May 20, the School of Science kicked off its 11th annual Summer Research Program with a welcome reception in Erlanger Gardens.  This summer, 55 student researchers will work with 16 faculty mentors on a variety of subjects in biology, marine biology, chemistry, computer science and software engineering and math.
Featured research projects include:
Harmful algal blooms in Monmouth County coastal lakes, estuaries, and ocean
Conservation and demographics of New Jersey coastal sharks and sturgeon
Evolutionary genetics in the wild
Modeling energy transfer in light harvesting proteins: The role of molecular vibrations
Hawks code: Developing an assistive compiler to enhance student learning of java programming
Analysis of dog-owner behavior in play park
A complete listing of the projects can be found online.
The Summer Research Program is a 12-week research experience for students to work on collaborative research projects under the supervision of School of Science faculty and staff.  Over the course of 12 weeks, students will gain firsthand research experience and interact with fellow researchers during weekly lunches, lectures, and seminars.  The program concludes on Aug. 8 with a symposium followed by a reception in Erlanger Gardens.
For more information about the Summer Research Program or the application process, please see SRP Frequently Asked Questions (FAQ) or contact science@monmouth.edu.