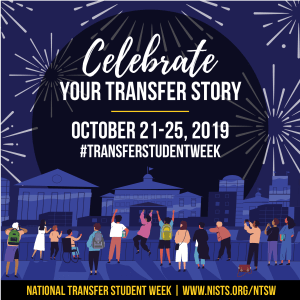 The third annual National Transfer Student Week will take place Oct. 21–25. This awareness campaign aims to recognize the contributions transfer students bring to schools across the nation and engages students with transfer-focused programming. The University will be sharing transfer students' journeys and successes on social media from Oct. 14–Oct. 25 in honor of this year's theme–"Celebrate Your Transfer Story." Join in the conversation with the hashtag #TransferStudentWeek.
In addition to their individual accomplishments, Monmouth transfer students have attained a number of achievements this year. Most notably, the new Transfer Hawks Club Mentorship Program. Club members helped mentor over 20 incoming students this past semester to ease their transition into the University. Building on this momentum, students have also doubled their club's size in the last month.
Monmouth University's chapter of Tau Sigma, the national transfer honor society, has also had a productive year. The group boasts its largest membership in three years after this past spring's induction ceremony. The new executive board aims to further increase its membership and become more active on campus through philanthropy.
The Office of Transfer and Undeclared Services has planned a series of events to engage transfer students during National Transfer Student Week and invites students, administrators, faculty, and staff to participate in this year's line-up:
Transfer Bowling Night
Tuesday, Oct. 22, 7 p.m.–10 p.m., Ciniello Family Bowling Center (in Boylan Gymnasium)
Come hang out with your fellow transfer students for a night of fun on the lanes. The cost is $2 per game and $1 for shoe rental (cash only).
Transfer Student Pride Day
Wednesday, Oct. 23, all day
Be proud of your accomplishments as a transfer student. Wear your Transfer Hawks t-shirt, Monmouth University gear, or a shirt from the college you transferred from. Participating students can stop by the Transfer Services Office (located on the lower level of the Student Center) any time from 9 a.m.–5 p.m. for some pre-Halloween treats.
Transfer Hawks Club and Tau Sigma Honor Society Information Table
Thursday, Oct. 24, 12 p.m.–2 p.m., Student Center
Learn more about the Transfer Hawks Club's mentor program and social programming, as well as how to qualify for the Tau Sigma national transfer honor society at these informal meet and greets.
Join in celebrating National Transfer Student Week and stop by an event or participate digitally by following the Office of Transfer and Undeclared Services on Instagram, Twitter, or Facebook. Visit monmouth.edu/transfer-services for more information.