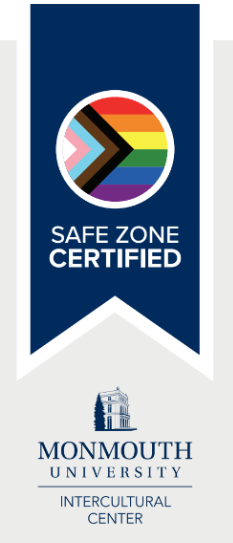 Safe Zone Program
As you navigate campus, you may come across an office with a Safe Zone sticker. This indicates that the employee within the office has been through cultural sensitivity training and is committed to creating an affirming environment for people of all genders and sexualities. If you ever have a non-affirming or discriminatory experience with a Safe Zone program participant, please email us at intercultural@monmouth.edu. If you are an employee who would like to join this program, please visit our employee resource page for upcoming trainings.
Student Community
Monmouth University is a home-away-from-home for many students and student organizations. Monmouth PRIDE is the University's longest-serving organization that specifically works to build community events and opportunities for LGBTQIA+ student involvement on campus. Click here to learn more about the student organizations. Additionally, our university is located right next to the thriving LGBTQIA+ community of Asbury Park, NJ. Community-based centers, social spaces and events, and activist organizations that advocate across our state provide many opportunities to get involved in the broader community.
Gender-Neutral Housing
All residential students will receive an annual email from Residential Life regarding gender-neutral housing, which is currently available in Beechwood Hall. Gender-neutral housing is defined as a residential placement in which two or more students mutually agree to share a multiple-occupancy suite regardless of students' sex assigned-at-birth, gender, or gender identity/expression. If you would like to explore other options for housing accommodations, please contact the Office of Residential Life (732-571-3465 | Reslife@monmouth.edu)
Chosen Name System
If you use a different name than the name present on your current legal identification documents, the university will work with you to discuss updating your name in non-federal systems on campus (ie class rosters, ecampus, housing rosters, etc…). Students can update their name, pronouns, and gender markers via etrieve form through the University Registrar. Employees can update their name and gender markers by contacting Human Resources. Learn more here. If you undergo a legal name change while affiliated with the university, the Office of the Registrar (students) or HR (employees) can update all systems.
Gender-Inclusive and Single Occupancy Restrooms
Below is a partial list of gender-inclusive and single occupancy restrooms available to the campus community (restrooms located within Residence Halls are not included).
Click building name to see location on our Campus Map.