Master of Science in Physician Assistant
Monmouth's full-time, 95-credit physician assistant (PA) graduate program will give you the rigorous, hands-on learning environment you need to become a critical part of the changing healthcare landscape. As a PA, you will be a licensed medical professional and an important solution to the looming problem of healthcare access, especially as aging Baby Boomers and those newly insured by the healthcare reform need more care.
One cohort of students enrolls each fall and advances through the 36-month program together, giving you a team of up to 30 student colleagues who can share insights and support. Monmouth's broad-based curriculum will give you the foundation you need to practice in any specialty. Experienced, highly skilled faculty will give you the personalized attention you need to excel.
Rigorous classroom instruction is combined with extensive work in clinical settings in Monmouth's physician assistant program. The program consists of a didactic phase and a clinical phase. The 42-week didactic phase includes classroom and clinical skills laboratory instruction, with hospital and clinic experiences. In the 64-week clinical phase, you will participate in clinical clerkships, where you will be assigned to preceptors at various hospitals and physician offices.
Program Director & Faculty
Gina F. LaMandre PA-C, MS
Email:
gilamand@monmouth.edu
Phone:
(732) 923-4511
Physician Assistant Student Erik Woxholdt is practicing endotracheal intubation on the PA Program's simulation model enhancing his clinical skills. Simulation exercises prepare students for their clinical clerkships.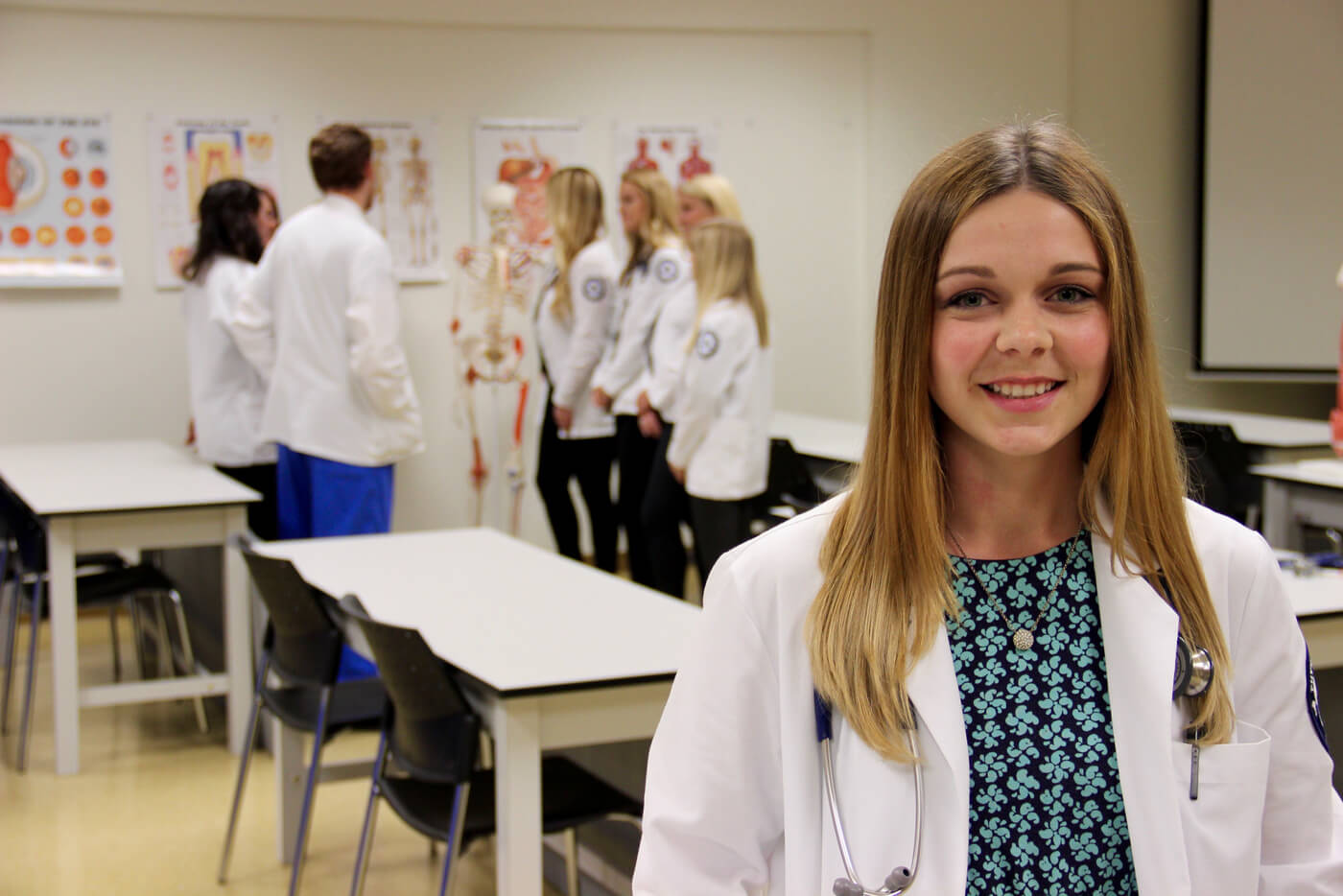 It has always been my dream to become a Physician Assistant. Being able to attend Monmouth University's Physician Assistant program has given me the opportunity to learn the skills needed to excel in the field of medicine and become a caring health care provider. - Nikie McCabe, PA-S, Class of 2017
In May 2015, members from the executive board of the Monmouth University Physician Assistant Student Society attended the AAPA conference held in San Francisco, Ca. The annual conference in held to help physician assistants discover tools that will take their career to the next level, elevate their thinking with the latest medical innovations and experience it all with 6,000 of their peers. Pictured (left to right): Nikie McCabe, Genevieve Daly, Deanna Lapp, Nicole Lupo, class of 2017.
Physician Assistant student Kaitlyn Clay uses an otoscope in the PA Program's clinical skills lab to look in the ear of fellow student Genevieve Daly. Our clinical skills laboratory gives students many opportunities to learn essential patient care procedures for their clinical clerkships and future careers.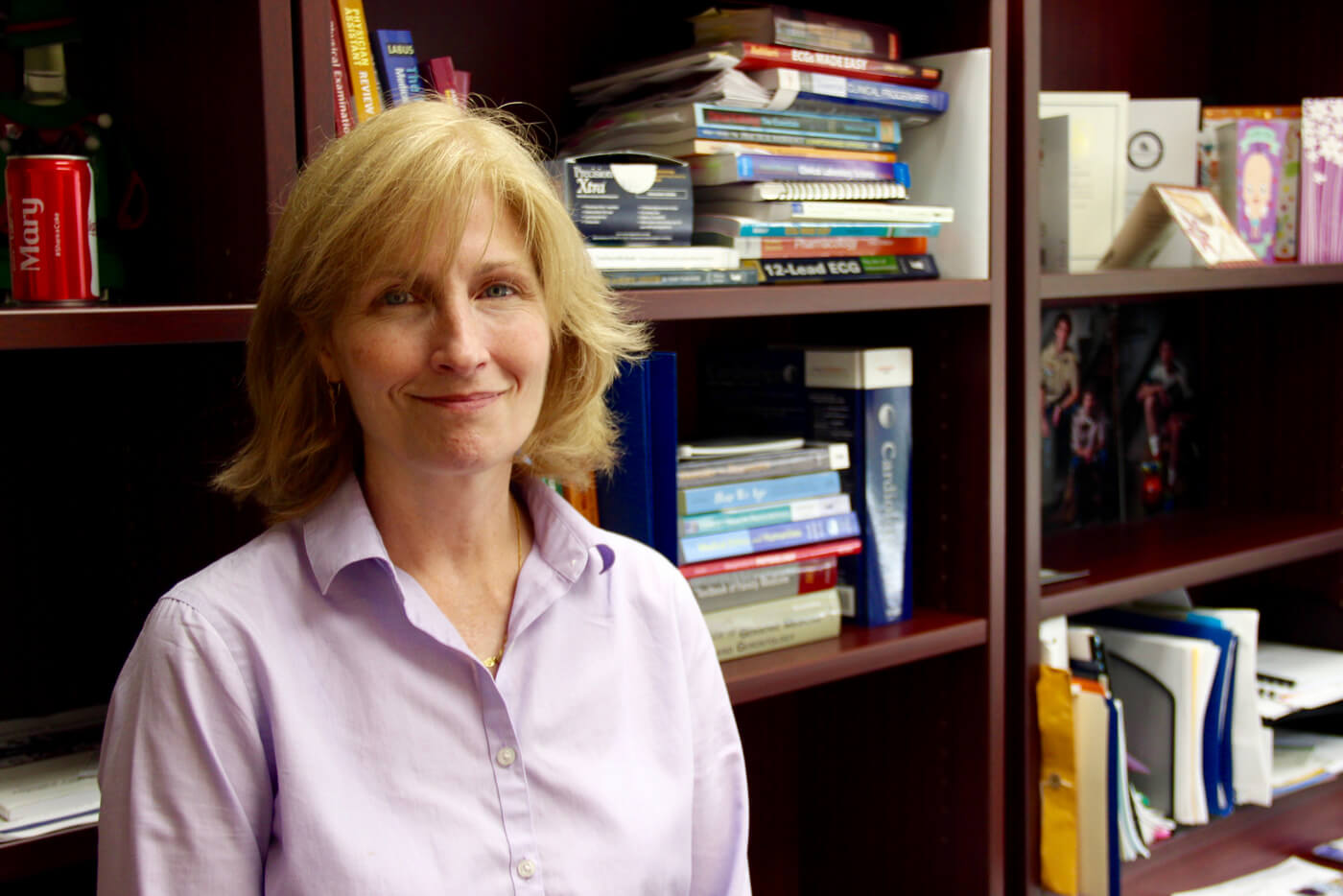 Mary H. Stern (PA-C, M.Ed., Specialist Professor, Physician Assistant Program) has worked in family practice, neonatology, pediatric cardiology, and employee health. She recently utilized her pediatric cardiology skills when she traveled to Guatemala to assist in an Intensive Care Unit.
Dr. Carol Biscardi's (PA-C, Ph.D.) clinical experience is in the areas of general surgery and pediatrics. She has worked in pharmaceutical clinical drug research, been a full-time PA educator for over 25 years and more than a decade of experience as a program director. She uses her wealth of knowledge to prepare future clinicians via the Physician Assistant program at Monmouth.
Accreditation
At its March 2019 meeting, the Accreditation Review Commission on Education for the Physician Assistant (ARC-PA) extended Accreditation-Probation status for the Monmouth University Physician Assistant Program sponsored by Monmouth University  until its next review in March 2021.
Probation is a temporary status of accreditation conferred when a program does not meet the Standards and when the capability of the program to provide an acceptable educational experience for its students is threatened.
Once placed on probation, programs that still fail to comply with accreditation requirements in a timely manner, as specified by the ARC-PA, may be scheduled for a focused site visit and/or risk having their accreditation withdrawn.
Specific questions regarding the Program and its plans should be directed to the Program Director and/or the appropriate institutional official(s).