PA – Physician Assistant – MS in Physician Assistant
Master of Science in Physician Assistant
Monmouth's accredited, full-time, 95-credit physician assistant (PA) graduate program is comprised of 30 months of coursework and supervised clinical practice experiences (i.e., clinical clerkship rotations) completed in 3-years time. The program will give you the rigorous, hands-on learning environment you need to become a critical part of the changing healthcare landscape.
One cohort of students enrolls each fall and advances through the program together, giving you a team of up to 30 student colleagues who can share insights and support. Monmouth's broad-based curriculum will give you the foundation you need to practice in any specialty. Experienced, highly skilled faculty will give you the personalized attention you need to excel.
Rigorous classroom instruction is combined with extensive work in clinical settings in Monmouth's physician assistant program. The program consists of a didactic phase and a clinical phase. The 4-semester (14-month) didactic phase includes classroom and clinical skills laboratory instruction, in addition to case-based simulation instruction in our new state-of-the-art simulation lab. To promote the best learning experience, when appropriate, didactic courses incorporate active-learning strategies where students discuss reading assignments and/or work through a clinical problem or patient case in small groups.
Our 4-semester (16 month) clinical phase begins with a clinical preparatory and clerkship course where in addition to training in advanced clinical procedures and your first 5-week Supervised Clinical Practice Experience (SCPE),  you will receive detailed training and brief clerkship activities in geriatric medicine, treatment and management for patients with substance use disorders, urgent care medicine, and public health. The subsequent 3-semesters of the clinical phase incorporate 4-week SCPEs in core and selective clinical specialties. Core areas include behavioral medicine/psychiatry, emergency medicine, family medicine, internal medicine, pediatric medicine, surgery, and women's health. For all immersion and clerkship activities you will be assigned to preceptors at various inpatient and outpatient medical facilities, including outpatient health centers and clinics, urgent care facilities, emergency rooms, hospitals, surgical centers, and long-term care facilities.
The program's SCPEs are located throughout New Jersey and the New York Metropolitan Area with almost all sites located within 90 miles from the graduate center and the majority within a 5-minute to 60-minute commute from campus.
For questions related to our admission requirements, processes, CASPA applications, and updates to CASPA applications please contact Laurie Kuhn, Associate Director of Graduate Admission. Physician Assistant (PA) program applicants will apply via CASPA; we recommend that applications and materials are submitted via CASPA by September 1 in order to be verified and complete by the October 1 deadline (fall-start only). Please view the admission requirements for more information about the application process and important deadlines.
Monmouth University MS-PA Program Social Justice Statement
Social justice advocacy is a critical component of the Monmouth University Master of Science in Physician Assistant program and relevant to both our curriculum and our profession.  In all courses, you are to reflect the values of the PA profession, including but not limited to ensuring the health, safety, welfare, and dignity of all human beings and recognizing and promoting the value of diversity. Our program actively facilitates multicultural perspectives, highlighting awareness, understanding, and knowledge of diversity and social justice issues.  Throughout the program, any verbal or written communication should be consistent with the respect, appreciation, and acceptance that are the foundation of the medical profession and, in particular, the PA profession.
Further, actions and language should reflect the Guidelines for Ethical Conduct for the PA profession and be consistent with the pledge of the AAPA to support diversity and combat racism.  As human beings deeply concerned with social justice issues, we are each charged with protecting the disadvantaged and respecting the culture, values, beliefs, and expectations of others, consistently practice nondiscrimination, and actively support and promote antiracism. Further, as medical clinicians, medical educators, and lifelong students, we are each charged with constantly learning and working to ensure that all persons receive the healthcare and promotion for well-being that is the inalienable right of all persons.
The MS-PA program at Monmouth University firmly stands against all forms of discrimination and racism and will continue to work to address anti-discriminatory and anti-racist policies & practices. We believe representation matters and support the hiring of diverse faculty, staff, and administrators and the intentional admission practices to diversify and support our students.
PA Program at The University Graduate Center
Monmouth Park Corporate Center, Building C
Phone: 732-923-4505
30%
Predicted growth in the PA profession between 2014 and 2024, making it one of the fastest growing job sectors in the country.Bureau of Labor Statistics

Congratulations to the Class of 2023 on your impressive achievements! We are happy to share in the excitement of your graduation day and are so proud of you. Best wishes from the Faculty & Staff of the Physician Assistant Program.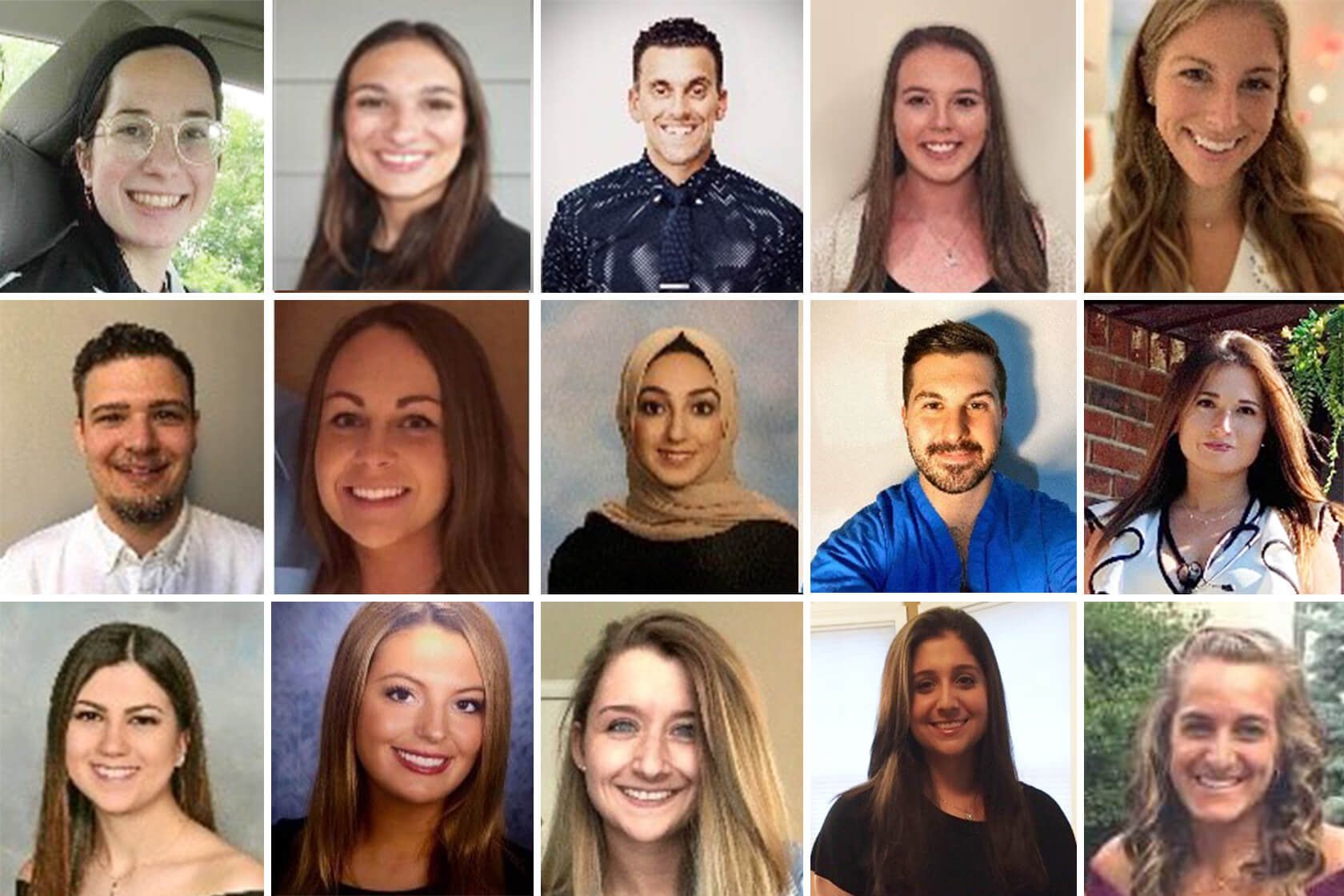 Congratulations to the Class of 2023 on your impressive achievements! We are happy to share in the excitement of your graduation day and are so proud of you. Best wishes from the Faculty & Staff of the Physician Assistant Program.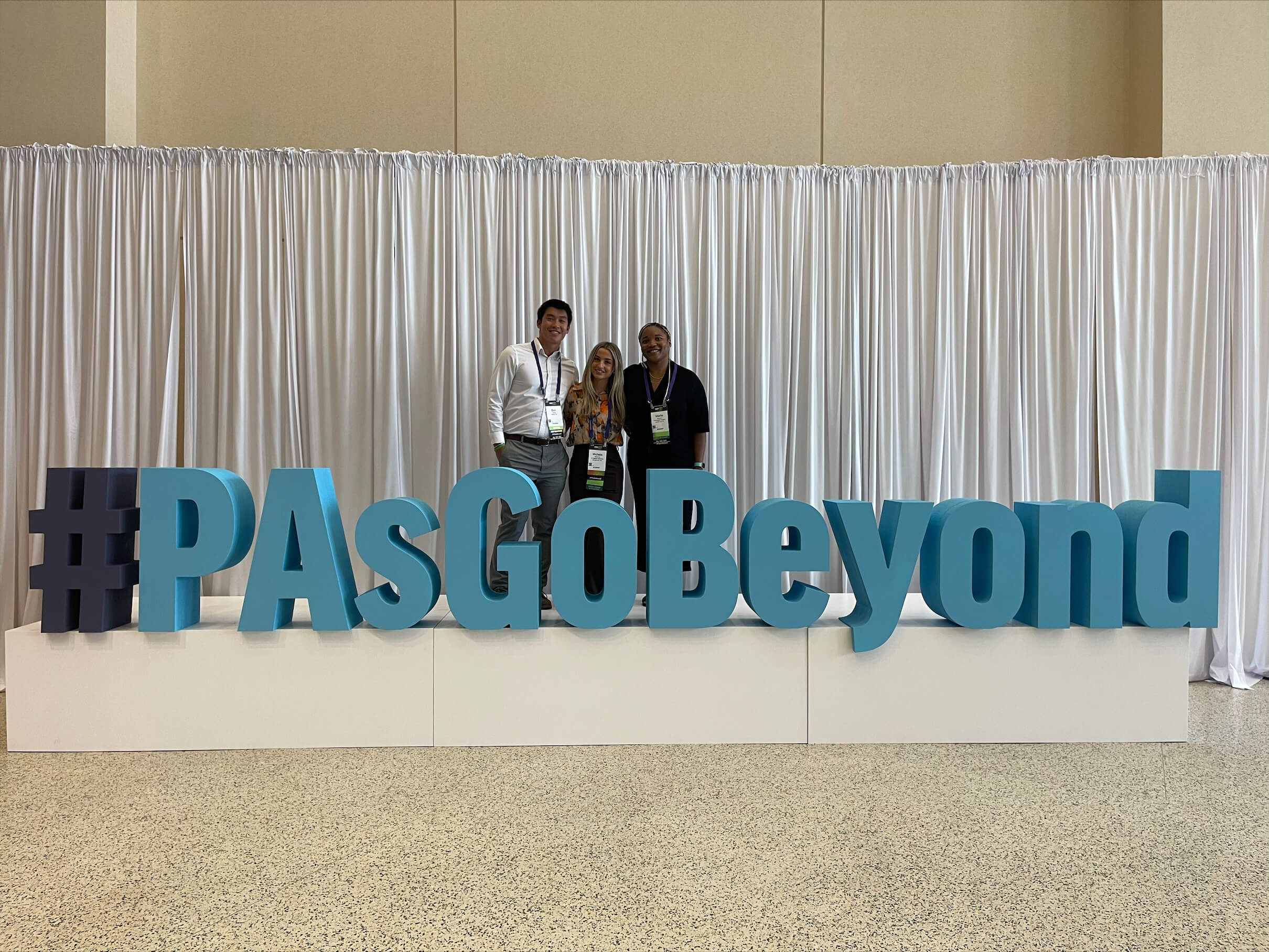 Physician assistant majors Ben Yeung, Michele Nisnevitz, and Marlie Doriston (pictured left to right) participated in the 2022 American Academy of Physician Assistants (AAPA) Conference held in Indianapolis, IN. The group attended a lecture by Monmouth alumna Kaci Hardstock '20.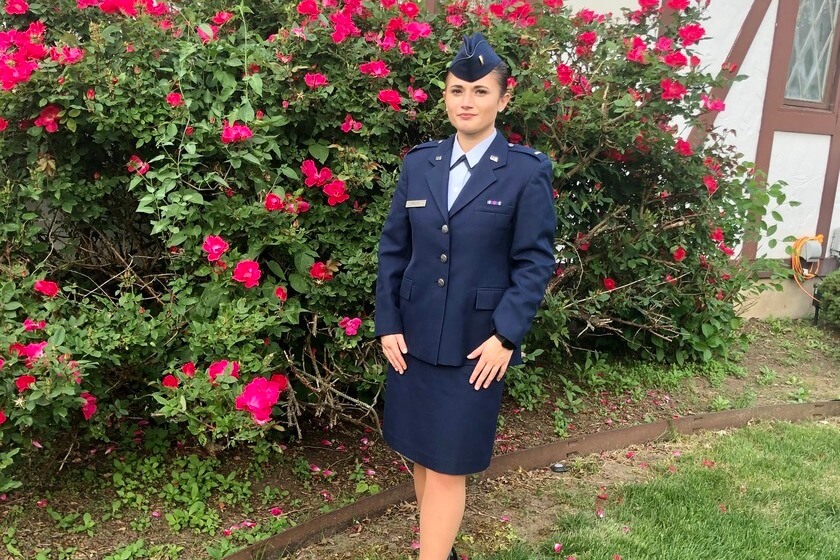 Meet MSPA Class of 2023 student Cindy Rullo, 2nd Lt, USAF. Rullo is a U.S. Air Force Health Professions Scholarship Program Recipient. Congratulations, Cindy!
Physician Assistant Student Erik Woxholdt is practicing endotracheal intubation on the PA Program's simulation model enhancing his clinical skills. Simulation exercises prepare students for their clinical clerkships.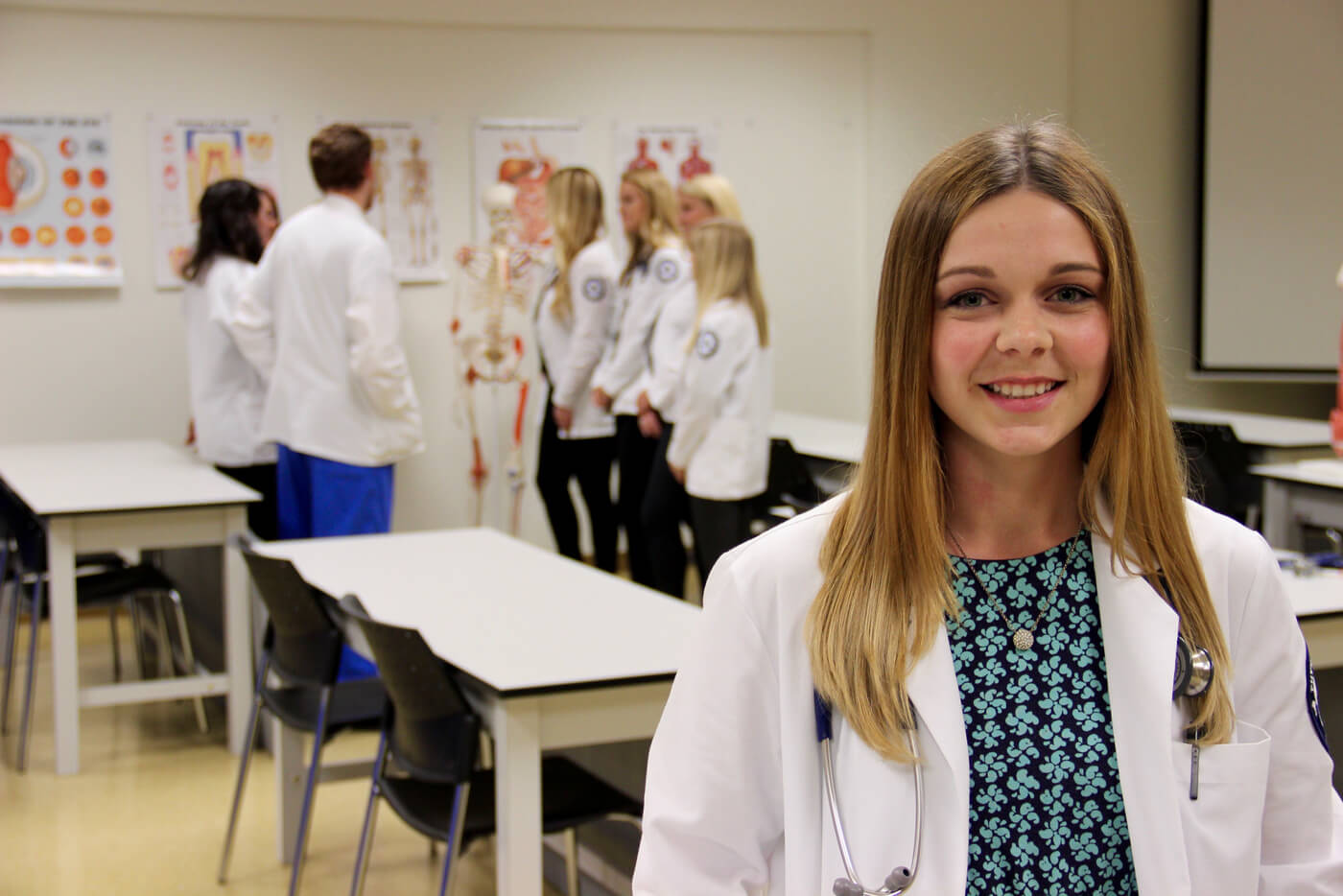 It has always been my dream to become a Physician Assistant. Being able to attend Monmouth University's Physician Assistant program has given me the opportunity to learn the skills needed to excel in the field of medicine and become a caring health care provider. – Nikie McCabe, PA-S, Class of 2017
In May 2015, members from the executive board of the Monmouth University Physician Assistant Student Society attended the AAPA conference held in San Francisco, Ca. The annual conference in held to help physician assistants discover tools that will take their career to the next level, elevate their thinking with the latest medical innovations and experience it all with 6,000 of their peers. Pictured (left to right): Nikie McCabe, Genevieve Daly, Deanna Lapp, Nicole Lupo, class of 2017.
Physician Assistant student Kaitlyn Clay uses an otoscope in the PA Program's clinical skills lab to look in the ear of fellow student Genevieve Daly. Our clinical skills laboratory gives students many opportunities to learn essential patient care procedures for their clinical clerkships and future careers.