Career and Internship Opportunities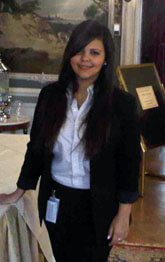 We recognize how important experiential education is for our discipline–not only for the practical experience gained, but also for the networking opportunities. Our faculty are eager to provide insight to all students on the career paths available. We can also offer knowledgeable and meaningful direction based on your particular interests. Whether you are interested in policy advocacy, municipal government, campaigns, international relations, or the law, we have a continuously dynamic list of internship and career opportunities.
If you're ready to fulfill your Ex Ed requirement or just want some more hands-on experience, you're invited to look at these offerings and set up an appointment with our departmental career advising mentor, Dr. Saliba Sarsar,as well as any of our faculty members.
Washington Center Internship Program
Monmouth University is a proud partner of the Washington Center, which provides students with exciting internship opportunities in the nation's capital. For more on this internship program, please visit our Washington Semester page.
Questions about the program? Contact Professor Joe Patten at 732-263-5742 or jpatten@monmouth.edu.
Other Opportunities
Here are just a few of the other internship opportunities available to Monmouth students:
New Jersey Food Council
New Jersey Republican State Committee
New Jersey Democratic State Committee
Jersey Coast Chapter of the American Red Cross
Make a Wish New Jersey
ACLU of New Jersey
Governor's Internship Program
International Justice Project
Monmouth County Superior Court
Clean Ocean Action – Gateway National Recreation Area
To learn more, please contact Professor Sarsar at 732-571-4474 or sarsar@monmouth.edu.