The English Department is pleased to announce the winners of its 2019-2020 awards. There were many eligible and competitive submissions for the writing prizes, and a strong field of candidates for all the awards. We congratulate this year's winners, and thank our donors for their generosity.
---
Skylar Daley – The English Merit Award
The winner of this year's English Merit Award, which recognizes a graduating senior English major with a distinguished record in academics and campus service, is Skylar Daley. In addition to excelling in the English major, Skylar has earned two minors, in Creative Writing and Psychology; is a member of Sigma Tau Delta; and is a campus correspondent for and the president of Monmouth's chapter of HerCampus, an online college-woman's magazine. She has also served as a tutor in Writing Services and has worked for two years with Professor George Germek in the Monmouth University Library's Rare Books room. Despite her being involved in all these varied organizations and activities, Skylar has somehow found the time to research and write two honors theses. For her English departmental honors research project, Skylar has worked with Dr. Courtney Werner to develop a project which examines the integration of service-learning into college English courses. And in her second thesis for the Honors School, Skylar has worked with Drs. Jeffrey Jackson and Sue Starke to develop a project that argues for the necessity of studying Victorian "penny dreadfuls" to fully appreciate the historical context that produced the anonymously authored nineteenth-century serial domestic romance, The String of Pearls (a.k.a., Sweeney Todd). Following graduation, Skylar plans on applying to graduate school to pursue an M.A. and an eventual doctorate in English with a concentration on nineteenth-century British literature, which she hopes will position her advantageously to attain her ultimate career goal of researching Victorian serial novels, British gothic fiction, and Victorian crime fiction through Marxist, Psychoanalytical, and historical lenses.
Sophia Galvez – The English Award for the Academic Writing Prize
The winning essay for this year's English Academic Writing Award is "Beats Vs. Squares: America's Second Civil War" by Sophia Galvez. Sophia is a senior graduating this spring with a Bachelor's degree in English and minors in Journalism and Sports Communication. She is an active member of Sigma Tau Delta and a sister of international women's fraternity, Alpha Omicron Pi, as well as an assistant news editor at the school's student run newspaper, The Outlook. After graduation, she plans to return to her hometown of Miami, Florida to pursue a career in sports journalism and broadcasting. Sophia's winning essay offers an engaging New Historicist foray into how Allen Ginsberg's anthemic 1959 poem, "America," emerged from and responded to its cultural context: the beats' and squares' battle for the soul of postwar America. Demonstrating an impressive fluency with documentary and archival evidence, Sophia draws on contemporary journalistic accounts and interviews to weave a rich tapestry of a fascinating period and consider how Ginsberg's crucial poem captures the spiritual, quixotic, proudly profane, and deeply American voice of a movement.
Melanie Broman – The English Award for the Creative Writing Prize
The winner of this year's English Creative Writing Award is Melanie Broman. Her submission, "Gutenberg," is an intelligent and sharp piece of mystery fiction–an homage to the great, locked-in mysteries of Agatha Christie and to those who would not only live for books, but even die for them. Melanie arrived at Monmouth as an undeclared major but discovered a love of mystery writing while taking her First Year Seminar course, "Detective Fiction," which soon led to her choosing to study English Creative Writing. Melanie hopes to inspire a love for reading (specifically mysteries!) in others, which she has sought to do by slipping more than a few of her all-time favorite mystery novels into the donation box for Sigma Tau Delta's annual "Blind Date with a Book" series. She plans to continue writing mysteries in the future, along with adding to her collection of Agatha Christie novels, which she picks up at used bookstores in every city she visits.
Judith Shingledecker – The English Award for Graduate Study
Every year, the English Department recognizes and provides some support for a graduating senior English major who will be commencing graduate studies by the fall of the current academic year. This year's winner is Judith Shingledecker, who is graduating this spring and will be beginning Monmouth's M.A. in English this summer. Judith is presently serving as Secretary of the Sigma Tau Delta English honorary society, and she has been working, this semester, as a Teaching Assistant for Dr. James Cody's Shakespeare class at Brookdale Community College. Citing Shakespeare and British literature in general as among her scholarly passions and aspiring to someday teach English literature at the college level, Judith has greatly enjoyed and appreciated the opportunity to assist Dr. Cody and the students in his Shakespeare course by researching all of the assigned plays, including Twelfth Night, Richard III, Hamlet, and Measure for Measure; providing students with an annotated bibliography for use in developing of their papers; and facilitating online discussion via a page where she is able to post video clips and share her reactions and commentary. She has called the experience "a dream come true," one that will undoubtedly prove valuable as she transitions into her graduate studies, continues to pursue her scholarly passions, and eventually has the opportunity to design and teach courses of her own.
Nicole Ondrof – The Caryl Sills English Teaching Award
Generously sponsored by English Department Professor Emerita and former Department Chair, Dr. Caryl Sills, the teaching award in her name recognizes English-Education majors who have exhibited both academic ability and profound promise as future educators. This year's winner is senior, Nicole Ondrof. Nicole is a member of the Kappa Delta Pi International Honors Society in Education, and she presently serves as Philanthropy Chair on the Executive Board of Sigma Tau Delta and as Academic Chair on the Executive Board of the Monmouth University Honors School Association. Her involvement in the Honors School allowed her to spend her junior year writing an undergraduate honors thesis in both Education and English. Nicole's thesis project, "Self-Directed Learning in the Secondary Classroom," researched, advocated for, and envisioned means of integrating increased self-directed learning and student choice into New Jersey English curriculums while continuing to meet all state standards for teaching and learning Language Arts at the secondary level. Building on these impressive efforts to theorize her pedagogy, Nicole plans to apply for jobs in English Secondary Education and, in the more distant future, eventually pursue either an M.A. in English or an M.S. in Educational Counseling.
Kaylah Lue – The David Tietge Memorial First-Year Composition Essay Award
Kaylah Lue, a Music major with a concentration in Music Industry Studies from Tampa, Florida, is the winner of this year's First-Year Composition Academic Essay Award for her essay, "An Unseen Contagion," a rhetorical analysis of Sarah Stillman's "Hiroshima and the Inheritance of Trauma." Kaylah believes that her love of writing grew from her early love of reading. Today, creating a paper that she is proud of is one of her favorite parts of being a student. When she writes, her goal is to reach a wide range of readers. Her rhetorical analysis of Stillman's piece on transgenerational trauma gave Kaylah the opportunity to educate readers about the challenges faced by those who struggle with mental health issues, a topic about which she is passionate. Examining Stillman's purpose for writing, Kaylah says, "Understanding that trauma manifests in different ways, and occurs in a variety of forms …, humankind can be more aware and empathetic towards the toll that the past has on the present." Her hope is that readers of the piece will be left with "the urge to look outward as well as inward with a little more empathy than before."
Jenae Louis-Jacques – The David Tietge Memorial First-Year Composition Essay Award
The winner of this year's First-Year Composition Researched Essay Award, Jenae Louis-Jacques, is an Honors student and a Music Industry and Mathematics major. She is a creative singer-songwriter and musician with a genuine love and passion for music. Music has always been an integral part of her life, and she strives to use her talent to make a difference in her surrounding communities. She hopes to one day be known as a musical artist who successfully made a difference in the world. Her essay, "Get Out: A Representation of the Black Experience," explores the ways in which director Jordan Peele uses horror tropes in his film Get Out (2017) to expose racial stereotypes, challenge normalized systems of racial inequity, and document the fears and social traumas associated with the oppression of minority groups. Approaching the film through various critical lenses—such as Media Studies, Afrofuturism, and W. E. B. Du Bois's theory of double-consciousness—she insightfully examines how Peele's multifaceted messaging documents the reality of blackness in America.
---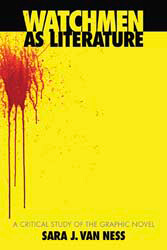 Sara Van Ness, student in the English Department's M.A. Program, has written a book titled Watchmen as Literature: A Critical Study of the Graphic Novel, published by McFarland and Company in 2010.
The study began as a paper for an independent study and grew into her undergraduate thesis project, both under the direction of Dr. Stanley Blair of Monmouth University's English Department. In addition, she completed some of her research and writing of the book during a graduate-level independent study with Dr. Blair in Spring 2009. The book explores the graphic novel's reception in both popular and scholarly arenas, and how the conceptual relationship between images and words affects the reading experience. Other topics include heroism as a stereotype, the hero's journey, the role of the narrator, and the way in which the graphic layout manipulates the reader's perception of time and space.
Sara graduated summa cum laude in May 2008 from Monmouth University with a Bachelor of Arts degree in English and secondary education. Her thesis was awarded honors by both the Honors School and the English Department. As an undergraduate, she received the Wayne D. McMurray School of Humanities and Social Sciences Award for Student Excellence and the New Jersey Distinguished Student-Teacher Award. She expects to complete her M.A. in English in Fall 2011.
---
MASTER'S THESES
Theses in Progress
Christopher D. Hankenson, "Long-Eared Epic: Watership Down and Questions of Readership."
Theses Completed
Brittany Cote, "Isabel Allende's The House of the Spirits: Magical Realism or Gothic Hybrid?" Fall 2020.
Charles Chipman, Turnbuckle: A Novel. Fall 2020.
C. John Schoonejongen, Take This Longing. Fall 2020.
Jason Aquino, Deified. Spring 2020.
Courtney Ball, "'Waiting for the World to be Made' through Folklore, Food, and Feminism:  An Analysis of Hurston's Their Eyes Were Watching God." Spring 2020.
Teresa Castellitto, "Morning Light." Spring 2020. Distinction.
Madison Hlavach, "Emotions, Discomfort, & Ethical Responsivity: Taking the Risk to Care." Spring 2020.
Jaimee D. Nadzan, "Haunting Space and Place in Shirley Jackson's The Haunting of Hill House and Helen Oyeyemi's White is for Witching." Spring 2020.
Robert Zadotti, "Midnight." Spring 2020.
Mary Rademacher, "A Rethinking of the Burkean Parlor in the Post-Truth Classroom." Fall 2019.
Patrick O'Neill, Time As It Passed. Spring 2019.
Susan Schuld, "Dracula: An Intertextual, Byronic Romance." Spring 2019. Distinction.
Sally Taylor Tawil, "The Measure of a Moment." Spring 2019. Distinction.
Kaitlyn Trebour, "Technology and Composition: How Digital Technology Effects Adolescents' Writing Processes." Spring 2019.
Jeremy Mancino, "Terra Incognita." Fall 2018.
Dawn McCloskey, "Conversing on Disability: Analyzing and Exploring How Scholars are Discussing Disability Studies, Discovering Disability in YA Literature, and Finding Disability Analyses in Composition Classrooms." Fall 2018.
Daniel Murphy, Who is Daniel?  Fall 2018. Distinction.
Michael Sefack, "What Do You Mean This Class Doesn't Count? Negotiating the Challenges of Writing Placement in Two-Year Colleges." Fall 2018. Distinction.
Connor White, "Waiting for the Sun." Fall 2018.
Sara Basgaard, "Tentative Language Use in the Classroom: Who and Why, the Effects, the Influence of Gender, and Why Educators Need to Care." Spring 2018.
Victoria DePaolo, "'Thank You For Calling, How May I Help You?' A Burkean Analysis of Agency as Established though Call Center Soft Skills Training Materials." Spring 2018.
Christine DiBiase, "The Feminist Gothic: An Analysis of The Handmaid's Tale. Preface: An Introduction to The Argument for Feminist Gothic." Spring 2018.
John Francis, "The Queer Heroes of Horror: Gothic Entanglements with Queerness in Vampire Hunter D: Bloodlust, Let the Right One In, and Palimpsest." Spring 2018.
Daphne Keller, "'An Art of Humanity': The Henry Street Narratives of Lillian D. Wald." Spring 2018. Distinction.
Colleen King Oliver, "Unripe, Unsweet, Delicious." Spring 2018.
Kimberly Morgan, "A Feminist Enquiry into Female Representations of the Sublime in Moby-Dick." Spring 2018. Distinction.
Elizabeth White, "'Jem told me I was being a girl, that girls always imagined things': Female Narrative Voice and the Young Adult Literary Canon." Spring 2018.
Jenna Risden, "Re-gendering the Monarchy as The Queen's Three Bodies: Spenser's Use of the Body Politic as a Metaphor For England's Political State in
The Faerie Queene." Fall 2017.
Brian Turczmanovicz, "'Their ruin! Hence I will excite their minds:' Mind Reading and Machiavellian Intelligence in Milton's Satan and Shakespeare's Cassius." Fall 2017.
Kathryn Gehrsitz, "The Quest for the Female Hero and a Feminist Genre in Modern Young Adult Dystopian Literature." Spring 2017. Distinction.
Ivy Hollander, "Incorporating Modernism into the Secondary Education Classroom through Studying The Sun Also Rises and Mrs. Dalloway." Spring 2017. Distinction.
Kevin Holton,. Absolute Zero. Spring 2017.
Avi Lejbik," Pride Prejudice and Zombies An Evaluation of Austen's Vision of Socially Circulating Rhetoric." Spring 2017.
Talon Ribsam, A Warm Chill Threatens. Spring 2017.
David Robbins, Cascadia. Spring 2017.
Nicholas Segreto, Monster City. Spring 2017.
Sara Haight, "Bipolar Chronicles." Fall 2016.
Stefanie Kyak, "The Play's the thing, Wherein I'll Catch the Conscience of the King": Mise en Abyme and Psychoanalysis in Christopher Nolan's Inception and William Shakespeare's Hamlet." Fall 2016. Distinction.
Heather Altz, "J.M. Synge's Subversive Archetypes." Spring 2016. Distinction.
Philip Blizzard, "The Guarantee Group."  Spring 2016.
Courtney Castelli, "Every Colored Girl Had Been Born With One." (Un)doing Race, Gender, and Sexuality in James Baldwin's Another Country. Spring 2016.
Taylore Glynn, "Orchidelirium." Spring 2015. Distinction.
Rebecca Gokberk, "Food for Thought: A New Approach to Analyzing Literary Cookbooks."  Spring 2016.
Faten Hafez, "Jane Austen: The Acts of Implication in Two Centuries of Criticism." Spring 2016.
Abigail Maguire, "Doll Parts."  Spring 2016.
Christina Riso, "Welcoming Alternative Media into the Academy: Benefits of the Zine."  Spring 2016.
Kayla Sorbara, "The Poem and the Pomegranate: How Ancient Greek Myth Influences Feminist Theory in Evan Boland's 'The Pomegranate' and Nuala Ni Dhomhnaill's Persephone Suffering from SAD.'"  Spring 2016.
Ariana Tepedino, "Gilded Trans-America: The California Gold Rush and Maupin's Tales of the City." Spring 2016. Distinction.
Erin Fu, "Looking Through the Kaleidoscope: Into the Genre(s) of Moll Flanders," Fall 2015. Distinction.
Md. Shahriar Kabir, "Carol Kennicott's Articulation of Voice in Main Street by Sinclair Lewis," Fall 2015.
Emily Scarano, "The Rhetoric of Slam Poetry and its Potential in the College Writing Classroom." Fall 2015.
Lisa Sofranko, "Taking Care." Fall 2015.
Chris Bogart, "The Beast," Spring 2015.
Eric Brown, "The Movement of Words: Misprision, Re(mis)interpretation, and Meaning in Russell Hoban's Riddley Walker and Walter M. Miller's A Canticle for Leibowitz," Spring 2015.
Lauren Freda, "Alice Walker's The Color Purple: Fourth Wave Feminism," Spring 2015.
Amara Hand, "The Other Side of the Game: The Rhetorical Alterity of Contemporary Hip Hop," Spring 2015.
Megan Miguelino, "Through the War-Drobe: The Restoration of National Identity and Hope in C.S. Lewis's The Lion, the Witch, and the Wardrobe," Spring 2015.
Danielle Pelose, "'Fire Is Catching': Rhetorically Igniting the Spark between Young Adult Literature and "L"iterature," Spring 2015.
Amy Schulze, "'Such Odious Subjects' as Sex and Sapphism: The Obscene, Unseen, and Mundane in Virginia Woolf's Orlando and Radclyffe Hall's The Well of Loneliness," Spring 2015.
Hannah Tichansky, "Paranoid Rhetoric and Spatial Obsession: Elizabeth Bowen, Kenneth Burke, and the Blitz," Spring 2015.
Kerry Bogert, "Therapy for Muggles: Exploring Representations of Trauma and Mental Illness in Fantasy Fiction," Spring 2014.
Corinne Cavallo, "Homeless Texts of Trauma: Elie Wiesel's Night and the Argument of Omittance," Spring 2014. Distinction.
Amanda Connelly, "Who the Fuck is Moi? The Effects of Consumer Culture on Identity and Reality in Brett Easton Ellis's Glamorama," Spring, 2014. Distinction.
Eric Farwell, "Minor Pisces," Spring 2014.
Samantha Glassford, "'Mysteries of Word and Glance': Verbal and Nonverbal Traumatic Coping Mechanisms in DeLillo's Falling Man," Spring 2014.
Kayla Helfrich, "The Fire Starter," Spring 2014.
Michael Mifka, "Chronicling Chinaski: Bukowski's Ham on Rye and Lower-Class, Ethnic Male Adolescence," Spring 2014.
Joshua Rademacher, "Were Here, We're Queer, But Who Are We?," Spring 2014.
Candice Belluscio, "Bound to Marriage: A Critical Analysis of Marriage in Jane Austen's Pride and Prejudice," July 2013.
Alessandra Chai, "Writing the Self for Healing in Alison Bechdel's Fun Home and Are You My Mother?," Spring 2013
Martyna J. Dobkiewicz, "Bite," Spring 2013. Distinction.
Matthew Hall, "Bear in the Basement," Spring 2013. Distinction.
Anita Komareth, "Clarissa's Exemplary Morality," Spring 2013.
Jennifer Lyons, "Of Canons and Cauldrons: Harry Potter, National Culture, and Canon Exclusivity," Spring 2013.
Amanda Bennett Morey, "No Child Left Behind as a Rhetorical Situation: 'Accountability and Flexibility' Will Leave Schools Behind," Spring 2013.
Bernadette Sabatini, "The Wife of Bath's Prologue: Domestic Violence and Sexual Abuse in the Middle Ages," Spring 2013.
Lauren Schmidt, "(Ir)Responsible Rhetoric: Ron Unz and English for Children," Spring 2013.
Patryk Zielonka, "The War to End All Boys," Spring 2013.
Christine Bryant, "Lost Daughter," Spring 2012.
Nicholas Cariddo, "The Morro Castle" a full length play, Spring 2012.
Erin Carroll, "Oranges, Lemons, and the Decline of the Traditional Mother Figure in George Orwell's Nineteen Eighty-Four," Fall 2012.
Matthew Cinnirella, "Sleep With Me," Spring 2012.
Nicole Evegan, "The Best American Short Stories: Illustrating the Tension in Race Politics," Spring 2012.
Maria Geiger, "Chaucer's Orthodoxy in the Age of Lollardy: Gentilesse in The Wife of Bath's Tale, The Parson's Tale, and "Gentilesse, Moral Balade of Chaucier," Spring 2012.
Bruce MacBeth, "Making Me Sick: The Rhetoric of Pharmaceutical Marketing," Fall 2012.
Audrey Marcu-McGowan, "Small and Large Collaborative Group Work to Promote Learning In Freshman Composition Courses at Community Colleges," July 2012
Amy B. Monahan, "How to Polish the "Perfectly Polished Floor" and Write About It, Too: Life, Death, and the Domestic Aesthetic, or Poemesticity, of Linda Pastan," Spring 2012.
Kimberly Morté, "Jumping the Great White: Kiana Davenport's Shark Dialogues as American Literature," Spring 2012. Distinction.
Linda Johnston Muhlhausen, "MY OUT- CAST STATE, An Elizabethan Tragedy. A play in III acts," Spring 2012.
Elizabeth Myers, "Negotiating Between Adult Author and Young Adult Audience: Characterization in House of Many Ways," Spring 2012
Pamela Quillamor, "Will the Real Prufrock Please Stand Up? Misogyny in the Poetry of T.S. Eliot and Eminem," Spring 2012.
Kristin Dexnis Rosengrant, "Double Duty, A Novel in Progress," Spring 2012.
Mariana Sierra, "Isla," Spring 2012. Distinction.
John A. Tesauro III, "From the Inside Looking Out: Society's Fringe," Spring 2012.
Frank Gogol, "Broken" and "Weeds": Short Fiction, Fall 2011.
Sara Van Ness, "Ah Pook is Where? Authorship, Textuality, and Contingency," August 2011. Distinction.
Alexis Anderson, "Deconstructing Post Race, Reception and Language (Linguistics): Richard Wright's Native Son," Spring 2011.
Nicole Gough, "Cajun Dialect and Identity in Ernest Gaines' A Gathering of Old Men," Spring 2011.
Veronica Guevara, "Genre Subversion in Where the Senoritas Are: A Play in Two Acts," Spring 2011.
Sara Krainski, "Waste," Spring 2011.
Lois Levine, "Charlotte Temple and the Making of America's First Best Seller," Spring 2011.
Tracy Lisk, "The Role of Charlotte Lennox's The Female Quixote in the Progression of Female Characters and Writers from Romance to Novel," Spring 2011.
Sharon Murphy, "Gender Entrapment in George Eliot's The Mill on the Floss and Jane Campion's The Piano," Spring 2011.
Walter Przybylowski, "Written Screen/Filmed Page," Spring 2011.
Brianne Sardoni, "Pedagogy of Composition Theory and Synthesis of Methodology," Spring 2011.
Heather Steimel, "Domestic Disturbances," Spring 2011.
Matthew Wheeler, "Enchanting Masculinity: Women and Warrior Culture in Malory's Morte Darthur," Spring 2011.
Shanna Williams, "Postcolonial Feminism," Spring 2011.