The English Department is pleased to announce the winners of its 2021-2022 awards. There were many eligible and competitive submissions for the writing prizes, and a strong field of candidates for all the awards. We congratulate this year's winners, and thank our donors for their generosity.
---
Valerie Aristy-Reyes – The English Merit Award
The Academic Merit Award, which recognizes the distinguished academic career, university and departmental service of a graduating English major, goes this year to co-winner Valerie Aristy-Reyes. A roster can tell professors a lot about a class—especially the dynamics of the class, based on the personalities of the students. Seeing Valerie's name on a roster has been a sign to faculty that this class is going to do just fine. Seeing her name allows the professor to know there will be valuable conversation, discussion points grounded in readings and focused on critical topics, and important light bulb moments. Valerie is the kind of person who leans into every assignment with her whole intellect. She impressively combines critical attentiveness and rhetorical principles to craft exceptional projects. From white papers to website revisions to application of critical theory in dense papers—literary, rhetorical, and linguistic–Valerie simply excels at the theory and practice of English Studies. Her work represents the best of our discipline, and her enthusiasm, curiosity, and rigorous work ethic are inspiring, making her faculty proud to be Monmouth University English Department Faculty. It is bittersweet to know she is graduating: we may not see her name on our rosters again, but we know that she is moving confidently out into the world, armed with a calm, piercing intellect.
Christina Blumstein – The English Merit Award
The Academic Merit Award, which recognizes the distinguished academic career, university and departmental service of a graduating English major, goes this year to co-winner Christina Blumstein. During her four years at Monmouth University, Christina has not only distinguished herself by earning a cumulative 3.992 grade point average and a 4.0 in both her English and her Secondary Education majors, but she has demonstrated intellectual initiative by completing elective minors in Italian and Communication Sciences and Disorders, exhibited a commitment to extracurricular involvement by being an active member of the Sigma Tau Delta and Phi Eta Sigma honor societies, evidenced leadership by serving as President of the Italian Club, and shown promise as a future literacy educator by excelling in her teaching placements, in her  speech pathology internships, and as a substitute teacher in the Old Bridge Township Public School System. Yet, beyond these achievements, perhaps what is most remarkable about Christina is her ability—exemplified both in the exceptional Statement of Teaching Philosophy she composed for her Composition Theory course and in the successful application she recently submitted for her high school English teacher, Janine Arciero, to be selected as this year's winner of the Monmouth University-William Roberts Charitable Foundation Outstanding Teaching Award—to clearly articulate why it remains so crucial for today's English teachers "to make school meaningful," to enable students "to have [mindful] experiences in the classroom," and to empower individuals to grow into "lifelong learners" who are "willing to dig deeper than what they believe, welcoming change and differing opinions." For all of the accomplishments listed above and for reminding us, via both her words and her example, of the reasons why we do what we do, Christina is one of this year's deserving co-winners of the department's highest honor.
Kathleen Ruocco – The English Award for the Academic Writing Prize
The recipient of tonight's English Award for Academic Writing is Kathleen R. Ruocco. Jane Austen allegedly referred to her writings as "the little bit (two inches wide) of ivory on which I work with so fine a brush," and in this year's selection for the Academic Writing Award, Katie Ruocco examines Austen's Mansfield Park to look past the ivory and consider the elephant —i.e., the elephant in the room that is the Bertram family's socioeconomic dependence on Antiguan slavery, a plot point the novel seems to sweep under the rug. Ruocco discusses the novel's patriarch, Sir Thomas Bertram, arguing that to Austen's original readers, Sir Thomas's "jumped-up" social status, sense of noblesse oblige, casual cruelty, and view of human beings as property would have marked him to contemporary readers as unmistakably a slave owner. As such, Ruocco suggests that slavery, far from being a regrettable, marginal, and quickly abandoned practice, was thoroughly embedded in the economy, international influence, and daily domestic lives of the British. Her prize-winning essay, selected from a noticeably extensive and distinguished group of competitors, not only demonstrates the importance of reading literature with an eye to historical context but also furnishes a rich example of how literary study can make a commitment to the aims of anti-racism and social justice.
Liza Gordon – Runner-Up, The English Award for the Academic Writing Prize
This year's English Award for Academic Writing Runner-up is Liza Gordon, for her essay "I, Vampire: The Vampire As an Escapist Proxy Body," in which she argues that "Throughout history the vampire monster has been utilized as a vehicle for self-expression and exploration of perception of the world around the self." Grounded in the context of two theses from Jeffrey Jerome Cohen's Monster Theory theoretical framework—The Monster is the Harbinger of Category Crisis and Fear of the Monster is Really a Kind of Desire—Gordon explores how the vampires in Bram Stoker's Dracula, Anne Rice's Interview with the Vampire, and Vampire: The Masquerade " . . . [exist] both to question the classification of the world as well as to be [creatures] of escapism for [authors and readers alike] to use to navigate the world and understand themselves." Gordon is an English major with a concentration in Creative Writing and double minors in Art and Professional Writing, who hopes to become a published author of gothic fiction. She is an accomplished artist with an impressive portfolio of original short stories and poetry. When she is not chasing the ever-elusive reflections of vampires, you can find her reading, drawing, or hanging out with her four cats.
Patricia Banfitch – The English Award for the Creative Writing Prize
For the second year in a row, Patricia Banfitch has been chosen as the winner of the Undergraduate Creative Writing Award. This year, Trish has received that distinction for a novella that she wrote during the fall semester for an independent study—a project for which she will graduate with departmental honors. In it, Trish writes with great sensitivity and nuance about a high school-aged protagonist, who, during her father's slow death from cancer, enters into a sexual relationship with her father's middle-aged home health aide. As one might imagine, the story is often disturbing and painful. Yet it is a testament to Trish's instincts as a fiction writer and her considerable gifts for characterization and subtlety that this story also contains convincing moments of intimacy, tenderness, heartbreak, and even humor. Trish plans to spend the year after graduation working, writing, and honing her graduate-school application materials with the intention of enrolling in a MFA program in fiction in fall 2023.
Gabriella Pisacane – Runner-Up, The English Award for the Creative Writing Prize
The runner-up for this year's Undergraduate Creative Writing Award is graduating senior Gabrielle Pisacane for "August Rains." In this short story, two teenagers make out in the back seat of a car: a plot that is seemingly as old as time itself. When they get too hot, they get out of the car and stand in the rain. But these too teenagers "weren't dating, [they] weren't almost dating, [they] weren't even really friends." Their connection is ambiguous, which the narrator claims to feel just fine about at the beginning of the piece. However, over the course of this story, which is driven not so much by plot as it is by character interiority and psychological realism, we come to realize that this ambiguity is yielding powerful feelings on at least one side of the dyad. Over the course of six tightly controlled, tautly narrated pages, Gabby manages to depict the narrator's dawning awareness of her changing emotions in simple, moving, and elegant prose. Gabby notes, "my plan for the future is actually to become an author! I want to write fiction books and am planning to get a job in editing and publishing after I graduate to support myself and better understand the industry while I finish my first book. I've been working on the book for a lot of college in my free time and have been able to workshop some of the chapters in my creative writing classes."
Malia Padalino – The English Award for Graduate Creative Writing
This year's winner of The English Award for Graduate Creative Writing goes to Malia Padalino. Malia's "Broken Mirrors" is a deep meditation on the pressure of having a particular body, and how we see ourselves and each other, through one woman's story of childhood, adolescence, and family.
John Vurro – Runner-Up, The English Award for Graduate Creative Writing
The runner-up for The English Award for Graduate Creative Writing is John Vurro. John's excerpt from his novel, Play, Rewind, is a hilariously touching story of what one man gives up to take care of his ailing mother. It rings of truth, intelligence, and the absurdity of the human condition.
Melissa Ondrush – The Caryl Sills English Teaching Award
Generously sponsored by English Department Professor Emerita and former Department Chair Dr. Caryl Sills, the teaching award in her name recognizes English-Education majors who have exhibited both exemplary academic success and utmost promise as future educators. This year's enthusiastically selected winner is senior Melissa Ondrush. Throughout her academic career, Melissa has made her education her first priority. She is the first person in her immediate family to earn a bachelor's degree and acknowledges how grateful she is for their support. Melissa participated in the Buddy and Me Mentorship Program at Monmouth. As an undergraduate, Melissa has taken several graduate courses including Feminist Theory, Queer World Lit, and Teaching Elementary Social Studies, a combined undergraduate and graduate course. Melissa has always wanted to be a teacher. In her own words, "I put everything I am into making sure I could be the best possible version of myself for my students. I've never been able to picture myself doing anything else, so I wanted to make sure I worked as hard as possible to make my dream become a reality." Currently, she is completing her student teaching in a third grade class at Middle Road Elementary School in Hazlet. In the fall, she will apply for full time positions across Monmouth and Ocean counties.
Melissa would like to thank her family, her boyfriend Nic, her cooperating teachers and students, and Dr. Goulding for helping her achieve success over the past few years.
Maura Foley – The David Tietge Memorial First-Year Composition Academic Essay Award
This year's winner of The David Tietge memorial First-Year Composition Academic Essay is Maura Foley. Maura, from Middletown New Jersey, is a History and Secondary Education major and a member of the Honors School. Maura participates in the Student Government Association and is a member of Alpha Sigma Tau. Maura says, "writing is such an important form of communication and expression. I feel that the ability to write is one of the most essential skills a person can have." The Department of English is pleased to recognize Maura with its First-Year Composition Academic Essay Award for her essay, "The Truth in Hamlet's Insanity." Maura Foley's "The Truth in Hamlet's Insanity" is an inventive analysis of Hamlet's behavior. Through her careful connections to historical works and Hamlet, she asserts that the impactful changes in Hamlet's life both justify and explain his altered behavior. Her well-argued chain-of-reasoning is a persuasive paper. She leads the reader to believe that Hamlet never became insane.
Lukas Kalinauskas – The David Tietge Memorial First-Year Composition Researched Essay Award
This year's winner of The David Tietge memorial First-Year Composition Research Essay is Lukas Kalinauskas. Lukas is a sophomore from Jackson, NJ pursuing a Business Administration major with a concentration in Marketing at Monmouth University. Lukas has a passion for the art of storytelling, which he discovered during his 4-year enlistment in the Marine Corps for journalism. No matter what kind of writing Lukas is composing, authenticity is always his priority. "I'd rather lose a few points on an essay," he says, "if it means I can have some fun with it and enjoy the time I spent writing."
In his essay, "What is Godzilla?", Lukas Kalinauskas explores Godzilla as an evolving symbol of Japanese culture and government over the last 68 years. His work effortlessly guides readers through an exploration of the iconic monster as a representation of historic horror, nuclear devastation, arms race anxiety, extreme work ethic, environmental collapse, and even the indestructible hope that have characterized Japanese culture in the decades following World War II. The paper culminates in an engaging, interesting and entertaining interpretation of Godzilla's rise from atomic ash to international fame and lasting presence in popular consciousness, while fostering important considerations about fear, power, and politics in Japanese culture along the way.
TBA – The English Award for Graduate Study
---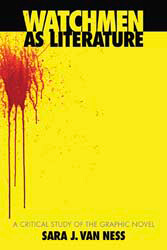 Sara Van Ness, student in the English Department's M.A. Program, has written a book titled Watchmen as Literature: A Critical Study of the Graphic Novel, published by McFarland and Company in 2010.
The study began as a paper for an independent study and grew into her undergraduate thesis project, both under the direction of Dr. Stanley Blair of Monmouth University's English Department. In addition, she completed some of her research and writing of the book during a graduate-level independent study with Dr. Blair in Spring 2009. The book explores the graphic novel's reception in both popular and scholarly arenas, and how the conceptual relationship between images and words affects the reading experience. Other topics include heroism as a stereotype, the hero's journey, the role of the narrator, and the way in which the graphic layout manipulates the reader's perception of time and space.
Sara graduated summa cum laude in May 2008 from Monmouth University with a Bachelor of Arts degree in English and secondary education. Her thesis was awarded honors by both the Honors School and the English Department. As an undergraduate, she received the Wayne D. McMurray School of Humanities and Social Sciences Award for Student Excellence and the New Jersey Distinguished Student-Teacher Award. She expects to complete her M.A. in English in Fall 2011.
---
MASTER'S THESES
Theses in Progress
Christopher D. Hankenson, "Long-Eared Epic: Watership Down and Questions of Readership."
Theses Completed
Michelle Giles, "Yellow Wildflowers." Fall 2021.
Michael Qualiano, The Guided and Other Trips. Fall 2021.
Sarah Van Cleft, Birdman. Fall 2021.
Jason Aquino, You Could Have Hurt Me Better. Spring 2021.
Lisa Barthelme, O Father. Spring 2021.
Douglas Bornhoeft, No Scents of Magic. Spring 2021.
Chelsea Byrne, Killer Roadkill. Spring 2021.
Barbara Coleman, Wake up and Smell the Coffee. Spring 2021. Distinction.
Faith Earl, "Inventory of the Gone." Spring 2021
Abigail Fenn, Red. Spring 2021.
Mallory Green, Keeping in Touch. Spring 2021.
Kaitlyn Lash, "No Sympathizing Movement to the Words: Wuthering Heights and the Problems of Adaptation." Spring 2021.
Allison Long, "Superlative: Stories." Spring 2021.
Damian Luboch, Tales of Jim Bum Bradley. Spring 2021.
Nicholas Morris, Telegony. Spring 2021. Distinction.
Jenna Puglisi, Totally Fine. Spring 2021.
Brittany Scardigno, "Intangible Violence: Manifestations of Silence in Kingston's The Woman Warrior and Daoud's The Meursault Investigation." Spring 2021. Distinction.
Katelyn Snyder, "Intermodernism and British Identity in Voyage in the Dark (1934) and Farewell Leicester Square (1941)." Spring 2021. Distinction.
Connor Surmonte, Freewheelin'. Spring 2021.
MacKenzie Svarrer, Adolescence of Elektra. Spring 2021.
Amanda Wassel, "Waging War not with Weapons but with Needles: Studying Contemporary Needlework as a Form of Invitational Feminist Rhetoric." Spring 2021.
Brittany Cote, "Isabel Allende's The House of the Spirits: Magical Realism or Gothic Hybrid?" Fall 2020.
Charles Chipman, Turnbuckle: A Novel. Fall 2020.
C. John Schoonejongen, Take This Longing. Fall 2020.
Jason Aquino, Deified. Spring 2020.
Courtney Ball, "'Waiting for the World to be Made' through Folklore, Food, and Feminism:  An Analysis of Hurston's Their Eyes Were Watching God." Spring 2020.
Teresa Castellitto, "Morning Light." Spring 2020. Distinction.
Madison Hlavach, "Emotions, Discomfort, & Ethical Responsivity: Taking the Risk to Care." Spring 2020.
Jaimee D. Nadzan, "Haunting Space and Place in Shirley Jackson's The Haunting of Hill House and Helen Oyeyemi's White is for Witching." Spring 2020.
Robert Zadotti, "Midnight." Spring 2020.
Mary Rademacher, "A Rethinking of the Burkean Parlor in the Post-Truth Classroom." Fall 2019.
Patrick O'Neill, Time As It Passed. Spring 2019.
Susan Schuld, "Dracula: An Intertextual, Byronic Romance." Spring 2019. Distinction.
Sally Taylor Tawil, "The Measure of a Moment." Spring 2019. Distinction.
Kaitlyn Trebour, "Technology and Composition: How Digital Technology Effects Adolescents' Writing Processes." Spring 2019.
Jeremy Mancino, "Terra Incognita." Fall 2018.
Dawn McCloskey, "Conversing on Disability: Analyzing and Exploring How Scholars are Discussing Disability Studies, Discovering Disability in YA Literature, and Finding Disability Analyses in Composition Classrooms." Fall 2018.
Daniel Murphy, Who is Daniel?  Fall 2018. Distinction.
Michael Sefack, "What Do You Mean This Class Doesn't Count? Negotiating the Challenges of Writing Placement in Two-Year Colleges." Fall 2018. Distinction.
Connor White, "Waiting for the Sun." Fall 2018.
Sara Basgaard, "Tentative Language Use in the Classroom: Who and Why, the Effects, the Influence of Gender, and Why Educators Need to Care." Spring 2018.
Victoria DePaolo, "'Thank You For Calling, How May I Help You?' A Burkean Analysis of Agency as Established though Call Center Soft Skills Training Materials." Spring 2018.
Christine DiBiase, "The Feminist Gothic: An Analysis of The Handmaid's Tale. Preface: An Introduction to The Argument for Feminist Gothic." Spring 2018.
John Francis, "The Queer Heroes of Horror: Gothic Entanglements with Queerness in Vampire Hunter D: Bloodlust, Let the Right One In, and Palimpsest." Spring 2018.
Daphne Keller, "'An Art of Humanity': The Henry Street Narratives of Lillian D. Wald." Spring 2018. Distinction.
Colleen King Oliver, "Unripe, Unsweet, Delicious." Spring 2018.
Kimberly Morgan, "A Feminist Enquiry into Female Representations of the Sublime in Moby-Dick." Spring 2018. Distinction.
Elizabeth White, "'Jem told me I was being a girl, that girls always imagined things': Female Narrative Voice and the Young Adult Literary Canon." Spring 2018.
Jenna Risden, "Re-gendering the Monarchy as The Queen's Three Bodies: Spenser's Use of the Body Politic as a Metaphor For England's Political State in
The Faerie Queene." Fall 2017.
Brian Turczmanovicz, "'Their ruin! Hence I will excite their minds:' Mind Reading and Machiavellian Intelligence in Milton's Satan and Shakespeare's Cassius." Fall 2017.
Kathryn Gehrsitz, "The Quest for the Female Hero and a Feminist Genre in Modern Young Adult Dystopian Literature." Spring 2017. Distinction.
Ivy Hollander, "Incorporating Modernism into the Secondary Education Classroom through Studying The Sun Also Rises and Mrs. Dalloway." Spring 2017. Distinction.
Kevin Holton,. Absolute Zero. Spring 2017.
Avi Lejbik," Pride Prejudice and Zombies An Evaluation of Austen's Vision of Socially Circulating Rhetoric." Spring 2017.
Talon Ribsam, A Warm Chill Threatens. Spring 2017.
David Robbins, Cascadia. Spring 2017.
Nicholas Segreto, Monster City. Spring 2017.
Sara Haight, "Bipolar Chronicles." Fall 2016.
Stefanie Kyak, "The Play's the thing, Wherein I'll Catch the Conscience of the King": Mise en Abyme and Psychoanalysis in Christopher Nolan's Inception and William Shakespeare's Hamlet." Fall 2016. Distinction.
Heather Altz, "J.M. Synge's Subversive Archetypes." Spring 2016. Distinction.
Philip Blizzard, "The Guarantee Group."  Spring 2016.
Courtney Castelli, "Every Colored Girl Had Been Born With One." (Un)doing Race, Gender, and Sexuality in James Baldwin's Another Country. Spring 2016.
Taylore Glynn, "Orchidelirium." Spring 2015. Distinction.
Rebecca Gokberk, "Food for Thought: A New Approach to Analyzing Literary Cookbooks."  Spring 2016.
Faten Hafez, "Jane Austen: The Acts of Implication in Two Centuries of Criticism." Spring 2016.
Abigail Maguire, "Doll Parts."  Spring 2016.
Christina Riso, "Welcoming Alternative Media into the Academy: Benefits of the Zine."  Spring 2016.
Kayla Sorbara, "The Poem and the Pomegranate: How Ancient Greek Myth Influences Feminist Theory in Evan Boland's 'The Pomegranate' and Nuala Ni Dhomhnaill's Persephone Suffering from SAD.'"  Spring 2016.
Ariana Tepedino, "Gilded Trans-America: The California Gold Rush and Maupin's Tales of the City." Spring 2016. Distinction.
Erin Fu, "Looking Through the Kaleidoscope: Into the Genre(s) of Moll Flanders," Fall 2015. Distinction.
Md. Shahriar Kabir, "Carol Kennicott's Articulation of Voice in Main Street by Sinclair Lewis," Fall 2015.
Emily Scarano, "The Rhetoric of Slam Poetry and its Potential in the College Writing Classroom." Fall 2015.
Lisa Sofranko, "Taking Care." Fall 2015.
Chris Bogart, "The Beast," Spring 2015.
Eric Brown, "The Movement of Words: Misprision, Re(mis)interpretation, and Meaning in Russell Hoban's Riddley Walker and Walter M. Miller's A Canticle for Leibowitz," Spring 2015.
Lauren Freda, "Alice Walker's The Color Purple: Fourth Wave Feminism," Spring 2015.
Amara Hand, "The Other Side of the Game: The Rhetorical Alterity of Contemporary Hip Hop," Spring 2015.
Megan Miguelino, "Through the War-Drobe: The Restoration of National Identity and Hope in C.S. Lewis's The Lion, the Witch, and the Wardrobe," Spring 2015.
Danielle Pelose, "'Fire Is Catching': Rhetorically Igniting the Spark between Young Adult Literature and "L"iterature," Spring 2015.
Amy Schulze, "'Such Odious Subjects' as Sex and Sapphism: The Obscene, Unseen, and Mundane in Virginia Woolf's Orlando and Radclyffe Hall's The Well of Loneliness," Spring 2015.
Hannah Tichansky, "Paranoid Rhetoric and Spatial Obsession: Elizabeth Bowen, Kenneth Burke, and the Blitz," Spring 2015.
Kerry Bogert, "Therapy for Muggles: Exploring Representations of Trauma and Mental Illness in Fantasy Fiction," Spring 2014.
Corinne Cavallo, "Homeless Texts of Trauma: Elie Wiesel's Night and the Argument of Omittance," Spring 2014. Distinction.
Amanda Connelly, "Who the Fuck is Moi? The Effects of Consumer Culture on Identity and Reality in Brett Easton Ellis's Glamorama," Spring, 2014. Distinction.
Eric Farwell, "Minor Pisces," Spring 2014.
Samantha Glassford, "'Mysteries of Word and Glance': Verbal and Nonverbal Traumatic Coping Mechanisms in DeLillo's Falling Man," Spring 2014.
Kayla Helfrich, "The Fire Starter," Spring 2014.
Michael Mifka, "Chronicling Chinaski: Bukowski's Ham on Rye and Lower-Class, Ethnic Male Adolescence," Spring 2014.
Joshua Rademacher, "Were Here, We're Queer, But Who Are We?," Spring 2014.
Candice Belluscio, "Bound to Marriage: A Critical Analysis of Marriage in Jane Austen's Pride and Prejudice," July 2013.
Alessandra Chai, "Writing the Self for Healing in Alison Bechdel's Fun Home and Are You My Mother?," Spring 2013
Martyna J. Dobkiewicz, "Bite," Spring 2013. Distinction.
Matthew Hall, "Bear in the Basement," Spring 2013. Distinction.
Anita Komareth, "Clarissa's Exemplary Morality," Spring 2013.
Jennifer Lyons, "Of Canons and Cauldrons: Harry Potter, National Culture, and Canon Exclusivity," Spring 2013.
Amanda Bennett Morey, "No Child Left Behind as a Rhetorical Situation: 'Accountability and Flexibility' Will Leave Schools Behind," Spring 2013.
Bernadette Sabatini, "The Wife of Bath's Prologue: Domestic Violence and Sexual Abuse in the Middle Ages," Spring 2013.
Lauren Schmidt, "(Ir)Responsible Rhetoric: Ron Unz and English for Children," Spring 2013.
Patryk Zielonka, "The War to End All Boys," Spring 2013.
Christine Bryant, "Lost Daughter," Spring 2012.
Nicholas Cariddo, "The Morro Castle" a full length play, Spring 2012.
Erin Carroll, "Oranges, Lemons, and the Decline of the Traditional Mother Figure in George Orwell's Nineteen Eighty-Four," Fall 2012.
Matthew Cinnirella, "Sleep With Me," Spring 2012.
Nicole Evegan, "The Best American Short Stories: Illustrating the Tension in Race Politics," Spring 2012.
Maria Geiger, "Chaucer's Orthodoxy in the Age of Lollardy: Gentilesse in The Wife of Bath's Tale, The Parson's Tale, and "Gentilesse, Moral Balade of Chaucier," Spring 2012.
Bruce MacBeth, "Making Me Sick: The Rhetoric of Pharmaceutical Marketing," Fall 2012.
Audrey Marcu-McGowan, "Small and Large Collaborative Group Work to Promote Learning In Freshman Composition Courses at Community Colleges," July 2012
Amy B. Monahan, "How to Polish the "Perfectly Polished Floor" and Write About It, Too: Life, Death, and the Domestic Aesthetic, or Poemesticity, of Linda Pastan," Spring 2012.
Kimberly Morté, "Jumping the Great White: Kiana Davenport's Shark Dialogues as American Literature," Spring 2012. Distinction.
Linda Johnston Muhlhausen, "MY OUT- CAST STATE, An Elizabethan Tragedy. A play in III acts," Spring 2012.
Elizabeth Myers, "Negotiating Between Adult Author and Young Adult Audience: Characterization in House of Many Ways," Spring 2012
Pamela Quillamor, "Will the Real Prufrock Please Stand Up? Misogyny in the Poetry of T.S. Eliot and Eminem," Spring 2012.
Kristin Dexnis Rosengrant, "Double Duty, A Novel in Progress," Spring 2012.
Mariana Sierra, "Isla," Spring 2012. Distinction.
John A. Tesauro III, "From the Inside Looking Out: Society's Fringe," Spring 2012.
Frank Gogol, "Broken" and "Weeds": Short Fiction, Fall 2011.
Sara Van Ness, "Ah Pook is Where? Authorship, Textuality, and Contingency," August 2011. Distinction.
Alexis Anderson, "Deconstructing Post Race, Reception and Language (Linguistics): Richard Wright's Native Son," Spring 2011.
Nicole Gough, "Cajun Dialect and Identity in Ernest Gaines' A Gathering of Old Men," Spring 2011.
Veronica Guevara, "Genre Subversion in Where the Senoritas Are: A Play in Two Acts," Spring 2011.
Sara Krainski, "Waste," Spring 2011.
Lois Levine, "Charlotte Temple and the Making of America's First Best Seller," Spring 2011.
Tracy Lisk, "The Role of Charlotte Lennox's The Female Quixote in the Progression of Female Characters and Writers from Romance to Novel," Spring 2011.
Sharon Murphy, "Gender Entrapment in George Eliot's The Mill on the Floss and Jane Campion's The Piano," Spring 2011.
Walter Przybylowski, "Written Screen/Filmed Page," Spring 2011.
Brianne Sardoni, "Pedagogy of Composition Theory and Synthesis of Methodology," Spring 2011.
Heather Steimel, "Domestic Disturbances," Spring 2011.
Matthew Wheeler, "Enchanting Masculinity: Women and Warrior Culture in Malory's Morte Darthur," Spring 2011.
Shanna Williams, "Postcolonial Feminism," Spring 2011.