The English Department is pleased to announce the winners of its 2022-2023 awards. There were many eligible and competitive submissions for the writing prizes, and a strong field of candidates for all the awards. We congratulate this year's winners, and thank our donors for their generosity.
---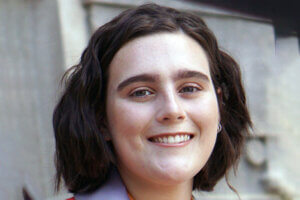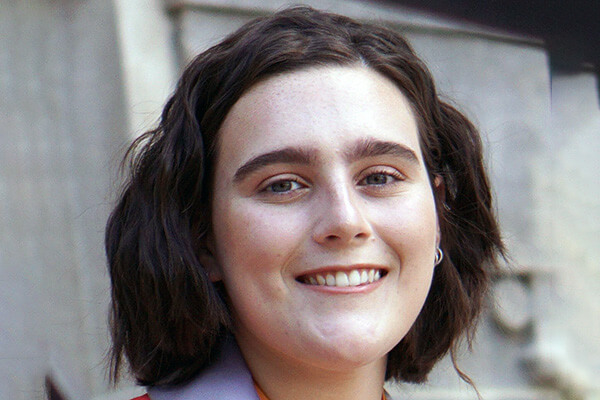 Nicole Mautone – The English Merit Award
Nicole's love of books led her to become an English major at Monmouth. She names What is a Book? with Dr. Blair; Theory and Criticism with Dr. Jackson; and Contemporary Women Novelists with Dr. Biesiada as some of her favorite courses. Nicole has had the opportunity to incorporate her love of the horror genre in her coursework, having written both an analysis of a psychological horror visual novel for Dr. Blair's course and another paper about horror novels used for pedagogical purposes in K-12 classrooms in her Children's Literature course. Nicole has also shown great promise outside the classroom; this past semester she completed two internships, one at NJSPN as a public relations intern, and the other at Pie Press Publishing as a publishing intern. At NJSPN she made marketing plans and helped expand the reach of the company, and at Pie Press she spent a large portion of her time proofreading and editing an author's short stories to prepare for a short story collection. Nicole is currently keeping her post-graduation options open, as she is considering law school or alternatively a Master's in library science with the possibility of becoming a school librarian. Nicole has greatly enjoyed her English courses at Monmouth, and confesses that she will miss being an English student.
Rachel Polzer – The English Merit Award
Ever since Rachel transferred to Monmouth two years ago, she has been eager to partake in an academic experience that was both enriching and insightful, and one that would help her find the right career path. The English department at Monmouth has been an integral part of that experience. Rachel reflects on some of the great pieces of literature she was assigned as an English major here, such as Jonathan Edward's Sinners in the Hands of an Angry God, Beowulf, countless Shakespeare plays, and so many more. These stories were very interesting and personally enriching to her life in one way or another. These pieces of literature, as well as the knowledgeable and caring professors of the English department, have made her time at Monmouth fulfilling and rewarding. She would like to shout out Dr. Fury, Dr. B, Dr. Starke, Dr. Werner, and Dr. Hanly for being a great part of her time at Monmouth. Now, she looks onward to graduating in May and becoming a high school English Language Arts teacher, where she can positively impact her students as these English professors have positively impacted her.
Anna Huber – The English Award for Academic Writing
Anna Huber, for her essay entitled "Double Feature: Bobbie Ann Mason's 'Shiloh' as a Trauma Narrative." Anna's award-winning essay is actually her departmental honors thesis, which proposes a trauma theory approach to the short story "Shiloh." In her compelling analysis, Anna explores the effects of the story's main characters' traumatic experiences, which causes them to struggle to function as a couple. Leroy and Norma Jean's story of trauma serves as an example of what trauma can look like in the home beyond war literature. Where trauma theory in literature was originally applied to war stories, holocaust narratives, and post-9/11 accounts, Anna has sought in this study to apply this theoretical lens to a fictional narrative with a contemporary, suburban setting. The research she conducted for this project took her both near and far: for her content analysis she found scholarly sources in Monmouth's Guggenheim library while also traveling to Shiloh, Tennessee for field research to see the physical battlefield that is the setting of the story's ending. Anna's project was quite challenging; she describes the process as making her feel "stretched": "It stretched me as a student, stretched me in the way I thought, in the way I read, and even the way I write. I had to learn how to articulate and communicate thoughts at a level and degree I have never been asked to do before." In part because of the challenges that she overcame to complete her project, she sees this thesis as her most rewarding accomplishment. She is grateful to the faculty who helped her on this journey, especially to Dr. Stanley Blair, who was her thesis advisor. Dr. Blair's dedicated teaching and consistent encouragement were the driving forces in keeping Anna on pace in her thesis. She is also appreciative of the members of Writing Services who listened to her "prattle" about her thesis, and to those dedicated folks who even volunteered to read sections of her drafts. Anna is ever grateful that she was given the opportunity to complete this task and be challenged in the way that she was.social justice.
Zafira Demiri – Honorable Mention, The English Award for Academic Writing
Zafira Demiri,for her essay entitled "Fear & Fortitude: Feminine Consciousness in A Room of One's Own and Pointed Roofs." Written for Dr. Bluemel's Modern British and Irish Literature course, Zafira's sophisticated essay examines two literary works from the contemporary British modernist writers Virginia Woolf and Dorothy Richardson for their use of the stream-of-consciousness style while also considering Woolf's theory that the "androgynous mind" is the sign of a writer's genius against Richardson's characteristically feminine voice. In her essay, Zafira contends that the gendered mind of the author is not what makes a "genius," as Woolf would refer to it, but rather that autonomy is the determining characteristic (as Richardson exemplifies in her novel). Zafira's outstanding essay was one of the first she wrote as a student at Monmouth, at the time having recently transferred from Brookdale Community College. For Zafira, this essay represents just one of the ways in which she has been allowed to, in her words, "flourish in regard to [her] passion for English literature, scholarly writing, and creative writing." As a demonstration of Zafira's many talents, this semester she will have two poems published in The Monmouth Review and a short story published in the honor society Phi Theta Kappa's literary journal Nota Bene. Zafira notes that she is "happiest researching and writing literary theory— especially feminist theory" and is honored for this recognition of her work on the topic.
Liza Gordon – Honorable Mention, The English Award for Academic Writing
Liza Gordon, for her essay entitled "Humanely Addressing Feral Cat Overpopulation in Monmouth County."Liza's paper was unique among the submissions the committee fielded for the academic writing award in that it was not a work of literary analysis. Liza's topic is significant in that it is a pressing local matter: Monmouth County is currently facing a problem with overbreeding and overpopulation of feral cats. She discusses the harm these cats cause to the local ecosystem, native wildlife, and one another as well as how to address it. Though there are a few possible solutions, many of them are inhumane and cause harm and distress to the cats. The humane solution she proposes in her paper is an increase in funding toward Trap-Neuter-Release programs in Monmouth County. She utilized data collected from Monmouth County residents as well as from scholarly research articles on the topic to show that the humane solution is the best and most effective solution to this problem. Liza's list of favorite classes shows a certain kind of consistency with the nature of this essay in that some of them are literary in focus while others are not: Vampire Literature with Professor Swanson; Professional Writing with Dr. Love; and Language and Community with Dr. Werner. Moreover, Liza has a particular interest in Gothic literature – the darker and more macabre the better. She has had her writing published in several magazines over the years, and she hopes eventually to have Gothic novels of her own to publish in the future. In the fall she hopes to return to Monmouth as a graduate student and hopefully earn her MA and MFA in creative writing with the goal one day of becoming a professor of English.
Melaina Carrara – The English Award for Creative Writing in Prose
Winner of the Award for Creative Writing in Prose is Melaina Carrara, for her short story entitled "The Affairs of the Women of the Brentwood Country Club." In this lyrical, psychologically complex, and structurally inventive piece set in early 1960s California, the young narrator describes her clandestine love affair with the daughter of one of her husband's business associates and her subsequent heartbreak when the affair ends. Carrara's prose is lush, her historical details are precise and poignant, and her characterization is mesmerizing. A junior majoring in English with a Concentration in Creative Writing, Melaina is also an employee of Writing Services. She plans to enroll in the Bachelor's + Master's program and study creative writing at the graduate level. After graduation, she intends to work in the publishing industry while continuing to write.
Hana Vozzo – Honorable Mention, The English Award for Creative Writing in Prose
Honorable Mention for the Award for Creative Writing in Prose is Hana Vozzo for her short story "The Camping Trip." This harrowing piece, which seems at first to be a tender story about two sisters on a camping trip, soon reveals itself to be a grief-driven hallucinatory sequence by the older sister: her younger sister died of a drug overdose one month earlier. This suspenseful, tightly plotted and twisting story is surprising and devastating. Vozzo, who is enrolled in Monmouth's Honors School, is a junior majoring in English and minoring in Psychology who works for Writing Services. In the future, she's interested in editing and becoming a professor.
Sarah Curtis – The English Award for Creative Writing in Poetry
Winner of the Award for Creative Writing in Poetry is Sarah Curtis, for her sequence Do You Know Who You Are? The inaugural winner of the Creative Writing in Poetry Award, senior Sarah Curtis has been a star of Monmouth's English department for her four years here. Her work both as a creative writer and as a student of literature has led to numerous accolades during her time here, and this poetry sequence is just the latest in her series of accomplishments. Ambitious and inventive, these fourteen poems explore gender norms and gender identity, celebrity, fandom, creative expression—and, of course, Harry Styles. Carefully researched and elegantly crafted, they shimmer with passion and imagination as they guide us through sonic landscapes that honor both Styles and the art of poetry.
Delaney Buday – Honorable Mention, The English Award for Creative Writing in Poetry
Honorable mention for Creative Writing in Poetry is Delaney Buday, for her poem "Death in Small Gestures." One of our most intelligent students and impressive writers in the English department, Delaney has produced a piece of poetry here that represents the best of her output at Monmouth. "Death in Small Gestures" is a lyrical meditation whose elegiac layers unfold with the sharp precision and imaginative ardor of poets such as Rainer Maria Rilke and Emily Dickinson. The mourning of one's eventual departure transforms, in Buday's unflinching self-elegy, into an affirmation, a return to the earth, a comforting arrival. Delaney's poem is entitled "Death in Small Gestures." One of our most intelligent students and impressive writers in the English department, Delaney has produced a piece of poetry here that represents the best of her output at Monmouth. "Death in Small Gestures" is a lyrical meditation whose elegiac layers unfold with the sharp precision and imaginative ardor of poets such as Rainer Maria Rilke and Emily Dickinson. The mourning of one's eventual departure transforms, in Buday's unflinching self-elegy, into an affirmation, a return to the earth, a comforting arrival. After graduation, she plans to serve with AmeriCorps and to continue writing.
Jessica Propst – The English Alumni Scholarship
An English major with a concentration in Creative Writing and thus far an unblemished 4.0 GPA in both the major and her overall coursework, Jessica Propst notes that she is thankful and excited to have joined Monmouth's English department. As a student who had no idea what she wanted to do when she started college, she felt as if the English department at Monmouth has been "a truly wonderful environment where [she] feels [she] can grow and flourish." In her own words, Jess states: "I never imagined that I would find something that I am so passionate about to make me be so excited to come to class each day. I have loved all of my classes so far and have really enjoyed reading a variety of different texts. I am excited for what the future has in store." Though she is only a rising junior at this point and does not know exactly which career path is for her, she would love to make a career out of writing fiction or writing for the screen.
Kaylee Johnson – The Caryl and Charles Sills English Education Scholarship (2022-2023)
The first ever recipient of the Caryl and Charles Sills English Education Scholarship, Kaylee is finishing her third year here at Monmouth, and she is grateful to have received numerous opportunities and enjoyed experiences that have brought her future career into greater focus. Her current field placement with the Griebling Elementary School in Farmingdale is what she considers her "most impactful experience." At Griebling she works in a K-1 self-contained classroom with students with autism. She notes that entering college with a determined major had been intimidating, and it was exacerbated by the fact that she entered Monmouth in the thick of the COVID-19 pandemic. Because of campus restrictions at the time, she had been unable to partake in experiences her freshman year that would have given her a more tangible expectation for the future, which to her was rather worrisome. Her experiences at Griebling, however, have been nothing short of enlightening. She has grown so much within her short time at the placement, and she feels reinvigorated in her knowledge that she has chosen a career path that is richly fulfilling for her.
Ava George – The Caryl and Charles Sills English Education Scholarship (2023-2024)
Ava George has wanted to be a teacher for "as long as [she] can possibly remember." In her own words, "I would even play school with my siblings and come up with my own lessons to teach them when I was younger." She chose to attend Monmouth University "largely because of their education program." As a first year student, she took ED250 with Dr. Morris, which allowed her to participate in the Buddy and Me program where she was placed in a second grade class to observe the teacher and start to get a feel for being in a classroom setting. Ava cites EDL326 with Professor Schulz as one of her favorite classes. In it, she completed clinical hours in a kindergarten classroom, where she learned everything from "managing student behaviors" to "providing accommodations for lesson plans." Ava hopes to be the kind of teacher who "accounts for all students and all of their individual learning needs, while providing a safe and fun learning environment." She is grateful to Monmouth for allowing her to gain the experience and knowledge necessary to begin her journey as a future educator and cannot wait to see what more she can learn and participate in moving forward.
Erin Fowler – The English Award for Graduate Study
Erin Fowler felt as if coming to Monmouth was like "opening a new chapter in her life." From learning to live on her own to meeting her best friend and four-year roommate, she can scarcely believe how much she has learned – both inside and outside the classroom – since she first moved into Elmwood as a freshman. She has had, in her words, "the most amazing professors and classes," while noting that studying literature has taught her "so much about [herself] and has challenged her to think in new ways." Continuing her journey here at Monmouth as a graduate student opens the door for her to expand her education and gain new experiences. She is extremely grateful for the opportunities that Monmouth has granted her, and she looks forward to continuing her academic career here and hopefully seeing some familiar faces along the way.
Kalysta Mango – The English Award for Graduate Study
Kalysta Mango is a graduating senior English major who earned an impressive 3.91 GPA in courses in the major. During her time as an English major at Monmouth she has taken courses which she not only enjoyed but which also has, from her perspective, prepared her for her future education and career goals. Kalysta cites Professional Writing, Language and Community, and Critical Discourse as courses which have taught her important life skills and shown her the benefits of earning an English degree. Some of her favorite courses she has had the opportunity of taking have been Language and Linguistics, Contemporary Women's Literature, Non-European Literature, and Children's and Young Adult Literature. Her experiences in her coursework have inspired her to pursue a Master's degree at Monmouth with a concentration in Literature. After earning her Master's, Kalysta is looking forward to a career in editing and publishing. Kalysta would like to thank the English department faculty and especially her advisor Dr. Werner for making her experience at Monmouth so fulfilling, and her parents for encouraging and supporting her in helping her achieve her goals.
John Vurro – The English Award for Graduate Creative Writing in Prose
John Vurro, for his essay "Guardians." In this beautiful love letter from a father to a son, Vurro writes with insight and unsparing candor about the Kafkaesque process required of parents seeking guardianship over adult children with disabilities by the state of New Jersey. With deeply moving self-awareness, he explores the challenges of being the parent of a mostly nonverbal child with autism—of the loneliness and isolation and lack of understanding that one can experience, and also of the surprising moments of connection that can nonetheless occasionally break through. Vurro, who recently entered Monmouth's MFA Program, completed a novel, Play, Rewind, for his Master's thesis. A selection from Play, Rewind was just shortlisted for the Masters Review Chapter Contest. He is currently at work on a poetry chapbook, We, All of Us, and has begun a second novel, Attachments.
Jenna Puglisi – Honorable Mention, The English Award for Graduate Creative Writing in Prose
Honorable Mention for the Award for Graduate Creative Writing in Prose goes to Jenna Puglisi for her arresting short story "Chelsea." Its secretly mournful narrator is riding a train into the City with "colleagues-turned-friends" for a lighthearted day trip. But all she can think about is the woman she abandoned there years earlier when she was too afraid of coming out to embrace their relationship: "My choices were made, three years had passed, and now all of Manhattan belonged to her." As the train nears its destination, she's assaulted by memories and regrets, thinking alternately of how they fell in love and how she betrayed her ex-girlfriend. Jenna, who has long worked for Writing Services and currently teaches undergraduates at Monmouth, completed her MFA thesis last semester and will be finishing the program this spring. Her first novel, Totally Fine, is nearly complete.
John Vurro – The English Award for Graduate Creative Writing in Poetry
John Vurro, for his poetry collection entitled We, All of Us. As the submissions for this award were adjudicated by an external judge, David Rigsbee, we would like to include the full description of the judge's evaluation of John's excellent poems: "These poems made me sit up straight and pay attention to the sharp edges and smart insights of a keen and accomplished poet. Often taking place in medical settings, they suggest that, in a sense, we're all children in the cancer ward, confined, apprehensive, by turns defiant toward and compliant to those in charge of our care, who would also diagnose our mortality, meanwhile pressing foreheads to window glass as if relief were elsewhere. Even outside, we find the park swing "whirling on its/ single chain, as if trying to reattach/ itself to the past, its severed/ connection, its set place." These poems have earned the right to assert, "We, all of us, were apart and a part of traffic." What made them praiseworthy for me most of all was the fact that I came away admiring their ability to be appealing in their discomfort, to celebrate in the face of confusion, to find momentary courage in the face of haplessness—combined with an ongoing willingness to bet the house against a stacked deck. I thought, yes, this is what poetry can do."
---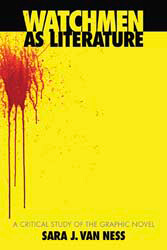 Sara Van Ness, student in the English Department's M.A. Program, has written a book titled Watchmen as Literature: A Critical Study of the Graphic Novel, published by McFarland and Company in 2010.
The study began as a paper for an independent study and grew into her undergraduate thesis project, both under the direction of Dr. Stanley Blair of Monmouth University's English Department. In addition, she completed some of her research and writing of the book during a graduate-level independent study with Dr. Blair in Spring 2009. The book explores the graphic novel's reception in both popular and scholarly arenas, and how the conceptual relationship between images and words affects the reading experience. Other topics include heroism as a stereotype, the hero's journey, the role of the narrator, and the way in which the graphic layout manipulates the reader's perception of time and space.
Sara graduated summa cum laude in May 2008 from Monmouth University with a Bachelor of Arts degree in English and secondary education. Her thesis was awarded honors by both the Honors School and the English Department. As an undergraduate, she received the Wayne D. McMurray School of Humanities and Social Sciences Award for Student Excellence and the New Jersey Distinguished Student-Teacher Award. She expects to complete her M.A. in English in Fall 2011.
---
MASTER'S THESES
Theses in Progress
Christopher D. Hankenson, "Long-Eared Epic: Watership Down and Questions of Readership."
Theses Completed
Leah Coppola, "Gender-as-Rhetoric: The Rhetorical Complexity of Transgender Identity and the Challenge to Performativity in Redefining Realness and Tomorrow Will Be Different." Spring 2023. Distinction.
Dorothy Doyle, Confessions of a Late Blooming Baby Boomer & Other Lies. Spring 2023.
Kevin Flook, Corpseman. Spring 2023.
Jennifer Rivera, Salvation. Spring 2023.
Corinne Cavallo, The Deer Catcher. Fall 2022.
Allison Long, Field Notes for Future Ghosts. Fall 2022.
Jenna Puglisi, Totally Fine. Fall 2022.
Marci Rubin, The Next Shot. Fall 2022.
John Vurro, Play, Rewind. Fall 2022.
Melissa Badamo, "The Lost Daughter of Grover." Spring 2022.
Faith Bates, Terror, Avant-garde. Spring 2022.
Christopher Bogart, The Beast. Spring 2022
Jennifer Broman, "Here Be Monsters." Spring 2022.
Anthony Clark, "The Wreckage of Spring." Spring 2022.
Faith Earl, "Songs to Sick Blood." Spring 2022.
Mallory Green, Nightshift. Spring 2022.
Stephanie "Jora" Lam, Hiraeth. Spring 2022.
James McConville, "My Fading Voice Sings of Love': Romanticism, Silence and Myth in 'The Dead' and Grace." Spring 2022. Distinction.
Nicholas Morris, "Existential Graffiti." Spring 2022.
Malia Padalino, "Reflections from the Ballet Barre." Spring 2022.
Nicole Picinic, "Bearing Witness and Early Social Protest Writing Through Modernist Reportage Poetry in Muriel Rukeyser's "The Book of the Dead" (1938)." Spring 2022.
Timothy Spicer, "Exhuming Faulkner from the Spotlight, Grave, and Closet: Real Queer Identities Manifested in Yoknapatawpha." Spring 2022. Distinction.
Deanna Venezio, "The Rochester Mansion: An Insane Asylum for Victorian Women." Spring 2022
Michelle Giles, "Yellow Wildflowers." Fall 2021.
Michael Qualiano, The Guided and Other Trips. Fall 2021.
Sarah Van Clef, Birdman. Fall 2021.
Jason Aquino, You Could Have Hurt Me Better. Spring 2021.
Lisa Barthelme, O Father. Spring 2021.
Douglas Bornhoeft, No Scents of Magic. Spring 2021.
Chelsea Byrne, Killer Roadkill. Spring 2021.
Barbara Coleman, Wake up and Smell the Coffee. Spring 2021. Distinction.
Faith Earl, "Inventory of the Gone." Spring 2021
Abigail Fenn, Red. Spring 2021.
Mallory Green, Keeping in Touch. Spring 2021.
Kaitlyn Lash, "No Sympathizing Movement to the Words: Wuthering Heights and the Problems of Adaptation." Spring 2021.
Allison Long, "Superlative: Stories." Spring 2021.
Damian Luboch, Tales of Jim Bum Bradley. Spring 2021.
Nicholas Morris, Telegony. Spring 2021. Distinction.
Jenna Puglisi, Totally Fine. Spring 2021.
Brittany Scardigno, "Intangible Violence: Manifestations of Silence in Kingston's The Woman Warrior and Daoud's The Meursault Investigation." Spring 2021. Distinction.
Katelyn Snyder, "Intermodernism and British Identity in Voyage in the Dark (1934) and Farewell Leicester Square (1941)." Spring 2021. Distinction.
Connor Surmonte, Freewheelin'. Spring 2021.
MacKenzie Svarrer, Adolescence of Elektra. Spring 2021.
Amanda Wassel, "Waging War not with Weapons but with Needles: Studying Contemporary Needlework as a Form of Invitational Feminist Rhetoric." Spring 2021.
Brittany Cote, "Isabel Allende's The House of the Spirits: Magical Realism or Gothic Hybrid?" Fall 2020.
Charles Chipman, Turnbuckle: A Novel. Fall 2020.
C. John Schoonejongen, Take This Longing. Fall 2020.
Jason Aquino, Deified. Spring 2020.
Courtney Ball, "'Waiting for the World to be Made' through Folklore, Food, and Feminism: An Analysis of Hurston's Their Eyes Were Watching God." Spring 2020.
Teresa Castellitto, "Morning Light." Spring 2020. Distinction.
Madison Hlavach, "Emotions, Discomfort, & Ethical Responsivity: Taking the Risk to Care." Spring 2020.
Jaimee D. Nadzan, "Haunting Space and Place in Shirley Jackson's The Haunting of Hill House and Helen Oyeyemi's White is for Witching." Spring 2020.
Robert Zadotti, "Midnight." Spring 2020.
Mary Rademacher, "A Rethinking of the Burkean Parlor in the Post-Truth Classroom." Fall 2019.
Patrick O'Neill, Time As It Passed. Spring 2019.
Susan Schuld, "Dracula: An Intertextual, Byronic Romance." Spring 2019. Distinction.
Nicholas Shirley, "Converting the Daily Bread: Finding Female Power Through Food Studies and Everyday Theory in Joyce's 'The Sisters' and 'The Dead.'" Spring 2019.
Mackenzie Svarrer, Cenchrus. Spring 2019.
Sally Taylor Tawil, "The Measure of a Moment." Spring 2019. Distinction.
Kaitlyn Trebour, "Technology and Composition: How Digital Technology Affects Adolescents' Writing Processes." Spring 2019.
Kendall Turchyn, "'Belle of Monticello': The Transgressive Rhetoric of Ellen Wayles Randolph Coolidge." Spring 2019.
Matthew Yard, "The Contemporary American Wasteland in Infinite Jest." Spring 2019.
Jeremy Mancino, "Terra Incognita." Fall 2018.
Dawn McCloskey, "Conversing on Disability: Analyzing and Exploring How Scholars are Discussing Disability Studies, Discovering Disability in YA Literature, and Finding Disability Analyses in Composition Classrooms." Fall 2018.
Daniel Murphy, Who is Daniel? Fall 2018. Distinction.
Michael Sefack, "What Do You Mean This Class Doesn't Count? Negotiating the Challenges of Writing Placement in Two-Year Colleges." Fall 2018. Distinction.
Connor White, "Waiting for the Sun." Fall 2018.
Sara Basgaard, "Tentative Language Use in the Classroom: Who and Why, the Effects, the Influence of Gender, and Why Educators Need to Care." Spring 2018.
Victoria DePaolo, "'Thank You For Calling, How May I Help You?' A Burkean Analysis of Agency as Established though Call Center Soft Skills Training Materials." Spring 2018.
Christine DiBiase, "The Feminist Gothic: An Analysis of The Handmaid's Tale. Preface: An Introduction to The Argument for Feminist Gothic." Spring 2018.
John Francis, "The Queer Heroes of Horror: Gothic Entanglements with Queerness in Vampire Hunter D: Bloodlust, Let the Right One In, and Palimpsest." Spring 2018.
Daphne Keller, "'An Art of Humanity': The Henry Street Narratives of Lillian D. Wald." Spring 2018. Distinction.
Colleen King Oliver, "Unripe, Unsweet, Delicious." Spring 2018.
Kimberly Morgan, "A Feminist Enquiry into Female Representations of the Sublime in Moby-Dick." Spring 2018. Distinction.
Elizabeth White, "'Jem told me I was being a girl, that girls always imagined things': Female Narrative Voice and the Young Adult Literary Canon." Spring 2018.
Jenna Risden, "Re-gendering the Monarchy as The Queen's Three Bodies: Spenser's Use of the Body Politic as a Metaphor For England's Political State in
The Faerie Queene." Fall 2017.
Brian Turczmanovicz, "'Their ruin! Hence I will excite their minds:' Mind Reading and Machiavellian Intelligence in Milton's Satan and Shakespeare's Cassius." Fall 2017.
Kathryn Gehrsitz, "The Quest for the Female Hero and a Feminist Genre in Modern Young Adult Dystopian Literature." Spring 2017. Distinction.
Ivy Hollander, "Incorporating Modernism into the Secondary Education Classroom through Studying The Sun Also Rises and Mrs. Dalloway." Spring 2017. Distinction.
Kevin Holton,. Absolute Zero. Spring 2017.
Avi Lejbik," Pride Prejudice and Zombies An Evaluation of Austen's Vision of Socially Circulating Rhetoric." Spring 2017.
Talon Ribsam, A Warm Chill Threatens. Spring 2017.
David Robbins, Cascadia. Spring 2017.
Nicholas Segreto, Monster City. Spring 2017.
Sara Haight, "Bipolar Chronicles." Fall 2016.
Stefanie Kyak, "The Play's the thing, Wherein I'll Catch the Conscience of the King": Mise en Abyme and Psychoanalysis in Christopher Nolan's Inception and William Shakespeare's Hamlet." Fall 2016. Distinction.
Heather Altz, "J.M. Synge's Subversive Archetypes." Spring 2016. Distinction.
Philip Blizzard, "The Guarantee Group." Spring 2016.
Courtney Castelli, "Every Colored Girl Had Been Born With One." (Un)doing Race, Gender, and Sexuality in James Baldwin's Another Country. Spring 2016.
Taylore Glynn, "Orchidelirium." Spring 2016. Distinction.
Rebecca Gokberk, "Food for Thought: A New Approach to Analyzing Literary Cookbooks." Spring 2016.
Faten Hafez, "Jane Austen: The Acts of Implication in Two Centuries of Criticism." Spring 2016.
Abigail Maguire, "Doll Parts." Spring 2016.
Christina Riso, "Welcoming Alternative Media into the Academy: Benefits of the Zine." Spring 2016.
Kayla Sorbara, "The Poem and the Pomegranate: How Ancient Greek Myth Influences Feminist Theory in Evan Boland's 'The Pomegranate' and Nuala Ni Dhomhnaill's Persephone Suffering from SAD.'" Spring 2016.
Ariana Tepedino, "Gilded Trans-America: The California Gold Rush and Maupin's Tales of the City." Spring 2016. Distinction.
Erin Fu, "Looking Through the Kaleidoscope: Into the Genre(s) of Moll Flanders," Fall 2015. Distinction.
Md. Shahriar Kabir, "Carol Kennicott's Articulation of Voice in Main Street by Sinclair Lewis," Fall 2015.
Emily Scarano, "The Rhetoric of Slam Poetry and its Potential in the College Writing Classroom." Fall 2015.
Lisa Sofranko, "Taking Care." Fall 2015.
Chris Bogart, "The Beast," Spring 2015.
Eric Brown, "The Movement of Words: Misprision, Re(mis)interpretation, and Meaning in Russell Hoban's Riddley Walker and Walter M. Miller's A Canticle for Leibowitz," Spring 2015.
Lauren Freda, "Alice Walker's The Color Purple: Fourth Wave Feminism," Spring 2015.
Amara Hand, "The Other Side of the Game: The Rhetorical Alterity of Contemporary Hip Hop," Spring 2015.
Megan Miguelino, "Through the War-Drobe: The Restoration of National Identity and Hope in C.S. Lewis's The Lion, the Witch, and the Wardrobe," Spring 2015.
Danielle Pelose, "'Fire Is Catching': Rhetorically Igniting the Spark between Young Adult Literature and "L"iterature," Spring 2015.
Amy Schulze, "'Such Odious Subjects' as Sex and Sapphism: The Obscene, Unseen, and Mundane in Virginia Woolf's Orlando and Radclyffe Hall's The Well of Loneliness," Spring 2015.
Hannah Tichansky, "Paranoid Rhetoric and Spatial Obsession: Elizabeth Bowen, Kenneth Burke, and the Blitz," Spring 2015.
William Anania, "Towards a Rhetoric of Multi-Perspectivism: An Analysis of Digital Technology's Equalizing Effect on Professional and Amateur Criticism." Fall 2014.
Stephen DiPalma, The Adventures of Gray Falcon: Shadows of the Indignant. Fall 2014.
Jennifer Filannino, Holy Heart. Fall 2014.
Jaclyn Nagle, "Dysfunctional Relationships, Performance and Performativity: A Comparison of Contemporary Dramas with Edward Albee's Who's Afraid of Virginia Wolf." Fall 2014.
Robert Platt, "Materialism, Commercials and Rhetoric: The Production of Superficial Happiness." Fall 2014.
Kerry Bogert, "Therapy for Muggles: Exploring Representations of Trauma and Mental Illness in Fantasy Fiction," Spring 2014.
Corinne Cavallo, "Homeless Texts of Trauma: Elie Wiesel's Night and the Argument of Omittance," Spring 2014. Distinction.
Amanda Connelly, "Who the Fuck is Moi? The Effects of Consumer Culture on Identity and Reality in Brett Easton Ellis's Glamorama," Spring, 2014. Distinction.
Eric Farwell, "Minor Pisces," Spring 2014.
Samantha Glassford, "'Mysteries of Word and Glance': Verbal and Nonverbal Traumatic Coping Mechanisms in DeLillo's Falling Man," Spring 2014.
Kayla Helfrich, "The Fire Starter," Spring 2014.
Michael Mifka, "Chronicling Chinaski: Bukowski's Ham on Rye and Lower-Class, Ethnic Male Adolescence," Spring 2014.
Joshua Rademacher, "Were Here, We're Queer, But Who Are We?," Spring 2014.
Regina Betz, "Unbecoming and Be(e)coming: Eco-Feminism and the Bee Imagery of Ralph Waldo Emerson and Sylvia Plath." Fall 2013.
Erin Fallon, "Is it Magic? The Use of Magical and Supernatural elements in Hawthorne's The House of the Seven Gables." Fall 2013.
Lauren Frazzano, "Living With Shadows: Poems." Fall 2013.
Mike Gray, "The Rhetoric of Cable News: Its Function in the Cultural Hegemony, The Construction of Ethos Through Identification and Consubstantiality, As Representation of Capitalist Ideology, and The Rise of the 'Meta-Power Structure." Fall 2013.
Danielle Milon, "'If she's drowned—and killed, you know—she's innocent': Maggie Tulliver's Battle with 'The Angel in the House.'" Fall 2013.
Rachael Rindner, "Reading Reality in House of Leaves." Fall 2013.
Danielle Scipione, "Speak Up: Sexual Articulacy in The Bluest Eye and The Vagina Monologues." Fall 2013.
Katherine Seay, "The Historical Foundations of the 'Good' Mother Versus the 'Bad' Mother in a Rhetorical Enthymematic Debate of What it Means to Have It All in the Twenty-First Century." Fall 2013.
Kristina Tipps, Elizabeth. Fall 2013.
Sandra Weyant, Transformed. Fall 2013.
Candice Belluscio, "Bound to Marriage: A Critical Analysis of Marriage in Jane Austen's Pride and Prejudice," July 2013.
Alessandra Chai, "Writing the Self for Healing in Alison Bechdel's Fun Home and Are You My Mother?," Spring 2013
Martyna J. Dobkiewicz, "Bite," Spring 2013. Distinction.
Matthew Hall, "Bear in the Basement," Spring 2013. Distinction.
Anita Komareth, "Clarissa's Exemplary Morality," Spring 2013.
Jennifer Lyons, "Of Canons and Cauldrons: Harry Potter, National Culture, and Canon Exclusivity," Spring 2013.
Amanda Bennett Morey, "No Child Left Behind as a Rhetorical Situation: 'Accountability and Flexibility' Will Leave Schools Behind," Spring 2013.
Bernadette Sabatini, "The Wife of Bath's Prologue: Domestic Violence and Sexual Abuse in the Middle Ages," Spring 2013.
Lauren Schmidt, "(Ir)Responsible Rhetoric: Ron Unz and English for Children," Spring 2013.
Patryk Zielonka, "The War to End All Boys," Spring 2013.
Erin Carroll, "Oranges, Lemons, and the Decline of the Traditional Mother Figure in George Orwell's Nineteen Eighty-Four," Fall 2012.
Bruce MacBeth, "Making Me Sick: The Rhetoric of Pharmaceutical Marketing," Fall 2012.
Christine Bryant, "Lost Daughter," Spring 2012.
Nicholas Cariddo, "The Morro Castle" a full length play, Spring 2012.
Matthew Cinnirella, "Sleep With Me," Spring 2012.
Nicole Evegan, "The Best American Short Stories: Illustrating the Tension in Race Politics," Spring 2012.
Maria Geiger, "Chaucer's Orthodoxy in the Age of Lollardy: Gentilesse in The Wife of Bath's Tale, The Parson's Tale, and "Gentilesse, Moral Balade of Chaucier," Spring 2012.
Audrey Marcu-McGowan, "Small and Large Collaborative Group Work to Promote Learning In Freshman Composition Courses at Community Colleges," July 2012
Amy B. Monahan, "How to Polish the "Perfectly Polished Floor" and Write About It, Too: Life, Death, and the Domestic Aesthetic, or Poemesticity, of Linda Pastan," Spring 2012.
Kimberly Morté, "Jumping the Great White: Kiana Davenport's Shark Dialogues as American Literature," Spring 2012. Distinction.
Linda Johnston Muhlhausen, "MY OUT- CAST STATE, An Elizabethan Tragedy. A play in III acts," Spring 2012.
Elizabeth Myers, "Negotiating Between Adult Author and Young Adult Audience: Characterization in House of Many Ways," Spring 2012
Pamela Quillamor, "Will the Real Prufrock Please Stand Up? Misogyny in the Poetry of T.S. Eliot and Eminem," Spring 2012.
Kristin Dexnis Rosengrant, "Double Duty, A Novel in Progress," Spring 2012.
Mariana Sierra, "Isla," Spring 2012. Distinction.
John A. Tesauro III, "From the Inside Looking Out: Society's Fringe," Spring 2012.
Frank Gogol, "Broken" and "Weeds": Short Fiction, Fall 2011.
Sara Van Ness, "Ah Pook is Where? Authorship, Textuality, and Contingency," August 2011. Distinction.
Alexis Anderson, "Deconstructing Post Race, Reception and Language (Linguistics): Richard Wright's Native Son," Spring 2011.
Nicole Gough, "Cajun Dialect and Identity in Ernest Gaines' A Gathering of Old Men," Spring 2011.
Veronica Guevara, "Genre Subversion in Where the Senoritas Are: A Play in Two Acts," Spring 2011.
Sara Krainski, "Waste," Spring 2011.
Lois Levine, "Charlotte Temple and the Making of America's First Best Seller," Spring 2011.
Tracy Lisk, "The Role of Charlotte Lennox's The Female Quixote in the Progression of Female Characters and Writers from Romance to Novel," Spring 2011.
Sharon Murphy, "Gender Entrapment in George Eliot's The Mill on the Floss and Jane Campion's The Piano," Spring 2011.
Walter Przybylowski, "Written Screen/Filmed Page," Spring 2011.
Brianne Sardoni, "Pedagogy of Composition Theory and Synthesis of Methodology," Spring 2011.
Heather Steimel, "Domestic Disturbances," Spring 2011.
Matthew Wheeler, "Enchanting Masculinity: Women and Warrior Culture in Malory's Morte Darthur," Spring 2011.
Shanna Williams, "Postcolonial Feminism," Spring 2011.