Monmouth University's chemistry programs prepare students for a broad range of careers by offering strong preparation in synthetic and analytical chemistry, small classes for enhanced learning and one-on-one interaction with professors, and opportunities to participate in research and other applied learning activities.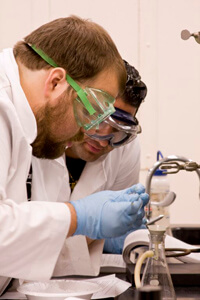 Chemistry as an initial field of study may lead to careers in:
chemical business
environmental protection
forensics
government
industrial hygiene
information science
patent law
science writing
education
toxicology
Completion of any one of Monmouth's concentration programs is excellent preparation for further professional study in chemistry, in related sciences, in the health professions, or education.
Chemistry (BS) With a Concentration in Advanced Chemistry
The Advanced Chemistry concentration is an extended curriculum that provides a career-level foundation in all of the traditional subject areas of chemistry. Students planning to seek employment in chemical science or to pursue graduate study in chemistry should follow this concentration. Completion of this program is also excellent preparation for careers in health. Students who graduate from this program will have their degrees certified by the American Chemical Society.
Chemistry and Education Degree Programs
Our degrees in Chemistry and Education prepare graduates for the chemistry or physical science New Jersey state endorsements. These programs are designed to be completed within four years of focused study. Graduates of this program are in high demand both regionally and nationwide, and are making a real difference in their communities and schools.
For more information, please contact Dr. Tsanangurayi Tongesayi, Chair of the Department of Chemistry and Physics, at ttongesa@monmouth.edu or732-571-5627.
Additional Information