Apply to be a PAL Leader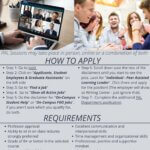 PAL Leaders are provided with a wealth of resources designed to help them conduct effective PAL sessions. These resources can be found on their Monmouth University portal and include training materials about active learning strategies and PAL techniques, the PAL Leader Manual, planning sheets, and more. PAL Leaders will also receive updates with ideas and activities about how to engage and inspire students. Ongoing training will be provided as needed.
To apply to be a PAL leader, complete the following applications and see below for additional information:
How to Apply on JobX
Step 1: Go to JobX
Step 2: Click on "Applicants, Student Employees & Graduate Assistants" on the left side
Step 3: Go to "Find a Job"
Step 4: Go to "Show all Active Jobs"
Step 5: Do the disclaimer for "On-Campus Student Help" or "On-Campus FWS Jobs". If you aren't sure which you qualify for, do both.
Step 6: Scroll down past the rest of the disclaimers until you start to see the jobs. Look for "Peer Assisted Learning Leader". Click there and apply for the position! The employer will show as Writing Center – just ignore that, and you can also skip over the section that asks for days/times available.
Requirements for this position
Professor approval
Ability to sit in on class lectures strongly preferred
Grade of B+ or better in the selected course
Minimum GPA of 3.2
Excellent communication and interpersonal skills
Time management and organizational skills
Professional, positive and supportive mindset
Ability to work in person or remotely
Requirements to Work on Campus
All PAL Leader applicants must meet eligibility requirements as outlined by the Monmouth University Student Employment Office.