Business Mentoring Program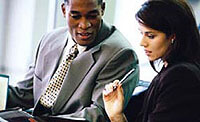 All business students are invited to participate in a mentoring program sponsored by the Business Council. Students will meet with local and regional professionals to gain contacts and information about available job opportunities.
For more information, contact Karl Gordinier through the Leon Hess Business School Dean's Office at 732-571-3423. You can also visit the Mentoring Program Web site to find out more and download an application.