Although LHBS MBA students are primarily drawn from the tristate area, their career paths span beyond the northeastern states. Settling in California, Maureen Stivale and Samantha Moy have put their MBA degrees to work on the Pacific Coast.

Prior to entering the Monmouth MBA program, Maureen Stivale, a New Jersey native, had obtained an undergraduate degree in business finance, worked in management-related fields, and moved into information technology to improve her work-life balance. That led to a job with Tiffany & Co. as Retail Store Systems Lead. Maureen's expertise in and passion for retail technology led to a number of Tiffany assignments in California stores. Before long, she restarted her MBA program—which she had begun early in her career but was forced to put on hold due to family and career constraints. The flexibility of our program suited her needs and afforded her the opportunity to complete the requirements and earn the credentials necessary for leadership positions. In June 2017, she realized her dream of working in California; Levi Strauss & Co. of San Francisco, where she is Senior Director of Information Technology, offered her a job even though she was one course short of graduation.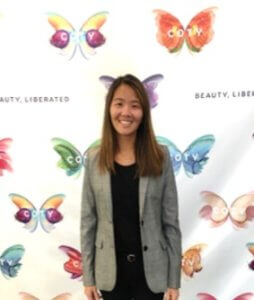 MBA Samantha Moy gained her current position at beauty products company Coty, based in Calabasas, CA, shortly after completing her Monmouth MBA in fall 2016. As the Senior Manager, Business Planning & Supply Chain Leader, she is responsible for optimizing Coty's supply planning, inventory and costs for the North American Professional Beauty Division. Samantha's path to supply chain management is due to a series of career moves in banking, supply chain, and logistics. Her role as Supply Chain Specialist at International Flavors & Fragrances in Hazlet, New Jersey, cemented her decision to pursue a career in that area and transition to the global apparel company, PVH Corporation, where she helped plan and build a new vertical supply chain in East Africa. Pursuing a part-time MBA at Monmouth while working at PVH, she built on her analytical and strategic planning skills. Finding the classroom analyses of business cases highly relevant, she also benefited from the broader lens offered by her peers, who represented a diverse set of skills and industries. Samantha welcomed the opportunity to relocate to California even if picking up a latte could take a twenty-five minute drive in Los Angeles traffic!