Earle, Garcia Say Time Has Come for Stronger Ocean Protections
Throughout her legendary career as a marine biologist and ocean explorer, Dr. Sylvia Earle has logged more than 7,000 hours underwater and led over 100 expeditions. Her stories about one voyage — that of a trailblazing female aquanaut who became an icon in a once male-dominated field — have inspired audiences around the world, including those in attendance at the Oct. 29 Future of the Ocean Symposium and Ocean Champions Luncheon.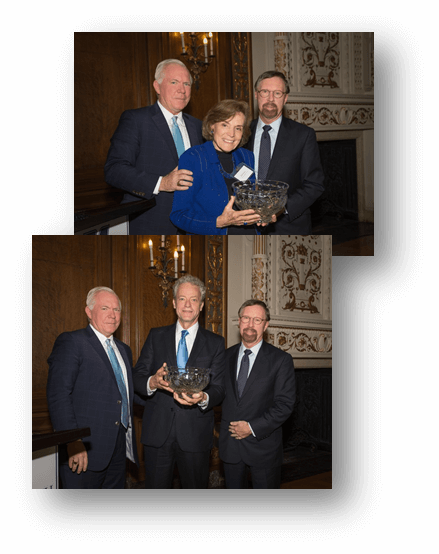 Top, UCI Director Tony MacDonald (left) and Monmouth University President Paul Brown present Ocean Champion award to Sylvia Earle. Bottom, Terry Garcia with MacDonald and Brown.
Earle, a proud "Jersey girl" who grew up in Gloucester County, was one of two honorees to receive the UCI's National Ocean Champion award at the event, held at Monmouth University. The National Geographic Society Explorer in Residence recalled one early expedition where she was the lone woman among a crew of 70 men.
Although she's pleased times have changed on that front, other trends she's seen over the course of her career trouble her deeply. The ocean environment has become increasingly stressed from human-caused issues such as climate change, acidification, pollution and excess resource extraction.
"People thought the ocean was too big to fail in the 1950s and 60s," Earle said. "Some people still think that's true."
While warning that "we are at a time of extraordinary change," she also hoped it could be a moment of opportunity — for people to heed and act on the warnings of nature and science. "We really must take care of the ocean as if our lives depend on it," she said.
It was a message echoed by the second 2015 National Ocean Champion honoree, National Geographic Society Chief Science and Exploration Officer Terry Garcia. Garcia discussed his work on the National Geographic Pristine Seas project, which is committed to establishing 20 locations around the world as fully protected marine reserves by 2020. He also detailed the history and mission of the National Geographic Society, an organization founded 127 years ago by a group of adventurers and explorers. The journal they launched is how generations of readers "first encountered the world," but Garcia noted that National Geographic is much more than its magazine and TV channels.
"We are not a media company. … The mission has always been about and still is exploration," he said.
Garcia praised the determination and spirit of explorers, as exemplified by the crew of The Endurance — a ship led by Ernest Shackleford that was crushed by ice and sunk a century ago in Antarctica. Garcia listed finding the wreck among his top professional goals.
"Exploration can inspire people to care, and sometimes it inspires people to act," he said.
Visit the 2015 symposium page for videos and additional multimedia from the event.
Three Honored as Regional Ocean Champions for Coral Preservation Efforts
Jay Odell and Rick Robins recalled their sense of awe as the Okeanos Explorer Expedition beamed live images from the deep-sea canyons of the Mid-Atlantic two years ago. There were 15-foot high pink bubblegum corals, a sea floor crawling with interesting species, even a massive Greenland shark — all just 50 miles from shore.
"The images that they were sending back to us over these live webcasts were just stunning," said Robins, chair of the Mid-Atlantic Fishery Management Council (MAFMC). "We were seeing deep sea marine ecosystems that were spectacular in their nature, we were seeing species of organisms that we had no idea existed. … I think that captured everybody's imagination."
The experience also helped fuel a movement to protect these environmentally sensitive areas from human activities that pose a risk.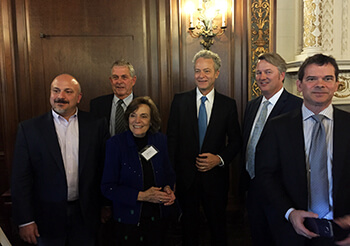 From l-r: Greg DiDomenico and Ernie Panacek, the Garden State Seafood Association; Sylvia Earle and Terry Garcia, the National Geographic Society; Rick Robins, the Mid-Atlantic Fishery Management Council; and Jay Odell, the Nature Conservancy.
In June, the MAMFC passed an amendment that would prohibit trawling, dredging and other bottom-tending fishing activities in 38,000 square miles of reef habitats located between Long Island and Virginia. The measure was critical to the survival of these East Coast corals, which can take hundreds of years to develop but perish from brief contact with a trawling net.
The UCI honored three individuals whose work and organizations were instrumental in this effort with Regional Ocean Champions awards on Oct. 29. They were Odell, Mid-Atlantic Marine Program director at the Nature Conservancy; Ernie Panacek, president of the Garden State Seafood Association; and Robins.
Odell and Robins praised members of the region's commercial fishing industry for their integral role in crafting the new rules, some of which required sacrifices on their part.
"We've got to keep that spirit of exploration alive," Odell said. "I hope this is just the beginning. … We can tackle other challenges in a collaborative way and find solutions that work for everyone."
Panacek said he and his colleagues were happy to work alongside environmental advocates on the issue and praised the inclusive nature of the process.
"We are probably the most conservation-minded fishermen in the country," said Panacek, who is also president of Barnegat Light-based Viking Village, home port to more than 40 independently owned fishing vessels.
Visit the
2015 symposium page for videos and additional multimedia from the event.

Student Research Spotlighted at Ocean Champions Luncheon
Monmouth University students who completed summer research projects through the Urban Coast Institute's Marine Science and Policy Initiative discussed their work with representatives of Santander Universities at the Champions of the Ocean Awards Luncheon on Oct. 29. Research grants through the program have been made possible through the
generous support of Santander Universities and many other donors. Seen at far left is Eduardo Garrido of Santander Universities, with UCI Director Tony MacDonald to the far right. Profiles on the four Initiative-funded summer projects can be found here.
UCI Director Headed to Paris Climate Conference
UCI Director Tony MacDonald will travel to Paris next month to join the Global Ocean Forum, the University of Delaware and others to help co-organize an Oceans Day at the 21st United Nations Framework Convention on Climate Change (also known as COP21), billed as potentially the most significant climate conference in history.
Delegates from over 190 countries are expected to debate and approve a new international agreement to limit global warming at COP21, which will run from Nov. 30 to Dec. 11.
The Dec. 4 Oceans Day will bring together high-level leaders from governments, international organizations, academia, nonprofits and the private sector to discuss major climate and ocean issues, with a focus on their impacts on the most vulnerable peoples and ecosystems.
Significant marine-related climate issues that will be addressed include sea level rise and adaptation, ocean acidification and changes in ocean chemistry, and threats of displacement to small islands and other at-risk populations. Dignitaries expected to address the Oceans Day forum include Prince Albert of Monaco; French Minister of Foreign Affairs and International Development Laurent Fabius; U.S. Under Secretary for Economic Growth, Energy, and the Environment Catherine Novelli; and Mary Robinson, the former President of Ireland and founder of The Mary Robinson Foundation – Climate Justice.
Despite the Nov. 13 terrorist attacks in Paris, COP21's organizers have vowed that the conference would proceed as scheduled, with heightened security measures in place.
"The UCI and Monmouth University extends its heartfelt condolences to the victims and family members who suffered losses in the attacks," MacDonald said. "In light of these heinous events, I believe it's more important than ever that we move forward with the conference. The actions of a few should not derail the long, hard work of many nations and individuals who are fighting to make our oceans and world healthier and safer for future generations."
The oceans and climate are intertwined, impacting the health and safety of every nation, coastal or landlocked. Oceans cycle over 93 percent of carbon dioxide in the atmosphere, produce 50 percent of the oxygen we breathe and have absorbed 90 percent of the heat added to the global system over the past 200 years.
"I hope Oceans Day and COP21 will help guide the world forward on the most pressing scientific of our time – climate change," MacDonald said. "Our oceans are the earth's life support system and are a critical natural bulwark against climate change, but we are compromising their ability to do the job."
Twitter users can follow MacDonald (@tmacdUCI) or the UCI (@MUUrbanCoast) as he provides updates from Oceans Day and COP21 events during his trip.
Waterproof Length-Weight Card Promotes Safe Release of Stripers
If you're going to release the striped bass on the end of your line, do it quickly. That's the message Monmouth University School of Science Interim Dean John Tiedemann has been conveying to anglers for two years through Stripers for the Future, a research and education campaign intended to promote best catch and release practices for the fish.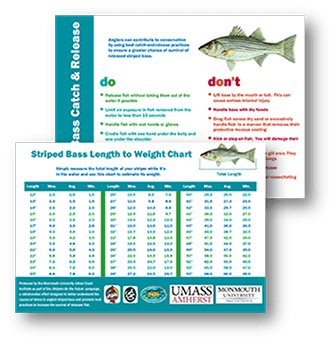 Now Tiedemann is hoping a handy new tool designed especially for tackle boxes will help make the case and save fish in the process. Working with the Urban Coast Institute, the marine biology professor developed a card containing a length to weight chart on one side, and a series of "do" and "don't" tips on the other side. He hopes this quick reference tool will spare anglers of the need to remove the fish from water for prolonged periods to weigh them.
"The premise of this is not simply to promote catch and release," Tiedemann said, noting that state regulations limiting the number and size of stripers that can be kept already incentivize the release of many catches. "What we're saying is, if you're going to release the fish, let's do it in a manner that gives them the best possible chance for survival."
The card is laminated to protect it from water damage and sized at 7-by-5 inches to fit in most tackle boxes or lure bags. It is designed with the same look and feel as a poster and brochure that were disseminated to marinas and tackle shops throughout the state in 2013.
Tiedemann has been involved in research around the issue of striper mortality since 2011. At the time, he teamed with Dr. Andy Danylchuk of the University of Massachusetts Amherst to produce a report that reviewed existing literature on the subject and determined what additional work would be worthwhile.
"We found that a lot of the recommendations out there were common sense things and weren't necessarily based in science," he said.
Tiedemann and Danylchuk decided to launch Stripers for the Future, and enlisted the help of the New Jersey Sea Grant Consortium and fishing groups like the Atlantic Saltwater Flyrodders, the Berkeley Striper Club and the Jersey Shore Surfcasters. Since 2013, the group has released promotional materials, hosted a roundtable of experts, and written articles about the issue in fishing magazines.
The facts demonstrate the need for further research and public awareness of the issue, he said. According to managers, about 8 percent of striped bass caught and released by anglers each year don't survive. This translates to roughly 100,000 stripers in New Jersey each year. Due to stripers' high sensitivity to air exposure, the card cautions against removing them from water for more than 15 seconds, a period scarcely long enough to remove one from a hook, let alone hang it on a scale. "Now you're putting something else in its mouth and hanging it vertically," Tiedemann said.
This fall, Tiedemann will begin work on a new research project intended to quantify exactly how long stripers can survive exposure to air and other stress factors. He and a group of student researchers designed the experiments and methodologies that will be employed in a summer project funded through the UCI's Marine Science & Policy Initiative. The research will take place over the course of two years, allowing the collection of data from multiple seasons.
Free hard copies of the Stripers for the Future cards or posters can be obtained by emailing uci@monmouth.edu. Those and other related materials are also available for download on the UCI Reports & Publications page.
Barnegat Bay Plankton Populations Changed Post-Sandy
Hurricane Sandy altered the balance and makeup of organisms living in Barnegat Bay, three independent research teams concluded in presentations at Monmouth University on Nov. 10. "What Lies Beneath: Barnegat Bay," a symposium hosted by the Urban Coast Institute, examined three of 10 research projects that were commissioned as part of a three-year comprehensive study of the overall health of Barnegat Bay. The New Jersey Department of Environmental Protection (NJDEP) initiated the study to determine the sources and extent of environmental problems in the bay, and identify actions that could be taken to slow and ultimately reverse the bay's decline.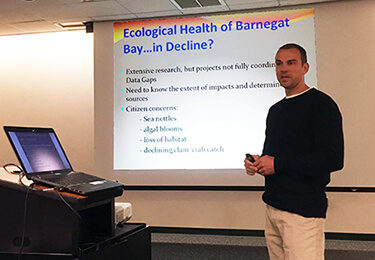 From 2012 to 2015, UCI Marine Scientist Jim Nickels and Monmouth University Biology Professor Ursula Howson collected over 1,000 samples of zooplankton, organisms that are generally microscopic and drift through the water. Zooplankton populations typically swell in the late spring/early summer months and experience a smaller pulse in the fall before slowing in the winter months. However, readings over the course of three years showed stronger average zooplankton populations in the winters than the falls.
"That really flies in the face of the textbook paradigm of the fall bloom," Howson said.
According to Howson, this finding can largely be attributed to a zooplankton spike in the northern portion of the bay in late 2012, after Sandy temporarily formed an inlet through the barrier island at Mantoloking. The influx of sea water brought with it a wave of organisms that wouldn't normally thrive in warmer estuarine water, she said. In addition, two particularly harsh winters iced over portions of the bay for long periods in 2013 and 2014, creating a calm environment for the organisms to flourish underneath, according to Nickles.
Dr. Ling Ren, a scientist with the Academy of Natural Sciences, conducted similar research on the bay's phytoplankton (microscopic floating plants) population and detected a different composition of species in the northern reaches of the bay near the breach than in the southern areas.
Sandy initially stung the population of jellyfish living in the bay, but has since led to a more diverse population of the organisms, according to Dr. Paul Bologna, Director of the Marine Biology and Coastal Sciences Program at Montclair State University. The storm disrupted the breeding habitats of the sea nettles, which he described as "apex predators" that feed on the eggs and larvae of fish, crabs and even other jellyfish. When sea nettle populations waned, organisms like sea walnuts that were among their key food sources expanded in their absence. Post-Sandy, the inlets carried in jellies that weren't represented as strongly before and changed the makeup of the community, he said.
For the moment, these jelly populations continue to expand aggressively, with their polyps taking shelter in the nooks and crannies of the docks, bulkheads and other hard surfaces that provide them protection from the diminished population of predators. As a result, Bologna said, "We don't have a jellyfish problem – we have a polyp problem."
UCI Coastal Resilience Expert to Participate in Climate Change Conference
UCI and New Jersey Sea Grant Community Resilience and Climate Adaptation Specialist Dr. Michael Schwebel will serve among a select group of expert panelists in "The Shore's Future: Living with Storms and Sea Level Rise," a two-day conference sponsored by the Institute on Science for Global Policy (ISGP) from Nov. 20-21 in Toms River.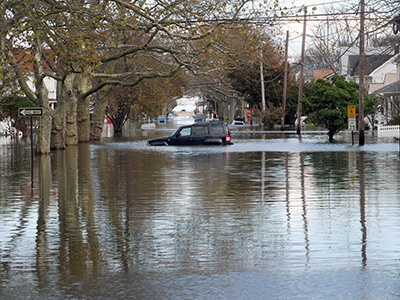 "The Shore's Future" will utilize a debate-and-caucus format pioneered by the ISGP. Dr. Schwebel and fellow debaters – a group made up of scientists, policymakers, business and community leaders, academics and other stakeholders – will question and challenge three scientific experts who have prepared short policy papers on the subjects of sea level rise and severe storms. (The debate portion will focus on specific facts and projections put forth the scientists, not whether or not humans are in fact contributing to climate change.) Monmouth University School of Science Interim Dean Catherine Duckett will also serve as a member of the panel. An audience of up to 200 community members will observe the debates and then participate in the caucus sessions on the second day.
"These discussions will help audience members make the connection between the science of climate change and how it stands to impact their communities," Dr. Schwebel said. "I'm honored to have been chosen for this unique opportunity to discuss climate change and its current and forecasted effects for the Jersey Shore."
The conference is being presented in partnership with the Toms River Working Group, a local committee of concerned volunteers, as part of an effort to engage the community in climate issues. A report summarizing the discussions will be made available to the public following the event.
Those interested in participating as an audience member must register for an invitation at scienceforglobalpolicy.org/conference/future-of-shore-living/. For more information, call Jennifer Boice at 520-343-8181.
Legendary Ocean Explorer Believes Far More Discoveries Await
The Urban Coast Institute and Manhattan Institute co-sponsored a lunch lecture with legendary ocean explorer Dr. Robert Ballard at the Yale Club in New York City on Oct. 20. Ballard, perhaps best known as the discoverer of the Titanic wreck, shared his thoughts on the past, present and future of ocean exploration, as well as stories from his many adventures at sea.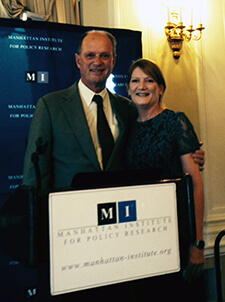 Dr. Ballard's additional findings range from artifacts from Biblical times to some of the 20th Century's most famous maritime wrecks, including the Lusitania and President Kennedy's World War II PT boat. His discovery of deep-sea vents-and with them, the tiny new organisms whose existence in a highly-toxic and light-free environment was previously thought impossible-transformed oceanography and everything we thought we knew about life on this planet.
Before the approximately 100 attendees, Dr. Ballard (seen at right with UCI Program and Project Director Susan Kennedy) emphasized how much we have gained from the minimal ocean exploration that has taken place to date. Noting that only 10 percent of the deep oceans that cover 72 percent of the Earth's surface have been explored, he posed the question, "What unknown discoveries are awaiting us in the other 90 percent?"
Dr. Ballard also stressed the importance of motivating children to study and pursue careers in science, technology, engineering and math (STEM) fields. Observing that society has no qualms about encouraging children to be sports stars, singing stars or, more recently, reality TV stars, Dr. Ballard said he hopes that we instead encourage them to be science and technology stars.
A former U.S. Navy commander, Ballard is currently a professor of oceanography at the University of Rhode Island. He is a best-selling author, acclaimed TV producer and recipient of a 2003 National Humanities Medal, bestowed by President George W. Bush. He served as Monmouth University's commencement speaker and received and honorary degree in 2004.
Rockefeller U. Researchers Discuss Work on Re-Wilding, eDNA
A combination of more efficient farming practices, emerging technologies and changing consumer behaviors have reduced demand for land and resources, allowing nature to rebound, according to Professor Jesse Ausubel, Director of the Rockefeller University Program for the Human Environment (PHE). Ausubel detailed this worldwide "re-wilding" trend during a Sept. 28 guest lecture at Monmouth University.
Where the economy and populations once grew in tandem with resource use, Ausubel said a de-coupling is now taking place. Among the examples he cited:
Corn production has quintupled since 1940 while acreage has remained steady. A farmer in Georgia last year produced a record 503 bushels per acre.
U.S. water consumption is down to about 1960s levels, despite there being roughly 100 million more residents.
The rise of digital media has brought about major declines in the pulp and paper markets, easing pressures on forests.
One notable exception to the trend has been humans' demand on the ocean. According to Ausubel, overfishing and wasteful consumption — he estimated about 50 percent of seafood is thrown away — have strained ecosystems and caused severe declines in marine life populations. He suggested part of the solution is making fish farming succeed. Harvested fish require less food and resources than other farm animals, while producing more protein, he said.
"You can think of sea life getting 80 miles to the gallon where chicken gets 60 miles to the gallon," Ausubel said.
Earlier in the afternoon, Dr. Mark Stoeckle, a Senior Research Associate at the PHE, discussed his research on environmental DNA (eDNA) during a lunch visit with MU staff and students. According to Stoeckle, scientists can determine whether organisms were recently present in an area by detecting traces of eDNA material they shed in the water. Discussions are underway for future collaboration on eDNA projects between Rockefeller and Monmouth University staff and students.
The guest presentations were organized as part of a larger partnership between Rockefeller and Monmouth universities made possible through the UCI's Marine Science and Policy Initiative. For more information on the program, visit
www.monmouth.edu/uci/mspi/default.aspx.
UCI Participates in Mid-Atlantic Ocean Planning Meetings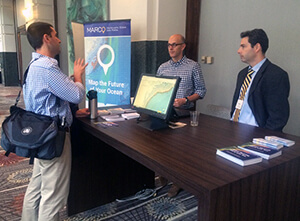 The coming year will see several major improvements to the UCI-managed Mid-Atlantic Ocean Data Portal along with the adoption of a first-ever Ocean Action Plan (OAP) for the region. An important milestone for both projects was reached in September when UCI staff joined government officials, Tribal representatives, industry leaders, members of the public and other stakeholders in Norfolk, Virginia, for a series of meetings focused on ocean issues in the five-state region. See the
Portal blog for full details.
Marine Science & Policy Initiative Research Funding Available to MU Students and Faculty
The Urban Coast Institute is accepting applications for 2016 research grants through the Marine Science & Policy Initiative. Funding opportunities are available to Monmouth University faculty and students for summer research projects, faculty enrichment, graduate assistantships and special needs such as conference fees, symposia, travel/transportation costs, equipment and project supplies.
An online application system with full details on the range of eligible funding opportunities is available on the MyMU Portal. Applicants must have proper Monmouth University login credentials to log in.
The Marine Science & Policy Initiative was launched in 2014 to create new opportunities for Monmouth University to conduct research and policy analysis, enhance student experiences in and out of the classroom, and support community stewardship of coastal and ocean ecosystems. The program grew from a successful Challenge Grant campaign and is now making a variety of innovative research activities possible.
This summer, the Initiative funded four projects with student researchers guided by mentors from the Monmouth University School of Science. Topics included flood elevation levels in Monmouth County's Bayshore area, oyster populations in New York's East River, the presence of the invasive Asian shore crab in Barnegat Bay, and catch and release best practices for striped bass. Full details on those projects can be found here. Visit the Marine Science & Policy Initiative page for additional details on the program.