Kean, Florio among 2018 Coastal and Ocean Champion Award Honorees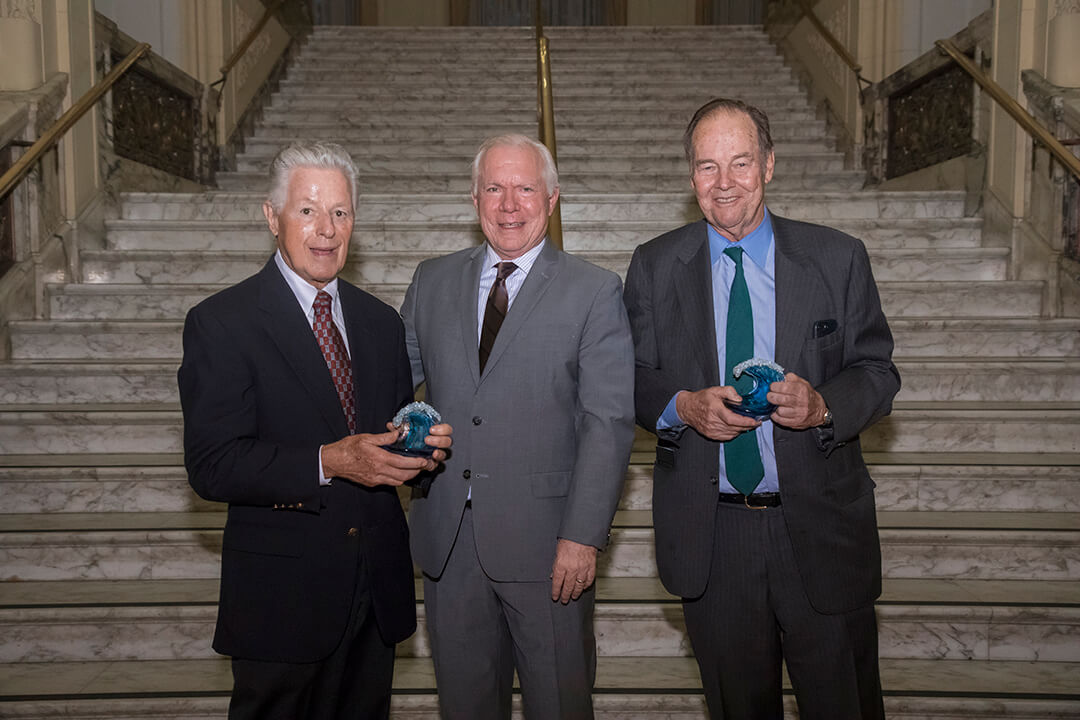 Former Gov. Thomas Kean turned to the man to his left – physically and politically – and observed that he looked familiar.
"We ran against each other," Kean said to his eventual successor, James Florio, as the crowd laughed.
Turning more serious, Kean observed, "[It was] what some people think was the last issues-based campaign in the state. And we argued about everything – urban policy, tax policy, you name it. I don't think we ever disagreed once on the environment. Whichever one of us got elected, New Jersey was going to have an environmental governor for the next four or eight years."
Between the two of them (Kean serving from 1982-90 and Florio 1990-94), New Jersey was actually the beneficiary of 12 years of strong environmental policy from the Governor's Office, including through the early implementation of the state's Coastal Management Program (CMP). The UCI's 14th Annual Coastal and Ocean Champion Awards Reception, held Oct. 9 at the Great Hall, celebrated the 40th anniversary of the CMP and honored Kean, Florio and four other individuals who made significant contributions to its success.
Launched in 1978 under Gov. Brendan Byrne, the CMP addresses pressing issues along the state's 126 miles of Atlantic coast and 1,792 miles of tidal waterfronts, including sustainable and resilient coastal community planning, climate change, ocean planning and planning for energy facilities and development. In conjunction with the event, the UCI published a 40-year retrospective of the program's major milestones.
Kean and Florio received the UCI's highest honor, the National Champion of the Ocean Award, for their service as honorary co-chairs of the New Jersey Climate Adaptation Alliance and their full bodies of work in protecting the environment.
"Just a few of their accomplishments include leading efforts to regulate marine debris, improved beach water quality, phasing out ocean dumping, opposing oil and gas development [off the Jersey Shore] and so much more," UCI Director Tony MacDonald said. "And I really think that their commitment to the Climate Adaptation Alliance shows that they're not just solving yesterday's problems, but they're looking at tomorrow's challenges and trying to come up with proactive solutions."
Proceeds from the event support student research activities at Monmouth University. The reception is also a unique opportunity for students to spend time with some of the region's and nation's most prominent leaders and scientists on ocean and coastal issues.
"The hope is that the young students here appreciate that there is no Republican or Democratic thought about clean water or clean air," Florio said. "We have problems in New Jersey and they're not incapable of being solved."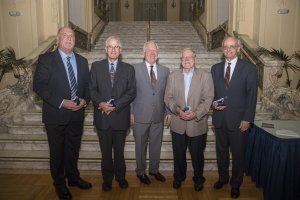 The UCI also presented Coastal and Ocean Leadership Awards to David Kinsey and John Weingart, who were instrumental in the design, 1978 approval and early implementation of the CMP; former New Jersey Department of Environmental Protection Commissioner Mark Mauriello, who spent his career at the agency as an advocate for coastal conservation and management of coastal hazards; and Rutgers University Professor Emeritus Norbert Psuty, a coastal geomorphologist whose long and distinguished career helped build a greater understanding of the history and evolution of the Jersey coast, and the impact of development on its natural processes.
The Champion of the Ocean Awards were established in 2005 to honor individuals who have helped ensure coasts and oceans are clean, safe, sustainably managed and preserved for the benefit and enjoyment of future generations. Past honorees include former Secretary of Defense and CIA Director Leon Panetta, ocean explorer Robert Ballard, marine biologist Sylvia Earle, oceanographer Jean-Michael Cousteau, and former New Jersey Gov. Christine Todd Whitman.
Additional Resources
Monmouth University Christens Research Vessel as the Heidi Lynn Sculthorpe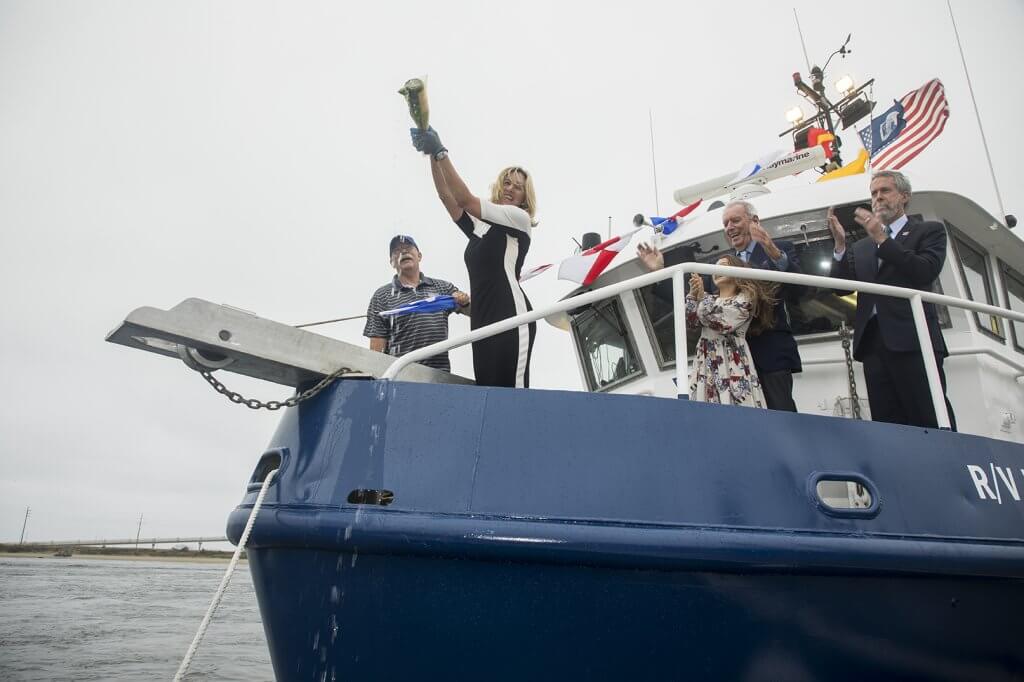 With a crash of the ceremonial champagne bottle, Monmouth University's newest and largest research vessel was christened as the R/V Heidi Lynn Sculthorpe.
The 49-foot vessel (formerly the R/V Nauvoo) was named in memory of Heidi Lynn, a lifelong Shore area resident who loved to surf and spend time at the beach with her family and friends. Ms. Sculthorpe's father, Robert B. Sculthorpe, is a graduate of Monmouth and former chair of the University Board of Trustees.
"For the next few decades, people in New York Harbor, Sandy Hook Bay, and along the beaches of the Jersey Shore, will see her name pass by them on the water every day," Monmouth University President Grey Dimenna said during a naming ceremony held at Bahr's Landing in Highlands on Oct. 8. "It's going to make them think about her, ask who she is, and build a strong association between Heidi Lynn, Monmouth University, and the ocean. That is a really special thing for us."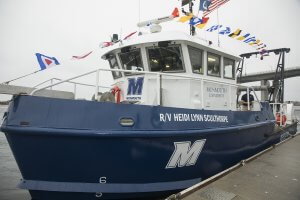 "I have been proud to watch Monmouth's marine programs grow into some of the finest in the country," Mr. Sculthorpe said. "This vessel is an asset few universities can match, and will help Monmouth attract new students and expand its partnerships with other research institutions. I look forward to all of the new discoveries our students and faculty will make aboard the Heidi Lynn."
The vessel was donated to Monmouth by the National Oceanic and Atmospheric Administration (NOAA) and launched this summer. Gifts from George Kolber, of Middletown, and the Fairleigh Dickinson Jr. Foundation made it possible for the University to restore the vessel and outfit it with enhanced technologies that will improve opportunities for students. The most recent donation from Mr. Sculthorpe, of New York City, will ensure the maintenance and operation of the vessel to support faculty and student research for years to come.
The acquisition of the Heidi Lynn will enable the University to conduct research, educational and contract work at a larger scale than ever before. It will also substantially enhance in-house research and monitoring capabilities to meet increasing faculty and student demand within the School of Science's Marine and Environmental Biology and Policy program.
The vessel can take full classes and large groups on the water and work on the open ocean up to 20 nautical miles offshore. Overnight research trips on the water are now possible, as the vessel has a head and the capacity to berth seven.
Monmouth University Urban Coast Institute (UCI) Director Tony MacDonald noted that the name Heidi Lynn Sculthorpe "has long been in our DNA." Since 2008, the UCI has awarded Heidi Lynn Sculthorpe Summer Research Program grants to students for research activities that support the Institute's mission. Recent projects include studies of Jersey Shore shark populations, the endangered Atlantic sturgeon's feeding habits, and the resurgence of oysters in New York City area waters.
The University also owns two smaller research vessels, the 18-foot Little Hawk and 27-foot Seahawk.
View our album of photos from the christening ceremony.
Report Relives the First Four Decades of NJ's Coastal Management Program
Look back at 40 years of protection, policy and progress accomplished through New Jersey's Coastal Management Program in a newly released report by the Urban Coast Institute. Presented in the four decades from 1978 through 2018, the report reviews the milestones the CMP has reached, the events that have shaped its policies, and some of the trials and tribulations it has faced along the way.
The report recognizes the tireless efforts of many who made the protection and management of New Jersey's coastal resources their mission since the CMP's adoption. The UCI recently honored the New Jersey Climate Adaptation Alliance, represented by Honorary Co-Chairs and former Govs. Tom Kean and Jim Florio, along with four other individuals who made significant contributions to the CMP's success at the 14th Annual Coastal and Ocean Champion Awards Reception.
Click the links below to download or read the publication online. Hard copies are available upon request at uci@monmouth.edu.
New Jersey Coastal Resilience Summit Held at Monmouth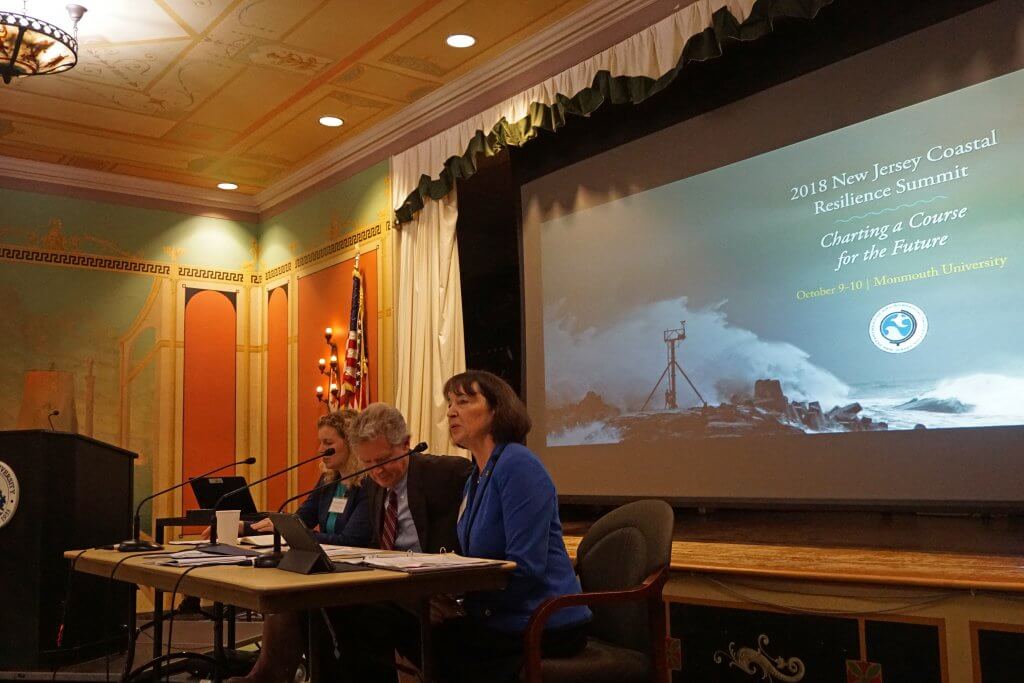 The New Jersey Department of Environmental Protection (NJDEP) launched work on a comprehensive plan to make coastal areas more resilient to the impacts of severe storms and sea level rise at Monmouth University on Oct. 9. The two-day New Jersey Coastal Resilience Summit, hosted by the Urban Coast Institute, gathered roughly 200 of the state's leading experts on climate and resilience topics to discuss threats facing coastal resources, communities and economies and determine what actions need to be taken.
Staff from the UCI, Monmouth University School of Science and Kislak Real Estate Institute participated in panel discussions, and several students joined the plenary sessions. Read the NJDEP's press release and view an album of photos from the event.
Project Spotlight: The Mid-Atlantic Ocean Data Portal
Standing before about 100 attendees at the Oct. 26 New Jersey Geospatial Forum meeting at Atlantic City's Resorts Casino, UCI Communications Director Karl Vilacoba asked the group to look out the window and tell him what they saw. It seemed to be the picture of serenity — sunlight glistening off the Atlantic's calm waters and nothing happening for miles. But appearances can be deceiving.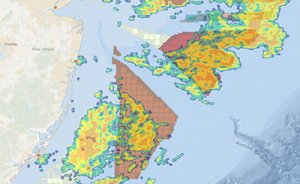 On closer inspection, a tugboat in the distance hauled a barge south towards the Delaware Bay. Birds pecked away at food along the shoreline, perhaps taking a pit stop on their migration south. A small boat slowly dragged fishing lines in the water.
The Mid-Atlantic ocean is a busy place and getting busier all the time. It is home some of the nation's largest ports, a thriving fishing industry, a half-million saltwater recreational boat owners, ferry systems that are critical to daily commutes, and the world's largest Naval base (Norfolk). Soon offshore wind turbines will join the mix.
The Mid-Atlantic Ocean Data Portal (portal.midatlanticocean.org) houses over 4,000 interactive maps illustrating these and other human activities, wildlife distributions and natural processes at sea, helping users visualize how they relate, and in some cases conflict, with one another. Based on this information, ocean users and those in management roles can make better-informed decisions.
A panel at the New Jersey Coastal Resilience Summit, held Oct. 9-10 at Monmouth University, assembled Portal users to share how the site has aided their work. Among them were TE SubCom's Sydney Sheridan, who explained how the Portal helped determine the alignment of a new fiber optic telecom cable from Virginia to Spain; the Coast Guard's Douglas Simpson, who used maps to show how data can improve vessel circulation and safety in port areas; and the National Resource Defense Council's Alison Chase, who discussed the Portal's utility as an ocean planning and educational tool.
The Portal is maintained by a team consisting of the UCI, Ecotrust, The Nature Conservancy, and Rutgers University's Edward J. Bloustein School and Center for Remote Sensing and Spatial Analysis under the guidance of Mid-Atlantic Regional Council on the Ocean. It is currently being developed with grant support from the Gordon and Betty Moore Foundation.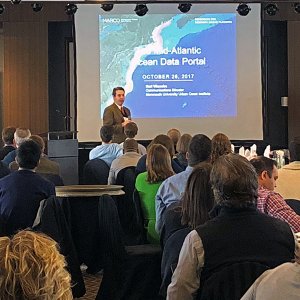 Vilacoba serves as the Portal's communications lead and project manager. Since last year, he has conducted about 50 training sessions and demos for a wide range of stakeholders throughout the East Coast. Among them were trainings for state staffs in Delaware, Maryland, New Jersey, New York and Virginia; for personnel at Naval Station Norfolk; and for New York City K-12 teachers at the New York Aquarium.
He observed that interest in the Portal has increased in New Jersey lately as the momentum behind offshore wind has picked up. Gov. Phil Murphy recently issued an executive order that set a goal of generating 3.5 GW of offshore wind power by 2030, the nation's largest target to date.
"Government agencies have been using the data to help determine what areas would be best-suited for wind turbines," Vilacoba said. "At the same time, the Portal has been an important tool for other ocean stakeholders, like maritime industries and commercial fishermen, for pointing out sites where wind installations would be too close to shipping routes or cause economic hardships. We view our role as an impartial information provider and work to help everyone take advantage of this free and publicly accessible resource."
Attendees at Friday's NJ Spotlight-sponsored panel event "New Jersey's Energy Future: Offshore Wind" can stop by the Portal kiosk to learn more about its latest data and capabilities. Vilacoba will also be on hand to provide demos at the UCI's table at the New Jersey State League of Municipalities Conference Nov. 13-15 in Atlantic City.
To learn more about the Portal or schedule an in-person or online training session for your organization, contact Karl Vilacoba at kvilacob@monmouth.edu.
University Vessels, Shark Research Featured in Monmouth

Check out the fall edition of Monmouth magazine to read a pair of articles about UCI initiatives. "Meet the Fleet: A look at how Monmouth's marine research vessels stack up" contains an infographic and story comparing the University's 49-foot Heidi Lynn Sculthorpe, 29-foot Seahawk and 18-foot Little Hawk. The article "Tag Team" covers UCI-funded research by School of Science students and faculty on shark populations along the Jersey Shore.
Abate Travels the Globe Sharing Legal Expertise

From Qatar to Colombia, Rechnitz Family UCI Endowed Chair in Marine and Environmental Law and Policy Randall Abate has been traveling far and wide to deliver several invited presentations this fall.
On Oct. 1 at the Universidad del Rosario in Bogota, Colombia, Abate, who is also a professor in Monmouth University's Department of Political Science and Sociology, delivered the lecture "Animal Law and Environmental Law: Parallels and Synergies" to professors and students. The following day, he delivered a keynote presentation titled "Climate Justice Litigation in the United States: Lawsuits against Public and Private Entities for Climate Change Impacts," to more than 100 professors, lawyers, public officials, and students at the "Climate Justice: Impacts, Litigation, and Social Movements" conference.
Next, Professor Abate traveled to the University of Windsor Law School in Windsor, Ontario, Canada, to deliver the presentation, "Atmospheric Trust Litigation: Foundation for a Constitutional Right to a Stable Climate System?" to law professors and students. The Oct. 22 talk was part of a roundtable discussion, "Legal Avenues for Climate Justice: Obstacles and Opportunities," along with three other leading Canadian climate justice scholars.
Professor Abate then crossed the border for his second engagement of the day at the University of Detroit Mercy School of Law. There he discussed his work-in-progress book, Climate Change and the Voiceless: Protecting Future Generations, Wildlife, and Natural Resources (Cambridge University Press, forthcoming August 2019), with approximately 75 law professors and students.
Finally, Abate served as a session chair and panelist at the 2018 Middle East Environmental Law Scholars' Conference in Doha, Qatar, on Nov. 4 and 5. Co-sponsored by the United Nations Environment Programme and Hamad Bin Khalifa University Law School, the conference featured environmental law scholars and practitioners from 17 countries addressing the conference theme of "Innovations for a Green Economy."
Associate Director Thomas Herrington talks about his work with UCI and the New Jersey Sea Grant Consortium and the shore's readiness for the upcoming nor'easter season on the New Jersey Coastal Coalition's Nov. 4 "Tidal Flooding Talk" podcast, filmed live at Atlantic City's Irish Pub.
Apply Now for UCI Scholars Funding Opportunities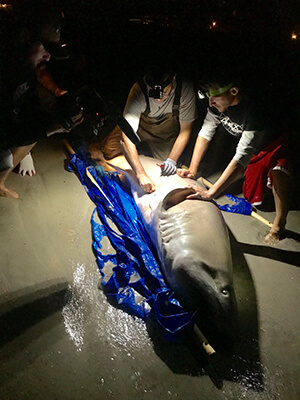 Monmouth University students and faculty of all disciplines are invited to apply now for spring, summer and fall UCI Scholars funding and other grant opportunities.
Competitive grants available include:
Faculty Enrichment Grants for the enhancement of existing curriculum, new curriculum development, research and scholarship, and team-teaching opportunities. Deadlines are Dec. 11 for the spring 2019 semester, April 30 for the summer semester and June 30 for the fall semester.
Student Summer Research Grants for research projects either proposed by students with the support of a faculty mentor or proposed by a faculty member to enable students to conduct research with them. Proposals are due March 15.
Mini-Grants are also available to faculty and students for conference fees, symposia, guest speaker honoraria, equipment and supplies, and other needs to be determined on a case-by-case-basis. Applications can be submitted at any time and are reviewed on a rolling basis. Awards range from $250 to $500 depending on the availability of funds.
Applications should demonstrate that the work would advance core elements of Monmouth's Strategic Plan and support the UCI's mission.
Those interested may apply via the UCI Funding Opportunities page on the MyMU Portal (Monmouth University sign-in credentials required). For more information, contact UCI Associate Director Dr. Thomas Herrington at (732) 261-5588 or therring@monmouth.edu.