UCI Symposium Examines Ocean Priorities for Trump, Congress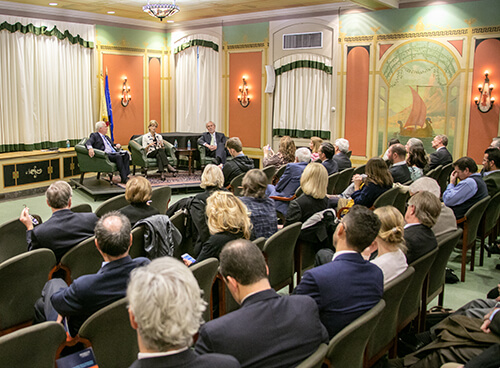 Approximately 150 Monmouth University students, staff and members of the public joined the UCI on Dec. 7 for a pressing policy discussion which never took place during the election — coastal and ocean priorities for the next administration and Congress.
Former New Jersey Gov. and EPA Administrator Christine Todd Whitman and University of Maryland Center for Environmental Science President Dr. Donald Boesch served as the panelists at the 12th Annual Future of the Ocean Symposium, moderated by UCI Director Tony MacDonald. Whitman and Boesch were also among four honorees to receive the UCI's Champion of the Ocean Award at a luncheon after the symposium.
"Over the past 12 years some of the world's most respected ocean experts and leaders have come to our campus to share their knowledge with the Monmouth University community and the public through the Future of the Ocean Symposium," Monmouth University President Paul R. Brown said. "And today, we are adding to our all-star list of ocean champions as we welcome two very distinguished thought leaders for a discussion about the coastal and ocean priorities for the next administration and Congress."
Much of the discussion centered on how President-elect Donald Trump would approach the threat of climate change. The speakers noted that during the campaign, Trump vowed to abolish many environmental regulations and pull America out of the COP21 climate change agreement, but wondered whether those statements should be taken literally.
"I have some hope because I do believe, whatever else, that this president-elect is a dealmaker and he wants to get things done," Whitman said. "This is going to take a lot of dealing and negotiating. And this is going to take a lot of time and effort to get people to understand the challenge and be willing to make the investment that we need to make to ensure that we survive what is going to happen to us."
Whitman and Boesch are both members of the Joint Ocean Commission Initiative (JOCI) Leadership Council, a bipartisan group committed to ocean policy reform. JOCI is currently developing a nine-point action plan with recommendations for federal action on a range of ocean issues.
One that concerns Boesch is a stagnant federal investment in ocean science and education. Throughout his career, he said, the U.S. was the dominant nation in the field. However, he now places Europe on equal footing and said other nations, such as China and Japan, are catching up.
"We need to make American science great, ocean science great, as well as our nation great," Boesch said.
Whitman said that it's up to the public to keep the pressure on their elected leaders in Washington to make the right decisions for the environment. She also stressed that building bipartisan will be essential to ensure any legislation that tackles climate change can endure and be successful.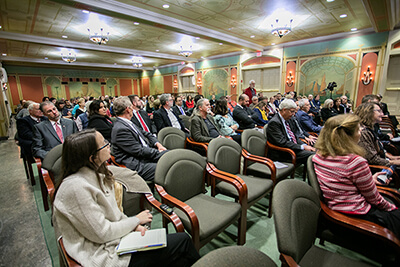 The panelists said that lawmakers need to understand that climate change is an imminent threat on several fronts, including the health of ecosystems, the economy and even national security. As an example, Whitman said that ice melt is causing the Bering Sea to open, and Russia could move to claim new territories that are exposed.
If she could offer one piece of advice directly to Trump, Whitman said it would be, "Listen to your daughter. She believes in climate change. … I'd like him to take this issue seriously because of all of its implications. It's not just an esoteric scientific discussion about something weird happening way up there in the atmosphere."
View a full album of photos and Video Clips from the symposium and luncheon. 
Symposium News Coverage
Below is a sample of the media coverage received by the Future of the Ocean Symposium & Champion of the Ocean Awards Luncheon:
Ocean advocates hope Trump takes climate change seriously, The Press of Atlantic City
Whitman to Trump: Listen to Ivanka on climate change, The Asbury Park Press
Uncharted waters for ocean policy advocates under Trump, WorkBoat
Monmouth University to host annual 'Future of the Ocean Symposium' Wednesday, WOBM News
Four Honored as 2016 Champions of the Ocean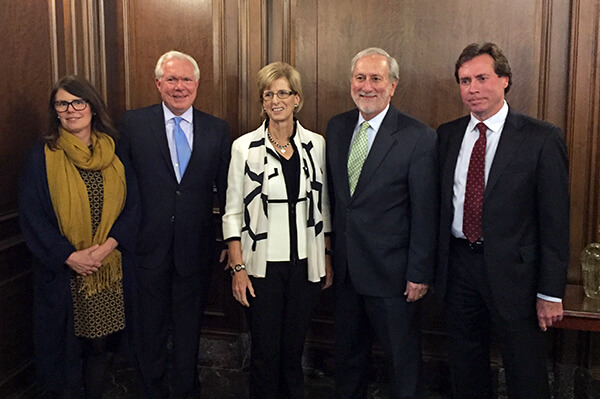 (From l-r: Elizabeth Semple, Tony MacDonald, the Hon. Christine Todd Whitman, Dr. Donald Boesch and David Rosenblatt)
The Urban Coast Institute congratulates its newest Champion of the Ocean Award honorees, the Hon. Christine Todd Whitman, Dr. Donald Boesch, David Rosenblatt and Elizabeth Semple. The four were presented with the awards on Dec. 7 at the UCI's Champion of the Ocean Awards Luncheon, which raises funds to support student research activities at Monmouth University.
Whitman (seen at right with Monmouth University President Paul R. Brown [l.] and UCI Director Tony MacDonald) received the UCI's highest honor, the National Champion of the Ocean Award, in recognition of her service as a leading voice for the environment and her many outstanding contributions to coastal and ocean conservation and sustainable communities. Whitman served as New Jersey governor from 1994 to 2001 and joined the cabinet of President George W. Bush as administrator of the Environmental Protection Agency from 2001 to 2003. She is currently a member of the Joint Ocean Commission Initiative (JOCI) Leadership Council and has served on several other boards with an environmental focus, such as the Pew Oceans Commission and the Presidential Climate Action Project.
This year's Regional Champion of the Ocean is Dr. Boesch, president of the University of Maryland Center for Environmental Science. The honor was presented for his many years of work in advancing knowledge about the coastal and ocean environment at the regional, national and international levels, and his extensive service including as an advisor to U.S. Commission on Ocean Policy, a member of the National Commission on the BP Deepwater Horizon Oil Spill, and contributor to National Research Council's report America's Climate Choices.
The UCI also presented its first two State, Coastal, and Ocean Leadership Champions awards since 2012 to two officials from the New Jersey Department of Environmental Protection: Rosenblatt, the assistant commissioner of engineering and construction and Semple, the assistant director of the agency's Office of Coastal and Land Use Planning. The awards recognized Rosenblatt and Semple for their many years of leadership in New Jersey coastal engineering and coastal and land use planning, particularly in restoring the state's beaches after Superstorm Sandy and securing funding for comprehensive resilience planning. UCI Director Tony MacDonald noted that the honorees' work has substantially reduced the risk and vulnerability of coastal communities to coastal storms, while preserving community character that is so important to the quality of life at the Jersey Shore.
"As a coastal university, we are pleased to honor a group of Ocean Champions whose work has so directly impacted lives here on the Jersey Shore and beyond," MacDonald said.
View a full album of photos and video clips from the luncheon and symposium.
White House Approves Mid-Atlantic & Northeast Ocean Plans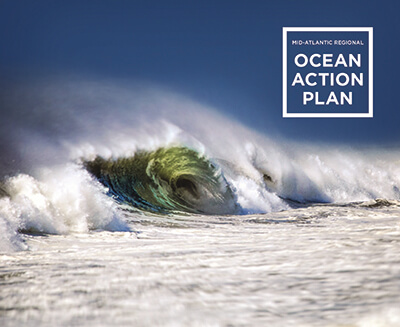 The White House announced the approval of two first-of-their-kind ocean plans for the Mid-Atlantic and Northeast regions on Dec. 7. The Urban Coast Institute has been has been a leading voice throughout the process, serving on several committees and work groups tasked with drafting the Mid-Atlantic Ocean Action Plan and managing the development of the Mid-Atlantic Ocean Data Portal. The ocean mapping and information website helped inform the Mid-Atlantic plan, which applies to ocean areas from New York through Virginia.
UCI Director Tony MacDonald released the following statement upon the federal government's announcement.
"Ocean history was made today. The White House today announced approval of the Mid-Atlantic and Northeast Ocean Action Plans. This as a significant step forward. Important progress has been made to ensure a healthier, more productive and safer ocean for future generations. Perhaps just as important as the plans was the vigorous dialogue and contributions by the public and ocean stakeholders ranging from fisherman to harbor pilots to scientists to surfers. The plans break down barriers between government agencies and set out priorities for joint action. The plans address both healthy ocean ecosystems and sustainable ocean use. We congratulate the Mid-Atlantic and Northeast Regional Planning Bodies for their work and all those who participated in the plans' creation."
MacDonald also noted that the White House statement singled out the important roles of the Mid-Atlantic and Northeast ocean data portals.
"The Monmouth University Urban Coast Institute is especially proud of its contribution to this process as the principal investigator of the Mid-Atlantic Ocean Data Portal, which produced maps and scientific data that helped inform the Mid-Atlantic Ocean Action Plan. As noted in the White House press release, the Portal 'has been developed in consultation with scientists and marine industries to include a vast array of marine resources, including ecosystem information on 150 species of marine mammals, seabirds, and fish, and a wide range of information on human activities including fishing, recreation, shipping, and renewable energy. … In addition to making new data and information available, the Plans support efficient and responsive government by describing best management practices to guide effective interagency coordination, and ensuring that agencies use the data to inform planning and environmental review of new activities.'
There is more work to be done, and the Urban Coast Institute is committed to continuing its work to make the actions in the Plan a reality."
Read the Mid-Atlantic Ocean Action Plan.
Read the Northeast Ocean Plan.
Photos: Mount Olive H.S. ROV Trials
Members of the Mount Olive High School Robotics Team recently tried out remotely operated underwater vehicles (ROVs) in the Monmouth University pool under the guidance of UCI Marine Scientist Jim Nickels. The students took part in a series of underwater mini-golf exercises created by Nickels to help build familiarity with the equipment. View photos.
The UCI maintains ROVs for purposes such as archaeological investigations, surveys, equipment recoveries and mapping offshore reef sites. The ROVs have assisted students and faculty members, government agencies, consulting and engineering firms, nonprofits and other institutions in their research projects.
For more information about the UCI's ROVs and other technologies, visit our Research Vessels, Equipment and Field Activities page.
Order UCI Gifts and Support Student Research at MU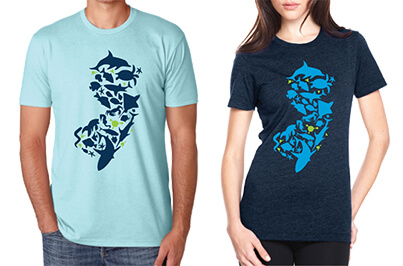 UCI tees, hoodies and desktop calendars are the perfect holiday gifts for ocean lovers! The apparel features the UCI's New Jersey marine life icon and was designed and produced by the Jersey Shore's own Jetty surfwear.
Our Ocean Stories 2017 Calendars feature the top entries from last year's UCI coastal photo contest for Monmouth University students and alumni. Take a tour of some of our favorites via this Esri story map.
Learn how to get your gifts at the UCI Online Store. Proceeds from all orders fund student research activities at Monmouth University.