Tracking the Sharks of the Jersey Shore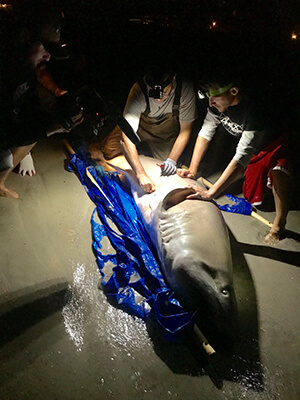 A mainstay of "best beaches of New Jersey" lists, Cape May isn't just a hit with human bathers. In fact, if you swim even a few yards off "The Nation's Oldest Beachfront Resort," chances are you won't be alone.
"The Delaware Bay is one of the top nursery grounds for sand tiger sharks on the whole East Coast — maybe even the U.S.," said Monmouth University Biology Professor Dr. Keith Dunton. "The coasts act as migratory highways for a variety of shark species moving between their seasonal habitats."
This summer, Dunton and students from the Monmouth University School of Science and Rutgers University have been working with A.J. Rotondella, owner of
Apex Anglers, a guide service that specializes in land-based shark fishing. The group has been tagging sand tigers, sandbars and other sharks and stingrays along the New Jersey coast as part of a summer research project funded through the UCI's
Marine Science and Policy Initiative. Their work will help shed new light on the behaviors, movements and diets of these migratory predators, as well as the demographics of the sharks and rays near the Jersey Shore.
On a recent night in Cape May, Rotondella and his clients caught a dozen sand tigers in the space of a few hours by casting baited hooks from the beach. With each catch, the group, including Dunton and students Gina Badlowski, Jarius Bradley, Marissa DeTorre and Alex Salamone, sprang into action, quickly subduing the fish near the waterline, collecting biological information and surgically implanting an acoustic tag before releasing them moments later. For the next 10 years or more, the acoustic tag will ping their whereabouts as they swim by buoys and other structures outfitted with acoustic receivers, contributing to long-term information about their movements.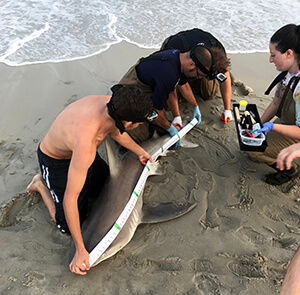 Dunton and the students also fished for sharks off the Cape May and Sea Bright areas aboard Monmouth University's R/V Seahawk and with the New Jersey Department of Environmental Protection aboard the R/V Seawolf. To date, they have successfully tagged a variety of sharks including sand tigers, sand bars, dusky, smooth and spiny dogfish, and angel sharks. They plan to continue fishing into August.
Rotondella said that the confluence of the Delaware Bay and Atlantic Ocean at Cape May has carved out a steep drop in the water depths close to shore, a condition that is ideal for sand tigers. At night, they like to draw in even closer to land, where they can hunt under the cover of darkness and sneak up on smaller prey.
Adult sand tigers typically grow between 6 and 11 feet long and weigh anywhere between 200 and 350 lbs. Their teeth are plentiful and have a unique curvature that helps them tightly grip their prey. However, they are not known to pose a threat to humans, even if they look the part.
"Sand tigers are the one of top aquarium shark," Dunton said. "They look mean, they get big, and they're good in captivity."
Members of the public can discuss this project with the team at the Ninth Annual School of Science Summer Research Program Symposium on Aug. 10. Students and faculty researchers will present posters and exhibits about their work in the Erlanger Gardens (between Wilson and Edison halls) from 10:30 to 1 p.m.
Additional photos of the group's shark tagging work can be found in our album on Facebook.
Monmouth University student-faculty research supported by the UCI's Marine Science & Policy Initiative is made possible through the generous support of Santander Bank and many other corporate and private donors. If you would like to make a tax-deductible gift to the Urban Coast Institute, please use our Give a Gift Now contribution form.
Join Our Aug. 15 Webinar, 'Risk Communication in the Post-Sandy Era'
Oct. 29 will mark the fifth anniversary of Superstorm Sandy's landfall in New Jersey. Residents of the region had never before dealt with a storm of its magnitude, and that lack of experience influenced people's perceptions of the dangers it posed and how they responded — in some cases with disastrous consequences. Sandy yielded many lessons on what information was and was not effective in prompting residents to make decisions that protected themselves, their loved ones and their properties.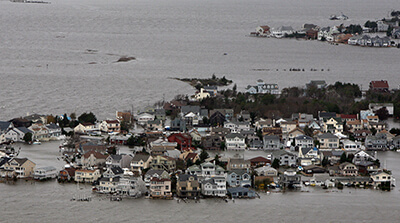 The Monmouth University Urban Coast Institute (UCI) and the Mid-Atlantic Regional Council on the Ocean (MARCO) will host a special webinar on Aug. 15 at 11 a.m. that explores best practices for communicating the risks that major coastal storms present to the public. The discussion is being made possible through grant funding* provided by the National Oceanic and Atmospheric Administration (NOAA).
The webinar will feature three speakers who have made important contributions to our understanding of effective risk communication since Sandy:
Rachel Hogan Carr, Executive Director of the Nurture Nature Center, has served as principal investigator on several flood-related research and education projects in partnership with NOAA. She was recently the lead author on the New Jersey Sea Grant-funded report "They Had the Facts, Why Didn't They Act?", which examined Jersey Shore residents' responses to coastal flood forecast and warning products issued by the National Weather Service during Sandy.
Michael Oppegaard, Emergency Management Coordinator for the Monmouth County (N.J.) Sheriff's Office – Office of Emergency Management, oversees a wide range of programs related to disaster planning and response for the county. This year, the county completed an innovative High Water Mark project that placed signs throughout 15 municipalities that are educating tourists and residents on the heights reached by floodwaters during Sandy and Irene.
Sarah Watson led the development of NOAA's 2016 Risk Communications Basics guidebook as a graduate student at Rutgers University and covered Sandy recovery efforts as a reporter for The Press of Atlantic City. The guidebook was designed to help community leaders understand and connect with stakeholders and inspire risk-wise behavior through improved communication.
The webinar is free and intended as a resource for all those interested in the subject matter, including government agencies, emergency responders, academic researchers, NGOs, coastal business owners and residents in flood-prone communities.
To Participate
For planning purposes, please register by emailing UCI Communications Director Karl Vilacoba at kvilacob@monmouth.edu.
* Supported as part of "Mid-Atlantic Regional Resilience: Linking Coastal Ocean Information to Enhance Economic, Social and Ecological Resilience," funded by the National Oceanic and Atmospheric Administration through a Regional Coastal Resilience Grant (Award No. NA16NOS4730014).
Shore Roots Draw Endowed Professor from Big Island to West Long Branch
Say aloha to the Monmouth University School of Science's first endowed professor of marine science. Dr. Jason Adolf officially joins Monmouth on Sept. 1 after nine years at the University of Hawaii at Hilo, where he served as the chair and associate professor of marine science.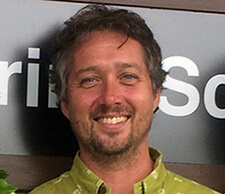 In his new position, Adolf will teach upper level courses within the Biology Department, work collaboratively with the UCI, mentor and advise undergraduates, and develop innovative new courses that complement and diversify the school's Marine and Environmental Biology and Policy (MEBP) curriculum. He will also develop and lead innovative scientific projects with student support, including cooperative research with the National Oceanic and Atmospheric Administration (NOAA) James J. Howard Marine Sciences Laboratory at Sandy Hook.
Adolf, whose research background is in the field of phytoplankton ecology and evolution, has made significant contributions to the literature in the area of harmful algal blooms. He holds a bachelor of science degree in marine biology from Roger Williams University, a master of science degree in botany from UH Manoa and a doctorate of philosophy in marine estuarine and environmental sciences (biological oceanography focus) from the University of Maryland (UMD). Before going to Hilo, Adolf spent five years at the UMD Institute of Marine and Environmental Technology (formerly COMB) in Baltimore, conducting harmful algal bloom research that included Chesapeake Bay, the Swan River Estuary in Perth, Western Australia, and the Plymouth Culture Collection of the Marine Biological Association of the UK.
For Adolf, the 4,900-mile change of scene from Hilo to West Long Branch felt natural. He grew up in East Windsor, spent his summers on the beaches of Ocean County and still has family in the area.
"I absolutely love the Jersey Shore," Adolf said. "To see the job at Monmouth University come up and get the opportunity to teach marine science and do marine science research in the waters where I grew up, it's just perfect."
From the start, all signs seemed to point to Monmouth for Adolf. On his flight to New Jersey for the interview, he was seated next to a couple who were residents of Ocean Township. The husband turned out to be a graduate of — you guessed it — Monmouth University.
"He pulled out his student ID card and just started gushing about Monmouth University," Adolf said. "I'm not a superstitious person, but that seemed like a sign. Little things like that kept happening to me. It just felt right."
The creation of the endowed professorship — the first endowed faculty position in the School of Science — is among series of strategic enhancements funded through the
Marine Science and Policy Initiative that have positioned the University and UCI to flourish in the future. The Initiative was launched in 2014 following a successful $5 million Challenge Grant campaign, and has since supported dozens of innovative student-faculty research projects, the purchase of cutting-edge scientific equipment, facilities upgrades and more.
Barnegat Bay Marine Debris Project Featured in Monmouth Magazine
Check out the summer issue of Monmouth magazine for an excellent profile on work by UCI Marine Scientist Jim Nickels and School of Science students to rid the Barnegat Bay floor of hazardous marine debris. The project, funded by the Conserve Wildlife Foundation of New Jersey, led to the removal of 1,300 derelict crab pots that can continue to trap and kill marine life – an occurrence known as "ghost fishing."
High Water Mark Initiative Receives Sustainable Raritan Award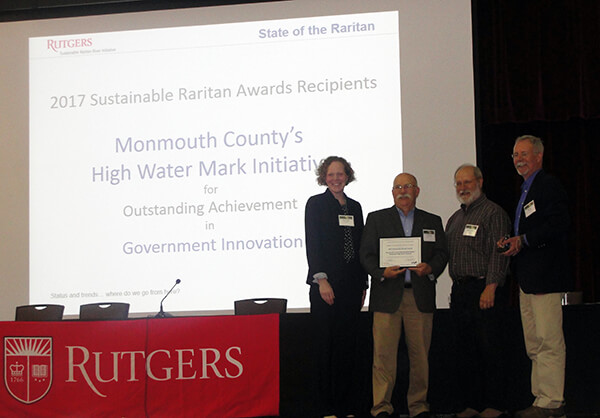 Above: UCI Marine Scientist Jim Nickels accepts Sustainable Raritan Award from (l-r) Debbie Mans, Executive Director of NY/NJ Baykeeper; William Kibler, Director of Policy for the Raritan Headwaters; and Michael Catania, Executive Director of the Duke Farms Foundation.
The Urban Coast Institute was among a team of partners honored by the Sustainable Raritan River Initiative for a project that is raising awareness among Bayshore residents, visitors and public officials about the risks of coastal flooding.
The Monmouth County High Water Mark Initiative is a unique public education effort that encourages smart mitigation actions while also saving property owners significant sums of money via lower flood insurance premiums. To date, the county has posted 72 signs in 15 county municipalities showing where floodwaters reached during Hurricane Irene and Superstorm Sandy. The signs provide a vivid reminder about the steps necessary for waterfront communities to protect themselves against powerful coastal storms in the future.
Launched in 2015, the Initiative is being led by the Monmouth County Division of Planning and County Office of Emergency Management in partnership with the FEMA National Flood Insurance Program, New Jersey Sea Grant Consortium and the UCI. The Initiative provides participating Community Rating System (CRS) communities an opportunity to gain points when they install high water mark signs on public buildings, utility poles or other structures. As a result of the Initiative, home and property owners in participating communities are saving approximately $1.4 million in flood insurance premium per year.
The Initiative was the recipient of the Government Innovation Award at the 9th Annual Sustainable Raritan Conference and Awards Ceremony, held June 9 in New Brunswick. The awards recognize outstanding achievements in efforts to revitalize, restore and protect Raritan watershed resources and to make the region a premiere place to live, work and raise a family.
UCI Marine Scientist Jim Nickels accepted the award on behalf of the team. Nickels and students from the Monmouth University School of Science helped identify and record the precise flood heights at the points where signs were placed in each community.
"This was not only a valuable learning experience for our students but an opportunity for them to make an important contribution to the continued recovery of these storm-devastated communities," Nickels said. "It especially meant a lot for some of our students who grew up in these towns and experienced Sandy firsthand."
New Jersey Sea Grant has also taken the project to the classroom, creating High Water Mark lesson plans that can be implemented by area teachers.
Want to know where the High Water Mark signs are in your neighborhood? Find out with this story map. And if you see one, take a picture and share it on social media using the hashtag #MonmouthHWM, and we'll share it on the High Water Mark Storify page.
UCI in the Classroom: Life's a Beach at Monmouth University
On World Ocean Day, UCI staff joined Dr. Heidi Bludau's "Life's a Beach" cultural anthropology and geography class (AN/GO 282) to discuss the Jersey Shore's ocean environment and economy. The unique Monmouth University course examines cultural events and activities such as labor, food, tourism, disaster, sport and architecture in coastal regions around the world.
The class met on the banks of the Navesink River in Rumson, where UCI Associate Director Tom Herrington lead a lesson on the history of New Jersey's evolving coastline, shore tourism industry, coastal resilience and beach replenishment efforts. UCI Marine Scientist Jim Nickels also provided students with a guided boat tour of the Shrewsbury and Navesink river areas leading up to Sandy Hook Bay.
Learn about the class by viewing the video above or flip through our album of photos on Facebook.
Video: Mapping Risk in the Mid-Atlantic
The UCI's Karl Vilacoba moderated a webinar July 11 that showcased online mapping tools in the Mid-Atlantic that illustrate risks posed to coastal areas, such as flooding, severe storms and sea level rise. This webinar featured guests demonstrating innovative sites focused at the city, state, regional and national levels: Kyle Spencer, City of Norfolk/Tidal Inundation Tracking Application for Norfolk; Matt Campo, Rutgers University/NJ Flood Mapper; Dan Rizza, Climate Central; and Vilacoba, who provided a lesson on the Mid-Atlantic Ocean Data Portal.
Op-Ed: 'America First? Don't Forget Our Seas'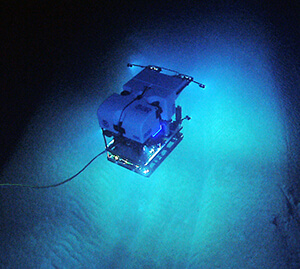 Monmouth University President Emeritus and UCI Ocean Policy Fellow Paul G. Gaffney II recently penned an op-ed about the importance of continued federal investment in ocean exploration that was published in newspapers throughout the country. In the piece, Vice Admiral Gaffney writes, "To retain our edge, the United States not only needs to press forward vigorously on ocean research, but also encourage the development of a highly technical oceanographic workforce: oil and gas engineers, aquaculturists, renewable offshore energy designers, port managers, government analysts, chemists and acousticians, and teachers.This too is America First — a trained core of workers whose talents will protect America's security and economic well-being."
Click here to read the piece in The Asbury Park Press.
Add Monmouthu.uci on Snapchat
The UCI is now on Snapchat! Find us at monmouthu.uciand add us in a snap.
You can also follow the UCI on Twitter | Facebook | Instagram | Pinterest | YouTube