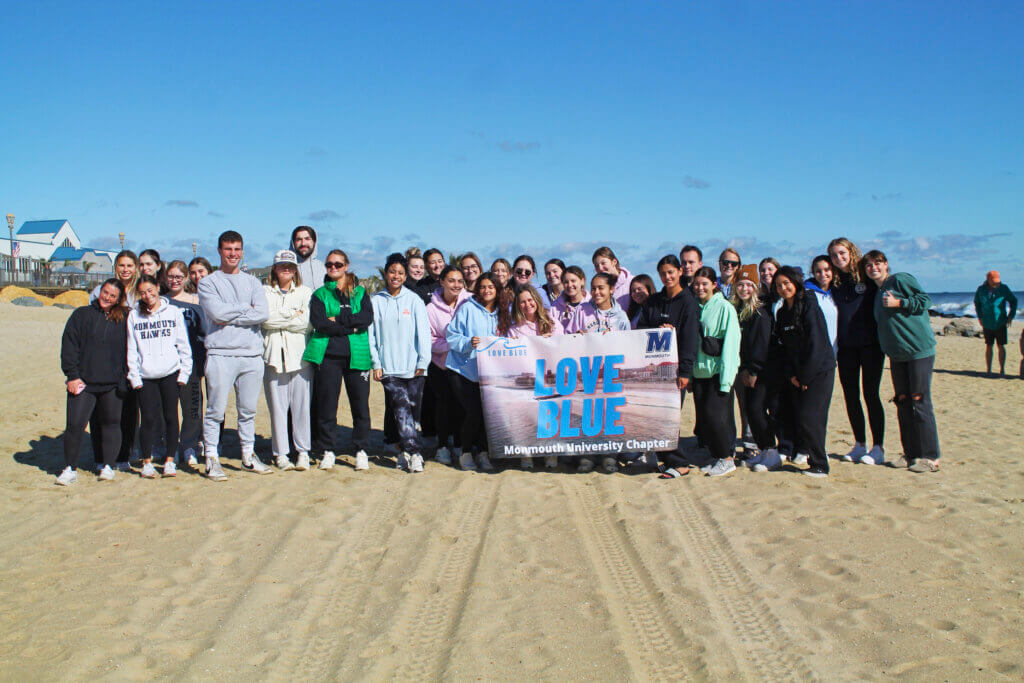 Katie Marshall would love to tell you the coast is clear, but her experience proves otherwise.
As president of the Love Blue Monmouth University Chapter, Marshall helped organize five cleanups at beaches near campus this semester that removed a whopping 376 pounds of trash. The items ranged from the standard to the stunning.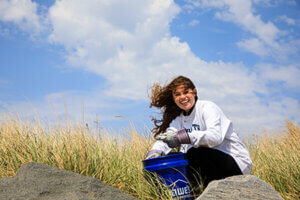 "We had one cleanup where there was an entire dinner set left on the beach. It makes you wonder how people can be so inconsiderate," Marshall said. "When we come to the Jersey Shore, we don't want to have to move plastic plates before we can lay down our towels."
Love Blue is entering its sixth semester on campus with plenty of momentum and an impressive track record. It started out modestly with one cleanup each in the fall 2021 and spring 2022 semesters, at which 70 volunteers cleared 82 pounds of trash. In the fall of 2022, the group found its stride, with 166 volunteers removing 317 pounds of trash at five events. Three more cleanups were held in the spring 2023 semester, with 89 volunteers ridding the beaches of 146 pounds of debris. In total, 462 participants cleaned 921 pounds of trash at 15 events. The most common items collected have been plastic bottle caps and straws.
Marshall, a junior marine and environmental biology and policy student, first got involved with Love Blue Monmouth after meeting its founding president, Mia Najd, at the university's Involvement Fair. She attributes much of the club's success to the buy-in by other campus clubs and Greek organizations, who are showing up at cleanups in strong numbers and sometimes contacting Love Blue Monmouth to co-organize events. The club has also garnered support from the local business community, with merchants including the Herd Juicery, Jack's Goal Line Stand and Tak Waterman contributing refreshments and prizes at events.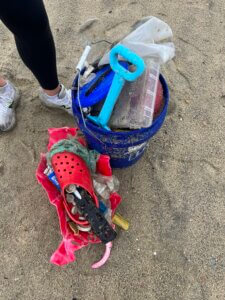 Beyond removing trash, Marshall believes the experience of participating in cleanups is making students more conscious of ocean and beach pollution and how their choices could contribute to it. It may even be inspiring future generations.
In October, Love Blue Monmouth scoured the south side of Phillips Avenue beach in Deal, then returned a few days later to clean the north side. The group saw what appeared to be a large group of daycare children playing in the area they had cleaned up.
"I looked at my executive board and said, how amazing is it that the kids can be worry-free about stepping on all of the plastic we saw firsthand and cleaned up just the week before?" Marshall said. "And now they're seeing these college students out there cleaning the rest of the beach. You hope that the kids pick up on that and maybe they ask who we are and why we're carrying all of the giant blue buckets. It's definitely reassuring to see the little generation seeing what we do, and us being able to see them enjoy the beach for what it should be – clean and fun to play on."
Looking ahead, Marshall hopes to expand the club's footprint to organize cleanups at beaches that need help a bit further from campus, such as Sandy Hook. She would also like to build new partnerships with local church groups and schools, some of which could take advantage of the opportunities to gain community service hours.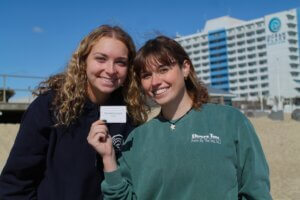 Love Blue Monmouth is finished with its cleanups for 2023, but is actively lining up events for the spring. To get in touch or for more information, visit Love Blue Monmouth on Instagram at @lovebluemonmouth.
Love Blue Inc. is a nonprofit organization dedicated to protecting the ocean through community outreach and beach cleanups. It has chapters at five additional universities on the Atlantic Coast. In addition to Marshall, members of the Monmouth chapter's executive board include Ella Crossman (fundraising chair), Gabriela Mantos (secretary), Kendal O'Neill (vice president), and Kylie Schadt (social media chair).