A team of Monmouth University computer science students has created a mobile app version of the Mid-Atlantic Ocean Data Portal that will allow Android and iPhone users to quickly search and view thousands of maps showing natural features and human activities at sea.
The group unveiled a beta version of the app and invited attendees to test it during a poster session at the Mid-Atlantic Ocean Forum, held May 18 at the Alexander Hamilton U.S. Custom House in New York City. (Watch the video above for a demonstration.)
May 2023 graduates Nolan Beagell, Chelsea Spencer and Ava Taylor developed the iOS and Android apps as their capstone project as part of the Computer Science and Software Engineering Department's CS-492 Senior Project course taught by Specialist Professor Raman Lakshmanan. The student team spent the fall semester gathering the requirements and defining a detailed design. This included researching the web Portal, gathering information from Portal Project Manager and Urban Coast Institute (UCI) Communications Director Karl Vilacoba, and the Portal's developer, Ecotrust Senior Software Developer Ryan Hodges. In the spring the group's attention turned toward implementation and testing of the apps.
The Portal is a free and publicly accessible GIS mapping and information site focused on ocean areas from New York through Virginia. It contains over 6,000 interactive maps showing shipping traffic patterns, marine life habitats, offshore wind infrastructure, fishing grounds, military training zones, shipwreck locations and much more.
The Portal has been used for a broad range of purposes, such as siting offshore wind projects, designing undersea telecom cable routes, Coast Guard studies on shipping lanes and anchorage areas, and marine science education. It is maintained by a technical team consisting of researchers from the UCI, Rutgers University, Duke University, the New York Department of State, and Ecotrust, under the guidance of the Mid-Atlantic Regional Council on the Ocean (MARCO).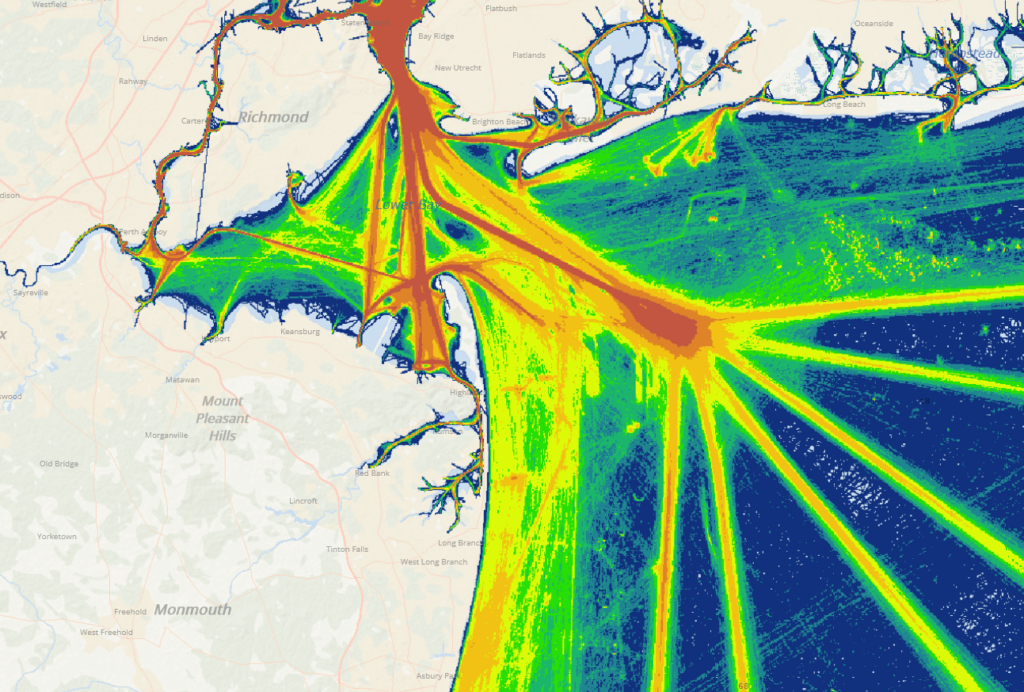 The team's mission was to create a scaled-down version of the Portal's mapping application (Marine Planner) that would be more compatible with mobile devices. The group's design does away with some Portal tools that are more appropriate for desktop environments and focuses on making it simple for a user to view its map layers on a phone screen or tablet. As a replacement for the desktop version's Bookmarks tool, the team created a "Favorites" function which allows users to save maps they're interested in.
"If you'd like to add a map layer to your Favorites, which saves all your data so you can have easy access to a layer that you'd like to use [in the future], you can hit the heart and it will add it," Beagell explains in the video demonstration.
The students designed the app so it would automatically present newly added maps on the Portal. As a result, the app's maps would be in sync with the Portal presentations.
"We were floored by what an on-brand, easy-to-use product the team put together," Vilacoba said. "We believe it could open up the Portal's trove of ocean data to totally new user groups and use cases. For example, an angler at sea could use their phone to scan for nearby artificial reefs or shipwrecks, which wouldn't have been possible before unless the boat had a computer aboard."
"Projects like these help our students gain valuable real-world experiences in developing software solutions from start to finish and also to present at an event like Mid Atlantic Ocean Forum," Lakshmanan said.
Vilacoba, Hodges and MARCO will continue to work with Professor Lakshmanan and Monmouth students to test and fine-tune the app, with public releases in the Apple's app and Android's Google Play stores in Fall 2023.