The Urban Coast Institute (UCI) hosted a special conversation Oct. 27 on lessons New Jersey has apparently learned and not learned since Hurricane Sandy struck a decade go. "To Build or Not to Build: That is the Question – Lessons We Haven't Learned 10 Years After Superstorm" was moderated by UCI Director Tony MacDonald and featured an expert panel consisting of New Jersey Department of Environmental Protection Commissioner Shawn LaTourette, Climate Central Senior Advisor Don Bain, and Federal Emergency Management Administration Region II Mitigation Division Director Michael Moriarty.
The speakers addressed how the state and communities should proceed given the new normal climate change, sea level rise, continued development and increased vulnerability in coastal areas, and the threat of more frequent and violent coastal storms. The panel talk was one of four events offered by Monmouth University examining the disaster from a range of historic, economic and environmental perspectives. The others were:
Speaker Bios
Shawn M. LaTourette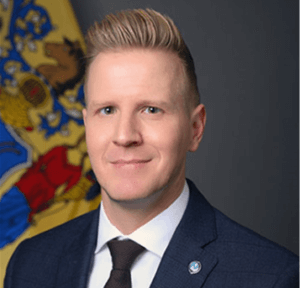 Shawn M. LaTourette was appointed by Gov. Philip Murphy the commissioner of the New Jersey Department of Environmental Protection (DEP) in 2021. LaTourette is responsible for formulating statewide environmental policy while directing programs that protect public health and ensure the quality of New Jersey's air, land, water, and natural and historic resources. A lawyer and policymaker with more than 20 years of experience in environmental protection, LaTourette began his career defending victims of toxic exposure, including organizing and advocating for the needs of vulnerable New Jersey communities whose drinking water was contaminated by petrochemicals. He first joined the DEP as the chief legal and regulatory policy adviser to then-commissioner Catherine McCabe in 2018 and was elevated to DEP chief of staff in 2019 and to deputy commissioner in 2020. Since 2019, he has been responsible for running DEP's operations while formulating policy and regulatory reforms to advance Gov. Murphy's environmental, climate change and clean energy priorities. His diverse background — in protecting vulnerable communities, facilitating the development of infrastructure and public works, managing business risk, promoting conservationist policies and advocating for equity — has made him a leading force in policy, program and project development, especially those at the complex juncture of economic development, energy and environmental protection.
Don Bain
Don Bain, P.E., is a climate engineer and expert on climate change, adaptation and sea level rise. Dedicated to building a bright future in a dramatically changing climate, he is a highly accomplished business executive and management consultant. He has managed hundreds of projects and has experience working in 21 countries. As a consulting partner at Ernst & Young, he advised Fortune 500 clients. He has international executive experience, has led several technology and professional services companies in the U.S. and Europe, and was a board member at Robin Hood Ventures. Don is an expert on the implications of sea level rise and has advised municipalities on adaptation, risk management, economics and finance. He is an expert in rigorous greenhouse gas accounting and management methods. Don is a licensed professional engineer.
Michael Moriarty
Michael Moriarty serves as mitigation director leading a team creating more resilient communities by reducing future losses to homes, businesses, public buildings and critical facilities from floods, earthquakes, tornadoes and other natural disasters. His Mitigation Team focuses on breaking the cycle of recurrent disaster damage with responsibilities for New York, New Jersey, Puerto Rico, and the U.S. Virgin Islands. The team helps reduce loss of life and property while building capability with state, local and tribal partners through a variety of programs, including the identification, analysis and mapping of risks, support to state and local floodplain management, coordination of the National Flood Insurance Program, environmental planning and historic preservation compliance and management of a robust pre-disaster mitigation grants program and a hazard mitigation grants program of more than $3.5B for Puerto Rico and the U.S. Virgin Islands for Hurricane Maria and more than $2 billion to New York and New Jersey for Hurricane Sandy.