Monmouth University hosted 15 students from academic institutions around the country in June as part of the National Oceanic and Atmospheric Administration's (NOAA) Inclusive Fisheries Internship Program (IN FISH!). Now in its second year, IN FISH! provides paid internships to undergraduates from underrepresented populations, with the long-term vision of building skills for success within marine resource fields and diversifying the NOAA Fisheries workforce.
IN FISH! interns spend two weeks completing a for-credit course in complex systems and ecosystem dynamics followed by eight weeks working with a mentor on a research or resource management project. The students stayed in Monmouth's Garden Apartments from June 5-18 before moving on to complete the project-based component of their internships in locations from Sandy Hook to Seattle.
On June 10, the IN FISH! students boarded Monmouth's R/V Heidi Lynn Sculthorpe for a hands-on exploration of Sandy Hook Bay's chemical and physical properties. Led by Endowed Professor of Marine Science Jason Adolf, the group deployed various technologies to map the seafloor and record the water's salinity, clarity, and temperature at various depths. The interns split into two groups, rotating between the Heidi Lynn Sculthorpe and the Marine Academy of Science and Technology's R/V Blue Sea, where they conducted fish trawls and benthic sampling. Urban Coast Institute (UCI) Marine Scientist Jim Nickels and Monmouth University Marine and Environmental Biology and Policy (MEBP) majors Richard Kane, Marie Mauro and Nicholas Occhiogrosso were also aboard assisting with the exercises.
"The students were great. I was struck by the questions they asked and how interested they are in both the science and policy sides of the work," Adolf said. "Some of them haven't had the chance to go out on a boat as part of their educational experience before. There were students from big schools and others from smaller schools that don't have access to these kinds of resources."
While at Monmouth, the students also toured facilities around the region such as the NOAA James J. Howard Marine Sciences Laboratory, the Cape May/Wildwood commercial fishing port, and the Rutgers University Center for Ocean Observing Leadership to learn from professionals in marine fields.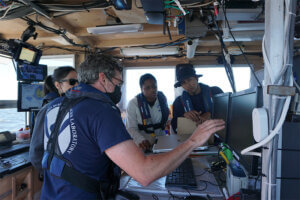 Adolf has helped organize IN FISH! since its inception last year, when it was conducted virtually due to the pandemic. He served as the mentor for Middlebury College student Malia Armstrong, working with her and UCI Postdoctoral Researcher Chris Haak to create a web app that allows users to analyze 15 years of state data on hazardous Enterococcus bacteria levels off New Jersey beaches. Adolf said the project made the data more accessible to the public and easier to see the relationship between heavy rainfalls and bacterial blooms at specific beaches.
While still a young program, IN FISH! has already become highly competitive, with nine applications submitted for each available internship. Among this year's talent pool Is Monmouth University MEBP major Emily Vasquez, who will complete her internship with mentor Katherine Mills of the Gulf of Maine Research Institute in Portland, Maine.
Monmouth's participation in IN FISH! is the latest step in its commitment to advance diversity, equity, inclusion and justice on and off campus and through its ocean science and policy programs. Adolf said he anticipates Monmouth will continue to provide its support and partnership in future summers. "It made sense to me from the start that Monmouth University should be a part of IN FISH!," Adolf said. "It's a great relationship to have between a federal agency and an educational program and it has an important mission."