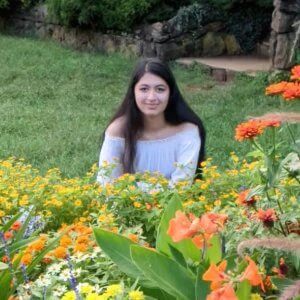 The environmental gains that will be seen by replacing carbon-based energy sources with power generated by offshore wind farms are oft-discussed, but questions remain about the impacts that construction of this infrastructure could have on marine life and habitats. Monmouth University student Riya Ajmera recently completed a white paper that examines the nature and scope of the risks in the Mid-Atlantic and science-based policy options that can mitigate harm to marine species and promote marine biodiversity.
Ajmera conducted her research over the summer with support from the UCI's Heidi Lynn Sculthorpe Scholars Program and guidance from faculty mentor Randall Abate, Rechnitz Family/UCI endowed chair in marine and environmental law and policy. Experts interviewed for the project include Julia Beaty, fishery management specialist, Mid-Atlantic Fishery Management Council; Doug Copeland, development manager, Atlantic Shores Offshore Wind; Tim Dillingham, executive director, American Littoral Society; Jim Ferris, bureau chief of new technology, Clean Energy Division, New Jersey Board of Public Utilities (NJ BPU); Suzanne Hornick, founder, Ocean City, New Jersey Flooding Committee; and Kris Ohleth, executive director, Special Initiative on Offshore Wind.
Scroll below to read our Q&A with Ajmera and read her paper in its entirety.
Paper title: Mutual Benefits for Offshore Wind Energy in the Mid-Atlantic: Science and Policy Strategies to Mitigate Harm to Marine Species and Maximize Benefits for Renewable Energy
Student Researcher: Riya Ajmera
Year and Major: Junior, Chemistry with a Concentration in Biochemistry/Minor in Journalism
Q: Among the three impacts you cover from offshore wind to human communities are the disruption to commercial fishing and the possibility that the visibility of turbines on the horizon could drive away tourists. Some readers might not be familiar with the third category, which covers Native American cultural impacts. Can you explain what the concern is and how it is being approached?
Native American communities have protected land that is essential to their history and culture. Some of these lands have been buried due to rising sea levels from the last ice age. Offshore wind turbines can put those lands at risk.
The Bureau of Ocean Energy Management (BOEM) and offshore wind companies are aware of this concern. For the Vineyard Project, which can serve as an exemplar of the process for other offshore wind sites in the Mid-Atlantic, BOEM has signed a Memorandum of Agreement with the offshore wind company regarding various Native American properties that are critical to protect. The Agreement addresses mitigation measures and avoidance of these lands for this project. Furthermore, partnerships such as the Atlantic Shores Offshore Wind, LLC, hold mandatory meetings with Native American tribes. Proper communication with the tribes allows for direct and open acknowledgement of how the tribes perceive offshore wind projects and what measures they seek for the protection of their cultural resources.
Q: Your paper also delves into impacts on marine life, including questions on how construction noise could affect marine mammals with sound sensitivities. What do we know about this from the experience in Europe and other research that's been done to date?
Various studies have addressed marine species' responses to offshore wind turbines. One study examined the migration patterns of porpoises in response to the pile-driving construction at the first German offshore wind farm. The study concluded that all of the porpoises near the construction site had moved somewhere else, with the first sighting seen 20 km away. The study also determined that porpoises were seen around the site again after the piling phase had ended. However, the return of the species did not alleviate the concern that the species had decreased fitness due to its fearful flight response and also being moved away from its habitat into an area that is unknown to them. This behavior may occur in other marine species, which raises concerns regarding the unpredictability of the impacts on marine species in implementing offshore wind facilities.
Another example is based on the endangered North Atlantic right whale. Past research has shown that vessel strikes are a major cause of injury and death of right whales. This vulnerability is a concern given the amount of vessel traffic during the construction of the turbines. BOEM indicated in the Vineyard Report that vessels must travel at speeds of less than 10 knots because studies have shown that the greatest risk of injury to a large whale is with speeds from 8.6 to 15 knots. However, even a collision with a large ship can be harmful to the whale species. The only mitigation efforts in response to this concern have been to slow down and stop vessels when any sighting of a large whale or right whale occurs within 328 feet of the vessel.
Q: You offer some recommendations in the areas of policy reform and improving transparency and public outreach around offshore wind projects. What are some of the steps that can be taken to make these processes better for stakeholders?
These projects are vast, complicated, and multi-faceted efforts that need to be coordinated so every participant in the offshore wind industry siting process is working together. The most significant resolution for this is proper communication and collaboration. First, there needs to be more communication among BOEM, NOAA, state agencies such as NJDEP, and the construction companies. A related concern is the need for greater communication in the application process. Finally, the level of transparency in the process can be improved. These transparency concerns have three dimensions regarding what information needs to be made available to the public: 1) dissemination of key information on the offshore wind turbines and responses to concerns from the public; 2) clarification of what information cannot be made available to the public at certain phases due to confidentiality concerns; and 3) identification of what role the public holds in the process and what opportunities are available for public participation.
The second area that needs attention is the focus placed on research and mitigation efforts. There is not much research on offshore wind turbines in the U.S. because it is still a new area, which makes the research that is conducted during these processes highly valuable for the future of offshore wind in the nation. However, if all of the turbines are constructed in a relatively short period, there will not be enough time for the research that is conducted to be applied to future offshore wind facilities. Moreover, given that much of the mitigation efforts for large whales and right whales relies exclusively on the eyes of the workers, the lives of these vulnerable marine species are at the mercy of the level of care that the workers exercise. There should be a mandatory training program for these workers in sighting species and how to properly and safely implement these mandatory mitigation efforts.