With nearly 450 water quality samples collected by citizen scientists over the last 18 months, the data has begun to tell some stories about the condition of Monmouth County's coastal lakes.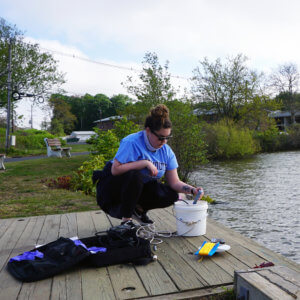 Those patterns were revealed by Monmouth University Endowed Associate Professor of Marine Science Jason Adolf during the second annual Coastal Lakes Observing Network (CLONet) Workshop, held virtually on Nov. 17 (scroll below for video and slides). The event also provided an opportunity for community volunteers who have sampled Deal Lake, Lake Como, Lake Takanassee, Sunset Lake, and Wesley Lake to share lessons learned and discuss next steps for the project heading into 2021.
According to Adolf, Secchi depth readings have been among the most telling indicators of the lakes' overall health. These readings are taken by slowly lowering a black and white disc in the water and measuring the distance at which they are no longer visible. The deeper the visibility, the less turbid the lake.
Lake Takanassee in Long Branch has consistently shown the best depth – which lines up with other indicators showing its overall cleanliness – while Sunset Lake in Asbury Park has shown the poorest results to date. Adolf said that along a four-tier scale ranging from oligotrophic (best) to hypereutrophic (worst) conditions, the lakes on the whole fell in the latter category. Typical characteristics of hypereutrophic water bodies include an abundance of nutrients that fuel harmful algal blooms (HAB), low dissolved oxygen levels, occasional fish kill events, and the presence of thick scum and dense weeds.
"Even though Takanassee is relatively better than the other lakes, in general, we're dealing with eutrophic to hypereutrophic systems," Adolf said. "In terms of pollution and degradation, we're at the bottom of the scale, which means we can only go up."
Climate Threats Loom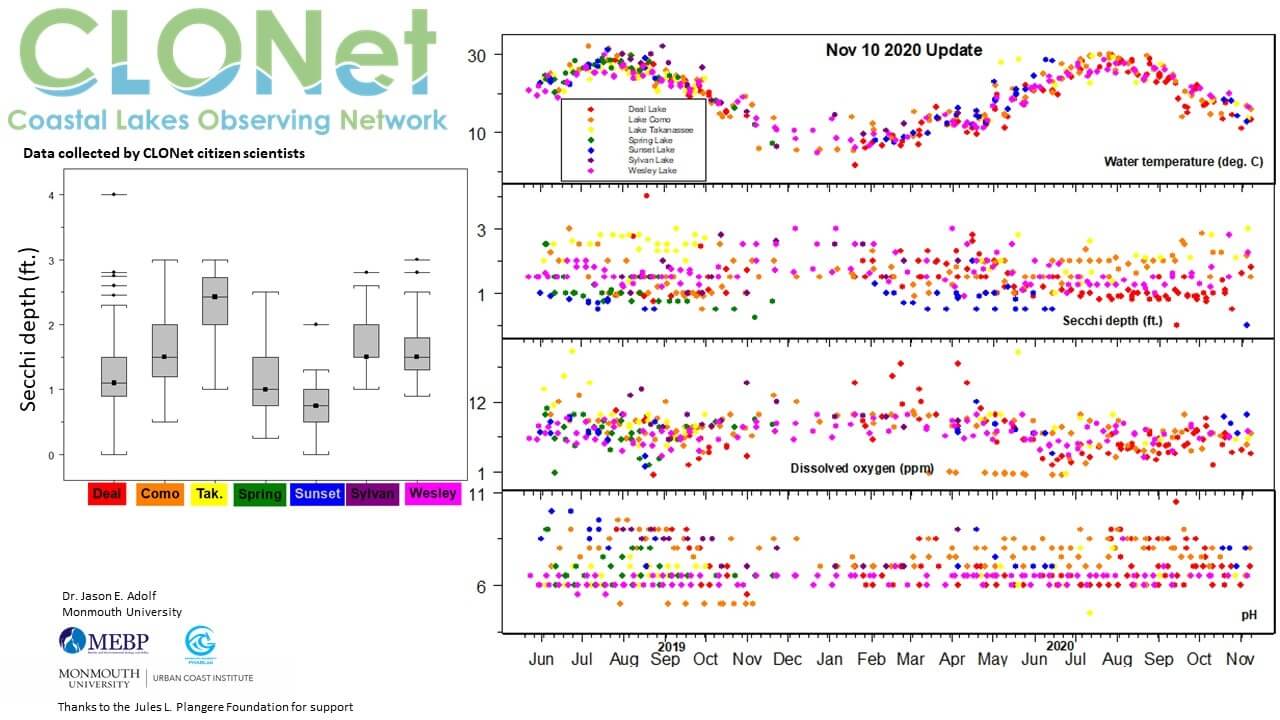 HAB organisms thrive in warm waters, especially those over 25 degrees Celsius (about 77 degrees Fahrenheit). With two summers of temperature readings now in the books, the data shows the lakes are most susceptible to HABs from June through September.
"This is something we can look at year after year and monitor whether this window is going to expand or contract as temperatures change with climate change," Adolf said.
The analysis found a strong correlation between HAB events and rainfall, with spikes in the lakes frequently following storms during the warm season. This owes to the fact that stormwater runoff in these heavily developed areas carries nutrients such as fertilizers and animal wastes directly into the lakes.
"The climate predictions for New Jersey include increased rainfall and increased larger rainfall events," Adolf said. "Considering how our coastal lakes seem to be responding to rainfall, that's something we all need to be thinking about."
Residents who observe a HAB in their lake can now report it online to the New Jersey Department of Environmental Protection (NJDEP). Vic Poretti of the NJDEP Division of Water Monitoring and Standards provided a tutorial on the agency's HAB Interactive Map Reporting and Communication System, which gathers information including the location of the sighting, details about the lake and photos. Poretti said that although the issue of HABs in New Jersey drew more attention in 2019 due to high-profile closures at the summer tourism destinations of Lake Hopatcong and Greenwood Lake, there were actually more instances reported statewide in 2020.
Looking Ahead
CLONet's capacity will expand in its third calendar year with the recent addition of Urban Coast Institute Citizen Science Coordinator Erin Conlon. A May 2020 graduate of Monmouth University's Marine and Environmental Biology and Policy Program, Conlon has been working on the CLONet project since its inception and now leads citizen science trainings, checks data quality and provides equipment for volunteers. Conlon's work and CLONet are made possible through a grant from the Jules L. Plangere, Jr. Family Foundation.
Conlon said her goals for 2021 are to increase communication between the community lake groups and build new research partnerships with outside organizations and other labs within Monmouth University. In one such partnership, CLONet will take the lead on the coastal lakes aspects of a NJDEP and U.S. Environmental Protection Agency study of HAB risks to New Jersey lakes. A phycocyanin meter donated by the Watershed Institute and NJDEP will allow CLONet to take direct measurements of the prevalence of HAB organisms in the lakes.
Conlon said she hopes to expand CLONet to cover five additional coastal lakes in Monmouth County that are not currently being tested by citizen scientists, but have been by Monmouth University Phytoplankton and Harmful Algal Bloom Lab (PHAB Lab) students: Fletcher Lake, Silver Lake, Spring Lake, Sylvan Lake and Wreck Pond. Any individuals, schools or community groups interested in volunteering as citizen scientists are encouraged to contact Conlon at econlon@monmouth.edu. Visit the CLONet website for more information.
Video & Slides: CLONet 2020 Workshop
Slides from Workshop