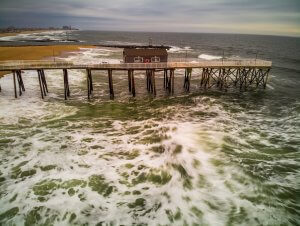 Register now for the free online panel event "Accountability for Climate Change Harms in New Jersey: Scientific, Legal and Policy Perspectives," to be held from 3-4:15 p.m. on Aug. 19. The expert panel discussion is being organized by the Climate Integrity Project, the Union of Concerned Scientists and Monmouth University.
This event is intended to educate the state's legal and policy communities and the public on local climate impacts and associated costs now facing communities and taxpayers, and to initiate a dialogue on the growing trend of climate damages litigation in the U.S. Panelists will discuss the extent of climate harms in New Jersey as well as the scientific basis for holding the fossil fuel industry accountable for them. Panelists will also offer legal and community perspectives on damages litigation as a means to shift some of the burden from taxpayers to polluters.
The discussion will be moderated by Monmouth University Rechnitz Family/Urban Coast Institute Endowed Chair in Marine and Environmental Law and Policy Randall Abate. Panel members will include Brenda Ekwurzel, director of climate science with the Union of Concerned Scientists Climate & Energy Program; Nathaly Agosto Filión, chief sustainability officer, City of Newark; and Marco Simons, general counsel, EarthRights International. Opening remarks will be delivered by New Jersey State Sen. Joseph Cryan.
The event was originally scheduled to be held on the Monmouth campus in March, but was postponed due to COVID-19.
Attendees will be provided a link to the webinar after registering. For more information, contact Alyssa Johl at info@climateintegrity.org.