UCI Marine Scientist Jim Nickels responded to an emergency call aboard Monmouth University's research vessel Heidi Lynn Sculthorpe on July 30 to help free a humpback whale entangled in a commercial trawl net off Long Island.
Officials from the National Oceanic and Atmospheric Administration (NOAA), Army Corps of Engineers, New York State Department of Environmental Conservation, Atlantic Marine Conservation Society, U.S. Coast Guard, Center for Coastal Studies (CCS) and Turtles Fly Too all collaborated to free the animal. The effort began on July 27, when the Coast Guard received a report of a distressed whale in the Ambrose Channel of New York. Nickels was joined aboard the Heidi Lynn Sculthorpe on Thursday by Monmouth University graduate Peter Plantamura of the NOAA Northeast Fisheries Science Center's (NEFSC) Sandy Hook lab.
The humpback was essentially anchored in place by what NOAA estimated to be 4,000 pounds of netting, ropes and steel cables wrapped around its tail. Nickels said by the time he arrived, the whale appeared in mortal danger.
"It was a massive commercial net and the whale was in a nasty tangle," Nickels said. "It was to the point where it was having trouble breathing."
The Heidi Lynn Sculthorpe's net reel was used to lift up the gear enough to relieve the pressure on the whale and allow it to move and breathe easier. The U.S. Army Corps of Engineers Drift Collection Vessel HAYWARD's crain then pulled the gear out of the water and the CCS team cut through it until the whale could swim free.
A press release recounting the full four-day rescue was issued by NOAA on behalf of all of the rescue partners. The whale has since been spotted swimming safely off the coast of Long Island.
Additional Coverage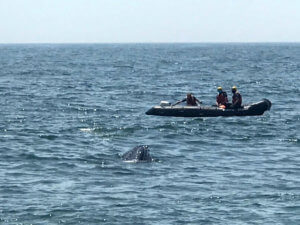 Whale freed from 4,000 pounds of fishing gear by team including N.J. university, NJ.com
Distressed, entangled humpback whale off New York set free, WPIX 11
Entangled humpback whale rescued from New York channel, National Fisherman