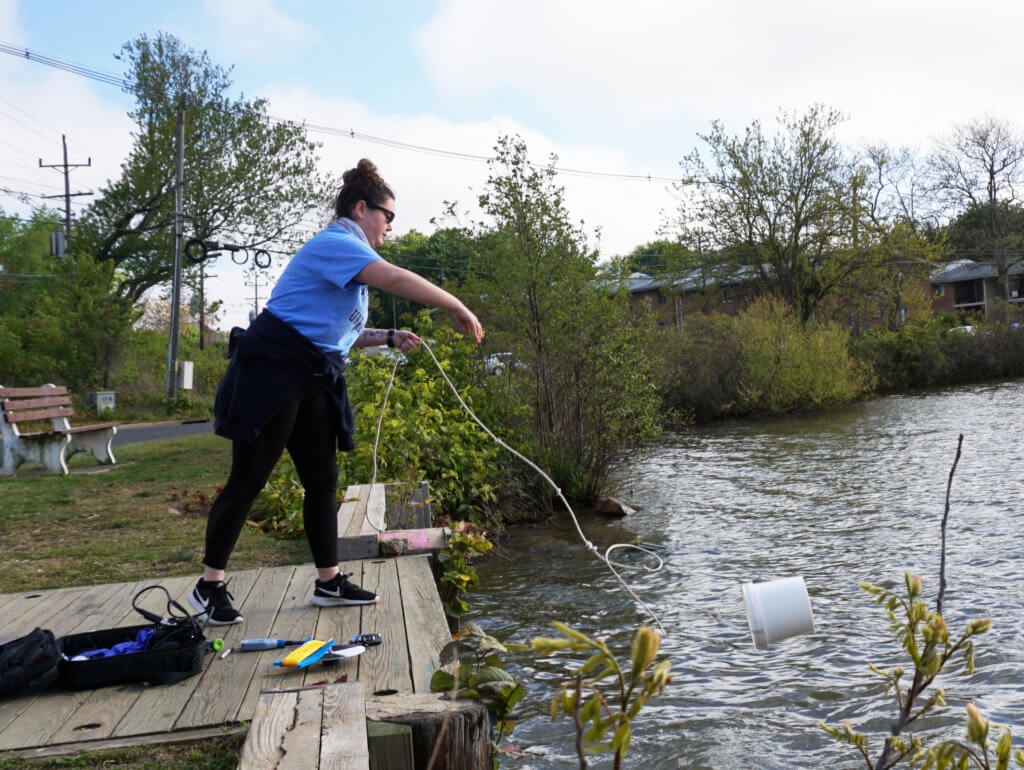 When New Jersey issued its stay-at-home guidance in March, Dr. Jason Adolf worried the Coastal Lakes Observing Network (CLONet) project could grind to a halt. Instead, the alerts indicating when community volunteers had filed water quality sampling results online continued to roll in, perhaps at a greater pace than before.
At a time when businesses, parks and boardwalks were closed indefinitely, sampling local lakes offered citizen scientists a welcome diversion. Adolf created a CLONet Facebook Group in April where some participants have shared images of themselves enjoying their few minutes with nature.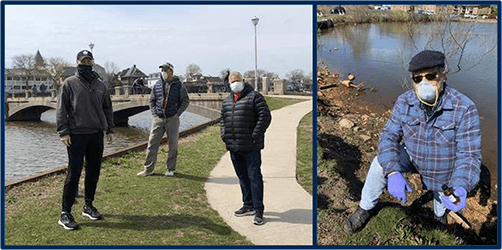 "We wanted to make sure everyone understood there was no pressure to continue sampling, but if they wanted to and were willing to take the proper social distancing precautions, we would support that," said Adolf, Monmouth University endowed associate professor of marine science and the CLONet project lead. "I think people were really happy to get outside."
Through CLONet, University staff and students have provided equipment and training to residents from communities surrounding Monmouth County's seaside lakes to take regular readings from the waters for parameters such as temperature, clarity, dissolved oxygen and pH levels. The volunteers then share their data through an online app, where it can be analyzed by the Monmouth research team. Seven water bodies are currently being monitored: Lake Takanassee, Deal Lake, Sunset Lake, Wesley Lake, Sylvan Lake, Lake Como and Spring Lake.
The data supplied by residents is supplemented by a steady stream of samples taken twice per week by Monmouth University student Maria Riley. Riley typically starts her rounds at Long Branch's Lake Takanassee and heads south, checking each lake for the same categories as the citizen scientists, plus a few others that she has specialized equipment for. Her water samples are also shared with the New Jersey Department of Environmental Protection for further analysis.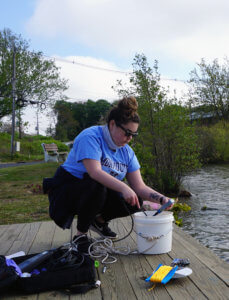 Riley said sampling has provided her with a unique view of COVID-19's impact on daily life in the Shore towns.
"It's been fun to see the change over the weeks as I've driven from here down through Belmar, how everything is opening up," Riley said. "It's also been interesting to see the passion people have brought to the project."
CLONet is now approaching the end of its first year of data collection. It's a key milestone from a scientific standpoint, as the research team will now have four full seasons of data that can serve as a baseline for comparison to future readings. Through June 1, the citizen scientists had filed data for nearly 300 sampling sessions. Adolf is preparing a journal article summarizing the findings to date so CLONet may offer lessons to other efforts nationally.
Before the project concludes at the end of 2020, Adolf plans to confer with the community groups that had the highest participation to find out how they kept enthusiasm up throughout the year. He also hopes to obtain new equipment that enables the samplers to directly measure harmful algal bloom (HAB) abundance in the water, rather than just parameters that indicate it, like reduced water clarity and elevated daytime oxygen levels.
"If they have this ability and can see the numbers increasing, they would have an early warning of harmful algal blooms and then the state might have time to do something about it," Adolf said.
As for this summer, Adolf will be on the lookout for repeated trends from last year in terms of poor water quality along with any indications of system changes due to COVID-19. He noted that humans can cause nitrogen levels to spike by inadvertently loading the lakes with nutrients (e.g. lawn fertilizers and trash carried by stormwater runoff) or emissions from increased vehicular traffic.
"People bring the nitrogen – the more people, the more nitrogen," Adolf said. "We know the area where these lakes and estuaries exist is an area where the population increases 73% compared to the year-round population, and on peak days, weekends and holidays in the summer, it's more like a doubling of the population. If we don't see that kind of growth in population, there's a very good chance that the estuaries and lakes we've been studying will look different."