Leadership Exploration and Diversity Symposium
Monmouth LEADS 2020 will take place on Saturday February 29, 2020
What is Monmouth LEADS?
The purpose of Monmouth LEADS is to enable students to explore their personal leadership style, develop skills they can apply at Monmouth and beyond, and expand their awareness of diversity and its role in their experiences. Through the choice of two workshops and a keynote, students will be able to shape the experience to fit their interests and needs making this the perfect opportunity for both emerging and seasoned leaders.
LEARNING OUTCOMES
As a result of their participation in the conference, students will be confident in their ability to:
Describe and employ their personal leadership style and potential.
Define heightened self-awareness as it relates to personal strengths, privileges, preferences, and challenges in their leadership experiences.
Explore the connections between their roles as leaders and the impact they can have on the Monmouth community.
Articulate the importance of becoming engaged with a heightened sense of civility, justice, and respect so they can advocate for themselves and others.
Demonstrate respect and appreciation for the uniqueness of self and others.
Deadline for registration is Friday, February 21, 2020.
This year's keynote speaker is Darryl Bellamy Jr.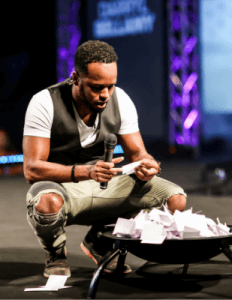 Darryl Bellamy graduated from the University of North Carolina at Charlotte in 2012, and three years later became a Corporate America dropout after quitting his job to travel the country inspiring students to conquer their fears and self-doubt.
While in undergrad Darryl was heavily involved on campus as an RA, Orientation Counselor, SGA Chair, leadership workshop facilitator, as well as a proud brother of Kappa Alpha Psi Fraternity, Inc. Darryl, known for his infectious energy, was an overly involved student leader who overcame his own fears to receive multiple awards, participate in two corporate internships and run for student body office.
After collecting, (still) reading, and cataloging over 14,000+ written student fears as of today, Darryl is now considered an expert on the topic of student fear. The first time he asked students to write their fears; He was taken aback by their rawness and transparency, inspiring him to find his true calling by solely focusing on ensuring they can overcome their fears to achieve and lead fearlessly.
---
If you have questions, please contact Tashir Hampton, Assistant Director of Student Activities, at thampton@monmouth.edu or Nick Grant, Coordinator for Transitions and Leadership Programs at ngrant@monmouth.edu for more information.