Latest Blog Posts
Biden fighting an uphill battle to win over public opinion

by Patrick Murray This column originally appeared as an Op-Ed on nj.com on February 9, 2023 and was published in the February 12 edition of the Star-Ledger. Let's make one thing clear about President Biden's State of the Union speech. It will not change public opinion. Very few presidential addresses do. What these speeches can indicate, though, […]

The 2022 midterm election in New Jersey was not about policy. It was about Trump.

by Patrick Murray This column originally appeared as an Op-Ed in the Star-Ledger on November 20, 2022. A lot of issues were on the ballot this year without actually being on the ballot. Inflation, crime, immigration, abortion, gun control, climate change, and not least of all — democracy itself. Midterms are supposed to be a […]

2022 Monmouth University Poll Recap

by Patrick Murray At the Monmouth University Poll, we have never shied away from taking responsibility when we've been wrong, so it only seems fair to recap when we got it right as well. However, more than taking a bow, there are lessons to be learned about election polling from our 2022 experience. Most established […]
FiveThirtyEight's Pollster Ratings
Rated one of the Best in the nation!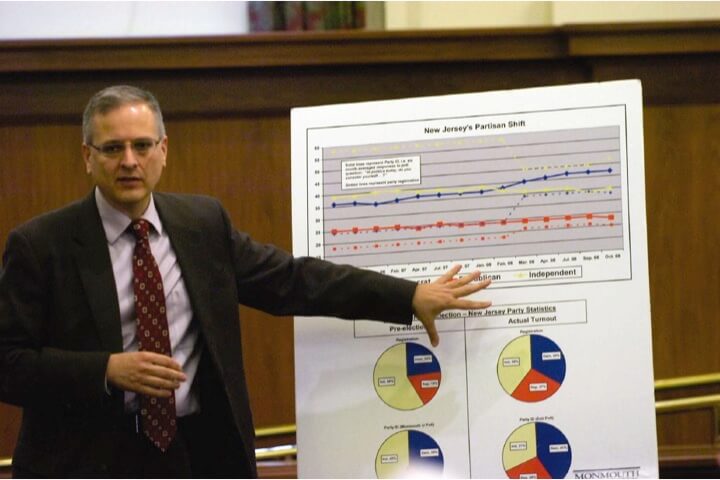 PolitickerNJ.com
Monmouth University's Patrick Murray combines a pollster's fixation on numbers with gut-level understanding of New Jersey politics to once again accurately call a race that many in the political establishment thought too close to accurately predict. (June 7, 2012)
SuperStorm Sandy Broadcast
Besides exposure on political topics, Patrick Murray, Monmouth University Polling Institute Director, is tapped to discuss results of the diverse set of polls conducted annually.
Leading Center for Survey Research
The Monmouth University Polling Institute was established to be a leading center for the study of public opinion on critical national and state issues. The Polling Institute's mission is to foster greater public accountability by ensuring that the public's voice is heard in the policy discourse.
The Monmouth University Poll was recognized in 2013 as the only poll that correctly forecast the outcomes of both the November gubernatorial race and the unprecedented October U.S. Senate contest in New Jersey, leading the Asbury Park Press to call Monmouth's polling "freakishly accurate."
Get Poll Reports Directly in Your Inbox