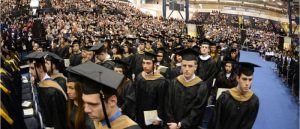 The OceanFirst Bank Center not only serves the school's 21 Division I Athletics programs, but is also a key asset for the entire Monmouth University community. It's the venue for a variety of prominent campus events.
The 153,200-square-foot facility features classroom and seminar space and a conference center that can be used for meetings or be partitioned and used for study halls, clinics, or workshops. The OceanFirst Bank Center, which includes a state-of-the-art fitness center, is also the location of the Leon Hess Champions' Hall, Monmouth University Athletics Hall of Fame, and the Varsity Club, which is used for hospitality for Blue/White Club members. Student lounges and study areas with complete wireless Internet access are also available in The OceanFirst Bank Center.
The OceanFirst Bank Center's most prominent feature is the 4,100-seat arena, in which Hawks' fans cheer on the Monmouth men's and women's basketball teams, concert-goers enjoy their favorite bands, and the entire Monmouth community comes together to celebrate the achievements of our students, alumni, and employees.