The National Academies of Sciences, Engineering, and Medicine has appointed Monmouth University Urban Coast Institute (UCI) Director Tony MacDonald as a member of its Ocean Studies Board (OSB). He will begin his three-year term at the body's April 23-25 meeting in Washington, DC.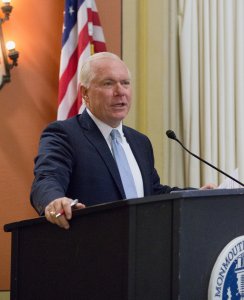 The OSB explores the science, policies and infrastructure needed to understand, manage and conserve coastal and marine environments and resources. In addition to exercising leadership within the ocean community, the OSB undertakes studies at the request of federal agencies, Congress or other sponsors, or upon its own initiative.
Among the many research areas the OSB has recently focused on are the ocean's role in the global climate system, technology and infrastructure needs for exploration, ocean-related aspects of national security, and fisheries science, management and policy.
"The Ocean Studies Board's members include leading ocean scientists from the nation's premier academic and research institutions, as well as distinguished private and public sector marine science and policy leaders," MacDonald said. "This appointment is not only a professional and personal honor, but also a recognition of the continued growth and importance of Monmouth University and the Urban Coast Institute's marine programs."
MacDonald has served as the director of the UCI since its launch in 2005. From 1998-2005, he was the executive director of the Washington, DC-based Coastal States Organization (CSO), which represents the interests of the governors of the nation's 35 coastal states and territories on coastal and ocean policy matters. Prior to joining CSO, MacDonald was the special counsel and director of environmental affairs at the American Association of Port Authorities, where he represented the International Association of Ports and Harbors at the International Maritime Organization on negotiations on the London Convention.
MacDonald has also practiced law with a private firm in Washington, DC, working on environmental and legislative issues, and served as the Washington, DC, environmental legislative representative for the mayor of New York City.
About the Urban Coast Institute
The Urban Coast Institute (UCI) was established in 2005 as one of Monmouth University's "Centers of Distinction." The UCI's mission is to serve Monmouth University and the public interest as a forum for research, education and collaboration in the development and implementation of science-based policies and programs that support stewardship of healthy, productive and resilient coastal ecosystems and communities. Visit www.monmouth.edu/uci for more information.