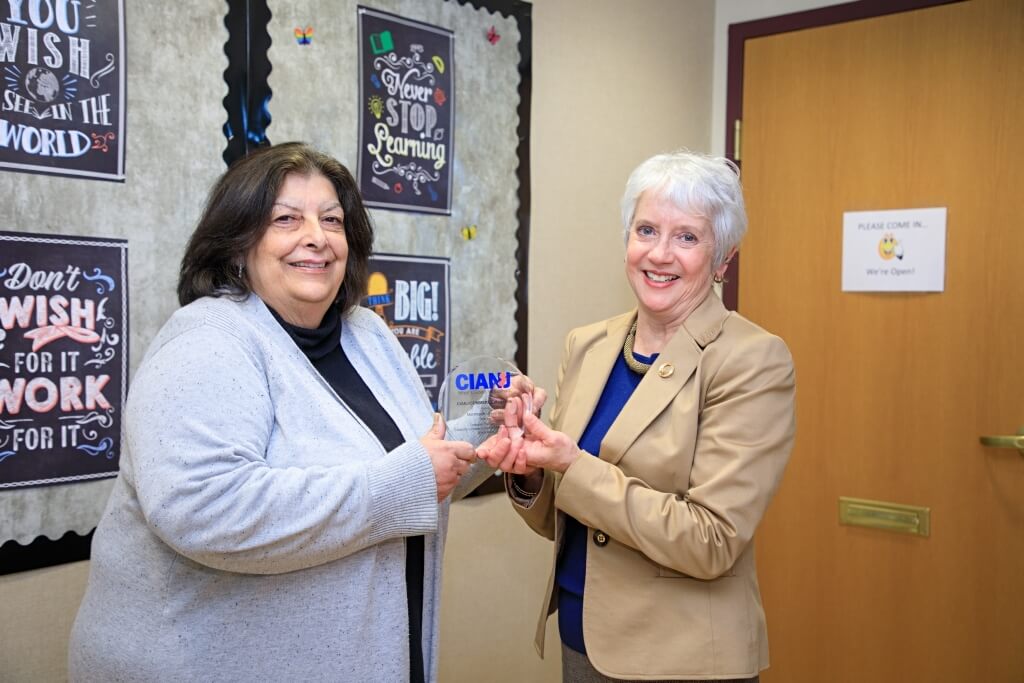 The Monmouth University Community Care Telehealth Clinic (MUCCTC) was recently honored at the 2022 Companies That Care Awards hosted by the Commerce and Industry Association of New Jersey (CIANJ) and Commerce Magazine.
Elena "Ellie" Mazza, Ph.D., associate professor in the School of Social Work and clinic coordinator, accepted the Bronze Award in the Outreach to Vulnerable and Disenfranchised Communities category on behalf of the MUCCTC.
"It was an absolute honor to receive the Companies That Care, Bronze Award. Our mission is to be a community leader in providing accessible mental health counseling services to those in need, while we also support the professional growth of our clinical social work graduate interns. Since the beginning, we have been dedicated to providing competent services to the public that is committed to equality and embraces diversity. The recognition by CIANJ is both validating and inspiring as we continue to provide these much needed, cost-free services to New Jersey residents," Mazza said.
Established in May 2020, the free, online clinic offers accessible telehealth counseling services to New Jersey residents, 18 years or older, who are not members of the Monmouth University community. The clinic is also a field internship opportunity for clinical graduate students.
Mazza, in addition to Ralph Cuseglio, DSW, Jamie Nappi, MSW, Christa Hogan, MSW, and Joelle Zabotka, Ph.D., volunteer their time to staff the counseling service and have currently supervised 21 interns. Since its inception, the clinic has provided more than 3,100 sessions to over 230 individuals without the need to develop a waitlist.
"This recognition is important as it acknowledges not only the work of the faculty and the student interns, but also acknowledges the absolute need for counseling services for adults in the state of New Jersey. Telehealth is growing and will not necessarily go away once we are free from the COVID-19 pandemic. The faculty involved do this because as practicing clinical social workers they know the value of being able to provide free counseling to adults who are in need," Robin Mama, Ph.D., dean of the School of Social Work, said.
For those interested in the clinic's services, contact MUCCTC at mucctc@monmouth.edu or call 732-263-5800.
For University students in need of counseling or support, continue to reach out to the Counseling and Psychological Services Office at 732-571-7517 or mucounseling@monmouth.edu. University employees should utilize their health insurance or the Employee Assistance Program, if eligible, and can reach out to Human Resources for assistance at 732-571-3470 or humanresources@monmouth.edu.