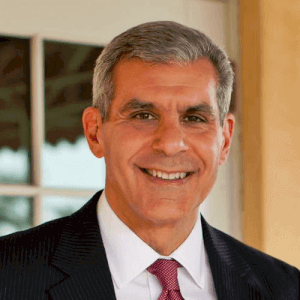 In the aftermath of the recent midterm elections that saw close, expensive, and partisan races, New Jersey political experts will discuss finding common ground.  Former state Sen. Joseph M. Kyrillos will moderate "Bridging the Partisan Divide" on Friday, Nov. 30 at 10 a.m. in Wilson Auditorium. This is the second of four panel discussions he will lead as the 2018-2019 Monmouth University Public Servant-in-Residence.  The first panel discussion in the series was held in late September and focused on pension and benefit reform.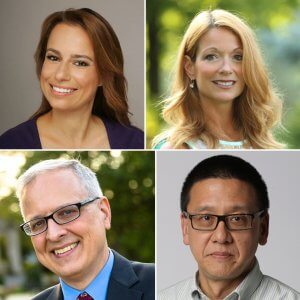 The panel will feature New Jersey political experts including: Julie Roginsky, Democratic Party strategist and founding partner of Optimus Communications; Jeanette Hoffman, Republican Party strategist and president of Marathon Public Affairs; David Chen, investigative reporter at The New York Times; and Patrick Murray, director of the Monmouth University Polling Institute.
Announced earlier this fall, Kyrillos is currently serving as Monmouth University's Public Servant-in-Residence.  In January 2018, Kyrillos ended a nearly 30 year career in the New Jersey Legislature.  He served as majority conference leader and chaired standing committees on economic development and coastal resources.  He was also chairman of the Republican State Committee from 2001-2004 and his party's nominee for the U.S. Senate in 2012.  Kyrillos holds a master's degree in communications from Boston University and a bachelor's degree in political science from Hobart College.  He is affiliated with Newmark Knight Frank, a global real estate services firm, Newport Capital Group, a financial services firm, and his consulting firm, SK Partners.
Roginsky is a founding partner of Optimus Communications and has over two decades of public and private sector experience as an adviser on strategic communications, political strategy and public relations. A Democratic Party strategist, she has advised Fortune 500 companies, start-ups, non-profits and dozens of elected officials, including Governor Philip Murphy, Sens. Cory Booker and Frank Lautenberg, members of the House of Representatives and state legislators. Julie is a former contributor at Fox News Channel, where she was a frequent co-host of "Outnumbered" and "The Five." Prior to that, she was a contributor at CNBC. She also served on the board of directors of the Women's Campaign School at Yale University.  She received both her bachelor's and her master's with honors from Boston University.
Hoffman is president of Marathon Public Affairs and serves as a consultant and statewide media spokesperson specializing in strategic messaging, crisis communications and public affairs campaigns.  A former executive director and communications director of the New Jersey Republican State Committee, Hoffman served as the party's primary media spokesperson throughout several campaign cycles, including former Congressman Bob Franks' U.S. Senate and gubernatorial campaigns.  A Republican media commentator with almost two decades of experience, Hoffman is a contributor to Fox Television's "Chasing News" and is regularly featured as a political strategist for outlets such as NJTV, CBS News, News 12 New Jersey, National Public Radio, and New Jersey 101.5.  She is a graduate of The College of New Jersey.
Chen is an investigative reporter on The New York Times Metro Desk.  Previously, he served as City Hall bureau chief, covering Mayor Michael R. Bloomberg and the 2013 race to succeed him.  Before that, he served as the paper's last Trenton bureau chief, covering the Codey and Corzine administrations.  A New Jersey native and fluent Mandarin speaker, he has degrees from Yale and Columbia.
Murray was named the founding director of the Monmouth University Polling Institute in 2005.  In that short time, the Monmouth University Poll has established itself as one of the nation's leading independent survey research centers, consistently earning an A+ rating from FiveThirtyEight.com, one of only six polling organizations out of nearly 400 nationally to receive this top grade. Murray frequently appears as a commentator on national and regional TV and radio, including appearances on various programs at CNN, MSNBC and Fox News, as well as National Public Radio and ABC's Good Morning America. During federal election years, he also serves as an exit poll analyst for the NBC News Decision Desk.
Doors will open at 9:30 a.m. for registration and coffee. This free event is open to the public.