WEST LONG BRANCH, N.J. (Sept. 10, 2018) – Monmouth University today announced that former New Jersey state Sen. Joseph M. Kyrillos will be the 2018-2019 Public Servant-in-Residence.  Throughout the academic year, Kyrillos will lead four panel discussions at the university that will be open to the public and will focus on pension and benefits reform, bridging the partisan divide, jobs and the economy, as well as oceans and shore protection.  The first panel discussion will be held on Sept. 28 at 10 a.m. in Wilson Auditorium and will focus on pension and benefit reform, featuring state Sen. President Steve Sweeney as one of four panelists.
Previous Public Servants-in-Residence include former New Jersey Governors James Florio, Christine Todd Whitman, Richard Codey and Brendan Byrne, as well as former Chief Justices James Zazzali and Deborah Poritz.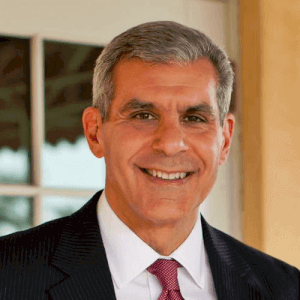 "For nearly 30 years, Senator Kyrillos had a distinguished career in the New Jersey State Legislature.   His commitment to public service and his ability to work across party lines to achieve legislative success were notable throughout his tenure in the Senate.  We are fortunate to have him with us throughout the academic year and to be the beneficiaries of his keen insight," said Monmouth University President Grey J. Dimenna.
After two terms in the General Assembly, Kyrillos was sworn in to his first term in the New Jersey Senate in 1992.  He served as majority conference leader and chaired standing committees on economic development and coastal resources.  He was also chairman of the Republican State Committee from 2001-2004 and his party's nominee for the U.S. Senate in 2012.
During his time in the Legislature, Kyrillos emerged as a leader on issues related to job creation, economic growth, and shore protection. Kyrillos was the original sponsor of the state's landmark Business Employment Incentive Program (BEIP), and was the prime co-sponsor of the "Grow New Jersey" bill, which is the state's current business incentive program. He also helped establish the state's Shore Protection Fund, sponsored the original Environmental Infrastructure Trust, and helped close the Coastal Area Facilities Review Act (CAFRA) loophole to protect the shoreline from overdevelopment.
Kyrillos serves on the boards of directors of Horizon Blue Cross Blue Shield of New Jersey, and Miami International Holdings MIAX Emerald, and is chairman of the advisory board of OceanFirst Bank and a director of its foundation. He is also a trustee of the Monmouth Conservation Foundation, the Monmouth Historical Association, and sits on advisory boards for Lunch Break and the Count Basie Center for Arts.
Kyrillos holds a master's degree in communications from Boston University and a bachelor's degree in political science from Hobart College.  He is affiliated with Newmark Knight Frank, a global real estate services firm, Newport Capital Group, a financial services firm, and his consulting firm, SK Partners.
The Public Servant-in-Residence program is coordinated by the Office of the President and the Department of Political Science and Sociology.  The program was created in 2000 to provide a venue for public officials to share their expertise with students and the campus community at Monmouth University.